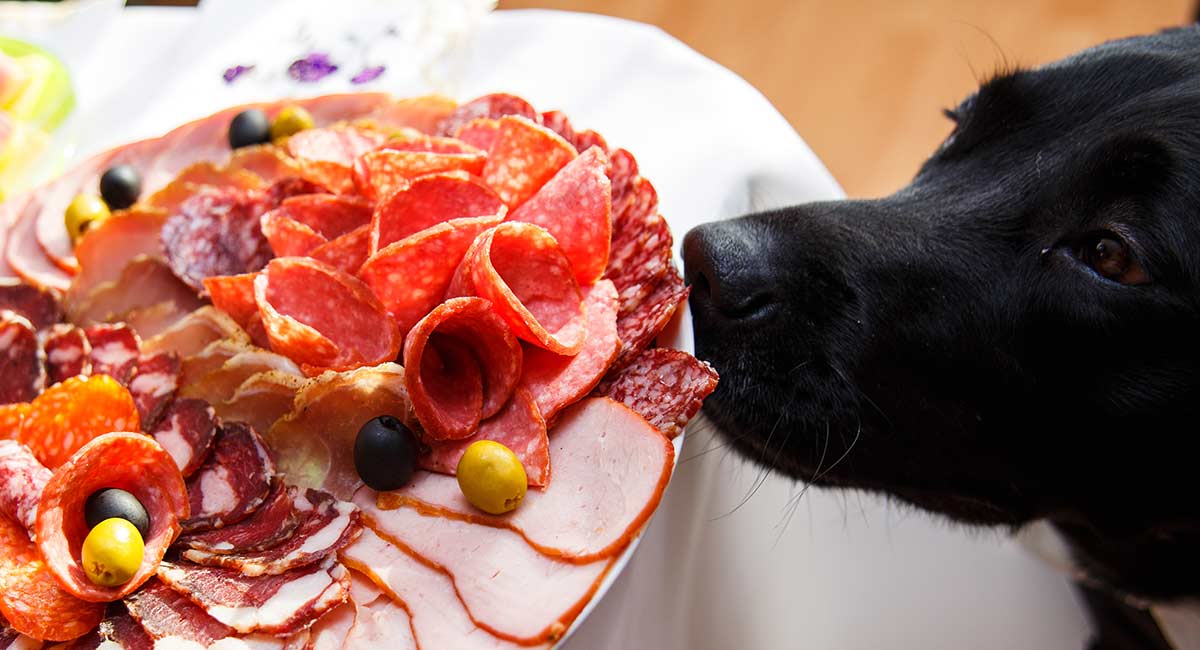 Low fat diets for dogs come in several different forms.
In today's article we investigate low fat feeding options for dogs.
Asking if low fat diets are necessary or beneficial, as well as looking at the role that dietary fat plays in canine nutrition and in treating pancreatitis in dogs.
We'll also look at the causes of pancreatitis in dogs, and investigate the link between the disease and high fat diets.
Fat is bad, right?
For the last several decades fat has been demonized as a dietary component for humans.
There has been a prevailing view that too much fat is a bad thing, and that it leads to obesity and other health issues
That view is hard to shake, but it is slowly changing as more evidence is being published that shifts the blame for a range of health issues, from fat to sugars.
But several decades of viewing fat as the 'bad guy' has influenced our assumptions about the dietary needs of our pets.
And it is a commonly expressed belief that dogs should not have too much fat in their diets.
In this article we are going to examine, and challenge, this belief.
Do dogs benefit from low fat diets?
We'll ask if low fat diets for dogs are necessary or even beneficial for dogs in general.
And ask if there are dogs that have special requirements for the fat content in their food.
To help us, we'll be looking at some interesting scientific studies that have been published recently
Dogs that eat a high fat diet
The rise in popularity of raw feeding has helped to challenge the view that dietary fat is bad for dogs.
Most raw feeders provide their dogs with a carb free diet of meaty bones, organs, and connective tissue.
The majority of these dogs' energy needs are supplied by fat.
While many dogs are now fed this way, a significant proportion of vets are yet to be convinced of the value of raw feeding.
And until recently there has been no evidence to suggest that a natural or raw diet is a preferential way for modern dogs to eat.
There has also been a general belief that fatty food causes pancreatitis.
That too is beginning to change.
Evidence is now beginning to emerge to show that dogs have a preference for fat as an energy source over carbohydrate. Just as their ancestors – the grey wolves – have today.
A preference that may have remained unchanged over the ten to twenty thousand years or so that dogs have shared our lives.
Let's take a look at where a dog's energy sources might come from.
Sources of energy in a dog's diet
Most of us think of the carbohydrates in food as the part that provides us with energy.
Food high in carbohydrate include cereals, bread, pasta, starchy vegetables, and other vegetables and fruits with a high sugar content.
Actually, dietary fat is a great energy source too. And can be used to provide fuel for both humans and dogs
Fat as an energy source
We know that wolves derive their energy from the fat in their diet.
DNA analysis shows that dog are the direct descendents of wolves.
In fact they are the same species – Canis Lupus.
So you would expect that there might be similarities
Our dogs and wolves belong to a large group of mammals that all share the title 'carnivores' or meat eaters.
However, dogs have also lived among people for thousands of years – quite a short time in evolutionary terms, but long enough for them to have evolved along slightly different paths to their ancestors in a number of respects.
So just how much have our four legged friends changed with regard to their nutritional needs?
Are dogs still carnivores?
Since humans began feeding commercial food to our 'domesticated wolves', carbs have taken over a role previous occupied by fats, in providing the energy component in dog food.
And it is true that modern dogs have adapted to a diet rich in carbs. And this adaption is not a particularly recent one.
Dogs were probably scavenging human scraps long before we allowed them into our homes.
And long before sacks of kibble lined the supermarket shelves, dogs were being fed significant quantities of cereals or 'biscuit' meal along with their meat.
So, does that mean that dogs are no longer carnivores?
Wheat is after all a cheap and widely available food source. And a lot easier to 'catch' than a living animal.
Adapting to eating it makes sense. And dogs have made some adaptions.
Dogs have adapted to eating grain
Studies have shown that dogs, since their association with man, and more particularly since man became farmers, have acquired several new genetic adaptions.
These enable them to deal with consuming larger quantities of grain based starch.
The adaptions allow dogs to cope better than wolves with digesting grains. And to utilise some of the nutrients in cereals.
The assumption by some experts has been that dogs are now omnivores.
That their adaption to a high carb diet implies that a high carb diet is the optimum.
I recently had a science student write to tell me that I am incorrect in referring to dogs as carnivores, because dogs are now classified as ominvores.
However, that is simply not true.
Dogs are still classified as carnivores.
And more recent studies suggest that a reclassification of dogs as omnivores may not be appropriate.
It's also important to recognize that adapting to cope with a change in diet does reflect the intrinsic value or importance of that dietary source.
I might 'adapt to cope' on a diet made from porridge and vitamin capsules, but that wouldn't necessarily make it an ideal food source for me.
The value of adaption is that it enhances the animal's ability to survive under a wider range of conditions.
What does optimum nutrition look like?
One interesting way to discover what optimum nutrition looks like for a particular species, is to offer a range of different types of diet, and see what the animal selects.
Most animals if offered a free choice of a wide range of foods will select an appropriately nutritional diet to meet their needs.
And some recent studies into dogs' preferences have been interesting
Comparing wolf dietary preferences with dog dietary preferences
A study published in 2015 looked at the nutrient preferences of wild wolves (Canis Lupus)
It found that wolves have a nutrient preference for a diet that has a Protein/Fat/Carb ration of 54:45:1
In other words, wolves eat around half protein, and half fat, with only a trace of carbs in their diet.
A study published in 2013 looked at the nutrient preferences of five breeds of domestic dog (Canis Lupus Familiaris)
It found that domestic dogs have a nutrient preference for a diet that has a Protein/Fat/Carb ration of 30:63:7
In other words, dogs preferred fat above all other dietary components.
They too had very little interest in carbs.
Modern dogs and wolves share similar nutritional needs
The study suggests that modern dogs, though able to cope with a modern starch filled diet, still have very similar macronutrient needs to those of their wild ancestors.
A more recent study published in 2017 showed that over a more prolonged period of time dogs that at the beginning of the study chose to take 68% of their nutrients as fat, had reduced this percentage to 52% by day ten of the study.
Meanwhile protein intake increased by 29% on day one to 44% on day two.
A result that bore an even closer resemblance to the macronutrients in the diet of the wild wolf.
Carbohydrate consumption by all the dogs in the group represented just 3% of their macronutrient intake
Comparisons between the 2012 study and the 2017 study are interesting.
They suggest the same initial preference for high fat diet levelling out to a fairly even fat / protein preference in dogs over time.
In other words, the dogs ate a particularly high proportion of fat when first given access to it, but that levelled out after a couple of weeks.
Do low fat diets for dogs cause cravings for high fat food?
This may be because an initial preference for fat is beneficial to dogs during times of scarcity.
Whatever the reason, it is worth bearing in mind that a dog that gets very little fat in his ordinary diet, may choose to eat a lot of it if given the chance.
Something to bear in mind when changing your dog's diet for any reason.
Or when leaving the butter out of the fridge and within reach of your furry friend!
So, what do these studies tell us?
Does all this information mean fat is actually good for dogs?
Is fat good for dogs?
There is more work to be done here, comparing different sources of carbohydrate for example to rule out palatability issues.
However, the implications are important and far reaching.
This is the first really solid evidence to support the claims of those feeding a natural raw diet, that the dietary needs of the modern dog is still very similar to that of his wild ancestors.
And to support the view that fat is not bad for dogs after all. And that low fat diets for dogs are not necessary.
On the contrary, this evidence suggests that fat should probably account for around half of a healthy dog's daily food intake.
And that carbohydrates should be minimal.
But what about dogs that can't or shouldn't eat fat?
What about dogs with pancreatitis?
Pancreatitis in dogs
The pancreas is a smart organ that helps produce some of the enzymes involved in digesting food.
When the pancreas becomes inflamed (pancreatitis) it doesn't work properly.
Pancreatitis can be acute (flare up suddenly) or chronic (ongoing).
Both forms can range from mild to very severe.
A dog that has actually been diagnosed with acute pancreatitis has usually had some unpleasant symptoms.
But studies suggest that most cases (possibly 90%) of chronic canine pancreatitis go undiagnosed.
That is to say the dog appears healthy and the owner hasn't noticed there is anything wrong.
This is relevant when we look at why some dogs get pancreatitis after eating fatty food – we'll look at that more closely in a moment.
Dogs with pancreatitis are usually placed on a low fat diet.
This has been shown to be an effective part of the treatment.
But this treatment protocol may lie at the heart of some of the confusion over what causes the disease
Misinformation about pancreatitis in dogs
Claims that fatty food causes pancreatitis in dogs are widespread on the internet.
Frustratingly, most articles on the topic, even those written by vets, lack supporting evidence.
I have seen a vet claim that age and breed are not risk factors for pancreatitis, despite evidence to the contrary (see below)
One vet claims on their website that kibble or dry dog food is the cause.
While some popular pet medical sites point the finger at high fat diets.
The American Kennel Club states confidently on their website that a high fat diet "is a major cause of pancreatitis, especially for a dog who gets one large helping of fatty food in one sitting"
Unfortunately the AKC is not big on linking to evidence.
And this claim that "a high fat diet is a major cause of pancreatitis" does not appear to be supported by science.
If we trace these claims to their ultimate source, they all seem to be traced back to a single study carried out in the 1940's.
Modern studies suggest that the causes of pancreatitis in dogs remain something of a mystery.
Leading expert on the topic – vet Penny Watson tells us that causes of pancreatitis are usually unknown.
Merck's veterinary manual also points out that most cases of pancreatitis in dogs are idiopathic – that simply means we don't know what caused it.
So why has pancreatitis become linked with high fat diets?
Remember we mentioned that most dogs with pancreatitis may be undiagnosed?
Nobody knows that theses dogs are unwell and need a low fat diet.
At some point, some of these dogs may be fed a high fat meal.
What happens next could be alarming.
When a dog with undiagnosed pancreatitis, or an inadequately functioning pancreas is fed a high fat meal – the dog's pancreas is likely to make a big protest.
It could be the day you share your Sunday lunch with a dog that usually eats what comes out of his dog food tin – or it could simply be the day that the dog has a lot more to eat than normal.
Dietary indiscretions
One of the triggers for acute pancreatitis is thought to be over-eating.
The other is eating a lot of fat in one go.
Scientist call these events – over eating, or gorging on a lot of unaccustomed high fat food – dietary indiscretions.
What a great term that is!
Whatever the type of indiscretion, the result is that you spend an afternoon at the vet's office.
Not to mention that your dog feels terrible for a few days or so.
If you report that your dog stole a pack of turkey ham or half a pound of butter from the table that morning, it is only natural for everyone involved in caring for the dog to assume that the dietary indiscretion or high fat meal gave your dog pancreatitis.
Yet the fact that wolves and raw fed dogs eat high fat meals every day would suggest this simply isn't the case.
In fact, the logical conclusion is that the link between a high fat meal and the onset of symptoms most likely only occurs in dogs that already have an underlying problem with the pancreas.
Because, remember again, most cases of pancreatitis in dogs have no known cause.
They are not linked with food, fatty or otherwise, or with any other factor that we have been able to discover yet.
To sum up – according to vet Penny Watson who has spent years studying pancreatitis in dogs, 90% of the causes of acute pancreatitis are unknown.
And the causes of chronic pancreatitis haven't been investigated yet!
Of course, dogs don't just get sick for no reason.
If fatty meals doesn't cause pancreatitis in healthy dogs, you may wonder if there are any other risk factors.
Surely we must have some idea?
Risk factors for pancreatitis in dogs
While the exact causes may be unknown, we have established some clear risk factors for pancreatitis in domestic dogs.
A study from 1993 looked at the medical records of 101 dogs. Risk included age over 7, and being neutered (either sex).
Over 60% of the dogs in the study had other diseases including diabetes and kidney failure.
These risk factors were also identified in a study published in 1999 that looked at the risk factors for fatal pancreatitis in dogs.
The risk factors that they discovered included obesity, diabetes and epilepsy.
They also found that fatal pancreatitis was more common in neutered dogs.
There were some other health conditions implicated too.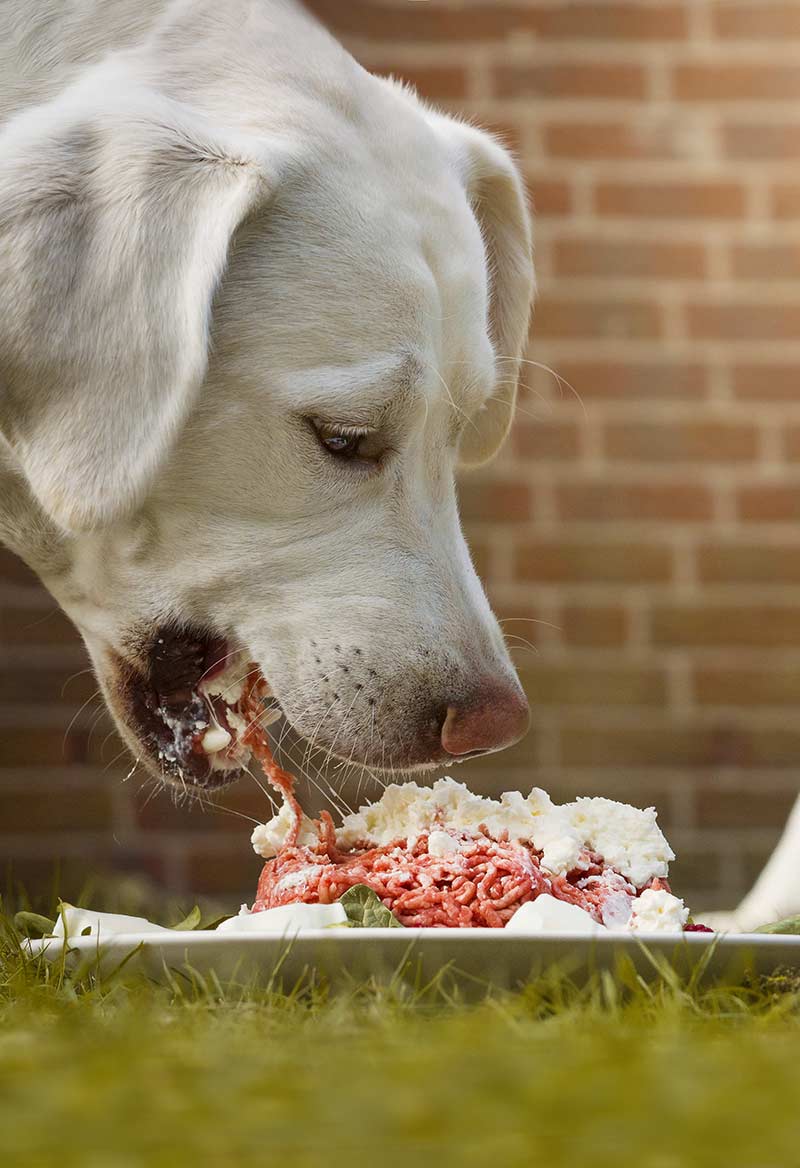 Including hyperadrenocorticism, hypothyroidism and a pre-existing gastrointestinal tract disease.
Some breed factors for the disease were identified too.
Yorkshire Terriers, for example, were at increased risk. Labrador Retrievers and Miniature Poodles were at decreased risk.
Hopefully in the future this information will lead us closer to the real cause of pancreatitis in dogs
Low fat diet for dogs – a summary
Fat is not intrinsically 'bad' for a healthy dog.
On the contrary it is normal and natural for most dogs to chose and thrive on, a diet that is approximately half protein half fat.
Dogs that have been deprived of fat for a while may prefer an even higher proportion of fat than a dog that has had access to fat in the past
Most modern dogs eat a diet high in cereals and other carbs.
But if given a choice revert to the ancestral eating patterns of the wild wolf.
While it is possible that a sudden increase in the fat content of a dog's diet could trigger an attack of pancreatitis in a dog that has a pre-existing pancreatic health problem.
The vast majority of cases of pancreatitis in dogs are idiopathic – cause unknown.
All this does not mean you can rush out and feed fat to your dog with pancreatitis.
His underperforming pancreas probably won't cope.
A dog with pancreatitis probably NEEDS a low fat diet.
Always be guided by your vet when treating a pet with this or any other potentially serious health problem.
On the other hand, it does not mean you should deprive your dog of the dietary fat that may be optimal for his digestion.
To do so, could have other unwanted side effects.
As a sensible precaution we recommend that any increases you make to the fat content in your dog's diet are introduced gradually.
And suggest you avoid letting your dog eat much larger amounts of food than he normally does, on any given day.
References and further reading
Bosch G et al 2015. Dietary nutrient profiles of wild wolves: insights for optimal dog nutrition? British Journal of Nutrition
Hewson-Hughes A et al 2013. Geometric analysis of macronutrient selection in breeds of the domestic dog, Canis lupus familiaris. Behavioural Ecology.
Roberts M et al 2017.Macronutrient intake of dogs, self-selecting diets varying in composition offered ad libitum. Animal Physiology and Animal Nutrition
Steiner J 2003. Diagnosis of pancreatitis. The Veterinary Clinics Small Animal Practice
Lem K et al 2008. Associations between dietary factors and pancreatitis in dogs. J Am Vet Med Assoc
Watson P 2004. Pancreatitis in dogs. Clinical Practice: Companion Animal Practice
Get Pippa's free dog training tips delivered to your inbox