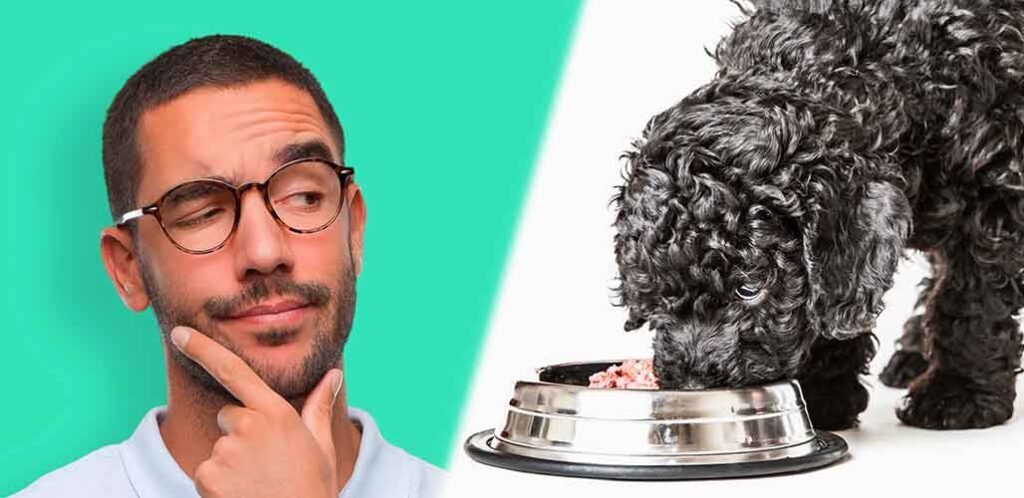 Working out how much to feed a Poodle puppy is an important part of their care. And it differs depending on whether you have a Standard, Miniature, Toy or even Teacup Poodle. Most puppies need feeding several times a day when they are very young, and we'll show you how to reduce mealtimes and increase quantities as they grow. Learning how much to feed a Poodle puppy can be a slow process that changes based on your Poodle type, their activity level, the quality of food, and more!
Contents
Poodles are popular family companions that come in three size varieties: Standard, Miniature, and Toy. Feeding your puppy the right type of food is vital when your Poodle is growing and developing! But, knowing how much food to feed a Poodle puppy is just as important. Giving your pup as much food as possible won't help, and can even lead to joint problems! But this complete guide is full of tips and tricks to help you offer the right meal sizes.
Feeding a Poodle Puppy
Poodle puppies are undergoing a period of intense growth and development from the time they come home with you at 8 weeks. But, Toy and Miniature Poodles will reach their adult sizes much faster than Standard Poodles. Which can mean their food requirements are very different!
In fact, there are plenty of factors that can influence how much food to feed a Poodle puppy at different ages and stages of their puppyhood. These factors can include:
The Poodle variety (Standard, Miniature, Toy)
Your puppy's age
Your puppy's current weight and body type
Quality of food
Style of food (dry, wet, raw)
Activity level
Amount of food used in training
If you feed table scraps
And more. All of these factors mean there's no one rule for Poodle meal sizes. And this can make feeding a Poodle puppy quite hard! But, feeding charts and guides are a great place to start.
How Much to Feed a Standard Poodle Puppy
Standard Poodles are the largest variety available. They will be anything over 15 inches tall as adults, but often reach 23 to 24 inches tall. Many will be classed as large adult dogs, so you might choose a puppy food designed for large breeds.
Dog food brands will often supply a food chart on their food's packaging based on the calories and ingredients in the food. So, it's a good idea to start with these where possible. Here's an example of the sort of measurements you might find for a large breed puppy:
| | | | | | |
| --- | --- | --- | --- | --- | --- |
| Puppy weight | 1 – 3 month daily allowance | 3 – 4 month daily allowance | 5 – 7 month daily allowance | 8 – 12 month daily allowance | 12 – 18 month daily allowance |
| 4 lbs | 150g | – | – | – | – |
| 8 lbs | 235g | 210g | – | – | – |
| 13 lbs | 310g | 275g | – | – | – |
| 17 lbs | 375g | 330g | – | – | – |
| 22 lbs | 435g | 385g | – | – | – |
| 33 lbs | 570g | 505g | 335g | – | – |
| 44 lbs | – | 610g | 410g | 325g | 295g |
| 66 lbs | – | 805g | 535g | 430g | 390g |
| 80 lbs | – | 975g | 650g | 520g | 470g |
A Standard Poodle usually grows to be somewhere between 40 and 70 lbs, but some may exceed this. The above food chart is an example of puppy food amounts for a large breed, but this should only be a starting point. You may need to adjust these amounts considerably.
How Much to Feed a Miniature Poodle Puppy
Miniature Poodles are smaller than the Standard variety, usually reaching between 10 and 15 inches tall, weighing from 10 to 15 lbs. So, they will need a food brand created for small or miniature breeds. Like the above feeding chart, Miniature Poodle feeding charts are a great starting point and can usually be found on your puppy's food packaging. But, they may need some adjustments. Here's an example Miniature Poodle puppy feeding chart:
| | | | | |
| --- | --- | --- | --- | --- |
| Puppy weight | 1 – 3 month daily allowance | 3 – 4 month daily allowance | 5 – 7 month daily allowance | 8 – 12 month daily allowance |
| 1 lb | 65g | 60g | – | – |
| 2 lbs | 100g | 95g | – | – |
| 4 lbs | 160g | 150g | 95g | – |
| 8 lbs | 255g | 235g | 150g | 80g |
| 13 lbs | 335g | 310g | 200g | 105g |
| 17 lbs | 405g | 375g | 240g | 130g |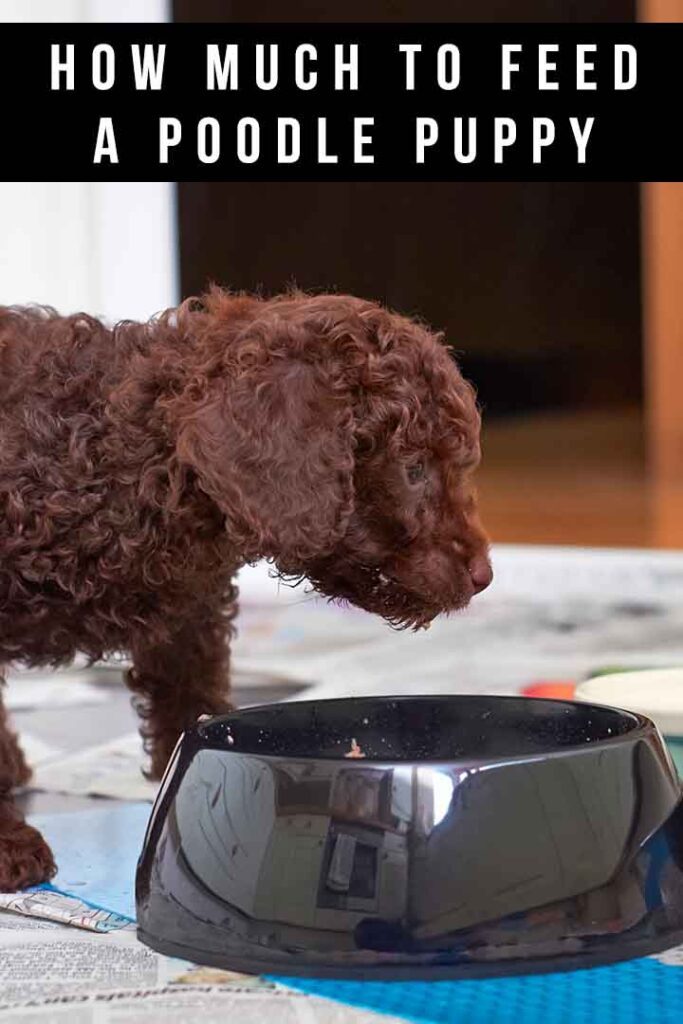 How Much to Feed a Toy Poodle Puppy
The Toy Poodle is the smallest available size variety. They won't grow above 10 inches tall, and will often only reach 4 to 6 lbs as adults. As the smallest variety, they are also the fastest to reach their adult height. A Toy Poodle feeding guide may look like the following:
| | | | | |
| --- | --- | --- | --- | --- |
| Puppy weight | 1 – 2 month daily allowance | 2 – 3 month daily allowance | 3 – 4 month daily allowance | 5 – 6 month daily allowance |
| 1 lb | 20g | 25g | – | – |
| 2 lbs | 29g | 32g | 33g | – |
| 4 lbs | – | 44g | 55g | 55g |
| 6 lbs | – | 64g | 75g | 75g |
As well as smaller meal sizes, and reaching their adult size more quickly, Toy Poodles will benefit from food made up of smaller pieces. This will be easier for them to chew and swallow than large pieces of kibble.
Making Adjustments to the Feeding Chart
Feeding charts are a great place to start when measuring your puppy's meal size. However, these figures won't be right for every Poodle. Weight ranges can vary quite considerably, so some puppies will naturally need a lot more food than others.
One way you can adjust your meal sizes is by working with your veterinarian. Schedule regular weight checks, and follow your vet's advice about adjusting meal sizes based on your puppy's weight.
Another method is to track your puppy's weight yourself. Place your hands on your puppy's sides to feel their ribs. If you struggle to feel any definition, your puppy could benefit from smaller meal sizes. But, if their ribs are very prominent, they could benefit from slightly larger meal sizes. You should always work with your vet when adjusting meal sizes to ensure that everything is done in a safe and healthy way.
Some sources may suggest you should be able to feel but not see your puppy's ribs. But, since Poodles have so much curly fur, seeing them can be hard even if they are overly prominent!
How Many Meals Does a Poodle Puppy Need?
Puppies are much smaller than adult dogs, so their stomachs aren't able to hold as much. This means that meals need to be smaller and more frequent until they're larger and closer to their adult size.
When they first come home, your puppy's daily food allowance should be split into 4 meals. As they get a little older, this can decrease to 3 meals. And, when your puppy is at their adult size, this can decrease to two meals per day.
How to Choose the Best Puppy Food?
There are a lot of commercial options to choose from when searching for the best Poodle puppy food. You will find dry options, wet food, grain free varieties, limited ingredient recipes, and more. Some owners even choose to make homemade meals for their dogs, or raw diets. However, homemade diets are more likely to be nutritionally imbalanced, which can lead to health problems.
Commercial food brands offer a lot of choice. So, it's important to do the research to choose the best one for your puppy. There are pros and cons to every food type, so it can also help to speak to your veterinarian.
For instance, wet food is often the most palatable, but it can be hard to use in training and has a shorter expiry date than other types. Grain free food is associated with some health-related concerns, but studies have determined the need for more research into a link, and this food type can be better for puppies with allergies. And, kibble food is easy to store and use during training, but can contain unwanted ingredients, like unnecessary fillers. The best choice will depend entirely on your puppy's needs and your lifestyle.
Changing Food as your Poodle Grows
When your Poodle puppy first comes home, they should continue eating the food they were eating at their breeder's. If you're going to be giving them a different type of food at your home, make this transition gradually. Slowly substitute in your new food over the course of a week, until the old food is completely removed. Doing this too quickly can result in stomach upset and digestive issues.
You will also need to transition to an adult food variety when your puppy has stopped growing. This happens faster the smaller your Poodle's variety is. Toy Poodles will often finish growing somewhere between 6 and 8 months. Miniature Poodles can take between 8 and 12 months. And Standard Poodles can take up to 18 months. The transition to an adult food should also be gradual, taking space over the course of a week.
Is My Poodle a Healthy Weight?
Measuring your Poodle's weight and body conformation can be the best indicator of whether your Poodle's meal sizes and daily calorie allowance needs to be adjusted. However, all Poodles are different. They will grow at different rates and will have different healthy adult weights.
You can measure your puppy's weight with scales, but also by feeling their ribs. On top of this, it's a great idea to work with your veterinarian. They will be able to help you make any suitable adjustments if your puppy needs to increase or decrease their weight to remain healthy.
My Poodle Puppy is Still Hungry After Eating!
Is your puppy still waiting around for more food after you've given them their daily allowance? It could be a sign they're still hungry. But, many puppies will act hungry when they aren't, especially if those behaviors are rewarded. If you give your puppy tasty treats from the table when they linger and beg, they're more likely to repeat this behavior, which could make you think they're hungry when they actually aren't.
If your puppy is a healthy weight, it isn't necessarily a good idea to give them more food, just because they're acting hungry. Obesity and excess weight can cause and worsen some serious health problems in our pet dogs.
If you suspect that your Poodle puppy is overweight, or if they appear constantly desperate for more food, it's a good idea to speak to your vet. They can help to adjust meal sizes where necessary. And, they can look for any underlying causes to high appetite levels in your Poodle.
My Poodle isn't Eating their Food
Another problem that people face when feeding their puppies is a dog that won't eat anything! This often happens when people first bring their puppy home, leading to panic and stress! However, puppies can also feel stress and fear when moving to their new homes. And, this can cause a loss of appetite. So, whilst it's worth checking with your vet that everything is medically okay, many puppies will quickly regain their appetite as they get their confidence back.
Your puppy may also avoid eating if they aren't hungry. Or, if they think something better might be on offer. For instance, if you tend to feed them table scraps, they might leave their food to try and get more tasty treats.
It's worth checking in with your veterinarian, to ensure there are no underlying health issues. But, if your puppy is a healthy weight, and has no underlying concerns, it's worth waiting them out, rather than plying them with alternatives out of concern.
Using Food During Puppy Training
Poodle puppies respond very well to positive reward training. This involves shaping your dog's behavior with rewards like treats. But, it's important to subtract your training treat calories from your puppy's daily training allowance. Doing so will prevent obesity and weight gain.
It's also a good idea to spread out your training sessions. Completing all of your training in the morning will pose the same problems as feeding your puppy a very large meal first thing in the morning. Some owners will feed their puppy's daily calorie allowance through training alone, rather than through set meals! You might want to hold training sessions before each meal and feed whichever food is leftover for your puppy's meal allowance.
Another benefit of this is that your puppy will be extra hungry and motivated to work for their food if training is before each mealtime.
How Much to Feed a Poodle Puppy – A Summary
All Poodles are different from one another, so the amount of food they need each day and at individual meal times will vary. Feeding charts are a great source, especially if you aren't sure where to start with your puppy's calories. But, they usually need some adjusting. So, don't be scared to be flexible, and to approach feeding with an open mind.
Your veterinarian is a great source for help with your Poodle's health at all life stages, including their puppy food. Have you got any tips for raising a healthy Poodle puppy? Which food type is your pup's favorite? Let us know in the comments!
Readers Also Liked
References and Resources
IAMS pet food
Royal Canin pet food
Tal, M. (et al), 'Dietary Imbalances in a Large Breed Puppy, Leading to Compression Fractures, Vitamin D Deficiency, and Suspected Nutritional Secondary Hyperparathyroidism', The Canadian Veterinary Journal (2018)
McCauley, S. (et al), 'Review of Canine Dilated Cardiomyopathy in the Wake of Diet-Associated Concerns', Journal of Animal Science (2020)
McGreevy, P. (et al), 'Prevalence of Obesity in Dogs Examined by Australian Veterinary Practices and the Risk Factors Involved', Vet Record (2005)
Heuberger, R. & Wakshlag, J. 'The Relationship of Feeding Patterns and Obesity in Dogs', Journal of Animal Physiology and Animal Nutrition (2011)
Todd, Z. 'Barriers to the Adoption of Humane Dog Training Methods', Journal of Veterinary Behavior (2018)
Deldalle, S. & Gaunet, F. 'Effect of 2 Training Methods on Stress-Related Behaviors of the Dog (Canis Familiaris) and on the Dog-Owner Relationship', Journal of Veterinary Behavior (2014)
Makowska, I. 'Review of Dog Training Methods: Welfare, Learning Ability, and Current Standards', BC SPCA (2018)
Get Pippa's free dog training tips delivered to your inbox