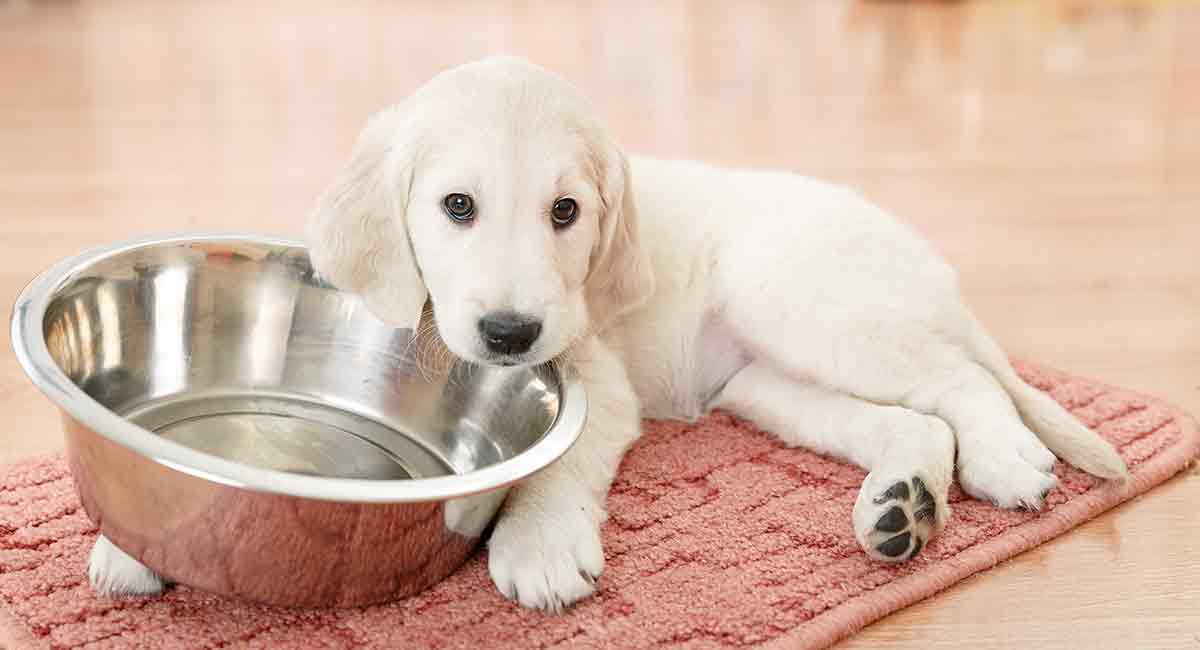 If you're lucky enough to have a brand new Lab in your home, you're probably wondering how much to feed a Lab puppy.
This Labrador puppy food guide will look at the dietary needs of the breed and how it impacts their overall health.
It will also reveal how your puppy's diet will change as he grows and the pros and cons of different foods.
A simple-to-follow Labrador puppy feeding chart will offer some guidelines on when and how much to feed a Lab puppy.
How Much To Feed A Lab Puppy
It's important to not overfeed or underfeed your puppy.
Finding that balance that ensures your growing Lab puppy is getting all the nutrients he requires, without giving him too many calories, is key.
His dietary requirements will change as he grows, and it's important he gets the proper Labrador puppy food amount as early as possible.
The time it takes to reach adult body weight is more variable for larger breeds like Labs.
This can make determining how much to feed a Lab puppy very confusing.
How Diet Impacts Your Lab Puppy's Health And Structure
Dogs need protein, fatty acids, carbohydrates, vitamins, minerals, and water in their diet.
It's important to know how much to feed a Lab puppy.
A lack of nutrition can lead to stunted growth and overfeeding can also cause health problems.
Too much food during this all-important growth period can not only make your puppy overweight, it can cause their bones to be less dense.
This is associated with several orthopedic diseases.
Larger breeds like Labs are subject to these problems due to their genetic potential for excessively rapid growth.
This makes determining the proper Labrador puppy feeding amounts even more crucial for their well-being.
Labrador Puppy Feeding Guide
When it comes to a proper diet, you not only have to consider how much puppy food to feed Lab puppies, but when and how often.
The idea is to not feed your puppy first thing in the morning, and even more importantly, don't feed him right before bedtime.
The optimum amount of time to schedule between your puppy's final meal of the day and bedtime is three to four hours.
This will reduce the chance of him needing to go to the potty during the middle of the night.
Labrador Dog Puppy Food Chart
2 months – 4 meals a day
7 a.m.
11 a.m.
3 p.m.
7 p.m.
3 months – 3 meals a day
6+ months – 2 meals a day
Scheduling Meals
Keep in mind the above chart is merely a guideline.
The main idea is to ration your Lab puppy food amount into several small meals 3 to 4 hours apart.
If you leave a full day's food supply out in the morning, he's sure to eat it all at once.
Smaller portions will decrease the chance of tummy upset and diarrhea.
Be sure to provide water with each meal.
How much to feed a Lab puppy will vary from dog to dog.
You can always increase or decrease the amount as needed.
Posting a Labrador puppy food chart will help you keep track of feeding times and amounts.
Pros And Cons Of Kibble
Kibble that is specifically formulated for puppies is a popular puppy food choice.
Made of ground meal, these dried, ready-made pellets contain all of the nutrients a Lab puppy needs for a healthy balanced diet.
In fact, feeding your puppy something else at the same time is not recommended, because it will upset his nutritional balance.
Make sure you're getting a good quality product.
Inferior brands can use poor sources of protein and fillers which can upset your puppy's digestive tract.
You also want to buy kibble made specifically for medium/large breed puppies.
Affordable, readily available, and easy to store and handle—most vets and breeders support kibble as a puppy food choice.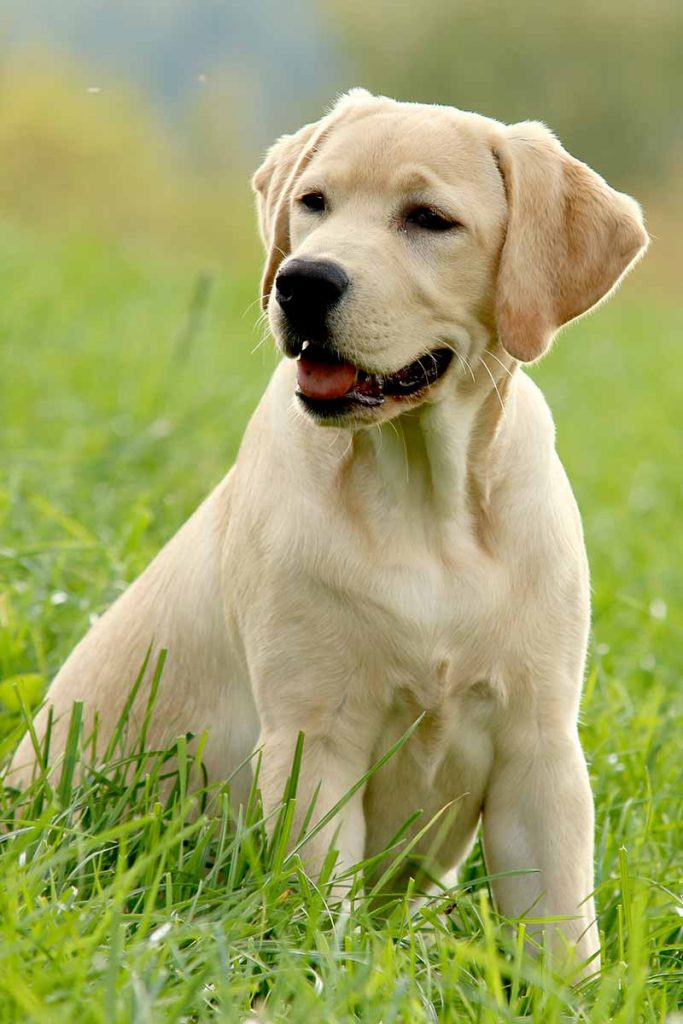 Pros And Cons Of Wet Dog Food
Like kibble, compete wet food offers a balanced diet and should not be combined with other foods.
Available in single-serving cans and pouches, it can be a considerably more expensive option when compared to kibble.
Some wet food brands will offer more meat protein and fewer carbohydrates than kibble does.
However, soft foods have been linked to increased periodontal disease in dogs.
Pros And Cons Of A Raw Food Diet
There is a lot of controversy about a raw diet for dogs.
There are breeders and vets who think it's the best way to feed a dog.
Others believe it can be downright dangerous.
The truth is, there is no definitive proof that raw feeding is better or worse for the health of your dog than commercial dog food.
Pro
Some benefits of raw feeding include less chance of bloat and improved dental health.
It takes much longer for your puppy to eat raw meat and bones, so there's also a reduced risk of overfeeding.
This translates to less obesity and all of the health concerns associated with your dog being overweight.
Con
On the negative side, there's a risk of internal injury from eating sharp bone fragments.
When training a puppy, using raw food is more difficult than using kibble.
If you have small children, and they play with the puppy, you'll need to make sure they wash their hands properly after any contact.
Here are links to two articles with more information on a raw diet for dogs.
When To Switch From Puppy Food To Dog Food For Labradors
How much to feed a Lab puppy—and how often—will change when you go from puppy to adult dog food.
When it comes to making the switch, your puppy's personal growth is a better indicator than his age.
Some people will make the change when the puppy is as young as 6 months old.
This might seem too young, and it very well could be for your Lab puppy.
Many guidelines recommend waiting until the puppy is 12 months old.
Talking to your vet is your best bet if you're unsure when to change Lab puppy food portions to those of an adult dog.
References and Further Reading
Hawthorne, AJ, et al., "Body-Weight Changes during Growth in Puppies of Different Breeds," The Journal of Nutrition, 2004
Larson, J., "Feeding Large-Breed Puppies" Focus on Nutrition, 2010
"Your Dog's Nutritional Needs A Science Based Guide for Pet Owners"
Dobenecker, B., et al., "Energy requirements of puppies of two different breeds for ideal growth from weaning to 28 weeks of age" Journal of Animal Psychology and Animal Nutrition, 2011
Oba PM., et al., "Nutrition as a Tool to Control Periodontal Diseases in Dogs and Cats," School of Veterinary Medicine and Animal Science, University of São Paulo (USP), Brazil, 2018
German, AJ, "The Growing Problem of Obesity in Dogs and Cats," The Journal of Nutrition, 2006
Get Pippa's free dog training tips delivered to your inbox