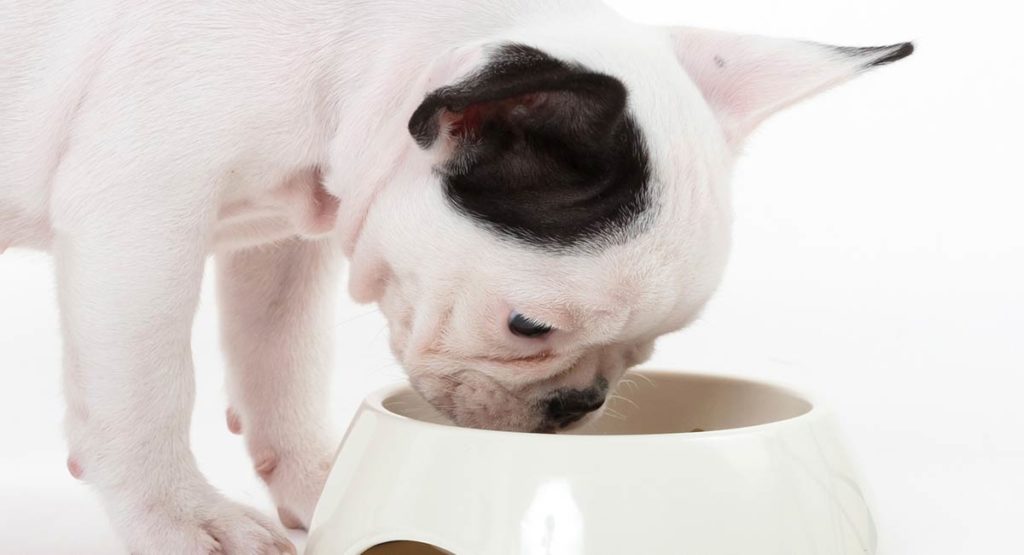 A French Bulldog puppy needs to eat the same amount and on the same schedule as they were eating at their breeder's house on their first few days at home.
This will ease the transition into a new environment.
As they get older, they stop growing so rapidly and start to need smaller portions of less calorie dense food.
How Much Should I Feed My French Bulldog Puppy?
The amount of food you should give to your French Bulldog puppy comes down to a few factors.
Age and Weight
Firstly, their age and weight! French Bulldogs can be considered to still be a growing puppy for around their first year of life. During this time, they will require a specific diet tailored to puppies to ensure that they receive all the nutrients they need to develop healthily.
They usually reach an adult weight of around 22kg. Your job is to ensure they stay at an ideal weight as they grow!
Activity Levels
The second factor that affects how much you should feed your Frenchie is their activity levels.
French Bulldog puppies are naturally playful and energetic, but they might already be experiencing breathing difficulties due to their extremely flattened face.
These difficulties can stop them from exercising as much as they would like, which in turn might affect how many calories they need to stay a healthy weight.
If you're worried about your Frenchie puppy's breathing or weight, ask your vet for a checkup.
As puppies are still growing, it's important not to make any drastic changes to their diet without their advice.
How Do I Know How Much to Feed a French Bulldog Puppy?
Because every Frenchie is different, it can be hard to give exact numbers on how much to feed a French Bulldog puppy. However, we can still give you some great tips.
When your puppy first comes home, replicate the meal schedule and portion sizes they were having from their breeder for the first few days, to help them settle in.
Your breeder will also be able to tell you when they're due to move up to the next stage of feeding – whether that be dropping a meal or switching to a different diet.
Many high-quality puppy food brands come with guidelines on feeding amounts by weight and age on the label.
These vary from product to product, so if you switch, it's important to check how much of the new food is correct.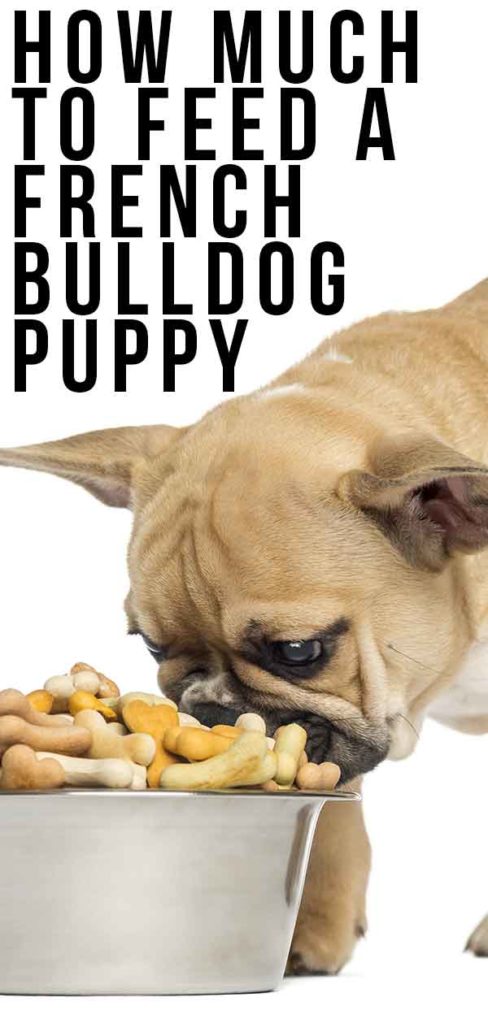 Why the right amount to feed a French Bulldog Puppy varies
It's important to choose a diet specifically formulated for puppies, as adult diets contain fewer calories by volume.
Puppies need extra calories for growth, and densely packed food because their bellies are still small!
Likewise, they need food specifically made for small breed puppies.
Puppies grow at different rates depending on their ultimate adult size, and breed-specific diets have different proportions of protein and calcium to support the correct growth rate of the type of dog they're intended for.
But within those parameters, every suitable commercial diet for your Frenchie puppy is still slightly different – so follow the manufacturer's guidelines on portion size!
And as always, if you aren't completely sure, devise a diet plan with your vet!
How Much to Feed a French Bulldog Puppy – First Three Months
Puppy stomachs can be sensitive, so when you first bring them home, stick to the same diet and feeding schedule they were used to at their last home.
If you wish to change their diet up later, you can do so. Just be sure to do it gradually, slowly introducing the new food over a week.
At this stage of development, your Frenchie will be growing rapidly, but their stomach is small and their metabolism is fast.
Therefore, to avoid tummy aches or steep drops in blood sugar, their daily calories should be split into 4 servings.
It can be frustrating tying yourself to four fixed mealtimes, but this stage doesn't last long.
Don't be tempted to free feed your Frenchie, as they are prone to eating more than they need and gaining weight.
Instead, leave their food out for around 20 minutes, then remove any left untouched and add it to their next meal instead.
How Much to Feed a French Bulldog Puppy – Feeding Schedule for Four to Six Months
Your puppy is still growing rapidly between four and six months.
Though they aren't mature yet, you can now begin to split their daily amount of food into 3 servings a day.
Their stomachs should now be able to handle a larger volume of food at once.
Remember to keep an eye on your Frenchie's weight and body condition.
They should have a discernible waist from above, and ribs which can be easily felt, but not seen.
How Much to Feed a French Bulldog Puppy – Feeding Schedule for Six to Nine Months
At six months old, your Frenchie has more than doubled in size since you brought them home.
During this timeframe, it is possible to begin splitting their daily food into two servings a day; however, three is still fine if it is preferable.
Continue to keep an eye on their diet; while your Frenchie isn't growing as rapidly as they once were, they still need the right amount of nutrients.
How Much to Feed a French Bulldog Puppy – Feeding Schedule for Nine to 12 Months
French Bulldogs finish growing upwards between 9 and 12 months old.
At this stage, they are ready to transition into an adult diet.
While your Frenchie is considered to be at their peak height during this stage, they are still not quite adults; over the next year, they will bulk-up. At two years of age, they can be considered fully mature.
Feeding a French Bulldog Puppy
We hope this article has answered your questions about how much to feed a French Bulldog puppy.
Nutrition is incredibly important, and something you need to keep an eye on their entire life.
Have you ever owned a French Bulldog puppy? What diets do you give your Frenchies?
Let us know below!
Make sure you also take a look at some great food storage options here!
Remember, sometimes dogs eat things that aren't good for them. We've got some great articles to help you with this. Click here to learn what to do if your dog eats a battery.
Or if you just want to learn more about Frenchies, take a look at our guide to the white French Bulldog!
References and Resources
Salt et al, Growth standard charts for monitoring bodyweight in dogs of different sizes, Plos One, 2017.
Reynolds, Nutritional Considerations in the Pediatric Dog: Dietary and Developmental Relationships.
WSAVA Global Nutrition Committee, Body Condition Score, 2013.
Hemmings, Nutrition for Puppies, The Veterinary Nurse, 2018.
Get Pippa's free dog training tips delivered to your inbox