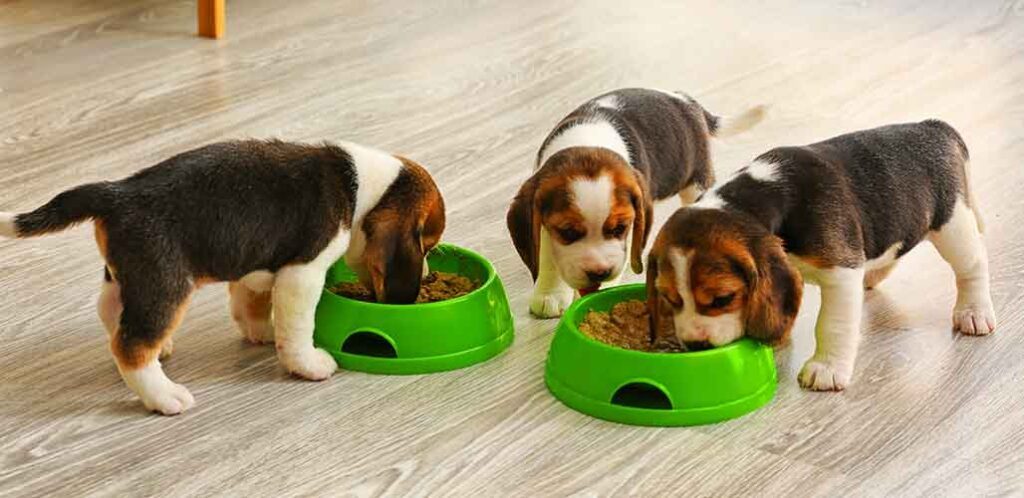 Deciding how much to feed a Beagle puppy is an important part of their care. The best Beagle puppy food is high in fats and proteins, but low in filler. It'll contain some carbs and fibre, but not too much. However, even the top brand of food for your young dog isn't going to be ideal if you feed too much or too little of it. In this complete guide to how much to feed a Beagle puppy per day, we take a look at how much and how often to feed a Beagle puppy. From the moment you bring them home at 8 weeks old, right up until they are fully grown.
The most reliable way to know how much to feed a Beagle puppy is to choose a nutritionally complete store-bought diet, follow the portion instructions on the packaging, and take them for regular vet checks to monitor their growth.
Little Oliver here is enjoying a treat of apple slices. Let's see how much he needs to eat per day as he continues on the journey to adulthood.
What do Beagles eat?
Congratulations on your new baby Beagle! One of the first and most important decisions you'll need to make is 'what are they going to eat?' Hopefully the breeder has sent them home with a small supply of the food they were weaned onto. It's a good idea to keep feeding them this for at least a week or so. The emotional turmoil of leaving their mom and littermates and arriving in a brand new home, is quite enough to trigger an upset stomach and a short spell of diarrhea. Switching what they eat as well can make their tummy feel even worse.
Once they're settled in, you can choose between:
keeping them on the diet they're on, if you're happy with it
transitioning to a different store-bought diet
a homemade diet
or a biologically appropriate raw food (BARF) diet.
Each of these has pros and cons which are beyond the scope of this article. Whatever you choose, it needs to be appropriate for growing puppies, and suitable for puppies expected to reach an adult weight of 18 to 30 pounds.
How much should I feed my Beagle puppy?
Beagle puppies need to receive just the right amount of food per day to support a normal rate of growth. Too much food can be just as damaging to their physical development as too little food. It's also very important that the food they eat has the right balance of nutrition in it. It's not as straightforward as saying 'a beagle puppy needs this many calories at 8 weeks old, and this many calories at 12 weeks old. The ratio of vital components, such as protein to calories and calcium to phosphorus, need to be just right to support bone and muscle growth at the correct rate. For example, too little calcium results in stunted bone development, but too much can damage the kidneys, digestive system and heart. Finally, your Beagle puppy needs their diet to include other critical minerals for growth, such as copper and zinc.
The exact quantity of food a Beagle puppy needs per day, in ounces, depends upon exactly what they are eating. If you are offering them a homemade or raw food diet, it ought to be overseen by a veterinarian who can monitor your puppy's physical condition regularly and recommend when to make changes to the amount they're eating. The most straightforward way to be able to work it out for yourself is to choose a store-bought puppy food, and stick to the instructions on the packaging.
How often to feed Beagle puppy
When your Beagle comes home, their tiny tummy can only hold a small amount of food at a time. They need small, frequent meals to maintain steady blood sugar levels, and eating too much in one sitting is liable to cause stomach pain and even a bout of diarrhea. For most puppies a suitable progression is:
4 meals a day until they are 16 weeks old
then 3 meals a day until they are 26 weeks (6 months) old
and then two meals a day thereafter.
Some owners prefer to feed their adult Beagle just once a day. This isn't appropriate for a Beagle puppy though. Adult dogs fed just once a day are also at greater risk of obesity and gastric dilatation volvulus (bloat), so it's not something we recommend. Now let's get stuck into some practical tips on how much to feed a Beagle puppy at each stage of their development!
How much should an 8 week old puppy eat?
When your baby Beagle arrives home, start out feeding them the same food the breeder gave them, and following the instructions on the packet or as directed by the breeder. Don't worry if they seem to lose their appetite for a few days at first – this is a normal reaction to the upheaval of leaving their mom and arriving in a new place. As soon as they settle in and learn to relax around you, their appetite will come back.
Weigh their food!
Yes, measuring food in scoops is more convenient. But it's also less accurate, and a small calorie surplus can have a big effect on a tiny puppy! So rather than working out how many cups of dog food in a pound and so forth, invest in a cheap electronic scale and weigh out each meal. Puppies which overeat now are at increased risk of obesity and obesity-linked health problems (such as hip dysplasia) for the rest of their life. So weighing their meals is worth the extra effort!
8 week old puppy feeding schedule
Of course, you also need to address when to fit in 4 separate meals for the next 8 weeks. As a rule of thumb, don't give your puppy breakfast until you are ready to start the day. Puppies tend to wake up early, and if you feed them when they cry for you at 5am, it gives them a powerful incentive to keep waking up early and making a noise to summon their breakfast! So cuddle them on the sofa instead, until it's breakfast time for the whole household. In the evening, make sure they eat their dinner a couple of hours before bed time, so that they have a chance to digest it and use the toilet before they go to sleep for the night. An example of a suitable feeding schedule for an 8 week old Beagle puppy is:
How much should you feed a 10 week old puppy
Hopefully once your Beagle has been home for a couple of weeks, you'll be starting to feel like you're finding your feet and establishing a successful daily routine with them. They're probably already looking bigger than they did when you bought them home! As they get bigger, the amount of energy they need to keep growing is going to increase. So it's a good idea to check the labeling on their food now, and make a note of when it instructs you to increase their daily allowance. If you've changed their diet from the food they came home with, don't assume the new food will have the same instructions as the old one. Whilst writing this article we checked the feeding instructions on 5 popular brands of puppy food. And no two were the same in terms of the intervals they advised customers to increase portion sizes at!
How much should a 10 week old puppy eat as training treats?
Of course, another big part of your Beagle puppy's routine at the moment is training. As well as using some of their food as rewards in training games to establish behaviors like 'sit' and 'come', it's also a great idea to use food throughout the day to capture and reinforce behaviors you'd like to see more of. To do this you can measure out their next meal and keep it out of reach in a training pouch on your belt, or even just a high shelf. Whenever you catch them doing something you like, such as taking themself to their bed for a rest, or standing on all four paws in the kitchen rather than jumping up at the counters, say 'yes!' and place a piece of food between their paws. Anything that's left by the next mealtime you can simply pop into their bowl.
Trainers are divided on whether it's best to use up all of a puppy's daily ration as rewards like this, or whether it's stressful for them to never receive food that's just theirs to take from a bowl without earning it first. There's no definitively right or wrong answer here, so you can decide what's best for you.
How much to feed 3 month old Beagle
By the time your baby Beagle is 12 weeks old the labeling on their food might have already instructed you to increase their daily ration once, or it might say to wait until they are older. Always follow the instructions, and resist the urge to give them second helpings or extra portions.
If you're worried about their size, discuss your concerns with their veterinarian. In the past, a lot of breeders thought it was good for puppies to carry a bit of extra fat (hence the term 'puppy fat'), but now we know that healthy puppies should be leaner than that, and have an obvious waist. Researchers have also found that we puppy parents tend to mistake a healthy puppy for being underweight, and an overweight puppy for being just right. So it's worth getting a professional opinion!
How much to feed a 4 month old Beagle
At 4 months old, your puppy is ready to drop down to 3 meals a day: breakfast, lunch and dinner. This could mean three larger meals rather than 4 smaller ones. But why not keep their meals the same size, and weigh out the fourth one in the morning to use as training treats throughout the day? Keep it close to hand, and challenge yourself to use it all up by tea time. Remember that if you're using treats like chicken, cheese, or store-bought training treats as well, you need to deduct the energy in them from their daily food ration, and keep treats to less than 10% of their daily energy intake.
Feeding a Beagle at 6 months old at beyond
From 6 months old, feeding your baby Beagle starts to get a little more straight forwards. For a start, they only need two meals a day now – breakfast and dinner. They're no longer growing quite as rapidly as they did earlier in their life either. So whilst the recommended portion sizes advised on the label are still getting bigger, they're not increasing by as much each time. In fact, by the time they're fully grown, you will even notice them start to go back down.
Speaking of which, a small Beagle expected to weigh under 20lbs stop growing around a year old. A 15 inch Beagle with an expected adult weight of 30lbs will continue growing until they are 15 or 18 months old. When they have finished growing, they will no longer need extra calories to support the growth process. Exactly how much energy they do need will depend on factors like their size, and activity levels. If they are on a puppy-specific diet (as opposed to an all life stages diet) they will also need to move across to an adult (or all life stages) diet when they finish growing. If you're not sure how big your puppy is likely to get, or you have any questions about how and when to transition them onto an adult maintenance diet, ask your puppy's breeder or vet for advice.
How much to feed a Beagle puppy – summary
Feeding a Beagle puppy the right amount at each stage of their growth plays an important role in ensuring they become healthy adults. Feeding too little, too much, or an unbalanced diet can cause long term problems in their bones, joints, kidneys, and heart. The easiest way to get it right is to choose an appropriate store-bought diet, and follow the feeding instructions on the packaging closely. During their early life your puppy should be visiting the veterinarian regularly for their puppy shots anyway, and your vet will help you monitor their growth in this time too.
Before you go, don't miss these handy resources elsewhere on the site!
References
Bland et al. Dog obesity: Owner attitudes and behaviour. Preventative Veterinary Medicine. 2009.
Hemmings. Nutrition for puppies. The Veterinary Nurse. 2018.
Salt et al. Growth standard charts for monitoring bodyweight in dogs of different sizes. PLOS One. 2017.
Get Pippa's free dog training tips delivered to your inbox