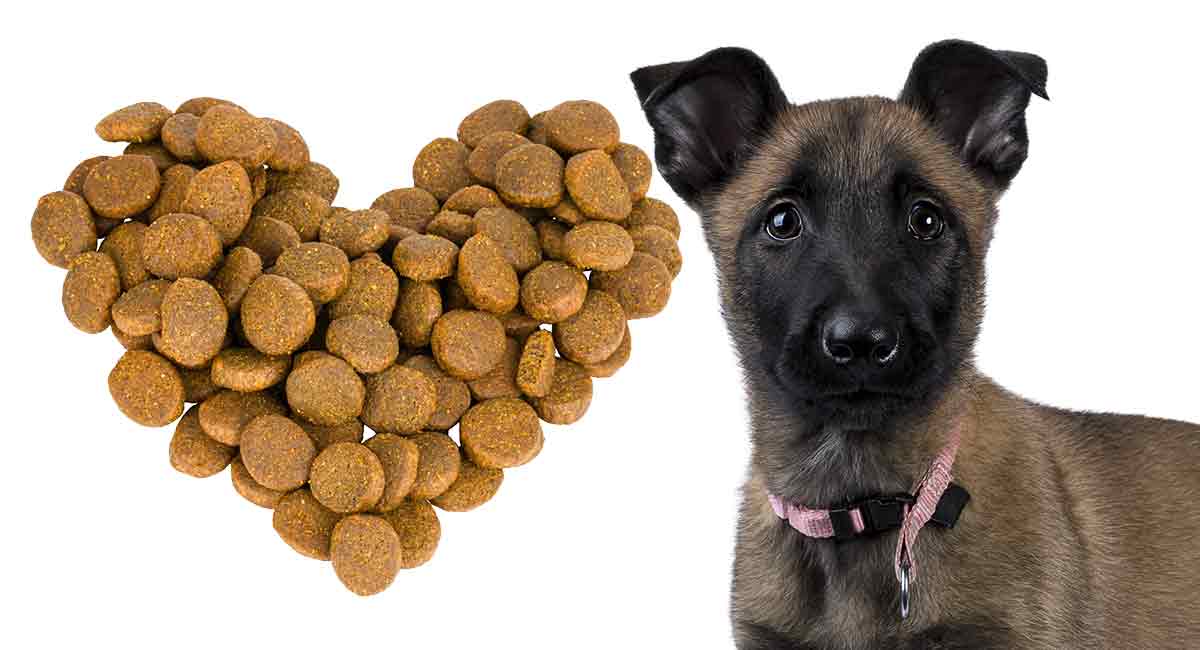 Do you have questions about feeding a Belgian Malinois puppy?
These medium-to-large dogs love activity and work hard, so you'll have to take that into account when you consider the diet of your Belgian Malinois.
So, in this article, we'll look at the most important Belgian Malinois feeding questions.
How much should you feed your dog? What should you feed him? How often should you feed him? And how can you avoid mistaking their big size for being a fat puppy?
There are so many options for feeding a puppy.
You may wonder what's best between kibble, a combination of wet and dry food, a raw food diet, or a homemade diet.
We look at this question in a scientific way, so you can rest assured that the knowledge you get from this article is as factual as possible.
But of course, dogs and owners should be considered individually.
Find what works for you and your family. So let's get started.
Swapping Puppy Food Brands
If you get a puppy from a breeder, or a rescue shelter, you'll likely start out by feeding the dog the type of diet that he's accustomed to.
If you would like to change your puppy's food, you can certainly do so. Just know that experts think it's best to wait about a month to start the transition.
That's because your puppy will go through a lot of changes. A month gives your dog time to adjust to a move.
This also allows the pup to get used to being away from mom and littermates for the first time.
So your best bet is to get one or two refills of your pup's original food (depending on the size of the food container), then start changing it over.
Don't just make a sudden switch, though. Plan the transition to last about a week.
Gradually minimize the amount of the old food every day, while adding more of the new food.
Do this until your pup has switched over completely.
We recommend 25 percent of the new food and 75 percent of the old food for the first two days.
Follow this routine with 50 percent of each for Days 3 and 4, and then 75 percent new and 25 percent for Days 5 and 6.
By Day 7, your Belgian Malinois puppy should completely switch over to the brand you prefer.
This gives your puppy's digestive system time to adjust. Otherwise, her gut bacteria may be disrupted.
Look for signs of digestive upset, such as vomiting, diarrhea, gas, weight loss and lack of appetite.
If the dog is not adjusting, you may need to transition back to the old food to avoid allergic reactions.
Consult a vet if you see continued signs of an upset stomach.
Belgian Malinois Puppy Diets
The right diet for your dog impacts health, happiness and overall condition.
Many vets recommend a high-quality commercial dog food. These will have an animal protein first, and will not include "meal" or "derivatives."
Working pets may need slightly different rations of proteins and fats in their diets.
And puppies need extra nutrients, including calcium and protein.
As medium-to-large sized puppies, Belgian Malinois puppies can thrive on a general diet designed for puppies.
Many Malinois dogs fall into the large breed category. Depending on the source, adult dogs between 50-70 lbs. in weight are defined as large breeds.
So Malinois pups expected to grow larger, such as most males, can also benefit from more controlled growth provided by large-breed puppy foods.
Large-breed puppies are more sensitive to calcium excesses or shortages.
Large breeds are at risk for hip and elbow dysplasia, along with other growth abnormalities.
Diets specifically for large breeds are less dense and lower in fat, with an appropriate calcium to protein ratio.
Belgian Malinois are a breed that is already genetically at risk for hip and elbow dysplasia, so such diets can help.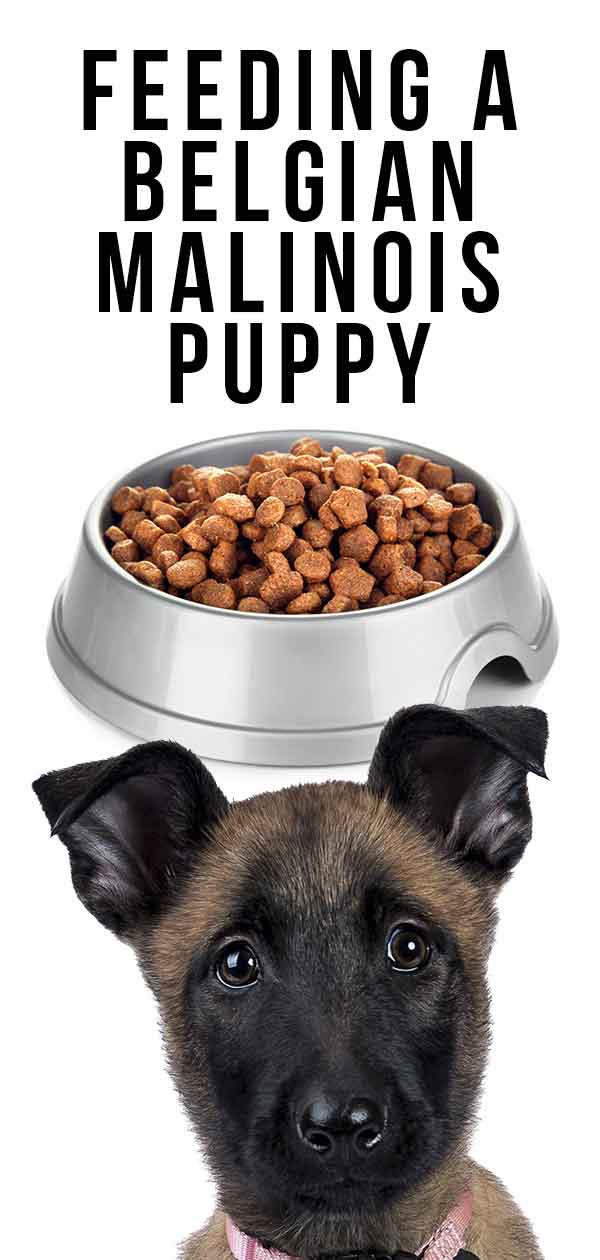 Options for Belgian Malinois Puppies
Purina Pro Plan Puppy Dry Dog Food offers a great protein source, along with an optimal protein-to-fat ratio.
This product is designed to maintain the ideal body condition for puppies to encourage proper growth.
https://www.amazon.com/Purina-Pro-Plan-Focus-Formula/dp/B003M674QC/ref=sr_1_14?s=pet-supplies&ie=UTF8&qid=1549389476&sr=1-14&keywords=puppy+food
Blue Buffalo Life Protection Formula Natural Puppy Large Breed Dry Dog Food, Chicken and Brown Rice is perfect for Belgian Malinois puppies expected to grow to a larger size.
It contains wholesome grains, veggies and fruit with a great balance of vitamins, minerals and antioxidants.
DHA and ARA support retinal and cognitive growth.
https://www.amazon.com/Blue-Buffalo-Protection-Formula-Large/dp/B000GZ1BNE/ref=sr_1_2?s=pet-supplies&ie=UTF8&qid=1549386629&sr=1-2-spons&keywords=large+breed+puppy+food&psc=1
How Feeding Changes as a Belgian Malinois Puppy Gets Older
As your Belgian Malinois puppy starts to grow, he will be able to eat larger meals less often.
Remember that after weaning, puppies can no longer digest lactose. Do not feed him milk.
Your adult dog food now needs less protein and calories.
Consider a breed-specific food for your fully grown dog that can optimize nutrition based on genetic, lifestyle and geographical differences in dogs.
Eukanumba Breed Specific Adult Dry Dog food is designed for German Shepherds, which are related to Belgian Malinois.
German Shepherds are a much more popular breed, but this food is actually formulated to work for both dogs.
This diet offers high-quality proteins and helps build strong, lean muscles. It provides for healthy digestion and a glowing coat.
Eukanuba Breed Specific Adult Dry Dog Food – German Shepherd
https://www.amazon.com/EUKANUBA-Specific-German-Shepherd-Pounds/dp/B00IITGZU4/ref=sr_1_1?ie=UTF8&qid=1549386165&sr=8-1&keywords=belgian+malinois+dog+food
Feeding a Belgian Malinois Puppy Kibble
Commercial dry kibble is a common choice for puppy owners. It's convenient, digestible and tasty.
Kibble is often full of nutrition and can be a great option for dog owners.
One benefit of dry kibble is that it may be better for teeth, as pieces mechanically help remove plaque.
When you're buying kibble for puppies, make sure it's a special formula designed for puppies and that it offers complete, balanced nutrition.
You may want to look at the ingredients list to make sure they are good quality.
One good sign is that the first ingredient is a whole protein source.
Feeding a Puppy Wet Food
Many veterinarians say that both dry and canned dog foods are digestible and full of nutrition.
You should choose based on your preferences, budget and lifestyle
However, you should be more careful here because not all wet puppy foods offer the same level of complete nutrition you'd get from kibble.
Canned foods, however, may be a good choice for dogs that need better hydration.
They are good for dogs recovering from illness or who don't have much of an appetite. They are also good as treats.
You may wish to combine wet food with dry kibble to ensure your dog is getting everything he needs.
Feeding a Puppy (BARF)
Bones and raw feeding (BARF) means you're feeding your dog uncooked meals.
Although raw food diets are popular and recommended by many breeders and vets, the science has not yet caught up.
Many people believe that these diets are more palatable and more natural, thus providing benefits for canines.
However, there is little scientific research that backs this up.
Researchers don't recommend raw diets right now because it is often difficult to get the right levels of nutrition for your dog.
Commercial and home-sourced raw food diets may also be insufficient in certain nutrients, and too high in others.
In some studies, up to 60 percent of raw and homemade diets had major nutritional imbalances.
You need proper nutritional information to make sure your dog's meal is balanced properly.
This requires a lot of research into what's palatable for dogs, nutrient ratios and dog life stages.
Additionally, sanitation is an issue. You have to be extremely careful about contamination and bacteria, both for your dog and for your family.
One study showed that 80 percent of raw chicken diets were positive for salmonella. Dogs may pass bacterial infections to humans through their stools.
Your dog needs some transition time to switch over to a BARF regimen.
If you are feeding him raw food, make sure he gets regular checkups so you can adjust if needed.
Feeding a Puppy a Homemade Diet
Homemade diets have many of the same advantages and issues as the BARF diet.
However, homemade diets often include cooked meats and vegetables instead of raw foods.
Studies have shown that homemade diets, even when cooked, often lack the correct nutrition for dogs.
If you plan to feed him a homemade diet, you must consult a veterinarian to make sure your dog is receiving sufficient nutrition.
How Much Should I Feed My Belgian Malinois Puppy?
Feeding amounts for dogs often vary based on breed, lifestyle, body condition and other factors.
The Belgian Malinois is an especially active dog, so you should take that into account.
Your vet can tell you exactly how much you should be feeding your puppy.
Alternatively, food brand manufacturers will offer suggested portion sizes and feeding frequencies that you can follow.
Remember that you have to adjust amounts as your puppy grows up.
As a general rule, though, puppies need to eat a lot.
They grow rapidly and have limited space for food in their stomachs. They need smaller meals more often.
From six to eight weeks of age, they'll need four to six meals a day. At six months, you can reduce that to two to three meals a day.
As adults, they can be fed once or twice a day.
Is My Puppy the Right Weight?
Being overweight and underweight can both be detrimental to a puppy's health, both now and in the future.
One thing you want to do is weigh your dog regularly. This helps you monitor your puppy's growth.
Your breeder or vet can provide you with a reference chart for good puppy development.
A good rule of thumb is to base your puppy's milestones on the adult height and weight of the parent dogs, if you have access to that information.
Generally, you should keep track of your dog's general shape and size.
Check the ribs. You won't be able to see them in an overweight dog, but you'll see too much of them in an underweight one.
Be able to feel a mix of flesh and bone when you check your dog's ribs.
If your dog seems overly fatigued, quickly winded or can't groom himself, those are signs of obesity.
Gas and trouble with bowel movements are also signs of unhealthy weight.
My Puppy Is Still Hungry
If you think you're feeding your dog the right amount but your puppy acts like he's still starving afterward, don't give in to him.
If you do, you risk overfeeding.
Instead, consider purchasing a slow-feeder bowl that will make it harder to wolf down all his food in just a few seconds.
A puzzle feeder or treat ball can also help in this regard. Instead of feeding him more, add some behavioral enrichment tools that can extend feeding time and aid digestion.
If you really do think you are underfeeding, check with a veterinarian first.
My Malinois Puppy Won't Eat
When should you worry that your puppy isn't eating enough?
It isn't uncommon for puppies to sometimes turn up their noses at food, especially if they are stressed or anxious.
This can happen, for example, when they are moving to a new home.
However, if they don't eat for more than a meal or two, and if that lack of appetite is paired with other symptoms such as diarrhea or vomiting, you may have a problem.
In that case, you should visit a veterinarian and find out if there may be a health issue that needs to be addressed.
How Long Is a Belgian Malinois Considered a Puppy?
As with most puppies, Belgian Malinois are considered adults after one year, although they may still be growing and developing after that time.
After one year, you may start feeding your Belgian Malinois food that's suitable for adult dogs.
No matter which diet above that you choose, just make sure it's ideal and healthy for your dog to have maximum health.
References and Further Reading:
American Belgian Malinois Club
Becker, K.B., 2012, "Why 'Overgrowing' Your Large Breed Puppy Is Dangerous," Dr. Joseph Mercola
"Body Condition Score," World Small Animal Veterinary Association
Dillitzer, N., et al., 2011, "Intake of Minerals, Trace Elements and Vitamins in Bone and Raw Food Rations in Adult Dogs," British Journal of Nutrition
Freeman, L.M., et al., 2013, "Current Knowledge About the Risks and Benefits of Raw Meat Based Diets for Dogs and Cats," Journal of the American Veterinary Medical Association
Hoffman, J., 2018, "Popular Grain-Free Dog Foods May Be Linked to Heart Disease," New York Times
"How To Tell If Your Dog Is Overweight," Riverside Drive Animal Care Center
Jennings, P.B., 1991, "Veterinary Care of the Belgian Malinois Military Working Dog," Military Medicine
Linder, D. E., 2017, "Confused About What to Feed Your Large Breed Puppy? New Rules May Help," Clinical Nutrition Service, Cummings Veterinary Medical Center at Tufts University
Schlesinger, D.P. and Joffe, D.J., 2011, "Raw Food Diets in Companion Animals: A Critical Review," The Canadian Veterinary Journal
Weese, J.S., et al., 2005, "Bacteriological Evaluation of Commercial Canine and Feline Raw Diets," The Canadian Veterinary Journal
"Your Dog's Diet," People's Dispensary for Sick Animals
Yuill, C., "Nutrition – General Feeding Guidelines for Dogs," VCA Hospitals
Get Pippa's free dog training tips delivered to your inbox