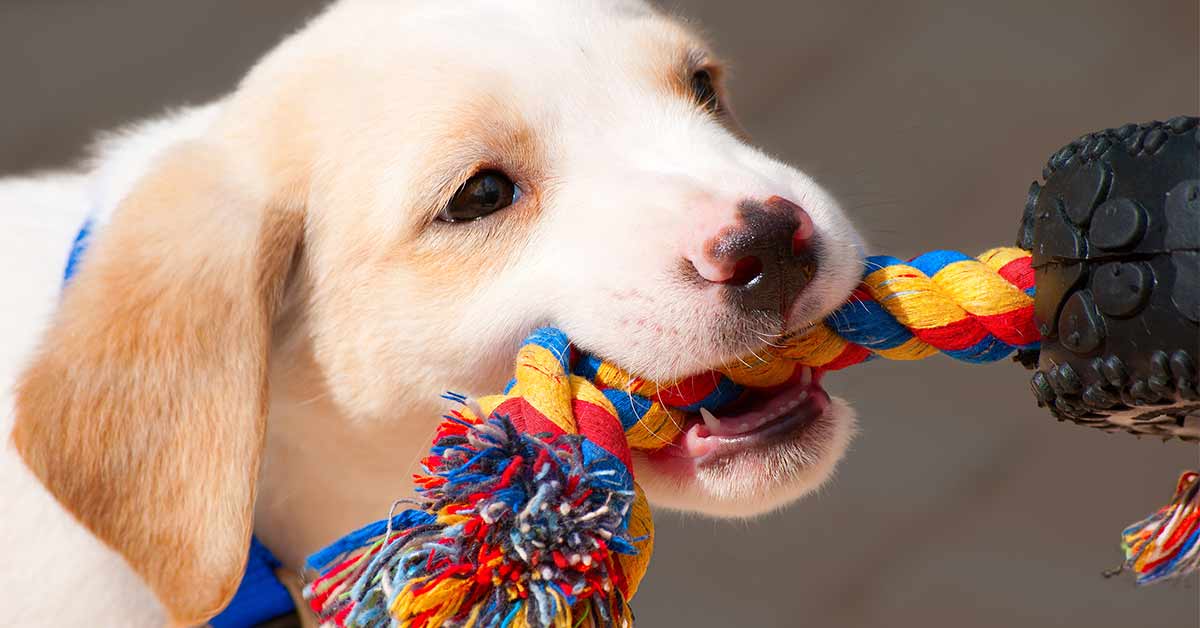 When you brought your new dog home you probably had a big list of places where you were going to exercise him regularly.
From the dog park to the beach, or lovely rural walks, a few weeks ago pet friendly patrols were bountiful.
But right now, most of us are stuck with the properties we own.
And if you've got a massive back yard in an isolated plot, it's frustrating but not the end of the world. But what about everyone with a backyard to rival the average postage stamp? Or those of us with no green space at all?
How on Earth do we exercise our cooped up companions for the next few weeks?
Dogs Don't Need Walks
Wait? What? That title must be a mistake!
Nope. I'm delighted to let you know that the average pooch can cope magnificently without ever being marched around the city for an hour, or racing up and down the dog park.
Of course, they enjoy these outings as much as we do. Let's face it, when the weather is grim they like it a whole lot more than we do. But it's not actually a necessity.
This view isn't one that is popular in our usual world of walks.
Lots of people feel that dogs have a right to be popped on the leash, but actually as long as you are keeping their mind or body busy in other ways then they can be totally happy without a more formal outing each day.
And in this new world, where most of us are stuck indoors for the foreseeable, let's run through the ways to keep a dog happy on house arrest!
Indoor Games
There are some traditionally fun games that most dogs love which can be fairly easily transferred to an indoor setting.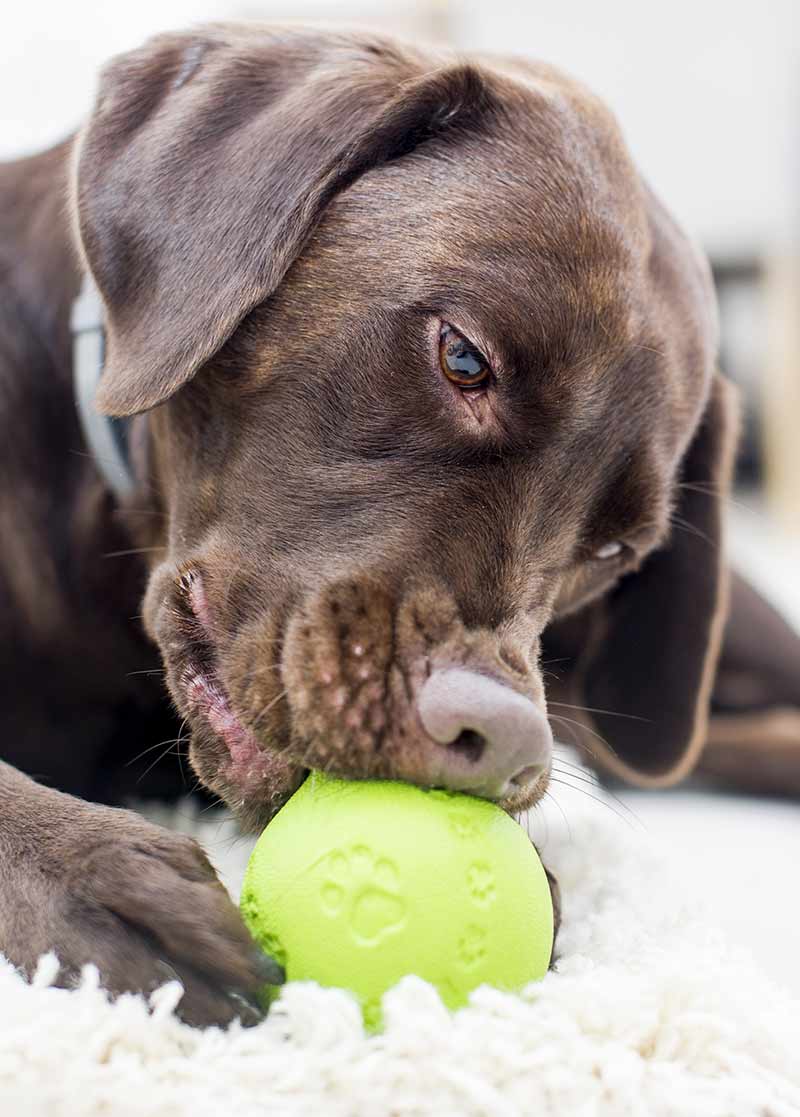 Tug!
Maybe your dog loves a game of tug, maybe she has a little pull then gives up and wanders off.
Don't worry, you can get any dog to become more excited by tug and therefore more tired out by it as an exercise.
There is a simple trick that many owners miss when trying to engage their dog in a game of tug, and that's to let them win.
At first you need to let them win, and do so really quickly.
Pick up a fairly long toy and wiggle it around on the floor to get her attention, let her pick up one end and as soon as she tries to tug it let go.
Release your hold while she is pulling, not after. Let her feel like she's won.
Start again, wiggling the toy until she picks it up and dropping when she does a big tug.
When she's decided she's a champ at this, you can wait for the second strong tug before giving up the toy.
After you've played a few times you will learn what her most enthusiastic tug feels like, and know when to let go to allow her to leave victorious.
Keep sessions short but regular, and the minutes of enthusiastic tugging will soon build up.
Mini Fetch!
If you have a small outdoor space or a room indoors with a clear line that is furniture free then you can play a scaled down game of fetch.
Make sure you use a toy that fits the environment. So small balls or retrieving dummies outdoors, but a soft toy that won't roll and break anything inside the home.
If you are playing indoors it's important to watch your pup's excitement levels so you don't end up dealing with zoomies in the living room on top of everything else.
Start by dropping the toy a couple of feet from your own feet. When your dog has brought it back to you throw it slowly, very slightly further. Increase the distance as far as your house allows you!
If your dog gets too excited put the toy on a high shelf, and shelve that game for today.
Doggy maze
A game we used to play with our dogs as a kid, well before the world had any inclination of the quarantine to come, was doggy maze.
Get a handful of their usual kibble. Make sure to take it away from the amount you give them for dinner. We don't want to introduce extra food when the opportunities for fitness are limited!
Pop your pup into a different room and close the door.
Start in a relatively clear space, like the hallway, and make a trail of kibble pieces for them to follow.
If they enjoy following your trail you can extend it.
Avoid fragile or wobbly furniture, and start by making it easy for them to track down.
You can then leave bigger gaps as they get used to the game, and make it more challenging.
Scent Games
One step up from the doggy maze are scent games. And you don't need a vast amount of space to play them.
These use a smell that's appealing to the dog to allow them to play tracker. Dip a cloth in the juice from some cooked meat, and put aside a bit for their prize at the end.
We're playing this indoors so don't use raw meat, and make sure you only play in an area with an easy to wipe clean floor.
Pop your dog into another room and shut the door. Then run your cloth along the floor for a few feet. Put their treat at the end.
Make sure the course starts where they will enter the room.
Now let your pup back in and watch them track!
If you have enough indoor space, you can make this longer and trickier for them after they've had a few goes.
Don't forget to mop up thoroughly afterwards!
Busy Brains make for Happy Puppies
Another way to exercise your dog on lockdown is to create ways to keep them mentally active.
And there are several ways you can do this.
The first requires some kit. If you don't already have this you can order it online, or just skip straight to the next section!
Puzzle Feeder
We are really big fans of puzzle bowls and puzzle toys.
These come in a vast array of different versions, from very simple to surprisingly complicated.
You can find lots of options here. 
But now let's leap onto my favorite way to keep your dog busy when you're stuck indoors…
Training!
We are huge advocates of positive reinforcement training for dogs.
Not only do modern methods help you to train your dog, they also enable you to build a great bond.
Not to mention keeping those mental muscles exercised when you are trapped at home! And not just the dog's…
If you check out the Training section of the site you'll find lots of different skills you can work on.
Whether you want to practice some basic principles like capturing and luring, or go for one of the bigger obedience skills like sit or the fabulous clicker heel. There is plenty to be getting on with!
If you are new to clicker training, or want a refresher of the basics, then our Dogsnet Foundation Skills course might be just what you are looking for. Based around helping you to get your dog to learn to listen, this online learning course can be carried out entirely indoors.
Exercising Your Dog In Small Spaces
Stuck at home with only a tiny backyard, or just indoor space? The most important thing is to not worry too much.
Let's face it, there is enough to think about right now.
Your dog won't come to any harm from not being walked for a few weeks.
Keeping their brain busy is important, but they can cope just fine with less physical exercise for a time.
Stay safe, and make the most of this enforced time with your dog. After all, if nothing else comes out of this, they are definitely glad to have us home.
How Do You Exercise Your Dog Indoors?
Share your best tips and ideas in the comments box down below!
Get Pippa's free dog training tips delivered to your inbox