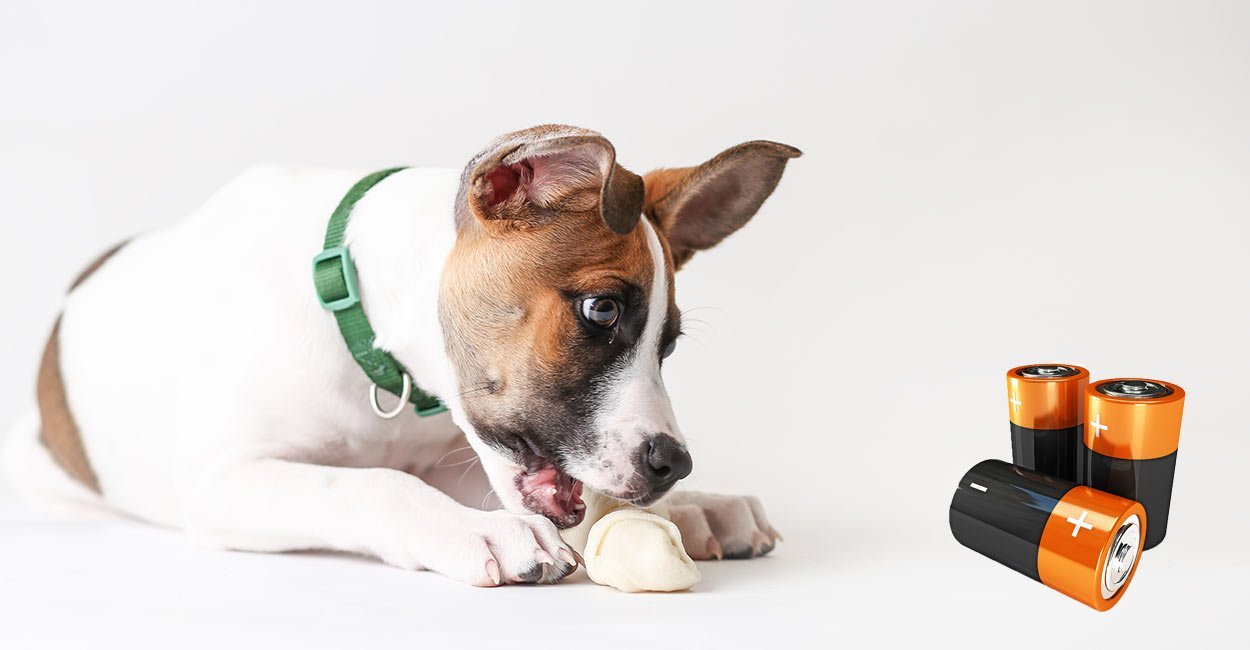 "My dog ate a battery!"
Batteries vary in size. So their size alone can be destructive when dogs eat batteries. However, if your dog has chewed it up before swallowing, or stomach acid causes it to leak, it can poison your pup.
But, they can also cause chemical burns inside your dog's stomach.
Keep reading for our complete guide to first aid, what to expect at the vet, and symptoms to look out for.
Why Do Dogs Eat Batteries?
If you've ever owned a dog, you know that they have a tendency to eat things they aren't supposed to!
Batteries are no different.
Whether you accidentally dropped it on the floor or your dog chewed on a battery while your back was turned, batteries can be deadly to dogs.
However, there are a number of steps you can take to lessen the harm that comes to your dog.
What Happens If A Dog Eats A Battery?
After a dog swallows a battery or just simply chews on one, there are three types of possible injuries that can occur.
Firstly, the physical pressure from the battery can damage tissue. Of course, the bigger the battery, the more damage it can cause. There is also the risk of it being lodged somewhere in the dogs throat. This can cause damage if it is not removed.
Secondly, the battery can poison a dog if the dog chewed the battery before swallowing. The stomach acid can also cause the outside of the battery to dissolve and create a leak. This is usually the number one concern when a dog eats a battery.
(However, one study in England found that only certain types of batteries dissolve in stomach acid. Mercury batteries, for example, can begin leaking in as little as 2 hours. Zinc air batteries, on the other hand, did not leak at all.)
Thirdly, the negative end of the battery can react with the water in the dog's stomach and cause chemical burns. In Japan, one study showed that, even when a battery did not leak, ulcers formed around the negative end of the battery. This is a sign of chemical burns and can occur in as little as four hours.

My Dog Swallowed Hearing Aid Battery
Because they are covered in yummy-for-dogs-earwax, it is not completely uncommon for dogs to eat hearing aid batteries.
Luckily, most hearing aid batteries are zinc air batteries, so they will not leak if swallowed.
Furthermore, another study in Japan found that button batteries, like those in hearing aids, do not cause pressure damage when swallowed.
This is because they are extremely small.
However, it is still possible for these batteries to cause chemical burns. So it is still important to get your dog the medical help he or she needs.
Dog Ate Battery Symptoms To Watch For
There are several symptoms to watch out for when it comes to dogs eating batteries:
Drooling
Oral pain
Pawing at the mouth
Vomiting
Difficulty swallowing
Lack of defecation
Abdominal pain
Fever
All of these symptoms are signs that you need to take your dog to the vet as soon as possible.
Remember, even without being punctured, batteries can begin to leak in as little as 2 hours.
The sooner you go to the vet the less likely irreversible damage is to occur.
Dog Ate Battery First Aid
There is a number of things you can do if you catch your dog chewing on or swallowing a battery.
Begin by flushing the dog's mouth with room temperature water for 15-20 minutes.
This is to wash away any battery acid that might be present. If your dog makes this difficult, try chicken broth!
Do not try to induce vomiting. The corrosive liquid can cause damage to the throat!
Ulcers
After your dog has eaten a battery, ulcers will not appear in his or her mouth for several hours.
However, this does not mean that ulcers are not forming in the stomach or throat!
Just because your dog does not have ulcers in his or her mouth doesn't mean they haven't eaten a battery. Always be on the safe side and seek medical help.
After flushing your dog's mouth, contact your vet immediately.
What To Expect At The Vet
Once at the vet, expect a physical exam to be performed.
However, since physical symptoms will only present themselves hours after the dog eats the battery, an X-Ray will probably be performed as well.
This is to locate and confirm that the battery has been eaten. All battery types show up on X-Ray.
You should be prepared to tell your vet what kind of battery you think your pet ingested. Different batteries can cause different injuries. So it is important for your vet to figure out what kind of battery your pet has eaten.
After locating the battery, it will have to be removed. Depending on the battery's location, this will be done through endoscopy or surgery.
An endoscopy is simply where the vet sticks a camera into the stomach of your pet and removes the battery. Luckily, if the battery is removed promptly, permanent damage is unlikely to occur.
If your vet is worried about ulcers, your dog might be prescribed an anti-ulcer medication. If you dog has vomited, he or she might also be prescribed an medication to calm their stomach.
But I Only Think My Dog Ate a Battery…
Even if you only suspect that your dog ate a battery, it is important to seek medical help.
Physical signs that you dog ate a battery will only develop hours later.
This is why you cannot tell if your dog has consumed or punctured a battery based only on symptoms.
Furthermore, the faster the battery is removed, the less likely damage is to occur.
So always perform first aid and call your vet if you expect that your dog has eaten a battery!
Dog Ate Battery – Prevention
The best medicine is prevention.
Always store your batteries in a secure area.
When changing batteries, do so behind a closed door where your dog cannot eat them if you accidentally drop them.
Never allow your dog to chew on something that contains batteries.
When it comes to your dog's health, your vet is your number one ally!
If you have any questions or concerns, call your vet!
Other Useful Articles
If you're interested in finding out more useful information about caring for our dogs, take a look at the quick links below:
Resources
Get Pippa's free dog training tips delivered to your inbox