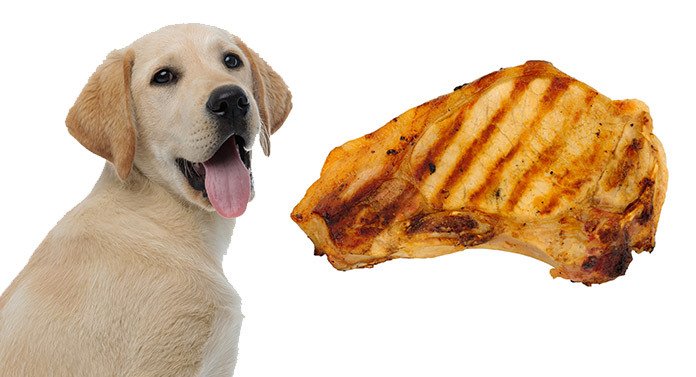 Can dogs eat pork or is it better left off the menu?
Because although we know pork is safe for dogs in general, some forms are better for them than others.
And if your dog is getting a complete diet from their food, adding additions always comes with a risk.
Let's take a look at when pork is a good idea, and when it's best left for alone!
What is pork and where does it come from?
A lean meat that is quite high in saturated fat and cholesterol, "pork" is really just a slightly more appetizing way of saying "pig."
It's the culinary term for the meat of the domestic pig that much of the world eats and enjoys.
Whether it's pork chops, pork ribs, belly, cutlets, tenderloin, ham, pancetta, bacon, gammon or sausages, pork is a huge part of much of the world's cuisine!
In fact, it's the most commonly-eaten meat on the planet.
And when you considered that pork is both non-kosher and banned by Islamic law, that makes the amount consumed across the world each day even more staggering.
Why do we want to feed our dogs pork?
Well, for starters – dogs love the taste. Secondly, we often have pork products in the house.
There's no real reason why we shouldn't get the urge to treat our dogs to the occasional sausage.
After all, who doesn't like sharing things with those they love?
We're not suggesting you both eat a pork chop dinner from the same plate, but the odd scrap or treat is more than acceptable.
Can dogs eat pork safely?
Pork is perfectly safe for dogs. Canines love meat and fatty meat is actually good for them. It is totally safe to give a dog almost any kind of pork product.
We would advise that you opt for cleaner cuts, though.
Processed pork such as Spam, for instance, often has pretty high salt content.
Which, in and of itself, isn't a huge issue. But salty foods shouldn't become a staple part of any dog's diet.
Is pork good for dogs? Well, the leaner cuts certainly are.
Chops, tenderloins, things like that.
The other white meat, as it used to be marketed, is absolutely safe for dogs.
But if you're going to feed your pet pork, make sure there are no spices or seasoning on it.
If the pork product came with a rub or something dusted on it, wash it off.
There's a chance one of the ingredients is toxic to dogs.
You especially need to watch out for things like nutmeg or garlic or onion powder.
Can dogs eat pork bones?
Can dogs have pork bones?
They can, but we would stress that dogs should never eat any animal bone which has been cooked.
Are pork bones safe for dogs?
Heated-through bones become brittle and are liable to splinter and cause damage to your dog's mouth and digestive system.
So avoid them at all costs.
Can dogs eat pork chop bones? Can dogs eat pork rib bones?
Again, we'd err on the side of caution and say no.
While delicious, it simply isn't worth the risk of the bone splintering and your dog becoming ill.
What are the main dangers of feeding pork to a dog?
As we've said, the biggest danger probably comes from cooked bones.
Other than that, there are obvious issues such as a tough piece of meat not being chewed properly and lodging in the windpipe.
So, basically, there are slight choking hazards.
But no more so than other meats.
Many dog owners may be worried about "high fat" diets being intrinsically unhealthy for dogs.
This is not the case. Dogs actually thrive on high fat diets.
If you're concerned that pancreatitis is caused by a fatty diet, you can relax. It isn't.
This is a very common misconception and the internet is full of inaccurate information regarding this.
That said, if your dog has a pre-existing condition of the pancreas such as pancreatitis, a lower fat diet is recommended.
But fat will not have been the cause of the disease.
Worms!
Trichinosis is also a small worry with eating pork, as it can be with any raw or undercooked contaminated meat.
It's an infection which is caused by a parasitic roundworm known as Trichinella spiralis.
Less than a dozen cases in humans are reported in the US every year now, so trichinosis really isn't much of a concern at all.
Symptoms of trichinosis include muscle pain, diarrhea, stomach cramps, and fever.
If you suspect that your pet has contracted trichinosis through uncooked or undercooked meat, consult your vet immediately.
Can dogs eat raw pork?
Because of the very faint chance of trichinosis, it isn't recommended.
There's a small chance that other types of parasites could live in raw pork meat too, and dogs with weaker immune systems could become ill.
If you feel that you'd like to get your canine pal onto a raw meat diet, it may be safer to consider chicken as the main meat.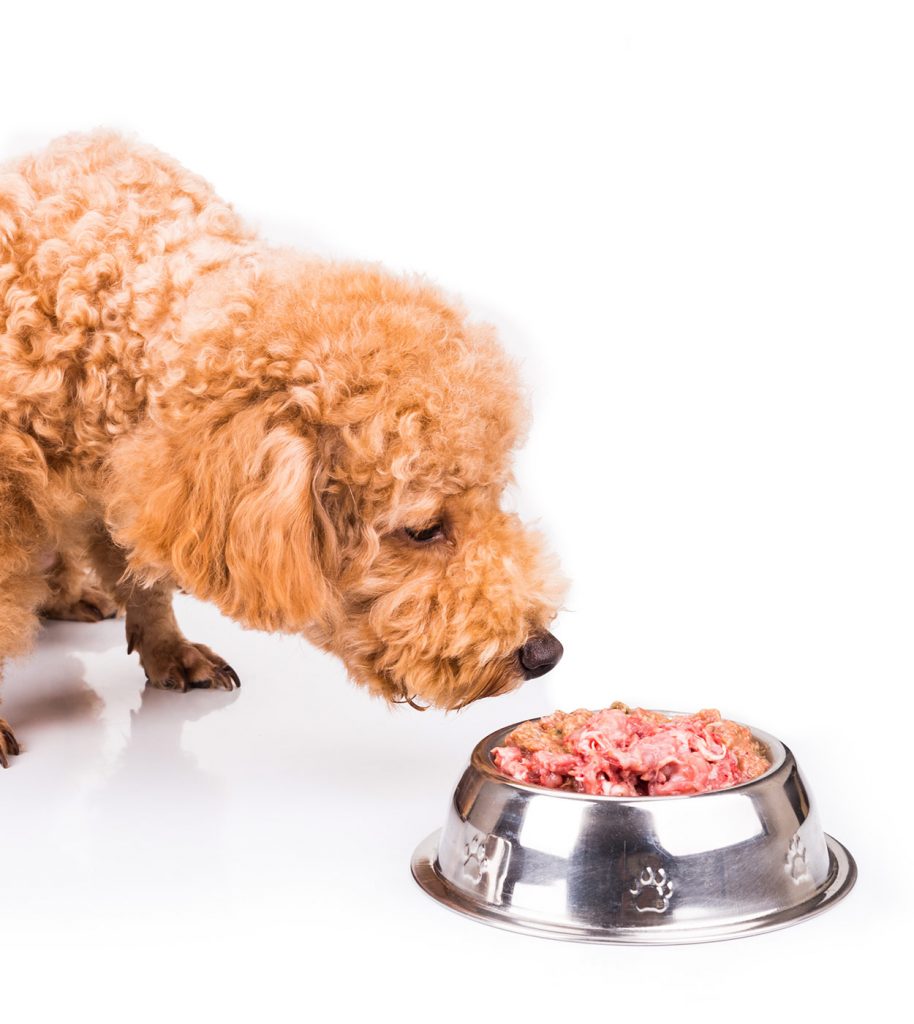 What kind of pork can I feed my dog?
Provided it's cooked, not overly processed and free of potentially toxic spices and seasonings, no pork product is off the table, in moderation.
Can dogs eat pork sausage?

Absolutely!

Are pork ribs for dogs okay?

If you've taken the meat from the bone, sure.

Can dogs eat pork rinds?

As a treat. But as pork rinds are often fried, it could cause a stomach upset. If your dog loves them as a treat, try baking pork skin yourself for a healthier version.
How much pork can I feed my dog?
So we've answered the question, "Can you give dogs pork?" The answer is a resounding "Yes."
But just how much?
Well, it's no problem as a snack or occasional treat. But high quality dog food may be your best bet for your dog's diet.
If you're super keen for your dog to eat "real meat," test them with a small amount of pork first. You need to check for allergies or reactions before letting your dog scoff down lots of pork.
This applies to all new foods introduced into your pet's diet.
What do I do if my dog has eaten pork
Provided the pork is cooked, don't worry.
There's no need to wrestle any pork products away from your dog if he or she is enjoying a snack.
If it's raw and you're concerned, just take the meat away.
Act similarly with a cooked or small bone that you're concerned about. Calmly take the bone away and dispose of it thoroughly.
There really is no need to worry over your dog eating pork. It doesn't cause any health issues at all.
Can dogs eat pork?
Pork is really very safe for dogs to eat. Dogs, despite the popular misconception, thrive on fatty foods.
Provided the meat has been cooked through and has no seasonings or rubs containing anything toxic to dogs, it is fine.
Be sure to avoid giving your dog any cooked pork bones, and you should have no problems whatsoever.
Readers Also Liked
References and further reading
The Present Status of Trichinellosis in Thailand;

Southeast Asian Tropical Medical Public Health; C Khamboonruang; 1991

Dietary nutrient profiles of wild wolves: insights for optimal dog nutrition;

British Journal of Nutrition; Bosch, G, et al; 2015

Variations in pork quality: history, definition, extent, resolution;

Swine health and production;

RG Kauffman; 1993

American Kennel Club
Get Pippa's free dog training tips delivered to your inbox