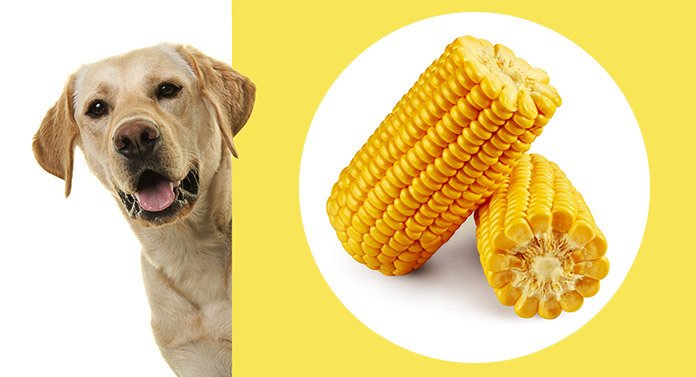 Can dogs eat corn as a part of their daily diet, or are there some risks involved?
Dogs can eat corn in certain forms. For example cooked, or as an ingredient in their food.
But being physically able to eat something, and it having a benefit to being included in their diet, are rather different things.
And some forms are better than others. A small amount of corn won't hurt your dog, but corn husks can be a choking hazard.
Can Dogs Eat Corn?
Corn might seem harmless as foods go. But it is one of those foods where you need to follow certain rules to stay safe.
In this article we'll take a look at when it's okay to feed dogs corn, and when you should steer clear.
Corn glorious corn!
Did you know that corn is actually considered a grain? It is a member of the grass family and the most common of the world's food crops.
It is also used in livestock feed.
Corn is grown all over the world and matures somewhere nearly each month of the year.
Since corn is such a staple food, it may seem perfectly safe to give your dog corn. Especially since it's used as livestock feed.
But then there are news stories that pop up about the corn cob that killed a family dog, which send you into a whirl!
So which is it? Can dogs eat corn safely? Is corn good for dogs? Is corn bad for dogs?
It's actually a mixture of both, with some controversy thrown in!
Can dogs eat corn?
The answer to "can dogs eat corn kernels?" is yes, when they're cooked!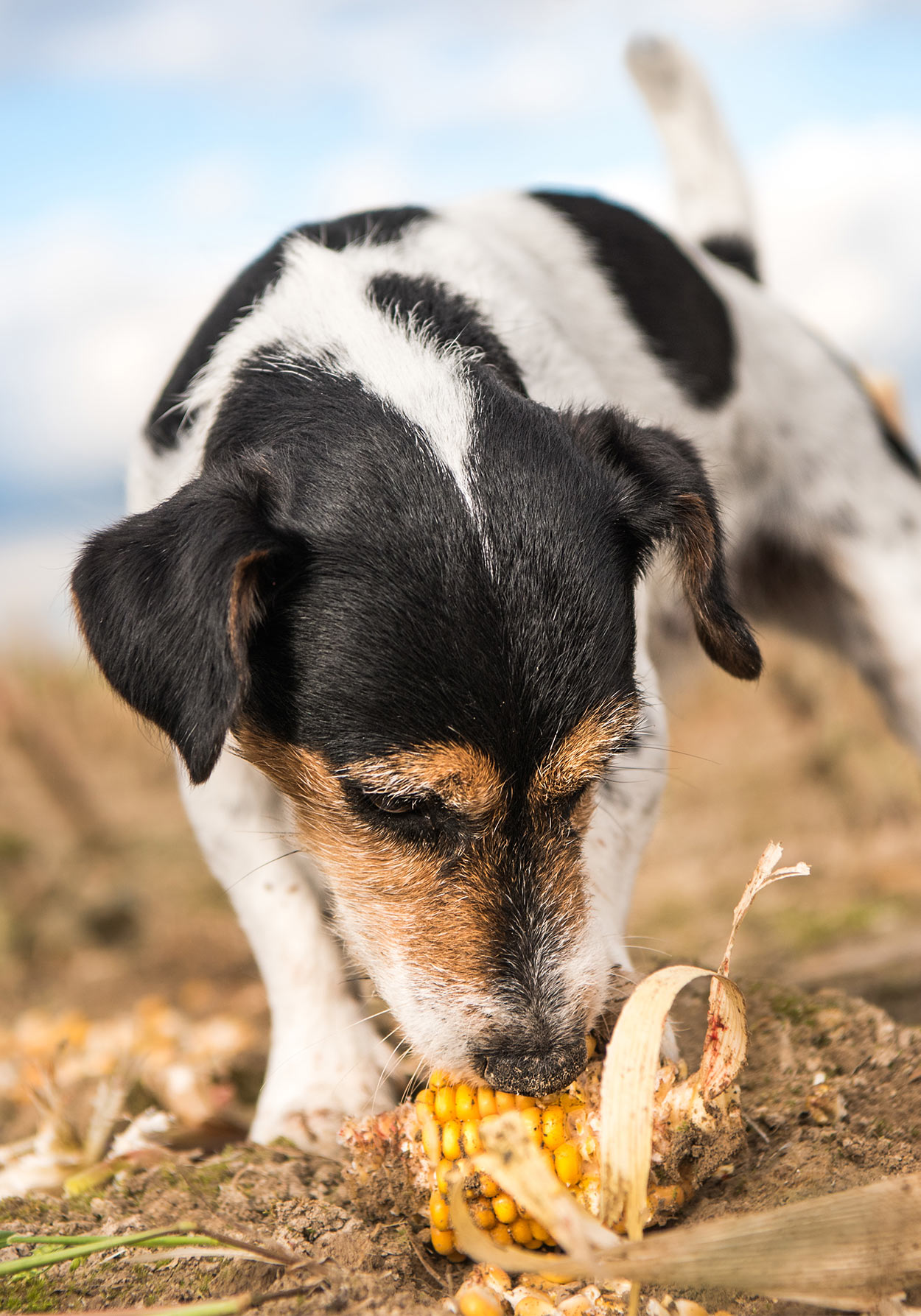 Cooked corn kernels themselves are actually safe for your dog.
Corn is used as a base in many dog foods, since it's inexpensive and can be part of a well-balanced diet.
It is a potential source of carbohydrates, protein, antioxidants and linoleic acid for your dog. Although, there are better ingredients digestively speaking.
So if you're wondering, "is corn ok for dogs?" the answer is yes!
But, there are a few caveats, so keep reading.
Can dogs eat corn on the cob?
You may be wondering: can dogs have corn on the cob?
Google "dog ate corn cob" and you'll find a list of tragedies. Dogs and corn cobs do not mix.
Under no circumstances should you give your dog corn on the cob. Corn on the cob is a major choking hazard.
It's not just something they put in the news to scare people.
If a dog eats a corn cob, it can cause a major intestinal blockage. VetsNow, an emergency clinic located in the U.K., told the story of Henry, a two-year-old black Labrador.
Henry's Story
Henry's owner gave him some corn on the cob, thinking it was at least healthier than more fatty human foods.
Instead, the corn cob became lodged in the dog's intestines, and they had to take the dog to the emergency vet.
Henry needed surgery to have the corn cob removed.
A dog just can't digest a corn cob. It can cause a blockage or even perforate the digestive tract.
So no matter how longingly your dog watches while you eat corn on the cob, don't share it with her.
Corn on the cob for dogs is just never a good idea.
My dog ate a corn cob – what should I do?
If your dog ate a corn on the cob, contact your vet immediately.
You may even have to go to an after-hours emergency clinic.
Since corn on the cob can obstruct or perforate, you don't want to wait until your dog gets sick to take him in.
By that time, major damage could have been done and it may be too late. Better safe than sorry.
Signs of Obstruction
If your pet starts having vomiting or diarrhea, these are signs you should also call your vet.
The same goes for lethargy and not wanting to eat or drink.
These are signs that your pet could have an obstruction.
If it is possible your dog may have consumed a corn cob while you weren't looking, act as though you are sure and get to the vet.
The vet will probably do a physical examination of your dog. They may also run abdominal x-rays.
The obstruction may require a surgery. So for the best possible chance of your dog being okay you need to act immediately.
Is corn safe for dogs?
So as you can see, the answer to can dogs eat corn safely is dependent upon the form it comes in.
As long as corn is separated from the cob, it tends to be safe for dogs.
UC Davis covered a study that found some key biological makers that make dogs different from wolves.
One of those traits is the ability to process starchy food as dogs adapted to agricultural communities.
So your dog has literally evolved to process corn.
If you're wondering "is corn ok for dogs?" it generally is, save for allergy issues.
And in fact, one study mentions that crude protein digestibility was the highest (at 87 percent) for flours that originated from corn!
Can my dog eat canned corn?
Since kernel corn outside of the cob is ok for your dog, you may be wondering if you can feed a dog canned corn.
You actually can, as long as you go for the right kind.
But if you want to give your dog canned food, make sure it is a low to no sodium variety.
The great corn dog food controversy
Corn in dog food has gotten such a bad reputation in recent years that you may be scratching your head as to why you can give corn for dogs.
The common argument against corn in dog food is that corn is a less nutritious filler.
Corn is low in tryptophan, which is a risk to dogs with low serotonin, a mood stabilizer.
A 2002 study also found that the nutrient digestibility levels in a corn diet were lower than that of a rice diet.
The study also covered the concern that starch from corn is harder for dogs to digest. But, manufacturing processes make it easier for dogs to digest that starch.
But Not Everyone Agrees
The Ohio State University Veterinary Medical Center debunks the notion that corn is just a cheap filler in food.
And column by the American Animal Hospital Association also covered the issue.
They stated that it's more important how all the ingredients in the food work together for a balanced diet, rather than avoiding corn in dog food like the plague.
When in doubt, talk to your vet for recommendations of high-quality dog food.
The final verdict: can dogs eat corn?
It depends!
Can dogs eat corn on the cob?
No, keep dogs and corn cobs apart.
The corn cob can obstruct the intestinal tract and even cause perforations. So, corn on the cob for dogs is always, always a bad idea.
If you search "dog eating corn cob," you're likely to come up with tons of cute videos of dogs eating just the kernels right off the cob. But, you should avoid even this, as it trains the dog to search out the cob.
And the dog may get over ambitious and nab the whole cob out of your hands, running off with it.
Can dogs have corn at all?
Yes, but only certain types.
Corn for dogs only works when your dog is eating just the kernel.
Dogs can have just the cooked kernel. So, in that form that answer to "can dogs eat sweetcorn?" is a yes.
If you feed canned corn, keep away from high-sodium canned vegetables.
And, course, you may have heard negative things about companies using high amounts of corn in dog foods as a cheap filler.
Corn in dog food is ok, as long as it's combined with other ingredients to create a balanced diet.
And here's what to do if your dog eats a corn cob: call the vet. You don't want to risk missing an obstruction or perforation before it's too late.
Tell Us Your Experiences
Have a type of corn kernel snack you love to give your pet? Or have any tales of caution? Feel free to share in the comments section below.
Readers Also Liked
References
Get Pippa's free dog training tips delivered to your inbox