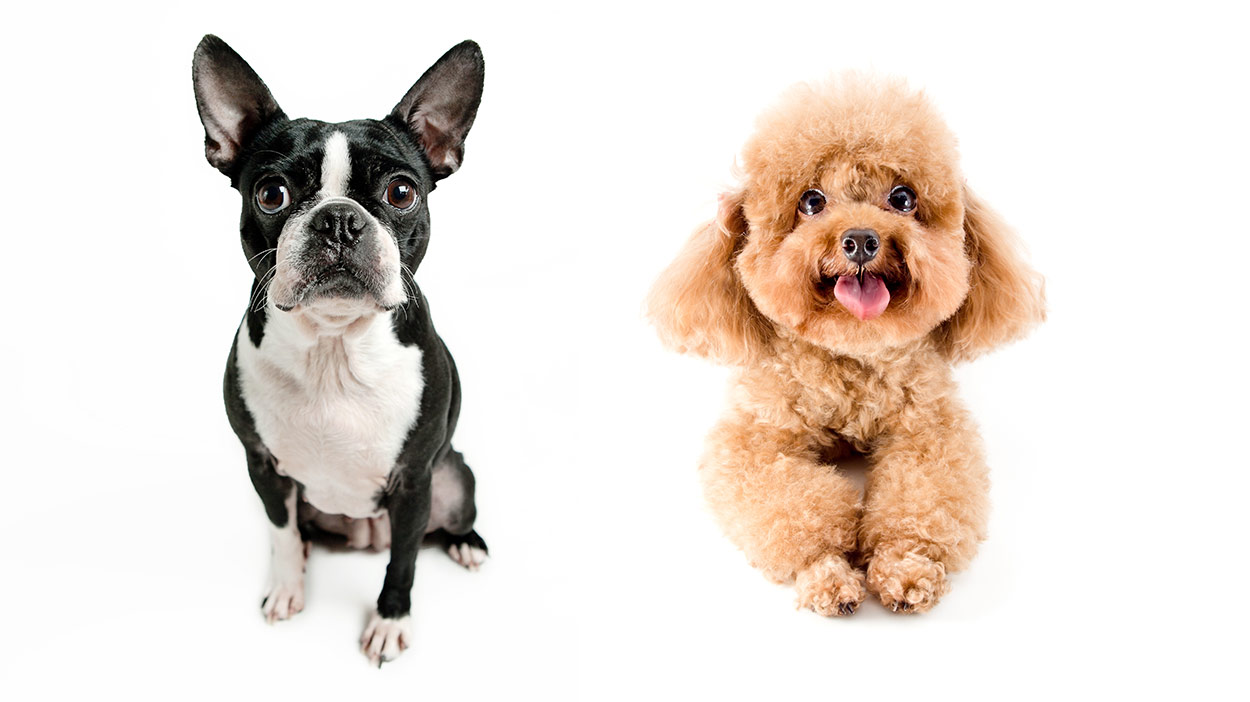 Welcome to our complete guide to the Bossi-Poo!
Don't worry; this cute pup doesn't have the name "Bossi" because it's bossy.
What is a Bossi-Poo?
The Bossi-Poo is a mixed breed, with one Boston Terrier and one Poodle parent. As a mixed breed it can be hard to pin down what their temperament and appearance will be like, but we can work out some of the potential variations by looking at the parents.
Poodle mixes are all the rage right now, and the Bossi-Poo is no exception.
If you're looking to know more about the looks, character, or health of this dog, we've got you covered.
We'll also discuss the history of how this adorable mix originated and provide you with information about how to tell if this is the perfect dog for you, and where to find one.
Just before we jump into all of that, let's talk a little bit about first generation mixes in general, since there tends to be a lot of controversy around the subject.
Designer Dog Controversy
First generation mixes are often referred to as 'designer dogs'.
This is due to the fact that they are usually the result of deliberately mixing two purebred pups, to design a new mixed breed.
The controversy around this is a result of people having strong feelings about whether pure breeds are better and shouldn't be mixed, or whether mixed breeds are better.
Two great articles, that discuss the pros and cons of each side, can be read here: Purebred vs. Mutt and Purebred vs. Mutt.
These articles try not to show a bias for one argument over the other, so that you can decide for yourself who you agree with.
Is A Designer Dog Healthier?
One of the biggest arguments supporting designer dogs is that they are healthier.
This is a common belief, but is nearly impossible to prove. There are simply too many different pure and mixed breeds to make a statement this broad.
However, it has been shown that on average, when compared with mixed breeds, purebreds have reduced vigor.
Reduced vigor doesn't necessarily mean more health problems or genetic defects (although it could). It does mean that pure breeds tend to have shorter life spans and a lowered ability to produce offspring.
Research has also shown that inbreeding (which is how you get purebreds) results in a smaller genetic pool. This means that there is a greater chance of passing on genetic traits that cause health problems.
Ultimately, whether you decide you want a pure breed or a mixed breed, the health and welfare of your individual puppy should always be your priority.
Origins of the Bossi-Poo
The Bossi-Poo is a recent designer mix, which means that the history is limited.
To get a better idea on where this dog came from, we will look at the history of both of the parent breeds.
Boston Terriers
The Boston Terrier began in the late 1860's in Liverpool, England. The first Boston Terrier was a cross between a Bulldog and a white English Terrier.
If you haven't heard of an English Terrier, it's because they are now extinct.
This original mixed pup was then sold to an American who brought him to his home in Boston.
This is how the breed ended up with the name Boston Terrier.
The dog was first registered with the American Kennel Club (AKC) in 1893.
Interestingly, there is still a lot of Boston pride related to this dog breed. It's been the official mascot of Boston University since 1922, and the official dog of Massachusetts since 1979.
Poodles
Poodles are well-known as the national dog of France, but they actually originated in Germany.
Poodles were originally duck hunters. They were bred to be water retrieving dogs over 400 years ago.
Hunters would shave the legs, neck, and tail to allow for more freedom of movement while swimming. They left the rest of the fur to help keep the dog warm in chilly water.
Poodles became very popular in France, not for their duck hunting abilities, but due to their elegant looks.
They also became popular in the European circus due to their showy style and ability to be trained for tricks.
Appearance of a Boston Terrier Poodle Mix
As with any cross breed, a Bossi-Poo could end up looking like either parent breed, or a cross between the two.
Boston Terriers
Boston Terriers are small dogs. They typically range in height between 15 and 17 inches, and weight between 12 and 25 pounds.
They are short, compact dogs, with a short tail. These dogs have a square head, short muzzle, and large round eyes.
Boston Terriers have a short, smooth coat, sometimes referred to as a "tuxedo" coat. The coloring will be white with black, brindle, or dark brown.
Poodles
There are three sizes of Poodles: miniature, toy, and standard.
Toy Poodles should stand less than 10 inches tall and weigh 4 to 6 pounds.
Miniatures typically range between 10 and 15 inches tall and weigh between 10 and 15 pounds.
Standard Poodles are the largest of the three, with a height of over 15 inches and a weight anywhere between 40 and 70 pounds.
All Poodles should have the same appearance and build. They all share the same breed standard, with the only difference being size.
Poodles are squarely built dogs with long ears that hang down. They have a long muzzle and very dark, oval eyes. Tails are straight and sometimes docked.
Poodles can come in a wide range of colors. There are ten different solid color possibilities, which are all accepted by the breed standard.
In addition, there are 18 different possible color combinations for purebred Poodles. However, these are not accepted in show dogs.
Boston Terrier and Poodle Mix
As you can see, the Boston Terrier and the Poodle have remarkably different appearances, in shape, size, and coloring.
This means there is a very wide range of possible appearances for a Boston Terrier and Poodle mix.
Typically, Bossi-Poo puppies are bred with Miniature Poodles in order to achieve a small dog of less than 25 pounds.
However, this may not always be the case. Since a full grown Standard Poodle can weigh up to 70 pounds, it's very important for you to check which size Poodle was the parent.
Boston Terrier Cross Poodle Grooming & Care
Boston Terrier
The Boston Terrier coat is short and low maintenance. This dog sheds lightly and only requires weekly brushing to remove loose hair.
The nails should be trimmed regularly, and the Boston only needs to be bathed occasionally.
Poodle
The Poodle has a very low shedding coat, but it is high maintenance.
Poodles have to be clipped or trimmed regularly. Some owners choose to learn how to do it themselves, while others prefer to use a professional groomer every four to six weeks.
There are a number of different clip styles for Poodles, from the short trim Sporting Clip to the elaborate Continental Clip that is used for show dogs.
If your dog has anything other than the short Sporting Clip, it is very important to brush your Poodle every day.
If you do not properly brush one of these dogs, right down to the skin, the curly hair will mat near the roots and will need to be shaved off.
This means that a Bossi-Poo could end up with either a low maintenance coat or a very high maintenance one, depending on which traits it inherits.
Temperament of Boston Terrier x Poodle Mixes
Boston Terriers are known to be bright, lively little dogs that enjoy the company of people. They are typically alert, joyful dogs that have been described as humorous and silly.
Poodles are eager, incredibly intelligent dogs that are known for being aloof. These dogs typically have more of a cool reserve with new people, but they can be very loving to their family.
While both parent breeds are generally wonderful companions, a Boston Terrier Poodle mix could be outgoing or reserved, depending on which temperament it inherits.
It's impossible to predict exactly what temperament a puppy will end up with, even in pure breeds.
This is why it's important to make sure that any puppy has proper socialization and training.
Health Issues of a Boston Poodle Mix
Brachycephaly
Boston Terriers are flat-faced dogs. This means they are a brachycephalic breed.
They will have trouble breathing and cooling themselves.
It's important to protect them from too much heat or humidity and make sure they don't have too much strenuous activity.
Poodles have longer, pointier muzzles, so it's possible your Boston Poodle mix may not have brachycephaly or may have a milder condition.
However, this is not guaranteed.
Please consult your veterinarian before putting a Boston Poodle mix in any environment or situation that could be harmful to a brachycephalic dog.
Boston Terrier Health
Boston Terriers are also known to have the following health issues:
Eye problems, such as cataracts, corneal ulcers, and glaucoma
Deafness
Poodle Health
Poodles are known to inherit the following genetic health problems:
Toy and Miniature Poodles may also have orthopedic problems such as Legg-Calve-Perthes and patellar luxation.
Standard Poodles are less likely to have these issues, but they are more likely to suffer from gastric dilatation – volvulus and sebaceous adenitis.
If you're considering a Bossi-Poo puppy, make sure it- and its parents- have been health tested for any of the genetic defects discussed above, particularly the ones shared by both breeds, such as eye diseases and patellar luxation.
Exercise and Training Needs of a Bossi-Poo
Boston Terriers are very eager to please, outgoing animals who tend to be easy to train.
Poodles are incredibly intelligent and very easy to train. They particularly excel at sports such as agility, tracking, and retriever hunt tests.
Both Boston Terriers and Poodles can be sensitive creatures. They respond best when handled gently and will cower around raised voices.
Positive Reinforcement
Positive reinforcement is always an important aspect of training, but warmth and praise are even more important with these gentle souls.
A Boston Terrier Poodle should be an easy to train dog that responds very well to consistent, positive reinforcement.
High Energy Sports
The exercise requirement for a Boston Poodle is not as straightforward. Poodles tend to be very active, high energy dogs.
Bostons, on the other hand, are not physically capable of extended periods of activity due to their breathing problems.
Boston Terriers still need regular exercise, but they will do much better with shorter bursts of energy such as throwing a ball around in the backyard.
Bostons do enjoy sports, such as agility, flyball, and rally. Since Poodles excel at sports, this may be an excellent way to regularly exercise one of these designer dogs.
If you need help determining the right level of exercise for your Poodle Boston mix, consult your veterinarian.
Ideal Home for a Bossi-Poo
Both Boston Terriers and Poodles love to be social. They will do well in a home where someone is around often.
Even a Boston Terrier Toy Poodle mix will require regular exercise and activity. They may have lower stamina but they still need lots of one-on-one attention and play time.
Neither purebred dog will be happy just being left out alone in the backyard for exercise.
A Boston Poo will likely need a human companion for exercise, whether it's taking your pup through sporting exercises or playing fetch.
These dogs can do well in smaller homes or apartments, as long as you're still providing them with daily exercise.
It's important to remember that training and socialization are necessary to ensure your dog is a proper house mate.

Bossi-Poo Puppies
As a fairly new designer dog, it can be challenging to find a reputable Bossi-Poo breeder.
You may be able to find a puppy online, either through your local advertisements or through animal sale and adoption websites.
Please ensure your puppy is coming from a reputable source.
It's important to pay attention to the type of living conditions the puppy is coming from.
Make sure you ask to see both parents and get as much information as you can to understand the background of your puppy.
If size is important to you, make sure you confirm which size Poodle was the parent.
Be aware that you could end up with any aspect of either parent breed. Your dog could also end up having a medical condition not seen in either parent.
This is why health testing, socialization, and training are all so important.
If you've enjoyed this article, you might also want to take a look at Boston Terrier vs Pug!
References and Further Reading
Get Pippa's free dog training tips delivered to your inbox