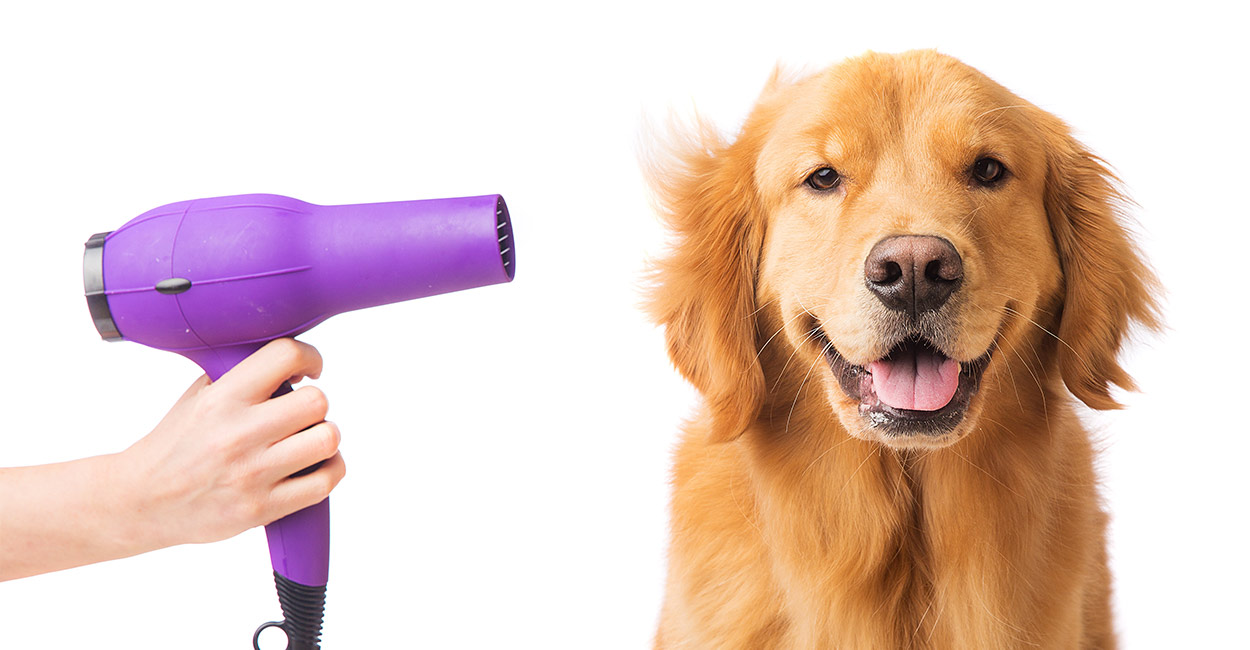 What is the best shampoo for Golden Retrievers?
In this guide, we provide in-depth reviews of dog shampoos to help you select the right type and brand for your pooch.
If you have a Golden Retriever, you've no doubt pondered how best to care for their glorious golden mane.
And you're probably not alone. The Golden Retriever is ranked as the third most popular breed in the US by the American Kennel Club.
Proper grooming is a necessity for the wonderfully hairy, heavy-shedding retriever.
If you decide to take grooming matters into your own hands, this article will help you select the best shampoo for Golden Retrievers.
Should You Shampoo Your Golden Retriever?
Without regular shampooing, brushing, and clipping, your spectacular dog may lose one of their best attributes—head-turning golden tresses.
Shampooing keeps your dog clean, but also gives you the opportunity to examine their coat and skin, and stop small problems before they become major issues.
You have two choices when it comes to a getting your dog's hair done: do it yourself or enlist the help of a professional groomer.
The DIY option has a number of strong advantages when it comes to shampooing your dog.
First off, it's an economical alternative to expensive dog grooming services.
Second, many dogs would prefer to stay at home and have mom or dad, versus a stranger, lather them up!
If, like me, you see a lot of mobile pet grooming vans on the roads these days, these also an option for homebody dogs.
However, appointment-setting, meeting strangers, and emptying your wallet will still need to be considered.
So why not make give Fido a bath yourself? Grooming is a great way to bond with your dog, and you can do it inside or even outside, weather permitting.
Shampoo for Golden Retrievers
As every great hairdresser knows, the best head of hair, or in this case body, starts with a great shampoo. So here, we review some the best shampoo for Golden Retrievers that owners can buy.
So, what is the best dog shampoo for Golden Retrievers? What is the best Golden Retriever puppy shampoo?
To choose the right one, you'll first want to consider the needs of your dog's coat—voluminous and heavy since Golden Retrievers have a medium length double coat.
The outer coat is dense and repels water while the undercoat is also considerably thick.
It's worth noting that Golden Retrievers also have elegant wisps of hair, called feathering, on areas such as the tail, neck, back of the legs, and underneath the body.
But is it really necessary to shampoo your dog?
Why Give Your Golden Retriever a Bath?
Doggie smell is an inevitable part of living with your bestie. Although Golden Retrievers don't have glands that can contribute to certain odors,  any unwashed dog is bound to smell at some point!
A nice bath will go a long way toward eliminating odors, plus it can get rid of unhealthy pests, dirt, debris, etc., which would otherwise be deposited around your house.
But how often should you bathe your dog?
At the end of the day, only you know the answer to this question. It will mostly depend on how much time your dog spends outdoors.
Your pooch will most definitely get dirtier outside than inside, but in saying that, the great outdoors can a great place to wash them!
Most Golden Retrievers don't mind a little water, and an outdoor hose plus a good shampoo can make quick work of the task.
If you instead want to wash your Golden Retriever indoors, it's best to get them accustomed to the bathtub as puppies.
Wherever you chose to bathe your dog, there are a few tips to keep in mind:
Have the bathing area set up in advance.
It's best to brush your dog's fur prior to bathing for a tangle-free experience.
Be careful not to get the shampoo in their eyes.
To keep their magnificent mass of buttery-colored fur in tip-top shape, let's take a look at the best puppy shampoos for Golden Retrievers—both puppies and adults.
We've included a variety of price ranges and features such as hypoallergenic, scented, gentle, flea and tick, and special ingredients.
Shampoo for Golden Retrievers – Adults
It's important to use a shampoo strong enough to remove embedded dirt and gunk from your dog's coat while at the same time leaving skin soothed, not dry.
The following brands do a terrific job of cleaning your dog's fur while taking care to moisturize the skin.
The Oster Oatmeal Naturals Shampoo comes in an 18-ounce bottle and is perfect for dogs with sensitive skin. The all-natural oatmeal soothes and protects, plus aloe vera and chamomile relieve dry, itchy skin.
Made in the US, the country apple-scented shampoo is 100% free of dyes, parabens, alcohols, and phthalates and pH balanced. And it won't wash away flea treatments.
You can rest assured the Fieldworks Supply Company Natural Dog Shampoo is 100% natural and organic, moreover, it doesn't contain sulfates, preservatives, or chemicals.
The main ingredient is bentonite clay, which binds to bacteria, fungus, heavy metals, and toxins, pulling them away from the skin.
Neem and Argan Oil are also featured in this premium dog shampoo since they are naturally antiseptic, antibacterial, and antifungal.
The SynergyLabs Veterinary Formula Clinical Care Antiparasitic & Antiseborrheic Medicated Shampoo is a gentle medicated shampoo that treats scaly skin with coal tar, salicylic acid, and micronized sulfur.
The specialized ingredients address mange, as well as parasitic, bacterial, and fungal infections. Other special properties help to manage rashes and greasy or waxy skin.
Shampoo for Golden Retrievers – Puppies
Some shampoos can actually take away the protective oils that naturally present on your puppy's sensitive skin and coat, putting a damper (pun alert!) on the bathing process.
In this case, dry, flaky, and even itchy skin can result, which is why we've reviewed a number of products to cater to your pup's needs.
PET CARE Sciences Professional Grade Dog Shampoo & Puppy Shampoo With Coconut Oil & Palm Oil
is a pro-grade formula strong enough for adults and safe enough for puppies.
Made with coconut oil and palm oil, its gentle scent will leave your dog smelling great and looking their Sunday best.
There are no harsh sulfates, parabens, phosphates, MEA, or DEA to irritate your puppy's sensitive skin. The product is made in the US and comes with a 100% money back guarantee!
Sensitive puppy skin may benefit from the Honeydew Vanilla Oatmeal Dog Shampoo with Aloe Vera—a colloidal oatmeal shampoo for both dogs and puppies.
Your pup will be gently and thoroughly moisturized while vanilla and lavender will work to keep ticks and fleas away at the same time.
A maximum strength odor remover is incorporated along with oatmeal and aloe vera to protect skin from irritants and dryness. Manufactured in the US, it also comes with a satisfaction guarantee.
Wahl's Dog shampoo is a gentle, no tears formula that uses plant-derived ingredients to ensure your pup is bathed in only the best ingredients.
Cornflower and aloe vera are featured in this dog-friendly, pH balanced, and paraben-free shampoo, which also contains no PEG-80.
Hypoallergenic Shampoo for Golden Retrievers
Did you know Golden Retrievers are prone to ichthyosis, a genetic skin disorder marked by dry, scaly, and thickened skin?
If your dog has sensitive skin, is prone to allergies, or you simply just want a natural shampoo product, why not consider a hypoallergenic wash?
Aloe and lemongrass are the main ingredients found in the 4-Legger Certified Organic Dog Shampoo, which is 100% natural, USDA certified organic.
The 4-Legger hypoallergenic dog wash has no detergents, parabens, or sulfates, and nothing artificial or synthetic is included. The shampoo uses sustainable ingredients, is cruelty-free, vegan, and eco-friendly.
Essential lemongrass oil is included to deter fleas, and veterinarians often recommend this shampoo for dogs with normal to dry and itchy, sensitive, or allergic skin.
Rocco & Roxie Dog CALM Hypoallergenic Shampoo, best for sensitive skin, is available in 16 and 32 ounce bottles and suitable for all dogs.
The shampoo uses aloe vera extract to soothe cuticle surfaces while sealing moisture into the skin and coat.
Restorative rosemary stimulates follicle growth and there are no dyes, alcohols, or parabens to irritate sensitive skin. A 100% money back guarantee comes along with this product.
From the ubiquitous Burt's Bees comes the hypoallergenic dog shampoo.
It's 97% natural and provides a squeaky clean wash for your dog and is available as a single 16-ounce bottle or two-pack.
The highly-rated Earthbath All Natural Pet Shampoo is gentle on your dog and gentle on the environment too! It's 100% biodegradable and cruelty-free.
Flea and Tick Shampoo for Golden Retrievers
If your dog is outdoors a lot of the time, why not try a shampoo that performs double duty as a wash and protector?
These shampoos will not only get your dog clean as a whistle, they will confer an added layer of protection against ticks and fleas.
The Natural Dog Shampoo And Conditioner from Paws & Pals comes in a 20-oz bottle of medicated moisturizing shampoo formula.
Quality ingredients such as lemongrass oil are used to keep fleas and ticks at bay. It also contains filtered water, oatmeal, and aloe vera to ensure your doggie's skin stays soothed.
Plus fragrant essential oils like cedarwood, cinnamon, vanilla, sandalwood, clove, and rosemary will make your pup smell divine.
This specialized Flea & Tick Shampoo with Precor for Dogs and Cats from Adams Plus is capable of destroying fleas, ticks, flea eggs, flea larvae, and lice.
In addition, it provides 28-day control of pre-adult fleas. Yet it is still gentle enough for puppies, featuring aloe, lanolin, coconut extract, and oatmeal to keep your pup's skin soft and soothed.
Synergy Labs Groomer's Blend Shampoo is another great option that comes in an 18.4-ounce bottle. The shampoo contains permethrin, which is purported to kill both fleas and ticks on contact.
In addition, exfoliating ingredients help slough off dead skin cells leaving your dog's fur silky smooth. Moreover, it's pH balanced, paraben-free, and contains no harsh soaps or detergents.
The Bio Spot Active Care Flea & Tick Dog Shampoo is strong enough to kill fleas, lice, and ticks, but gentle enough to leave skin soothed with aloe, lanolin, and oatmeal, which also leave the coat soft and glossy.
This specialized shampoo kills flea eggs and larvae for 28 days.
All-in-one Shampoo and Conditioner for Golden Retrievers
If your dog's hair twists and tangles easily, or they have dry skin, then a conditioner that moisturizes and detangles is a good option.
An even better option may be a convenient shampoo/conditioner combination, especially for dogs who require frequent bathing or are a bit impatient about the whole shampooing process!
The Pro Pet Works Natural Oatmeal Dog Shampoo + Conditioner in One is pH balanced for sensitive skin and contains organic aloe vera and almond oil to soothe irritable skin.
The formulation includes non-eye-irritating vitamins A, D, and E to ensure a tear-free experience for your dog.
Hundreds of happy pet parents recommend Paws & Pals Natural Dog-Shampoo and Conditioner. The brand maintains both vegan and organic principles, and the product is made with ultra-purified water.
Loads of essential oils will soothe your dog's skin and help maintain a shiny coat.
This premium brand also promises a tear-free washing experience using only extracts and oils specially chosen to be non-irritating to the nose and eyes.
Alpha Dog Series Puppy Shampoo and Conditioner is a deep cleansing, 2-in-1, all-natural dog shampoo and conditioner with a pleasing baby powder scent.
The shampoo-conditioner combo is pH balanced so it's perfect for pooches with skin allergies, sensitive skin, or dermal issues.
What is the Best Shampoo for Golden Retrievers
Of course, the best shampoo for Golden Retrievers is one that gets your dog's thick, lustrous, double-coated hair squeaky clean and at the same time protects their skin.
But every dog is different so the best shampoo for Golden Retrievers will depend on the individual needs of your pooch.
If your dog has specific conditions, such as allergies, sensitive skin, or a problem with fleas and ticks, be sure to try one of the specialized shampoos mentioned above to address these issues.
If you love everything about Golden Retrievers, check out this article on English Cream Golden Retrievers!
What shampoo for Golden Retrievers have you tried or can you recommend? Let us know in the comments below.
References and Further Reading
Golden Retriever Club of America
Guaguere E et al. 2009. Clinical, histopathological and genetic data of ichthyosis in the golden retriever: a prospective study. Journal of Small Animal Practice.
Get Pippa's free dog training tips delivered to your inbox