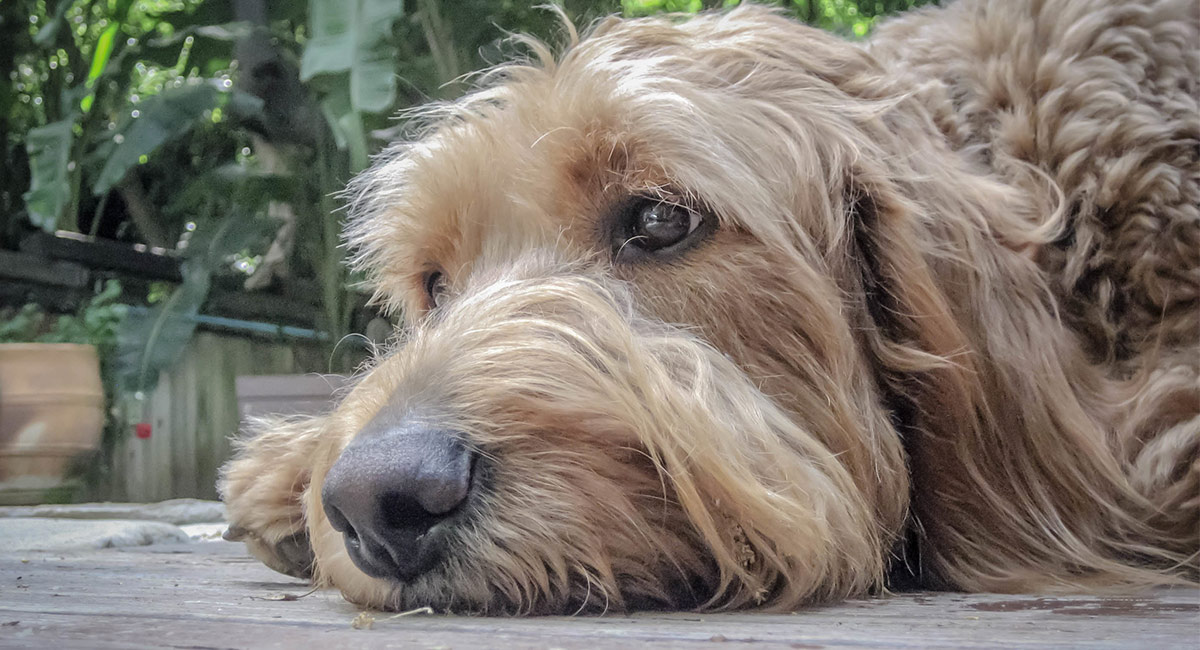 Welcome To Our Complete Guide To Goldendoodle Coat Care. Including How To Find The Best Brush For Goldendoodle Fur, And Top Tips On How To Use Them For Goldendoodle Grooming.
The Goldendoodle has very unique fur. Coming from the curly Poodle and long haired Golden Retriever.
There is quite a lot of variation even between Goldendoodles.
So to tackle Goldendoodle grooming, you'll need some special tools.
All of these products were carefully and independently selected by the Dogsnet team. If you decide to make a purchase from one of the links marked by an asterisk, we may earn a small commission on that sale. This is at no extra cost to you.
Our favorite Goldendoodle brushes
In a rush? You can find some of our top choices here:
| | BEST BRUSH FOR GOLDENDOODLE | BENEFITS | OUR RATING |
| --- | --- | --- | --- |
| | JW Pet Gripsoft Dog Slicker Brush | Non-Slip Handle, Prevents Matting, Removes Dead Fur. Suitable For All Coat Types. | |
| | Pettom Pet Stainless Steel Poodle Comb | Removes Tangles, Mats, Loose Hair And Dirt. Poodle Perfect For Finishing And Fluffing | |
| | Enjoy Pet Grooming Kit | Grooming Kit. Cordless Clippers, Scissors, Comb And Guards. | |
| | FURminator Dog Slicker Brush | Removes Surface Mats, Detangles, For Curly And Long Coats | |
| | Zoom Groom Rubber | Wet Or Dry, Large Plastic Dog Brush | |
| | Hertzko Self Cleaning Slicker Brush | Pain Free Mat Removal, Self Cleaning Slicker Brush | |
You will probably want a comb, slicker brush and pin head brush to tackle the trickiest Goldendoodle coats.
In this article we'll go over some important features of grooming your Goldendoodle. And help you to pick the best brush for Goldendoodle coats.
The Goldendoodle can have fur that ranges from long and straight, like the Golden Retriever, to very curly, like the Poodle. It can also have everything in between, meaning more of a crinkly, wavy texture.
As such, simply brushing the Goldendoodle like you would a normal dog will not suffice.
With Goldendoodle grooming, you'll likely need to watch out for matting, trim around the dog's face and/or keep the curls themselves trimmed.
How to groom a Goldendoodle
You may be wondering how to groom a Goldendoodle at home. When trimming your Goldendoodle, you'll need to keep several tips in mind.
Follow these Goldendoodle grooming tips for how to groom a Goldendoodle the right way yourself.
Whether long-haired or curly, your Goldendoodle will need daily grooming to avoid painful knotting.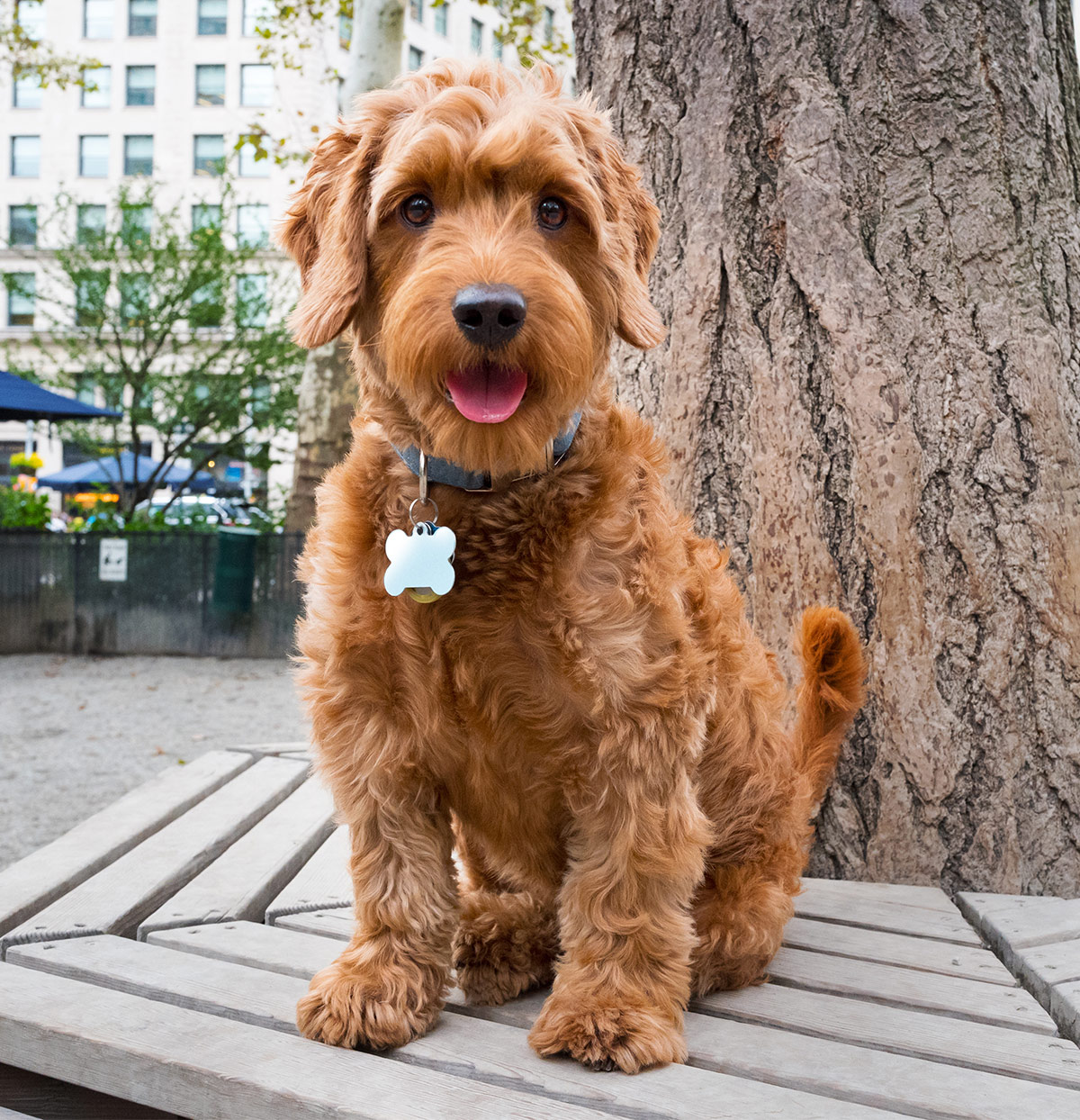 Give extra attention given to the ears, armpits and the back of the legs. This is where knots and matting are most likely to occur.
You will need to buy several different types of brushes for different jobs with Goldendoodle grooming.
Fopr general-purpose brushing the best brush for Goldendoogle grooming will include a comb, pin-head brush or a Zoom Groom.
However, since certain types of curly Goldendoodle coats can be especially prone to matting. This means that another one of the best brush for Goldendoodle grooming will be a universal slicker brush. A great choice for removing and preventing mats.
So let's take a look at some of the options that are available to us for these jobs. Starting with the best brush for Goldendoodle puppies.
Grooming a Goldendoodle puppy
Puppies have some specific Goldendoodle grooming needs of their own.
Quickly and gently brushing your puppy ever day from the time they come home is important.
This will help with both bonding with your puppy and preventing mats in the coat.
Mats can be controlled by rubbing some conditioner into the mat and brushing through it yourself.
Best brush for Goldendoodle puppies
You may be wondering what brush to use for your Goldendoodle puppy.
One of the universally recognized top products for many breeds is the Furminator.
Furminator Slicker Brush
FURminator Slicker Brush* might well be the best Goldendoodle brush of it's type.
They're specifically made for dogs with curly, long or medium coats, like the Goldendoodle.
If you've never seen a slicker brush before, it has closely spaced metal bristles that you run through the dog's coat. They're specifically made to remove mats.
They're also good for smoothing coats without pulling the fur. And the even spacing of the metal bristles reduces pressure to the pet's skin.
It's also good to get a puppy used to this kind of brush early on, as your Goldendoodle is going to need a lot of grooming.
Puppy Zoom Groom
A puppy Zoom Groom* will be another great choice to help your puppy get grooming established.
As you are probably going to find the adult version useful once they grow.
The puppy zoomgroom is designed with small pups in mind, and can be used from the day you bring your wooly bundle home.
Best brush for Goldendoodle adults
As we mentioned at the start of this article, the best brush for Goldendoodle grooming is hard to pin down to any one brush.
You are probably going to need a small collection to keep this gorgeous but crazy coat under control.
Your kit will start with a slicker brush. One of the best dog brush for Goldendoodle options.
Hertzko Self Cleaning Slicker Brush
The Hertzko Slicker brush* is a great design, with close metal wire bristles.
The handle sticks up from the brush pad itself in a vertical direction, allowing for an easier time drawing the brush through your Goldendoodle's fur.
This top Goldendoodle brush is advertised for all sizes of dog and all hair types.
What's interesting about this model is that there's a feature that allows you to retract the bristles back into the brush with one button push. That means all the hair and dirt is left outside the brush for easy cleaning.
A few of the cons from reviewers state that the bristles are quite hard and can pierce skin when they come out of the brush, some dogs don't like the clicking sound the button makes and others said it didn't help on dogs with very short hair.
JW Pet Gripsoft Slicker Brush
Another great slicker brush option is the JW Pet Gripsoft brush*.
Designed for all breeds and coat types, it encouragingly even has a Poodle pictured on the packaging!
This pin head brush has a rounded head and is designed to help with matting and removing shedded fur.
Conair Bristle Brush
If your pet's hair isn't quite as easily knotted, you may want to try this Conair boar bristle brush* for your Goldendoodle brush.
These have become something of a trend for dog owners. The idea is that the boar's brush evenly distributes oil in your pet's fur, leading to a healthier, shinier coat.
It's especially good for dogs with longer hair that's more on the Golden Retriever side of hair types.
Though the brush is rated for short and curly coats, too.
These brushes are good to use in conjunction with other brushes, as they are not set up for removing mats and other tough tangles found especially in curly hair.
Zoom Groom
A large Zoom Groom* can be great for adult Goldendoodles with more wavy than curly coats.
Use it every other day or after mucky play to keep on top of those tangles on the longer haired, less curly coated Goldendoodles.
A great choice, especially as it can be used on wet fur after washing.
Goldendoodle grooming tools
A key part of your arsenal when considering the best brush for Goldendoodle fur is the grooming tool.
These can be as simple as combs, or as complex as a comprehensive grooming kit.
Pettom Poodle Comb
If you want a comb as one of the best brush for Goldendoodle grooming options, then the Pettom Poodle Comb* is a great choice.
This strong metal comb has two different sized combs, with varying spacing.
It is designed to remove tangles, de mat hair and remove loose hairs and dirt too.
With Poodle curls in mind, it can also be used for finishing and fluffing their gorgeous coats.
A great, lightweight choice.
OxGord Paws & Pals Dog Shedding Rake Tool
This Oxgord Shedding Rake tool* has very tightly spaced, short comb teeth made of stainless steel.
If your pet is more on the Golden Retriever side of the fur spectrum, you may want this de-shedding tool, since Goldens shed more than Poddles.
This brush is great for de-matting the curly fur on dog's bellies, but is on the smaller side. So it may be best for mini Goldendoodle grooming, unless you are very patient!
PATPET Dog Grooming Kit
If you're looking for the ultimate kit to help with your Goldendoodle grooming*, then the PATPET Dog Grooming Kit is the one.
It quite possibly contains the best grooming tools for Goldendoodles.
The kit comes with electric clippers that you can charge in a USB port. The kit also contains a metal comb.
But what makes the kit special is the two types of trimming scissors it comes with.
One is a basic flat scissors for trimming, and the other is teeth scissors specially for hair thinning. So you'll be able to get several different Goldendoodle grooming styles.
Though, as a con, reviewers state the trimmers have trouble with very long, thick coats. So this may be a better solution for curly Goldendoodle grooming.
Follow these Goldendoodle grooming tips, and your pet will have a lustrous, beautiful coat.
Goldendoodle face grooming
Goldendoodles have very specific needs when it comes to face grooming. So you'll need to know specifically how to groom a Goldendoodle face.
For face grooming, you'll need some scissors, a brush, a comb and some electric clippers with a 1-inch comb attachment.
Start by brushing what you can around the face and on the head, and then run a comb through the hair by the face and head.
Then use the trimming scissors to trim the top of the head so that it blends into the fur at the neck.
Use the electric clippers with the 1-inch comb attachment and run it down the side of the dog's face along the cheeks on the muzzle. Also go over the chin area.
The use the scissors to clip any fur out of the dog's eyes, if needed.
If the dog's fur on the muzzle is very long, you may want to trim it so it's about even with the bottom of the muzzle. Mini Goldendoodle grooming is the same.
Luckily, for this part of the grooming process, most of what you need comes in a dog grooming kit, like the one you can find at Amazon here*.
This great kit contains the best grooming tools for Goldendoodles.
Including the electric clippers, some trimming scissors, a comb and the comb attachments for the clippers.
Best Brush For Goldendoodle Grooming
As you can see, the best brush for Goldendoodle grooming is a set.
A good comb, slicker brush and scissors, or potentially an electric razor, will help you to keep on top of things.
Have a Goldendoodle grooming tool you love? Feel free to share it in the comment section below.
Affiliate link disclosure: Links in this article marked with an * are affiliate links, and we may receive a small commission if you purchase these products. However, we selected them for inclusion independently, and all of the views expressed in this article are our own.
Readers also enjoyed
References
Get Pippa's free dog training tips delivered to your inbox