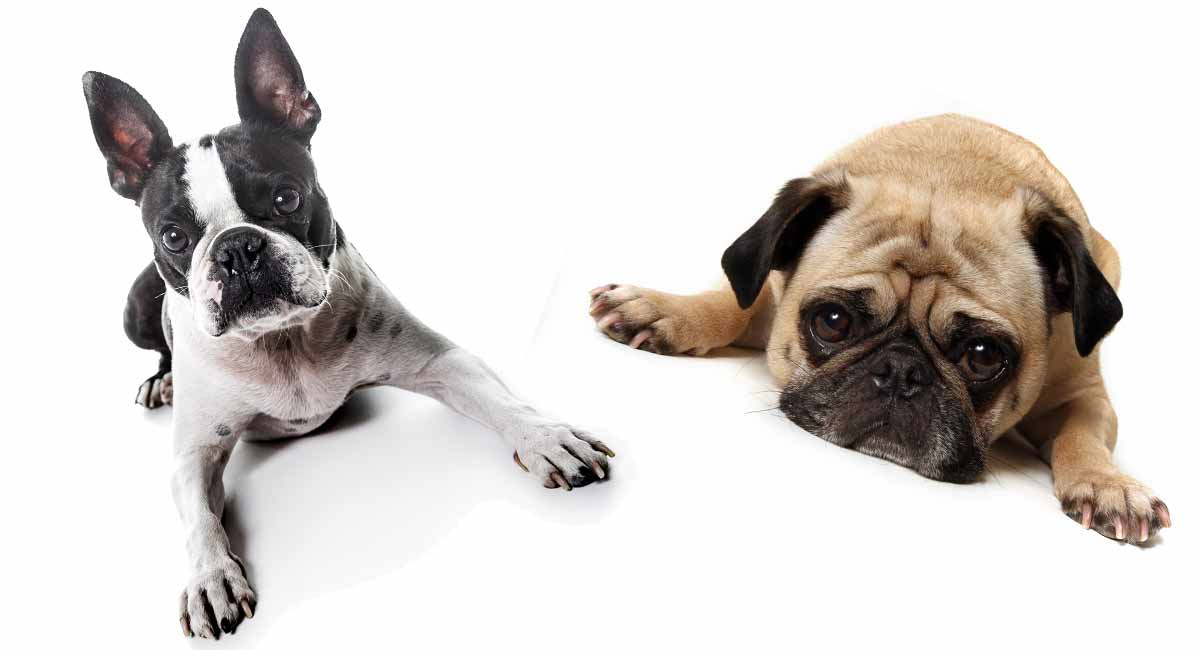 Boston Terriers and Pugs are both enjoying a surge in popularity as small, friendly companion dogs.
Choosing between a Boston Terrier vs Pug isn't just a matter of comparing looks and personalities.
This choice comes with some huge implications about health and lifetime veterinary costs, too.
Boston Terrier Vs Pug
If you are searching for a companion dog, you may have narrowed down your choices to Boston Terrier vs Pug.
But how do you choose between these two popular breeds with their singular appearance and loveable personalities?
Although the Boston Terrier and the Pug have many similarities, there are also certain differences, and each breed has specific traits unique to them.
What they do have in common, though, are flat faces and short snouts, making them both brachycephalic breeds, a vital concern for any potential owner.
In this article, we compare the Boston Terrier and the Pug by looking individually at their origin, temperament, size, and physical appearance.
We also discover what they are both like to train, along with their exercise requirements and health issues.
So, if you want help deciding whether one of these dogs is right for you, keep reading!
Boston Terrier vs Pug History
Boston Terrier
The Boston Terrier first came about in England during the 1860s for dog fighting and is believed to be the result of cross-breeding White English Terriers with English Bulldogs.
A dog named Judge was one of the first ever Boston Terriers who was purchased by an American and brought back from England to Boston, hence the name.
The Boston Terrier was further developed in the USA as a loving companion rather than a fighter and is now a popular choice of pet around the world.
Pug
The Pug's history goes right back to ancient China some 2000 years ago.
These flat-faced dogs were immensely popular with Chinese royalty who treated them with the utmost respect, even giving them their own small palaces and guards!
The Pug was introduced to the rest of the world by Dutch traders during the 16th century and is now one of the most highly favoured breeds around.
Boston Terrier Vs Pug Appearance
Both the Boston Terrier and the Pug have flat faces. This is known as being brachycephalic.
Boston Terriers' and Pugs' brachycephalic features give them a babyish look even in adulthood which we humans are programmed to find appealing.
But they're also linked to some serious health conditions which we'll revisit shortly.
First, let's compare some of these dogs' other features.
Boston Terrier
The Boston Terrier is a stout, muscular dog with a broad head and protruding eyes along with large erect ears that resemble those of a bat. Their short tails are set low and are either straight or corkscrew.
The smooth, short coat of the Boston is either black, brindle, or seal with white markings on the face, muzzle, and chest that makes them look like they are wearing a tuxedo.
Pug
The Pug has a compact square body with a big head, broad chest and strong but short legs and is well known for its bulging eyes, black face mask, and tiny folded-over ears.
They have many wrinkles across the forehead, giving them a worried look, and which the Chinese believed brought them good fortune. Their most notorious feature is their curled over tail.
The Pug has a short sleek coat with the most common colors being fawn, black, apricot, and silver fawn.
Size
Although the two breeds are small, the Boston Terrier is generally larger than the Pug.
The Boston terrier stands between 12 to 15 inches tall, weighing anywhere from 10 to 25 pounds while the Pug stands around 10 to 14 inches in height and weighs 13 to 20 pounds.
Because of their small sizes, both are popular among apartment dwellers, as they do not require much space.
Boston Terrier Vs Pug Temperament
The Boston Terrier and the Pug are bred as companion animals and share many similar personality traits.
Despite the Boston Terrier's fighting background, there are few concerns regarding aggression or biting, but they can become excitable at times and bark at other dogs.
Both breeds have an even temperament and are friendly, loyal, and affectionate, getting on well with children and other pets.
But if you want entertainment, the comical Pug is renowned for amusing his family with his funny antics.
Like many companion dogs, both the Boston and the Pug are happiest when they are with their family, as they thrive on human company.
They should, therefore, never be left home alone for extended periods as they can suffer from separation anxiety leading to destructive behaviors.
Boston Terrier Vs Pug Training
Both the Boston Terrier and the Pug are intelligent dogs who love to please, but are there any differences when it comes to training?
While either one of these breeds is suitable for novice dog trainers, the Boston Terrier is the easier of the two as the Pug tends to be strong-willed.
Pugs can be challenging to train as they are often stubborn and strong-willed, although not in an aggressive way. As they are also extremely smart, they become bored quickly.
Training Boston Terriers is slightly easier than Pugs as they have a natural inclination to being well-mannered, which is why they are often known as "The American Gentleman." They also have a stubborn side, but less so compared to the Pug.
With both breeds, training should start as soon as possible using positive reinforcement methods, giving treats and plenty of praise.
Sessions should be short but fun to maintain their attention.
Like many small dogs, the Boston and the Pug are notorious for being hard to potty train. Crate training is a practical and useful method, as no dog wants to soil their bed.
Early socialization is essential for any puppy if they are to grow up into a well-adjusted adult dog.
Introduce as many different people, dogs, and animals as possible to your pup in various situations as well as in your home.
Having a well-trained and sociable dog who is obedient is much more pleasant to be around.
Read our puppy training guide here.
Boston Terrier Vs Pug Exercise
As brachycephalic breeds, neither the Boston Terrier nor the Pug can cope with strenuous activities due to their breathing issues. They still require exercise, though, to maintain their weight and to remain healthy.
Two or three walks a day of no more than 15 minutes is enough. Exercise them during the coolest time of the day during hot weather as they are prone to overheating and should live in a home with air conditioning.
The Boston Terrier has higher energy levels than the Pug, so requires some playtime such as running around in a secure backyard for ten minutes if it is not too hot, or playing indoors.
Although swimming may seem like an excellent way to cool down, it is unsafe for both the Boston and the Pug as with their flat faces and compact bodies it is difficult for them to stay afloat.
Boston Terrier Vs Pug Health
Both the Boston Terrier and the Pug have similar health issues.
As brachycephalic breeds, they are prone to various respiratory conditions due to their shortened muzzles and flat faces, with their bulging eyes making them vulnerable to eye diseases and injuries.
The Boston Terrier and the Pug are also susceptible to hemivertebrae, which is a spine deformity common in dogs with screw tails as well as skin issues due to their skin folds.
Like most small dogs, both breeds can have luxating patella.
The Pug is also prone to Pug Dog Encephalitis (PDE) and Legg-Perthes disease.
Although brachycephalic breeds are cute, their quality of life is greatly affected by their appearance.
On a day to day basis, this means continual discomfort and an increased risk of sudden death during exercise or hot weather.
Over the course of their lifetime, Boston Terrier and Pug owners also need the financial resources to pay for large amounts of veterinary care to tackle these issues.
Lifespan
These problems with their body shape significantly reduce Boston Terrier and Pug quality of life, but that doesn't necessarily equate to loss of years.
Both breeds live relatively long lives, so they are a long-term commitment.
The average lifespan for the Boston terrier is between 10 and 12 years whereas the Pug lives from 12 to 15 years.
Grooming
Although both breeds have short coats, the Boston Terrier is easier to maintain when it comes to grooming as they do not shed as much as the Pug.
The Boston can be brushed once a week whereas the Pug requires brushing at least three times per week.
Both breeds, though, need their faces wiped daily with a damp cloth to keep the wrinkles clean and prevent bacterial infections.
The grooming routine for any dog should include regular brushing of the teeth, cleaning of the ears, and trimming the nails.
Feeding
Both the Boston Terrier and the Pug are prone to obesity, so you need to monitor their calorie intake.
High-quality food should always be fed to ensure your pup receives the correct amount of protein and other nutrients.
Look out for kibble shapes specifically designed for brachycephalic dogs to be able to pick up easily.
Which Breed Makes the Better Pet?
We have looked at the similarities and the differences between the Boston Terrier and the Pug.
Because they are both so extremely brachycephalic, as well as prone to hemivertebrae and numerous other conditions, we cannot recommend either breed as a pet.
Instead, we encourage you to look at healthier breeds with similar temperaments.
For example, you might be interested in:
Italian Greyhounds
Yorkshire Terriers
Maltese
Havanese
Miniature Poodles
References and Resources