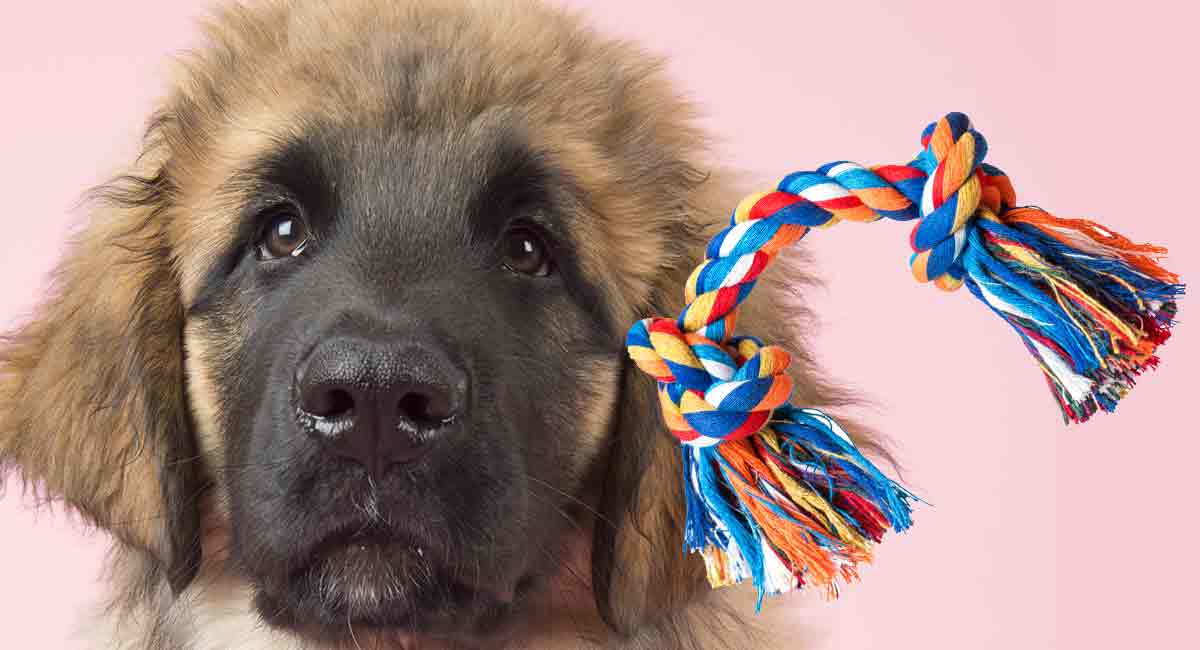 The best toys for Leonberger puppies are going to look very different than the toys you might choose for a smaller pup!
The Leonberger dog breed is really amazingly big! Even though the "Leo," as many fans call this dog, is quite gentle, that is still quite a sizable jaw!
This means the best toys for Leonberger puppies need to be large enough as well as strong enough to give your puppy a good and safe chew! In this article, we take a focused look at Leonberger puppy toys that will be fun for you and your sizable pup to play with!
Your Leo: from big puppy to giant dog
To the uninitiated, a seven-week-old, 16-pound puppy might easily be confused for a fully-grown dog.
So just wait until you tell your admiring family and friends that by one year old, your "little" puppy is likely to weigh up to 100 pounds. And at two years old, don't be surprised if your Leo is approaching anywhere from 110 to 170+ pounds.
Since Leonbergers, like many large breed dogs, tend to grow up more slowly than their pint-sized canine counterparts, it can be challenging to predict your puppy's full adult weight, height, and size. Here, the best way to plan ahead is to take a look at your puppy's parents.
How big are the parent dogs? Is the daddy dog quite a bit bigger than the mom dog? What is your Leonberger puppy's gender? This will give you the best idea of your dog's potential adult weight.
Leonberger puppy toys for your playful pup
If this is your very first Leonberger, choosing the best toys for Leonberger puppies is a vital part of a successful training program!
As Leonberger experts and breeders continually remind new puppy owners, these dogs are very playful! While the well-trained Leonberger is calm, stable, and balanced in temperament, getting to the "well trained" stage can take some time.
Until then, you need to find the best toys for Leonberger puppies to help work off some of that play drive while also relieving the aches and pains of puppy teething (and saving your home furnishings in the process).
To further distinguish between your Leonberger's actual toys and your crown molding, light sockets, chair legs, and other chewable delights, breeders suggest "puppy-proofing" your home up to an initial height of 16 inches.
This is for your puppy's safety as well as your sanity and will also help new puppy toys receive the warmest reception!
Leonberger puppy toys for your working dog
Some of the best toys for Leonberger puppies mimic activities your dog was bred to do. These dogs come from a long lineage of true working dogs and they need to stay active, plus they are happiest doing what they are great at!
Leonberger dogs are naturally gifted at nose work (scenting), drafting and carting (pulling heavy things), water work and swimming, agility, and obstacle course work, flyball relay racing, and therapy and service work.
The best toys for Leonberger puppies can give your growing puppy a lot of satisfaction as well as pre-training for athletics or K-9 work you may plan to do together in the future.
Leonberger puppy toys for chewing
The best toys for Leonberger puppies during the teething phase will readily withstand your puppy's already strong chewing strength. They will also be large enough not to be mistaken for a snack, which could cause a dangerous obstruction!
OneIsAll Durable Dog Chew Bone for Aggressive Chewers. This chew toy (size large) is designed for large breed dogs 60 pounds and larger.
It helps to keep your puppy's teeth clean as he chews – and the bacon flavor is a big incentive to keep chewing!
Nylabone DuraChew Ring Dog Toy. This durable chew toy comes in textured or smooth and is designed for dogs 50 pounds and over.
Owners of powerful chewers say this toy really lasts and their pups love it.
JW Pet Company Chompion Dog Toy, Heavyweight. You can't go wrong with a toy named Chompion Heavyweight.
This toy is textured on each end to help keep your puppy's teeth and gums clean and healthy. In the middle is a grip for throwing or carrying.
Mammoth Flossy Chews Cottonblend Color 3-Knot Rope Tug, X-Large.
This knotted cotton rope toy will help keep your puppy's teeth and gums clean and massaged while providing relief from teething-related aches and pains.
Leonberger puppy toys for interactive play
The best toys for Leonberger puppies for interactive play will put sufficient distance between your hands and those super-sharp puppy teeth to make playtime fun and also pain-free!
Kong Mega Wubba. The Kong Wubba toy was a hit from the start. While Kong does make a puppy version, this is likely going to be too small for your giant puppy.
The Wubba features an enclosed tennis ball at one end and long nylon tails at the other end, making it perfect for tug-of-war, shaking, throwing and retrieving and chewing. The Mega is two feet long and is for dogs 85 pounds and up.
Mammoth TireBiter Chew Toy with Rope, Large. This toy is a variation on the Kong Mega Wubba and is also very popular with large breed puppy owners.
Games of tug-of-war, toss and fetch, shaking and more are both fun and safe with this durable toy.
West Paw Zogoflex Zisc Tough Flying Disc Dog Play Toy, Large. This 8.5-inch flying disc can be used for land or water play (it floats), which is perfect for the water-loving Leonberger.
It is important to use this only with supervised play since it is not designed for aggressive chewing – that aside, owners of large dogs say it is a great toy!
JW Pet iSqueak Bouncin' Bowlin Pin Dog Toy, Large. This adorable bowling pin toy rolls and bobs and squeaks as your dog plays.
The ball is made for teething large breed puppies. Owners say this toy is sturdy and heavy and nearly indestructible even for aggressive chewers.
Leonberger puppy toys for treats
The best toys for Leonberger puppies often incorporate treats to stimulate play and engage your puppy's still-developing brain.
Omega Paw Tricky Treat Ball, Large. This treat ball is designed to help build your puppy's IQ while making treat time fun!
Your puppy will have to figure out how to push the ball just-so with her nose to make the treats fall out. This can be a great slow-feeder too if your pup tends to gobble her dinner.
JW Pet Company Megalast Ball, Large. This large durable ball toy can be filled with a treat or offered as-is (it is infused with vanilla to encourage chewing).
Owners of large breed dogs say this ball is quite durable and their dogs just love it – some carry it to bed!
West Paw Zogoflex Tux Interactive Treat Dispensing Dog Chew Toy for Aggressive Chewers, Large. This dog-safe solid rubber chew toy is guaranteed tough by the manufacturer or your money back. You can stuff it with treats and even freeze it for easing teething pain.
Choose from three bright colors. It is dishwasher-safe.
PetSafe Busy Buddy Nobbly Nubbly Dog Toy, Large. This unique toy has center ridges that can be smeared with soft treats.
As your pup chews on the toy, it will ease teething pains and naturally help to reduce tartar and plaque build-up. The large size is designed for dogs up to 90 pounds.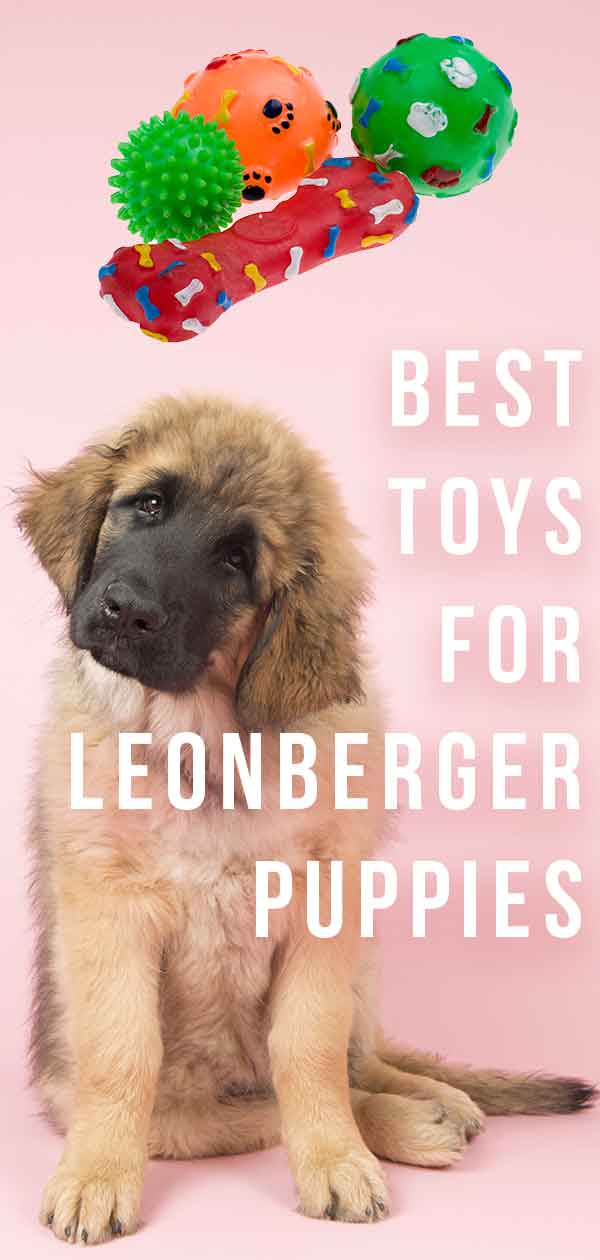 Leonberger puppy toys for solo play
The best toys for Leonberger puppies for solo play will be durable, sturdy, and free from small moving parts, stuffing, and other items that could be chewed off and swallowed.
Jolly Pets Teaser Ball 10-Inch. This ball within-a-ball toy rolls, wobbles, and floats.
Owners of power-chewers say this is the most durable dog toy they've ever had (one dog owner said their ball has lasted 15+ years in the jaws of a GSD!).
SodaPup Crazy Bounce Dog Toy. This natural FDA-compliant rubber dog toy is dog-safe and non-toxic. This ball bounces, bobbles, and rolls and is dishwasher safe.
Dog owners say this toy lasts much longer because it is made of solid rubber.
Goughnuts – Indestructible Chew Toy MAXX 50. Goughnuts is a company that does a great job making durable dog toys for large and giant breed dogs. There is a power ring and a power stick. Both are made of dog-safe rubber.
The MAXX 50 is the strongest product Goughnuts makes.
KONG Jumbler Ball, Large/X-Large. This large durable ball is really two toys in one.
There is an outer ball with grips for carrying or mouthing and an inside tennis ball with a squeaker.
The best toys for Leonberger puppies
We hope you have enjoyed this focused article with recommendations for some of the best toys for Leonberger puppies!
References and Further Reading
Bartholomay, G., et al, "Our Dogs," The Leonberger Club of America, 2018. https://www.leonbergerclubofamerica.com/our-dogs/

Block, K., "Dog Toys: How to Pick the Best and Safest," The Human Society of the United States, 2018.

http://www.humanesociety.org/animals/dogs/tips/dog_toys.html

Olson, I., "Leonberger dogs 'a lifelong commitment'," Gillette News Record, 2009.

https://www.gillettenewsrecord.com/news/article_aa7eb1d9-9496-5965-9d89-5caaf90cb473.html

Townsend, S., "A Leonberger Puppy Joins the Family!," Sforzando Leonbergers Kennel, 2018.

http://www.ncleos.com/Puppy.html

Ross, C., "All About Leos," Stonycreek Leonbergers Kennel, 2018.

http://www.stonycreekleonbergers.com/all-about-leos.html

Ward, B., "How to Care for and Feed Your Leonberger," Gentle Giants Rescue and Adoption, 2018.

http://www.gentlegiantsrescue-leonbergers.com/caring-and-feeding-leonbergers.htm
Get Pippa's free dog training tips delivered to your inbox