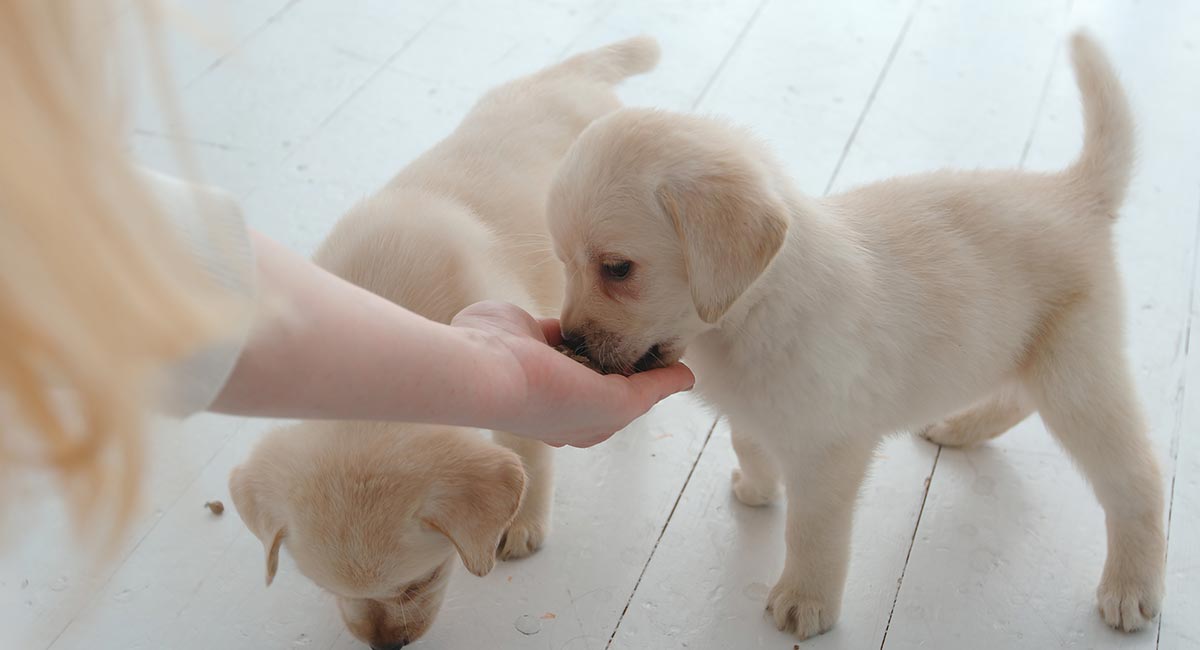 If you've found your way to this article, chances are that you're looking for the best puppy food for Labs.
Labrador Retriever dogs are incredible companions.
They get along well with people of all ages, befriend other household pets, and prove that they are adorable and intelligent.
It's no wonder Labs rank in at number one on the American Kennel Club's list of America's Most Popular Dog Breeds.
So, how do you keep that Labrador puppy of yours happy and healthy? Plenty of exercise, early socialization and regular vet visits work.
One other key way of keeping your Lab healthy is putting him on a high-quality, well-balanced diet during puppyhood.
So, without further ado, let's dive into some of the nutritional needs of a Labrador Retriever. Then go over some of the best puppy food for Labs.
All of these products were carefully and independently selected by the Dogsnet team. If you decide to make a purchase from one of the links marked by an asterisk, we may earn a small commission on that sale. This is at no extra cost to you.
Discovering the Nutritional Needs of a Labrador Retriever Puppy
The best way to go about finding good puppy food for Labs is to first understand what a Labrador Retriever needs in his diet to grow and thrive.
High-energy breeds like Labrador Retrievers will do best with a high-protein diet, which means lots of meat.
Look for puppy foods loaded with animal protein that comes from real meat like chicken, fish or beef.
You should also try to steer clear of foods with unnecessary fillers, like corn, wheat and soy.
Like all puppies, Labrador Retriever puppies will need a puppy food that is built with their developing bodies and brains in mind.
They will need foods that feed their rapidly growing muscles and bones while also fueling their brains to keep them sharp as a whip.
Ready for the breakdown? Here is what your Labrador Retriever Puppy needs in his diet to help him grow up happy and healthy.
Lab puppies are known for their high level of energy. Their growing bodies need plenty of animal proteins to help in muscle development and brain power.
Many dog foods offer protein-rich ingredients, but some can be deceiving.
Avoid foods with animal byproducts or fillers, and opt for dog foods that list real meat as their number one ingredient.
Some of the best protein sources for a Lab puppy are chicken, beef, lamb and salmon.
Yeah, we know. Fat gets a bad rap. But not all fats are bad or unhealthy, especially for growing pups.
Some examples of the healthiest fats are Omega 3 and Omega 6, which are fats that come from fish oils.
They help to aid in the brain development of puppies.
Diets rich in fish oils will also help to provide your Lab puppy with healthy energy to keep him active and exercising.
Another great thing about having the proper amount of healthy fats in your Labrador Retriever puppy's diet is that Labs can be prone to skin allergies.
Omega 3 and Omega 6 oils help contribute to your dog's overall skin and coat health.
Do Dogs Need Carbs?
Not necessarily. However, most dog foods, especially dry dog foods, contain carbohydrates.
So what gives?
While you definitely want to keep your Lab puppy away from foods that contain fillers like sugar, corn, soy and wheat, other carbs like sweet potato and brown rice can be good for your Lab.
It help him with digestive issues. Many complex carbs can be a good source of fiber.
The percentage of complex carbohydrates is not listed here because dogs don't technically need carbs.
This is why it is so important to make sure your Labrador Retriever is getting the right amount of protein and fats in his diet.
As long as your Lab puppy has the right amount of protein and fat, then the amount of carbohydrates sort of works itself out.
Before we discuss the best puppy food for Labs, let's discuss how the dietary needs of large breed dogs.
Some larger breeds, such as the Labrador Retriever, can differ from the dietary needs of small breed dogs.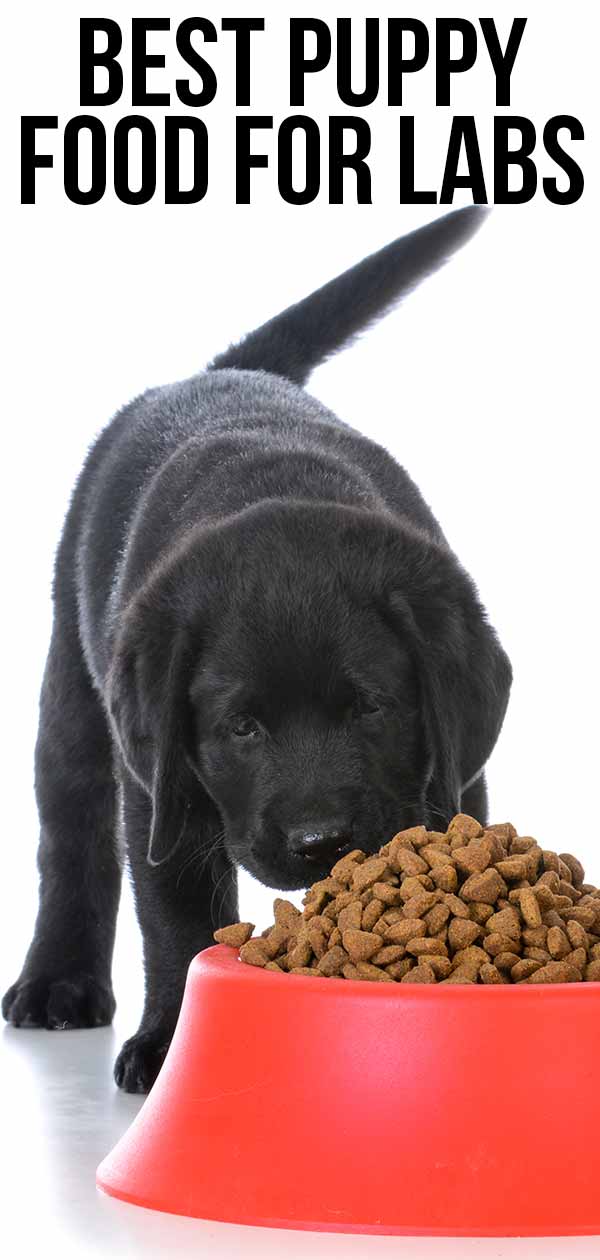 Do Dietary Needs Differ Between Large and Small Dog Breeds?
Along with the proper amount of proteins and fats, the best puppy food for Labs is specifically formulated for puppies who are large breed dogs.
Large breed puppies grow rapidly, and their skeletal and muscle growth requires the proper nutrients to aid in healthy development.
Large breed dogs are also more prone to certain health issues that small dog breeds may not have to worry about.
Many small breed diets are not geared specifically for the health and development of a large breed dog, and vice versa.
Labrador Retrievers, in particular, can be prone to a number of health issues, including canine hip dysplasia, patellar luxation, osteochondritis dissecans and bloat.
As you probably noticed, a good number of the health issues related to Labs correlates with their muscles and joints.
A good, healthy diet, along with proper exercise, will certainly play a large role in your Lab puppy's overall health as he ages.
Why Is Feeding a Puppy Based on Age So Important?
Just as feeding a puppy for his breed size matters, so does feeding a puppy based on his age.
Different breeds are considered mature at different stages. Large breed dogs age faster than smaller breed dogs.
The Labrador Retriever age range is as follows:
Puppy Labrador Retriever
Adult Labrador Retriever
Senior Labrador Retriever
Among other things, Labs have different dietary needs based on their ages.
This means puppies need puppy food; adults need adult dog food; and seniors need senior dog food.
One example is in the amount of calorie intake.
Labrador puppies have much more energy and a higher activity level than adult and senior Labs.
Add on the fact that they are rapidly growing.
You'll understand why puppy food is higher in calories than an adult or senior dog food of the same brand.
How Often Should I Feed My Labrador Puppy?
Since Lab puppies require more calories, they need to be fed more often during the day than adult or senior dogs.
However, their feeding should be monitored. They should be fed the proper amount of food per their weight.
All dogs love food, and Labrador Retriever puppies are no exception.
However, Labrador Retrievers can be prone to a serious digestive disease known as bloat—caused by speedy eating.
Practicing healthy eating habits early can help keep your Lab feeling his best.
Feeding your Lab puppy several small meals a day can also help to keep him at a healthy weight while giving him the nutrition he needs to grow and thrive.
Of course, not all puppies are exactly the same.
If you are worried about how much your Labrador Retriever is eating or not eating, it is always best to consult with your veterinarian.
For puppies on a high-quality dry kibble, feed them four small meals a day without any other supplements.
That's right, just kibble and water. But what if you want to feed your puppy wet dog food or raw dog food?
Keep reading.
Dry Puppy Food or Wet Puppy Food: Which Is Best for My Lab?
There are pros and cons to both dry and wet dog foods, so the choice of which to feed your Lab puppy depends.
High-quality, dry dog food is the easiest way to go about making sure your puppy gets all the nutrition he needs.
Not only that but dry dog food is also more cost effective. Still, it can contain more preservatives.
What About Wet Dog Food?
Wet dog food may need to be supplemented with other vitamins because it doesn't always contain everything you might need for your Lab puppy.
However, it is usually filled with fewer fillers and preservatives. It's also higher in protein and real meats.
It contains more water than dry dog food and can leave your puppy hungrier more often.
Of course, there are pre-packaged middle-of-the-road dog foods that combine both dry and wet.
But many experts agree that these are not as good for your Lab puppy. They contain much more sugar than necessary.
With that being said, let's talk about some of the best wet puppy food for Labs.
Best Wet Puppy Food for Labs
Wet puppy food is dog food that is canned or pouched.
One of our favorite wet puppy food options for Lab puppies is BLUE Homestyle Recipe Wet Puppy Food*.
Blue Buffalo is a great, high-quality dog food.
We love this homestyle recipe that is both holistic and grain free. High in protein, this is a great wet food option for your growing Lab.
Another wet puppy food option for your Lab puppy is the Wellness Complete Health Natural Wet Canned Puppy Food* with Chicken and Salmon.
It has DHA to help with your puppy's brain development and is made with high-quality, all-natural ingredients.
Of course, vet-recommended Hills Science Diet Wet Puppy Food* is filled with healthy fibers like brown rice to keep your Lab puppy's digestive system on track.
And the protein-rich mixture of chicken and veggies mixed with dog-approved gravy means every meal feels like fine-dining for your dog.
But what about dry puppy food? Let's take a look.
Best Dry Puppy Food for Labs
Some of the best puppy food for Labs comes in the form of kibble.
That's because a high-quality kibble diet won't require any supplements or additives to fill in the "holes" of certain raw diets or wet canned food diets.
One of our favorite dry puppy foods for a Lab puppy is the Wellness Complete Health Natural Dry Large Breed Puppy Food*, Chicken, Salmon & Rice.
Remember, salmon is a great source of both protein and fatty acids while brown rice is a great source of fiber for your Lab pup.
You may also like Hill's Science Diet Dry Puppy Food Healthy Development*.
The smaller kibble bites are great for little puppy teeth while the formula is specially made with DHA for healthy skeletal, muscle and brain development.
What About Specialty Puppy Foods?
What are specialty dog foods you ask?
Specialty dog foods are foods that are geared around dogs and puppies that have certain health issues.
Dogs who suffer from health problems like joint issues, urinary tract infections, dental problems, food sensitivities and skin allergies are all candidates for specialty dog foods.
Most Labrador puppies will not need to be on a specialty dog food unless otherwise specified by a veterinarian.
Other dog food options you may consider, if you choose not to go with wet puppy food or dry puppy food for your Lab puppy, is the raw dog food diet.
Opinions vary on how to best feed your growing puppy.
But if you choose to feed your dog a raw food diet, be aware that he may need to take supplements to fill in certain holes where his nutritional needs are not being met.
Of course, we always recommend talking to a professional about the best puppy food for Labs on an individual basis.
This helps to better ensure your sweet pup is getting the nutrients he needs to grow and thrive.
What Is the Best Puppy Food for Labs?
So, what is the best dog food for Labs?
While we can offer you a list of some of the best puppy foods for Labs we recommend, the final choice depends on you and your puppy's individual needs.
The most important thing is that you do your research and consult with your vet.
Make sure you offer your puppy everything he needs to grow into a happy, healthy and well-rounded adult.
Affiliate link disclosure: Links in this article marked with an * are affiliate links, and we may receive a small commission if you purchase these products. However, we selected them for inclusion independently, and all of the views expressed in this article are our own.
References and Further Reading:
Hensel, P., 2010, "Nutrition and Skin Diseases in Veterinary Medicine," Clinics in Dermatology
Koppel, K., et al., 2012, "Volatile Compounds in Dry Dog Foods and Their Influence on Sensory Aromatic Profile," The Sensory Analysis Center, Department of Human Nutrition
Lauten, S.D., 2006, "Nutritional Risks to Large-Breed Dogs: From Weaning to the Geriatric Years," Veterinary Clinics Small Animal Practice
Lepine, A. and Reinhart, G.A., 1997, "Pet Food Composition for Large Breed Puppies and Method for Promoting Proper Skeletal Growth," Mars Inc.
Mlacnik, E., et al., 2006, "Effects of Caloric Restriction and a Moderate or Intense Physiotherapy Program for Treatment of Lameness in Overweight Dogs with Osteoarthritis," Journal of the American Veterinary Medical Association
Willis-Mahn, C., et al., 2014, "ELISA Testing for Soy Antigens in Dry Dog Foods Used in Dietary Elimination Trials," Journal of the American Animal Hospital Association
Get Pippa's free dog training tips delivered to your inbox