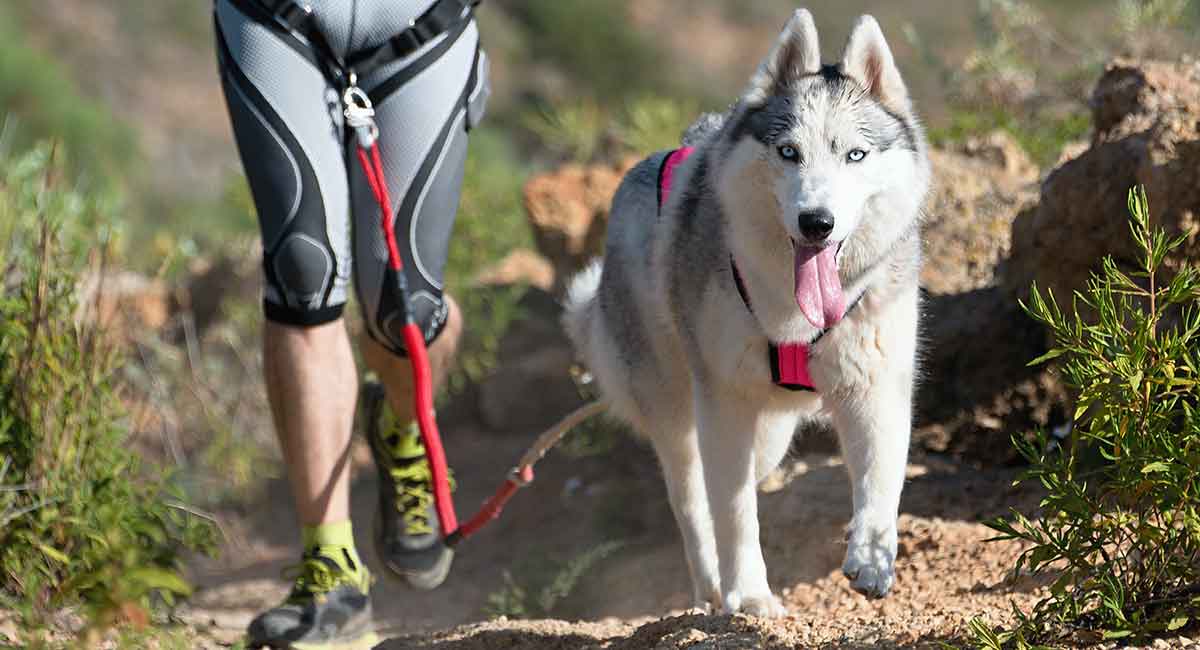 The best Husky harness fits well, doesn't ride up at the front, and doesn't restrict your dog's movement.
Huskys are medium to large sized dogs. So, it's important to choose a harness that fits well, but is not too tight.
If your Husky will be wearing his harness for long periods of time, you should consider one that is well padded and comfortable.
Products included in this article were carefully and independently selected by the Dogsnet team. If you decide to make a purchase from one of the links marked by an asterisk, we may earn a small commission on that sale. This is at no extra cost to you.
The Top 5 Husky Harnesses
Five of the best Husky harnesses which fit the bill are:
We'll take a closer look at their features in a moment. Or, you can click on the links to jump straight to them.
But first, here are the qualities we looked for in a great Siberian Husky harness.
Choosing the Best Husky Harness
While it's always important to think about your individual dog and his needs, there are some common qualities of great Husky harnesses to look out for.
Weighing between 40 and 60 pounds, the affable Husky is on the larger side.
But he's also leaner than other working sled dog breeds. And not every harness for large dogs will have the right fit.
At the most basic level, the best harness for a Siberian Husky is one that fits well without restricting the dog's movement.
Other Key Qualities
It should also be durable, built to account for the Husky's size and strength, and comfortable for him to wear.
Mesh and foam padding can make a harness more comfortable for your Husky. Especially if he's going to be wearing it for long periods of time.
But beyond that, it really depends on why you need the harness.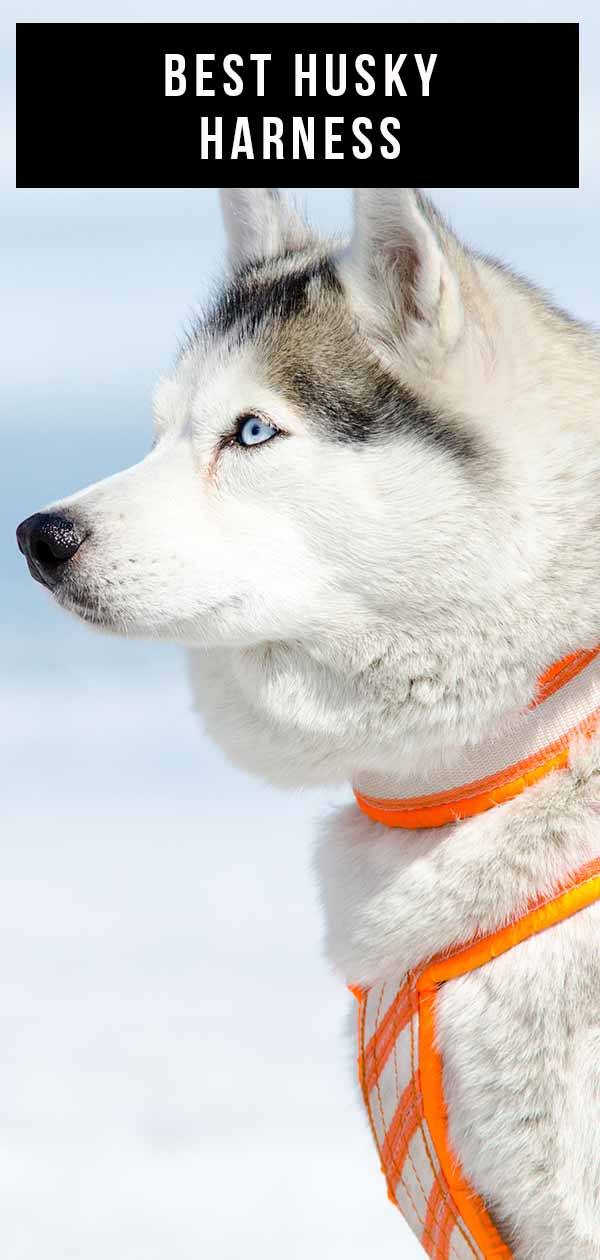 Design for Function
Some harnesses are designed with visibility in mind. These are great for late evening walks with your Husky.
Others have a second point on the chest for attaching a leash – gently discouraging strong dogs from pulling while mastering loose leash walking.
Others are designed to dry quickly if they get wet. While still more are built for longevity and durability.
You get the idea!
In this article, we'll go through and highlight the best Husky harnesses for all sorts of different activities.
The Five Best Husky Harnesses
We'll talk more about specialty harnesses below. But here are details about our top five best all-purpose Husky harnesses!
1. Eagloo Dog Harness
This highly adjustable, comfort-conscious harness* is both durable and lightweight.
Four different points of adjustment means it's easier to be sure you have the best fit for your Husky.
The Eagloo Harness also has both front and back clips, plus nylon webbing for extra comfort.
It comes in six different colors and features nonslip straps and reflective stitching.
2. Babyltrl XL No Pull Dog Harness
Specifically made for large dogs like Huskies, the Babyltrl XL No Pull Harness* is lightweight but sturdy.
It has securely locking buckles and a helpful handle at the top of the harness so you can quickly gain control of your dog if need be.
It's also easily adjustable in both the neck and chest, which is a must for Huskies!
The chew-resistant but breathable material makes for a comfortable and durable fit.
This harness has the option of clipping the leash in either the front or the back.
3. RUFFWEAR Everyday Harness
If you and your Husky are outdoor adventurers, then RUFFWEAR* has the harness for you.
Extra padding and weatherproof construction means your Husky will be comfortable and secure no matter the environment.
You can attach the leash to either the front or the back, depending on your preference and your dog's needs.
And no matter which of the six colors you choose, a reflective trim makes the RUFFWEAR harness easy to see any time of day or night.
4. Julius K9 IDC Power Harness
The Julius K9 IDC Power Harness* is the definition of "made to last."
This is a seriously heavy-duty harness, with sturdy buckles and room for patches and side bags.
And yet it's also relatively simple to put on and take off. So you can get out the door in no time.
If your Husky isn't a fan of bulky harnesses, this isn't the one for you.
But if you need something that stands up to some real wear and tear, then the Julius K9 IDC Power Harness is a good bet.
5. EzyDog Quick Fit Harness
Comfort and durability are the main features of the EzyDog Quick Fit harness*, which holds true to its name.
All you have to do to secure this harness is click a single buckle, just like you would with a collar.
The Quick Fit harness's adjustable straps have reflective stitching throughout. So your dog is easily visible no matter the weather or time of day.
Plus, the chest strap has a padded neoprene sleeve for added comfort.
This harness is great for everyday wear to any destination.
The Importance of Husky Harnesses
There are plenty of reasons why you might want to use a harness for your Husky. Whether it's in place of a collar on regular walks or for specific activities that require a harness.
Harnesses may also be safer than collars in some cases, especially if your dog pulls excessively.
Too much force on your dog's throat can seriously damage his trachea, for one thing.
And one study even found dogs pulling against collars experienced more inner eye pressure than dogs pulling against harnesses.
Let's take a look at the two most common reasons Husky owners choose to go with a harness over a collar.
Husky Harnesses for Security
If you own a Husky, you probably already know that these dogs are notorious escape artists who love to run.
Many Huskies can, and will, slip right out of a collar or harness that isn't properly fitted.
Some owners simply feel more comfortable walking their Husky on a well-fitting harness.
Those extra straps and buckles mean much less risk of escape.
And it isn't just about preventing your dog from becoming a Husky Houdini.
A harness can help you feel more secure, too, because it often offers you more control than a collar.
Husky Harnesses for Athletics
Huskies are the endurance champions of the dog world, and their talents aren't limited to dog-sledding.
Bred to be strong, fast, and agile, these athletic dogs make great exercise partners for active owners.
For example, Huskies are perfect for skijoring and bikejoring, sports in which the dog pulls a person on skis or a bike, respectively.
These activities absolutely require a secure harness to help your Husky work at his best.
Canicross – cross-country running with your dog – is another sport that's perfect for Huskies.
Other Husky owners enjoy hiking and jogging with their dogs.
Harnesses can offer you more control over your dog during these activities.
Choosing a harness rather than a collar can also cause less stress to your Husky's neck and throat when you're hiking up or downhill or in case of sudden stops while jogging.
Important Features of Husky Harnesses
When you're shopping for a Husky harness, there are a few main features to keep in mind.
First of all, you want the harness to allow your dog full range of motion, meaning it doesn't restrict your dog's shoulders when he walks or runs.
You also should look for a harness that is durable and weather-resistant, so you don't need to worry about replacing it.
And your Husky's harness should be easily adjustable so that you can make sure it's neither so tight that it's uncomfortable nor so loose that your Husky can slip right out.
Those are the basics. But there's plenty more to consider when looking for a specialty harness!
Let's take a look at some of the different types of harnesses you might need for your Husky.
Best No-Pull Husky Harness
If you struggle to walk your Husky without getting dragged halfway around the block, you just might want to look into a no-pull harness.
Typically, a no-pull harness clips at the front to prevent the dog from pulling you forward.
If he does pull, he'll only end up turning himself around.
However, it's important to note that there has been some debate over whether or not front-clipping harnesses can be harmful and restrictive to a dog's gait.
Most training experts agree that no-pull harnesses, regardless of design, should never replace leash training altogether.
And remember that Huskies were bred to pull. So this is a very natural behavior for them!
But no-pull harnesses can still be great training tools and make walking safer for both you and your dog.
Here are a couple of our favorite no-pull harnesses for Huskies.
1. SPORN No-Pull Harness
The SPORN Non-Pull Harness* is a different take on the usual front-clipping design.
Instead, this harness applies pressure under your dog's front legs when he pulls, with Sherpa-covered loops that ensure your dog remains comfortable.
With a breathable mesh chest plate, the SPORN harness is made to give your dog as much freedom of movement as possible.
It also has adjustable nylon straps so that you can be sure it fits snugly.
Most importantly, applying pressure under the dog's legs instead of at his chest, throat, or back means an overall less-restrictive harness.
If your Husky hasn't responded well to other no-pull harnesses, or if you're concerned about restricting his gait, then the SPORN design is well worth a try.
2. PetSafe Easy Walk Harness
For those who want something extra simple that still discourages their dog from pulling, this front-clipping harness is a great choice*.
The PetSafe Easy Walk harness is one of the most popular no-pull harnesses on the market, with multiple sizes and colors available.
Its simple design makes it no more difficult to put on or take off than a collar would be.
The nylon material isn't as durable as other options, but it is extremely lightweight and easily washable.
Best Extra Durable Husky Harness
Got a heavy chewer?
Or just planning on lots of hiking adventures with your Husky?
Then you'll want a harness that can handle a little abuse.
These are our top picks for harnesses that stand up to the tests of time – and teeth.
1. Chai's Choice Outdoor Adventure Harness
An ergonomic design plus extra durable oxford material team up to make the Chai's Choice Outdoor Adventure Harness a perfect fit*.
This harness offers both front and back leash attachment points, and a handle on the back.
The chest and belly are padded with lightweight mesh, making it comfortable for all-day wear.
It also comes in a wide variety of fun colors, so you and your Husky can stay fashionable while you hit the trails!
2. RUFFWEAR Web Master Harness
This multipurpose harness* is designed with the working dog in mind, whether your Husky is a service dog or your hiking buddy.
Its heavy-duty construction extends from the buckles to the reinforced leash attachments.
A handle on the back of the harness adds an extra grip, and five points of adjustment mean it'll be easier to get the right fit.
Plus, the extra straps at the back are the perfect deterrent for escape artists.
The RUFFWEAR Web Master Harness comes in four different colors and five sizes.
Best Husky Harness for Weight-Pulling
If you plan to have your Husky pull you along on a sled, bike, or even a pair of roller skates, you'll need a harness designed to distribute weight evenly and help your Husky work at his best.
These are our top picks for the best Husky harnesses for weight-pulling.
1. Non-stop dogwear Freemotion Harness
The Non-stop dogwear Freemotion harness* comes in multiple sizes and is highly adjustable and secure.
The sleek black design works with anybody's aesthetic.
It's a simplified version of a traditional X-back pulling harness and is made to give your dog the best possible range of motion.
Extra padding makes it even more comfortable for your Husky, which is a big plus if you plan to be spending long hours out training!
2. Northern Howl Pulling Harness
For something a little flashier, you can try the Northern Howl Pulling Harness*.
It comes in colors like pale blue and bright fluorescent green for the style-conscious dog owner.
Reflective patches on the harness help with visibility in all weather conditions, and Airmesh padding makes for a comfortable fit.
Ranging from small to XXXL, the Northern Howl harness also comes in a wider variety of sizes than the Non-stop dogwear Freemotion harness.
This harness has a more traditional X-back design, which helps distribute weight more evenly as your Husky pulls.
Best Husky Harness
When it comes down to it, the best Husky harness is the one that works for you and your dog.
We hope our reviews have given you a great starting point when it comes to choosing the right harness for your Husky!
A well-fitting harness will help you and your Husky enjoy plenty of adventures together in safety and style.
Do you have a harness for your Husky?
If so, which one did you choose?
We'd love to hear your recommendations in the comments below!
Affiliate link disclosure: Links in this article marked with an * are affiliate links, and we may receive a small commission if you purchase these products. However, we selected them for inclusion independently, and all of the views expressed in this article are our own.
Other Great Guides
References and Resources
Get Pippa's free dog training tips delivered to your inbox