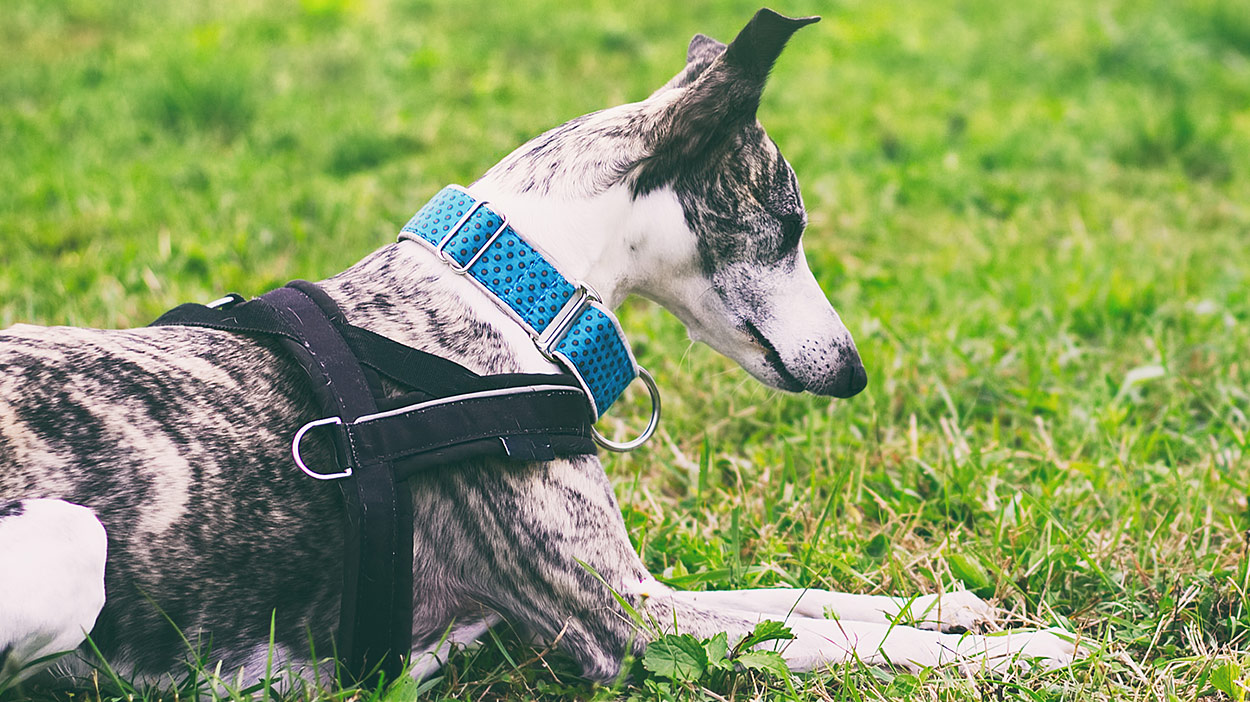 Welcome to our guide to the best harness for Whippets.
The purebred Whippet could well be the most aerodynamically beautiful dog to grace the planet. With its slender, tapered body, long legs and sleek-shaped head, this dog was born to outrun the wind.
They have a high prey drive and therefore many owners choose to keep them leashed while walking to the dog park or strolling through the woods.
A harness can be a great way to keep your dog comfortable while also keeping them secure.
Best harness for Whippets
There are many valid reasons why owners might want to use a dog harness, chief among them keeping their beloved dog safe while out and about.
But it's important for owners to be aware of how to safely use the harness, as well as the things that a harness cannot do.
These are issues we'll address as we go about finding the best harness for whippets. In particular, it is the whippet's unique shape that has to be kept in mind when searching for the best harness for whippets.
They, like other canines with slim frames and broad chests, must use a harness that accommodates their frame without sacrificing comfort or safety.
If you'd like to learn more about this magnificent breed, you can do so here.
Choosing the right shaped Whippet dog harness
Our reviews of the best harness for Whippets take into account their unique structure, which includes a slender configuration yet bulky chest upon a delicate 25 – 40 (almost fat-free) pound frame.
Before we review the best harness for Whippets let's take a look at just what makes this fantastic creature so singularly special within a pedigree world that is crowded with exquisite specimens.
Whippet characteristics
The Whippet is an undeniably statuesque dog, a piece of canine art work, if you will.
This athletic hound originated in the 1700's, a result of cross breeding terriers with Greyhounds.
The goal was to develop a dog capable of both bagging rabbits and eliminating the environment of pests.
As an added bonus, the Whippet gained a generous dose of the bigger Greyhound's quick-sprinting racing genes.
Whippets love and need to exercise daily and it should be noted that heart murmur is common among this breed.
Today, this handsome hound enjoys a reputation as a happy house dog- a friendly and well-mannered pooch.
He has a gentle disposition, and even gets along fine with any felines who might cross his path.
The Whippet is content to lounge about the house, enjoying the company of his humans and showing a welcome streak to strangers.
But all that domestication flies out the window when he flies out the door!
Best harness for Whippets
Which brings us back to the topic at hand: is there really a need to find the best harness for Whippets?
The answer is yes, when we truly understand the uniquely bi-natured personality of this placid yet athletically-inclined medium-sized sighthound.
Whippets love a walk around the block or a trip to the dog park as much as any pooch worth his salt; it's a nice respite from hanging out with and supervising his humans as they putter around the house!
Whippet tendencies
But strong DNA-tinged tendencies lurk within the muscular, fast, and agile Whippet.
Take a Whippet out to play and you will immediately notice his hybrid instincts kick in.
Once a Whippet spies an interesting little creature stirring, he's after it like a cop chasing a robber!
Even the most top-tier obedience training will go only go so far before the urge to do what he was bred to do kicks in and takes over, which is why experts advise that using the best harness for Whippets will go a long way toward keeping your bestie safe, and your sanity intact.
Would you really consider letting an untrained dog who can reach speeds up to 35 miles an hour (coupled with a penchant for chasing things) go off-leash? Of course not!
Best harness for Whippets and other broad-chested breeds
The desire to chase after any and every moving object that catches the eye is known as a "high prey drive," and numerous Whippet racing clubs exist precisely to showcase this entertaining, athletic talent.
But strolling through the neighborhood with your Whippet is not the same as watching it sprint in a sanctioned Whippet race, hence the need for a well-fitting body harness!
Purpose of using a harness
Why use a harness? The best harness for Whippets evenly distributes pressure over the body, unlike a single strap neck collar.
Harnesses use straps around the chest and behind the front legs, lessening the risk of injury in a single-point-of-contact restraint.
In addition, slender faced dogs like the Whippet who may easily wiggle out of a collar are better contained in a multi-point harness.
Pulling in a harness
If you are wondering about a dog's tendency to pull while in a harness, there is no evidence to believe that this is the case, and in fact, many trainers advise that harnesses can reduce the tendency to pull.
As a result, the best harness for Whippets conveys an added level of control that is especially important for owners of nimble dog breeds.
One last caveat: harnesses are a wonderful tool, but they cannot take the place of proper obedience training.
Dogs still need to learn how to obey commands and a harness is not a substitute for supportive, positive training methods.
With all of this information in mind, we're ready to review the best harness for Whippets and other broad chested breeds. There are various types of harnesses to accommodate different situations, such as riding in the car versus going for a leisurely stroll.
Whippet car harness
A car harness maintains your dog's safety in the car while still allowing for a certain range of movement.
If you're in the market for a solid and dependable car harness, we have several outstanding choices to recommend:
Pawaboo Dog Safety Vest Harness, Pet Dog Adjustable Car. Hundreds of happy pet parents have chosen this durable harness to use when transporting their Whippet on four wheels.
The black 100% polyester harness is both lightweight and soft, and features a padded chest plate for heightened protection.
The premium stainless steel snap hook is abrasion resistant and the harness easily connects to seat belts via the seat belt attachment loop.
Slowton Dog Car Harness Plus Connector Strap. Available in four convenient sizes, this breathable mesh harness comes complete with a soft cloth fabric that gently pads your dog's chest area.
Adding to your dog's travel comfort are four moisture absorbent straps made of durable nylon.
An included seat belt allows your pooch to both sit and lay down in the vehicle and quick release buttons on the harness strap are fully adjustable to suit your dog's unique build. In addition, the harness can pull double duty as a walking aid when connected to a dog leash.
Bergan Dog Auto Harness with Tether. This lightweight aqua blue car harness comes in a wide range of sizes, making it perfect for even the most irregularly shaped dog!
When wearing this durable but comfortable harness your dog is protected from the abrupt forward motion of sudden stops, and it features an adjustable tether as well as two high-grade aluminum carabiners. The harness is durable yet lightweight and comfortable.
Whippet padded harness
A padded Whippet harness adds a soft layer of protection to your dog's chest area and provides a secure feeling for anxious dogs who want to strain and pull on their harness.
EXPAWLORER Best Front Range No-Pull Dog Harness. Ranging in sizes from X-Small to X-Large, your special pal is sure to find just the right size here for his uniquely tailored body.
The bright orange harness provides improved visibility via 3M reflective material, and is made of durable, scratch-resistant materials along with a lightweight Duraflex Buckle.
It has a sturdy handle for seat belt attachment if your dog is coming along for the ride, while the lightweight, sponge padding in the chest and tummy areas provide an added layer of insulation during walkabouts.
There are two convenient leash attachment points, one on the back of the harness and one on the chest.
Lifepul(TM) No Pull Dog Vest Harness. It's easy to see why this highly rated padded harness is so popular among pet parents; it comes with plenty of bells and whistles!
First off, the easy to operate harness includes a handle on the upper back portion, giving you added control over wayward dogs. It also has a D ring connector for use with seat belts or leashes.
High quality nylon material combines with a soft under-padding to form a breathable harness that will fit most dogs. Just one look at this snug-fit harness and you'll know that your dog is safe and secure under your watchful eye!
Easy Rider Car Harness for Dogs. This travel harness features durable metal hardware and a padded chest strap. It has been safety crash-tested but also functions as a dual-use walking harness.
The harness is simple to use and quickly attaches to leashes and/or easily connects to any standard seatbelt.
Whippet puppy harness
Puppies need protection, too, and these highly recommended options are sure to fit your little one's dimensions:
PUPTECK Soft Mesh Dog Harness Pet Puppy Comfort Padded Vest No Pull Harnesses. Hundreds of satisfied puppy owners have made this choice a solid go-to harness for young dogs. Made with soft, durable, yet breathable 100% polyester mesh material, the harness fits chest sizes from 12″-18″.
The fastener strap is made extra secure via a back buckle and strap, and the harness comes in over 5 beautiful plaid colors. The stylish little harness can be used for walking, on hikes, or for when your Whippet is content just soaking up the sun!
Barkless Cute Small Dog Harness. This adorable little harness is perfectly sized for pups with a sense of style.
The cheerful polka dot design comes in both black and pink and features a padded, mesh polyester chest covering along with velcro closures. Also included are a nylon leash and cute leather collar.
DEXDOG EZHarness, Dog Harness | On/Off Quick | Easy Step In | Walk Vest. This easy on/easy off harness comes in a multitude of bright, reflective colors and sizes including XX-small, ensuring a snug fit perfect for Whippet puppies.
The straps are fully adjustable and the harness comes with a 365-day money-back guarantee.
More best harnesses for Whippets
Voyager All Weather Step-in Mesh Harness for Dogs by Best Pet Supplies, Inc. Over 2,000 pleased pet moms and dads love and recommend this all-weather product made from breathable mesh fabric that features a step-in harness.
The velcro closure and durable D-rings mean that your precious pooch remains secure when attached to his leash. It comes in 5 sizes and over two dozen colorful hues, each with contrasting black accents.
EzyDog Chest Plate Custom Fit Dog Harness. Vibrant shades and plenty of sizes characterize this harness that conforms over time to your Whippet's unique shape.
The ergonomic EVA foam chest plate molds to your dog's chest as he wears it, for a one-of-a kind fit. The award-winning easy on and off comfortable cross-fit design allows for superior control and unparalleled comfort as it allows for even greater leverage over traditional harnesses. Plus, reflective stitching helps keep your dog safe during evening walks.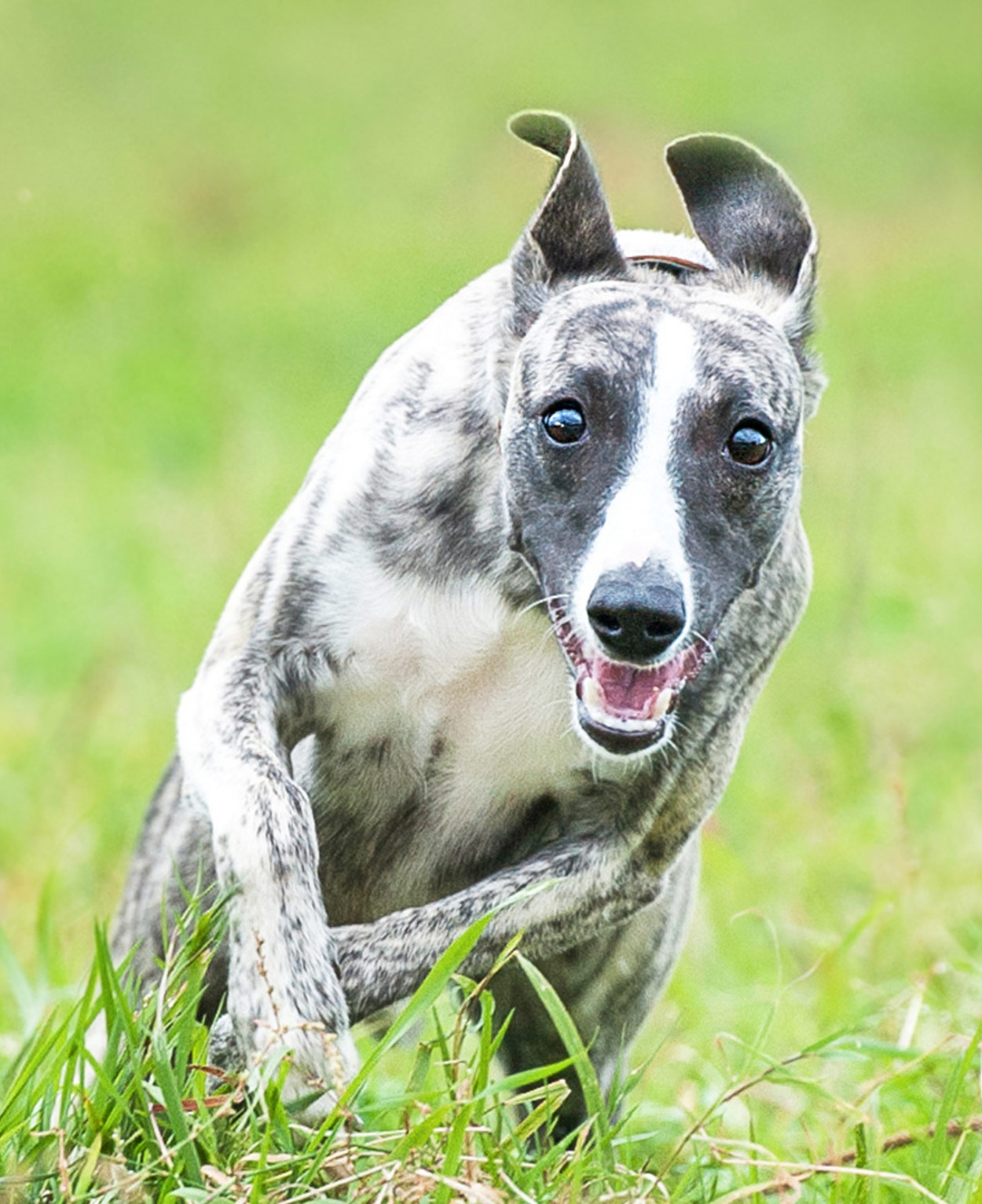 What is the best harness for Whippets?
Choosing the best harness for Whippets can be tricky due to their unusual shape, but fortunately there are some great options out there.
We hope that you enjoyed our reviews of the best harness for Whippets.
Many harness styles are designed for dual use, both in the car and when out walking, and many have a layer of padding for added protection.
If you'd to like to learn more about the ins and outs of using dog harnesses, we recommend this article.
References and Further Reading
Stepien, R.L., et al, Prevalence and diagnostic characteristics of non-clinical mitral regurgitation murmurs in North American Whippets, Journal of Veterinary Cardiology
Get Pippa's free dog training tips delivered to your inbox