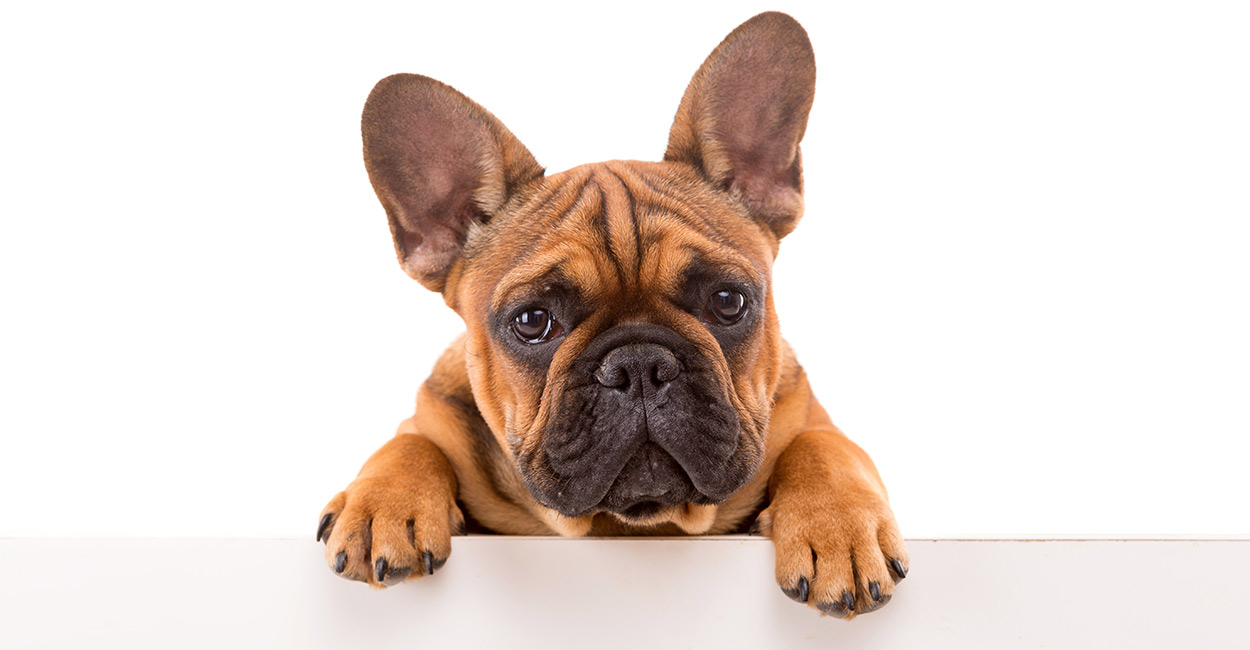 Welcome to our article on the best food for French Bulldogs!
Your French Bulldog is a precious member of your family. But did you know your fur baby also comes from a long and interesting canine history?
Today's French Bulldog (also known as the Boule-Dog Francais) can trace its ancestry all the way back to the 1860s.
Your dog comes from a strong working dog lineage. This has resulted in pet French Bulldogs with fierce loyalty and protectiveness towards their loved ones.
Products included in this article were carefully and independently selected by the Dogsnet team. If you decide to make a purchase from one of the links marked by an asterisk, we may earn a small commission on that sale. This is at no extra cost to you.
The Importance Of Choosing The Right French Bulldog Food
However, there are other factors of which you may already be aware. Due to the shape and size of her face, your French Bulldog also has some special health needs. This is the same with other brachycephalic dogs like the Boston Terrier.
One of these special health needs is choosing the best French Bulldog food for her nutrition and chewing style.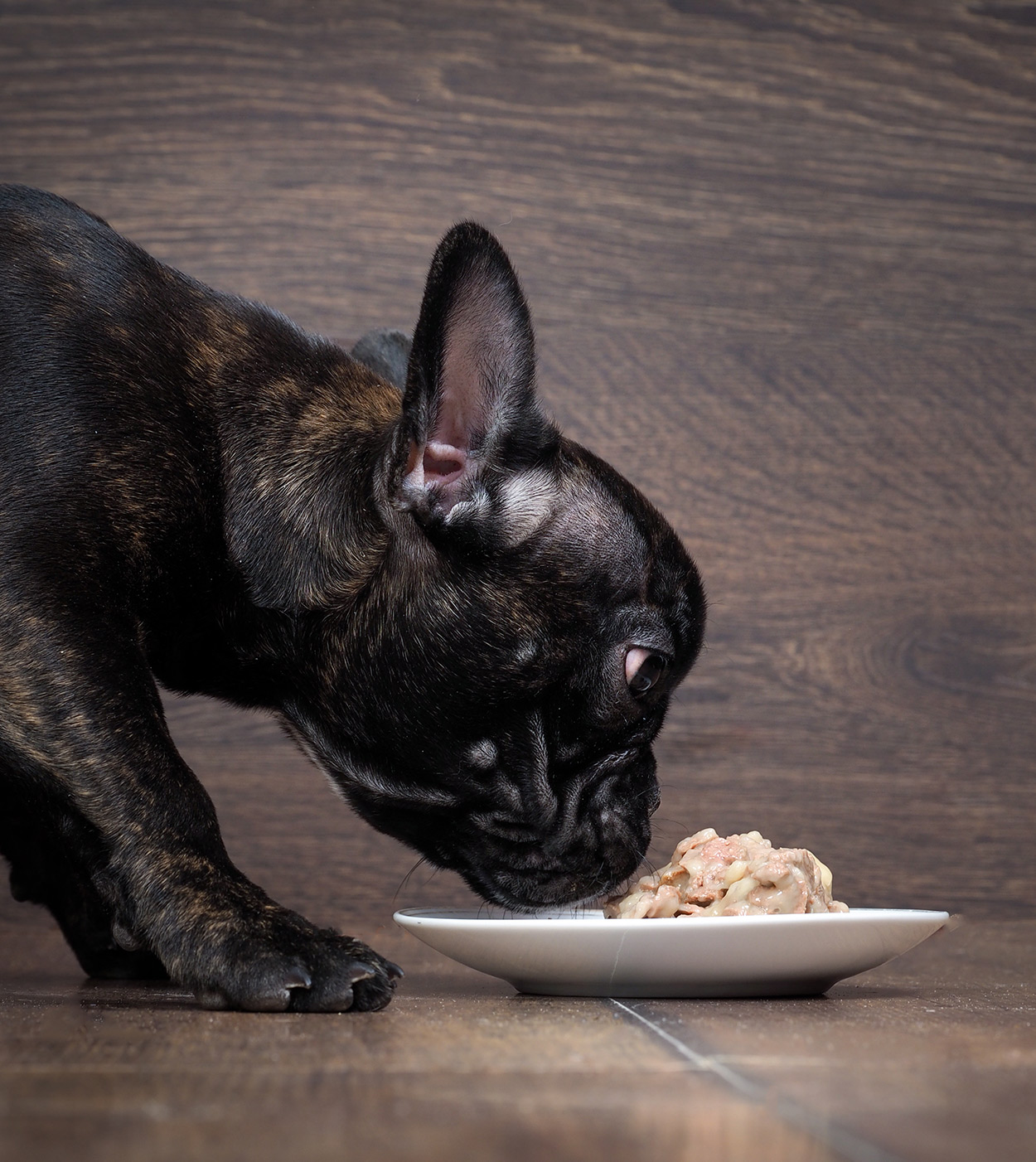 What Is The Best Dog Food For French Bulldogs?
Should you choose a special French Bulldog puppy food, and if yes, what are your options?
Are there any French Bulldog food allergies or sensitivities you need to be aware of?
These are important questions to make sure your sweet French Bulldog has all the nutrition she needs to grow up and enjoy the healthiest, happiest life with you!
Finding The Best Food For French Bulldogs
Did you know there are three basic canine muzzle shapes?
Hounds like Dachshunds have dolichocephalic muzzles that are longer than they are tall.
German Shepherds, Spaniels and Poodles have mesocephalic muzzles that are balanced in length and width.
And your French Bulldog has a brachycephalic muzzle.
This word comes from the root words "brachy" (short) and "cephalic" (head).
So a brachycephalic muzzle is just a fancy way of saying your dog has a "short head" muzzle.
More importantly, the particular shape of your dog's muzzle will impact how he eats.
How Your French Bulldog's Jaw Affects Eating
Your French Bulldog's brachcephalic features influence how he picks up his food and also how he chews his food.
Your French Bulldog's jaw is smaller on top than it is on the bottom.
His face is also more flat than breeds with longer or taller muzzles.
So how he picks up his kibble and chews it is going to look quite different than how a dog with a longer nose or a bigger upper jaw would chew their food.
For this reason, one key thing to look for in French Bulldog dry food that can make all the difference in how easily your dog eats and enjoys his food is smaller, curved kibble.
Helping Your French Bulldog Have Healthy Mealtimes
Three other helpful food-time health habits that can improve your French Bulldog's meal time enjoyment and digestive health:
1. Stretch out mealtimes
Introducing a slow-feeder bowl or puzzle bowl will help with this breed's tendency to gulp down their dinner (the same holds true for drinking water).
2. Tooth-friendly kibble
Kibble that helps to keep your dog's teeth clean will reduce this breed's incidence of dental issues, some of which are caused by having big adult teeth inside a small adult mouth.
3. Portion control
French Bulldog owners pretty much agree on one thing: their dogs love to eat!
But obesity can place extra pressure on the French Bulldog's narrow airways and cause breathing problems.
Just like with people, offering your dog well-balanced meals can cut down on between-meal food cravings and begging, especially since French Bulldogs have been known to be more enthusiastic about eating than they are about exercising!
French Bulldog Puppy Food
Puppies of any breed, whether large or small and regardless of muzzle type, need special nutrition to grow up healthy and strong.
A growing puppy may even eat more than an adult dog of the same breed because their young bodies and brains are growing so fast!
Your French Bulldog puppy is no exception.
If you are caring for a French Bulldog puppy right now or soon will be, you need to know exactly what type of French Bulldog puppy food to feed her.
Selecting French Bulldog Puppy Food
Today's options for the best dog food for French Bulldog puppies includes both breed-specific and dog size-specific foods.
These might have labels like "small breed dog food" or even "French Bulldog food."
Your French Bulldog is considered to be a small breed dog.
Most adult French Bulldogs weigh 24 to 28 pounds at maturity, although there are some exceptions.
Many veterinarians agree that puppyhood is an important time to feed your French Bulldog food specifically designed for the nutritional needs of small breed puppies.
Small breeds and large breeds have different nutrition needs in terms of managing how fast they grow. So you want a puppy food that is designed for a small breed puppy's growth.
Your vet can help you determine the portion size and meal frequency. They'll also help you to choose the right French Bulldog puppy food if you are unsure.
Best Food For French Bulldog Puppy
Finding the best food for French Bulldog puppies gets much easier when you know what to look for. Hone in on simple French Bulldog food recipes enriched with the nutrients, vitamins and minerals your small breed puppy needs the most.
Look for recipe ingredients like:
pure protein
essential fatty acids (Omega-3, Omega-6)
calcium and phosphorus (helps your dog make Vitamin D for strong bones and teeth)
probiotics for healthy digestion and elimination
added DHA (another omega-3 fatty acid) for brain and eye health
a full spectrum of vitamins and minerals.
These highly rated and popular French Bulldog and small breed puppy foods can help your puppy stay healthy in those critical first 12 months of life!
Royal Canin 111103 French Bulldog Puppy Dry Dog Food
Royal Canin is a dog food maker that does a particularly great job of creating breed-specific recipes for puppies and adult dogs from different size breeds.
This French Bulldog puppy food kibble* is designed to be easy for your small puppy to pick up and chew and the recipe supports a growing puppy's digestive, skin and immune system health.
There is also a Royal Canin French Bulldog Junior dry dog food*.
Nulo Puppy Dry Dog Food
This grain free, protein-rich, low carb puppy food* is a perfect fit for your French Bulldog's unique nutritional needs.
This food is enriched with Omega-3 and Omega-6 fatty acids, DHA and probiotics to support healthy skin and coat development and healthy digestion and elimination.
Calcium and phosphorus ensure healthy bones, teeth and claws.
You can choose from salmon or turkey flavors or mix and match for some variety.
Wellness Complete Health Natural Dry Small Breed Dog Food for Puppies
This easy-to-digest and nourishing turkey, salmon and oatmeal recipe* features smaller kibble bits for small puppy mouths.
This food is enriched with probiotics for healthy digestion, DHA for healthy brains and eyes and essential fatty acids for healthy coat and skin.
Best Food For French Bulldogs With Special Health Issues
Digestion issues like sensitive stomach, food allergies and flatulence (gas) can often be more prevalent in brachycephalic muzzle types.
Dogs with a brachycephalic muzzle can struggle to breathe and eat at the same time because of their smaller nostrils.
Instead they just open their mouths and literally "inhale" their dinner – and take in lots of extra air along with it!
Not surprisingly, this air then goes down, down, down into the stomach and intestines right along with your dog's food, where it burbles around until it finally comes out the other end in a big gassy fart – yuck!
Allergies And Flatulence
Other common reasons your French Bulldog may suffer from excess gas are sometimes tied in with French Bulldog food allergies and sensitive stomach issues.
For instance, if your French Bulldog has a gluten intolerance or a sensitivity to carbs, dairy, fermented foods, or certain specific ingredients, these can create digestive difficulties that result in gas.
If you notice your French Bulldog is getting gassier or seems to be struggling to digest her food well, it is important to talk with your vet before just assuming it is the food that is to blame.
Your dog's discomfort may very well stem from a food allergy or a sensitive stomach, but it could also be a symptom of a bigger underlying health condition such as ulcerative colitis, which French Bulldogs can be prone to developing.
Scheduling a vet exam first before making any other changes is the best way to know for sure what is causing your Bulldog's discomfort.
If your dog's vet feels that food allergies or a sensitive stomach could be causing your dog's gassiness, then it is time to choose a new food for your dog to try.
Finding Food For French Bulldogs With Allergies
Here, often the best dog food for French Bulldogs with gas and the best food for French Bulldogs with sensitive stomach can be one and the same, which can help to simplify your search!
Look for foods with probiotics (such as those found in yogurt), added gentle fiber, digestive enzymes and limited ingredient lists, which can all help with easing your French Bulldog's digestive discomfort – as well as your own when he lets another one fly in your direction!
These limited ingredient small breed dog foods may help ease your French Bulldog's digestive issues – and here again, ask your vet for guidance if you need help choosing a food to try.
Hill's Science Diet Sensitive Stomach & Skin Small Breed Dog Food
Hill's Science Diet* has a chicken and barley dry food and a salmon and vegetable wet food that are both formulated for small breed dogs with sensitive stomach and skin issues.
These can be fed together or separately.
The dry food contains beet pulp for extra fiber, plus antioxidants, Vitamins C and E and essential fatty acids to enhance immune system function.
Natural Balance Limited Ingredient Diets Dry Dog Food Small Breed Bites
This limited ingredient dry dog food for small dog breeds* consists of chicken and easily digestible, high fiber sweet potato.
It also features smaller kibble that is easier to chew and pre-digest in the mouth.
The kibble also helps to clean your dog's teeth and gums.
Wellness Natural Pet Food Simple Natural Limited Ingredient Dry Dog Food
Veterinarians tend to agree that narrowing down French Bulldog allergies best food choices often begins with limiting the ingredients in your dog's food.
This limited ingredient dry dog food* is gluten free and features a single protein and a single fiber source.
Choose from salmon and potato, lamb and oatmeal, duck and oatmeal, turkey and potato or salmon and peas.
Best Dry Dog Food For French Bulldogs
You will never lack for choices when shopping for a dry dog food!
But finding the best dry food for French Bulldog adults can get overwhelming with so many brands competing for your wallet!
Here, focusing in on small breed or breed-specific dry dog food can start to narrow down your options to the recipes that make the most sense.
Choosing a high protein, low carb, enriched adult dry dog food will form a solid foundation for your French Bulldog's overall health.
Royal Canin Breed Health Nutrition French Bulldog Adult Dry Dog Food
Royal Canin is one dog food maker that is especially good about creating breed-specific recipes to cater to the nutritional needs of different dog breeds and dog sizes.
The kibble in this dog food* is designed with the French Bulldog's unique jaw shape and size in mind.
The protein content (24 percent) and essential fatty acids content caters to this muscular breed's need for protein and essential fatty acids.
Nulo Adult Grain-Free Dry Dog Food
This adult dog food is packed with protein*.
Choose from three flavors: salmon, turkey or lamb.
It is grain-free and low-carb to keep your French Bulldog slim and trim.
Probiotics and Omega-3 and Omega-6 fatty acids help keep your dog's digestion running smoothly and help to maintain a healthy skin and coat.
Taste of the Wild Grain Free High Protein Natural Dry Dog Food
This wildly popular small breed dog food* includes real venison, boar or lamb in a high protein, low carb recipe.
This food features a small kibble size along with added probiotics, antioxidants and essential fatty acids for healthy skin, coat and digestion.
Best Wet Food For French Bulldogs
Wet food in general will be easier for your French Bulldog to eat.
Adding a bit of wet food in with your dog's dry kibble can also make the kibble easier to pick up and chew.
If you have had any trouble getting your French Bulldog to drink enough water, adding the extra hydration from wet dog food can also help to keep your dog hydrated.
Plus, wet dog food tends to be quite tasty!
Your French Bulldog will likely gobble up these natural, grain-free, gluten-free, high protein options, which represent some of the best wet food for French Bulldogs options.
Instinct Original Grain Free Recipe Natural Wet Canned Dog Food by Nature's Variety
This grain-free small breed wet food* is also gluten-free.
It is enriched with essential fatty acids, vitamins and minerals for a nutritious addition to your French Bulldog's diet.
Choose from salmon, chicken, lamb, beef, duck, rabbit or venison flavors.
Solid Gold Holistic Grain Free Dog Food with Superfoods
This small breed dog and puppy food* comes in salmon, chicken, beef, lamb, venison and quail flavors with tasty vegetables in gravy.
It is grain free and gluten-free and packaged in carefully controlled portion sizes to be a healthy, tasty addition to your French Bulldog's diet.
What Is The Best Food For French Bulldogs?
All the options you just read about represent some of the best food to feed French Bulldog puppies and adult dogs.
The best food for your French Bulldog is one which meets their own unique needs. If you're struggling to find the perfect diet, your vet can offer lots of advice and support.
The sheer number of options can make it really hard to choose one single food. So it can be wise to start out purchasing food in the smallest possible quantities until your dog has shown a clear preference.
Plus, variety of flavors and brands can help later if you ever need to switch dog food brands or flavors!
What Food Does Your French Bulldog Like?
Tell us what your French Bulldog is eating and find out what other owners are feeding theirs in the comments!
And if you want to read more about the Frenchie breed, take a look at our guide to the white French Bulldog.
Affiliate link disclosure: Links in this article marked with an * are affiliate links, and we may receive a small commission if you purchase these products. However, we selected them for inclusion independently, and all of the views expressed in this article are our own.
Sources
Get Pippa's free dog training tips delivered to your inbox