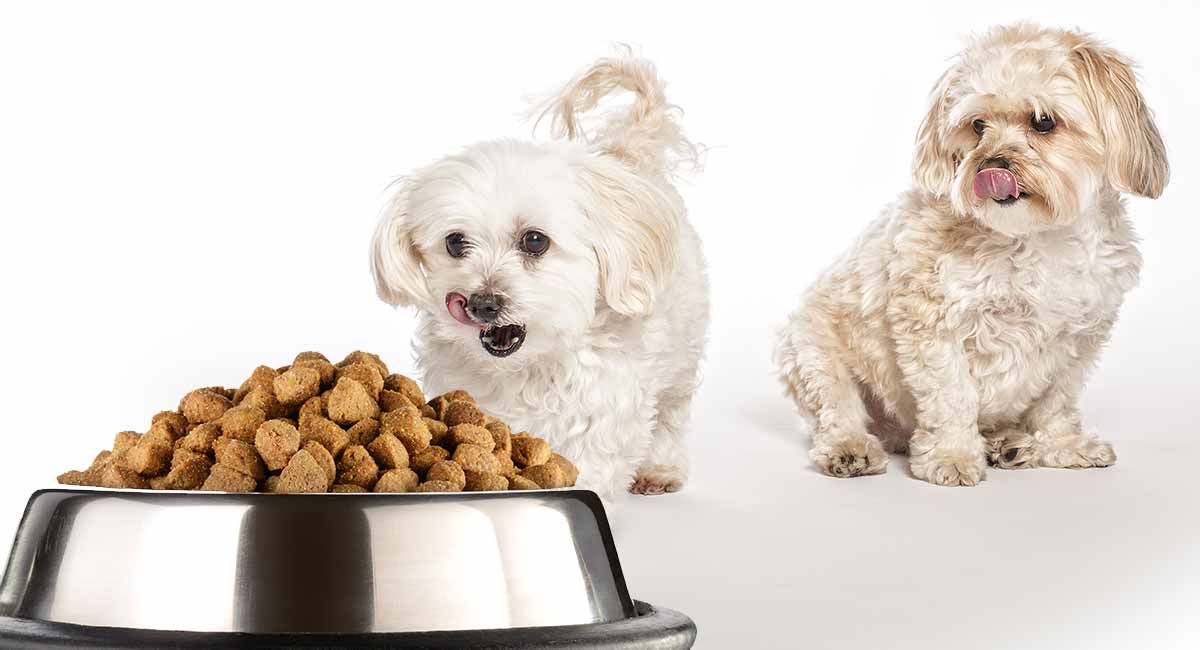 The best dog food for Maltipoo puppies, adults, or senior dogs is right here!
As you know, the Maltipoo is an adorable hybrid dog breed with one Maltese parent and one Poodle parent.
Hybrid dog breeds like the Maltipoo are becoming more popular stateside worldwide for a number of reasons.
One major reason is their purported increased resilience to certain known purebred doggie health conditions.
If you're a first-time Maltipoo owner, understandably, you may feel anxious about picking out the best dog food for your dog!
What is the best type of dog food? And more specifically, what is the best dog food brand for Maltipoo dogs on regular or special diets?
So, let's dive into the topic of the best dog food for Maltipoo dogs right now!
What is the Best Dog Food for Maltipoos?
The Maltipoo is a very small dog breed. Their size can range from just four pounds up to 15 pounds.
Some Maltipoo dogs are small to miniature in size and some are a true toy or teacup size.
Of course, the smaller your Maltipoo is, the more important it is to make sure every bite of food provides complete and balanced nutrition.
Health issues can quickly arise if your Maltipoo's food recipe isn't designed to meet the special nutritional needs of these small dogs.
Therefore, the best dog food for Maltipoos is one that offers complete and balanced nutrition. This will help safeguard your pup against known Maltipoo health issues.
Here are some of the health conditions to look out for.
Obesity
The smaller the pup, the fewer calories required to maintain consistent blood sugar and energy levels.
As many adoring owners will attest to, it can be difficult to resist giving your precious Maltipoo extra tasty treats.
But once the weight piles on, it can bring a number of health concerns with it.
Hypoglycemia
Hypoglycemia, or low blood sugar, can be a lifelong issue for dogs that are small in size like the Maltipoo.
Other dogs, including the Miniature and Toy Poodles, as well as Maltese, struggle with hypoglycemia.
This is because miniature and toy dogs are unable to consume a lot of food in one sitting.
This means smaller, more nutrient-rich portions of food are more appropriate. This will keep your dog's blood sugar levels more consistent, especially between meals.
Dental Issues and Gum Disease
Maltese dogs have a brachycephalic, or pushed-in skull. This frequently causes tooth crowding as well as known issues with grasping and chewing food.
For this reason, the best dog food for Maltipoo puppies and adult dogs is one that they can easily grasp and chew. And one that is also designed to naturally scrub their teeth and gums.
During teething, a Maltipoo puppy's teeth and gums may ache. Unfortunately, this may lead to a reluctance to eat at the critical times throughout the growth and development of your Maltipoo.
With this in mind, the best Maltipoo puppy food is a combination of wet food and dry kibble. Softer food will be more palatable for your pup during the teething phase.
As your Maltipoo grows and the adult teeth form, most veterinarians will recommend switching to dry kibble for regular meals. Simply reserve the wet or soft food for treats.
As always, it's best to listen to the advice of your dog's veterinarian before making any adjustments to your Maltipoo's existing diet.
Heart Issues
Too much sugar, fat, or protein, or too many additives or fillers, can put pressure on your dog's heart.
Hydrocephalus
Hydrocephalus, or water on the brain, is a genetic condition that can affect Maltese dogs.
It can be caused by trauma or disease. But is most likely to occur as a result of their short muzzle (brachycephaly).
Severe cases can be fatal in early life. For milder cases, selecting the best dog food can promote better brain health.
Joint Problems
Both Maltese and Poodles can suffer from joint problems, such as patellar luxation (trick knee) and dysplasias (hip or elbow joint malformations).
Both issues are heritable. However, selecting food fortified with joint supplements can help ease any potential problems.
Eye issues
Both parent dogs—the Maltese and the Poodle—are prone to severe eye issues.
Therefore, food for Maltipoo dogs should contain supplements that support their eye health.
Tear staining is a common issue that many Maltipoo owners struggle to manage. Tear stains can be caused by the brachycephalic muzzle inherited from the Maltese parent.
Fortunately, research suggests that selecting the right food for your Maltipoo can reduce this.
Liver Shunts
Liver shunts is a heritable disorder that can affect the blood vessels of your dog's abdomen.
If the blood vessels do not develop normally, blood can get rerouted such that the liver is unable to clear the blood, leading to several symptoms.
If your Maltipoo has been diagnosed with liver shunts, talk with your veterinarian about the best dog food for Maltipoo liver shunt management.
Typically, the best food that is lower in protein and only made from certain types of proteins that are easier for your dog's body to break down.
Best Dry Dog Food For Maltipoos
The best dry dog food for Maltipoo will typically be one your veterinarian recommends.
Alternatively, you can choose a specialty food specifically formulated for the nutritional needs of small, miniature or toy puppies and dogs.
Royal Canin Size Health Nutrition X-Small Puppy Dry Dog Food is a highly rated and popular dry dog food for puppies comes in two sizes: 3-pound or 15-pound bags.
The kibble is specially shaped to help tiny puppies grasp and chew it more easily. The recipe is packed with nutrition for the short, important puppy phase of life.
Nutro Wholesome Essentials Adult Dry Dog Food for Small & Toy Breeds in the Chicken, Brown Rice & Sweet Potato Recipe is packed with nutrition and comes in two versions: small breed and toy breed.
Choose from three bag sizes: 3, 5, or 15 pounds.
The soothing and highly palatable recipe can be fed starting at the age of one year. This food also has special supplements aimed at cognitive function and immune support.
Purina Pro Plan Small & Toy Breed Formula Adult Dry Dog Food is another popular and highly rated adult dry dog food.
It also comes in separate recipes for toy and small dogs. Both versions are supplemented with prebiotics for better digestion and minerals for skeletal, dental, skin, and coat health.
Best Wet Dog Food For Maltipoos
It is always a good idea to offer your Maltipoo wet food when they're starting out early in life. This will help your pup get used to the taste and consistency of dog food.
Wet food is typically not offered as a sole source of nutrition unless your veterinarian advises otherwise.
But it can come in handy for bouts of hypoglycemia or when your dog is feeling unwell. You'll want to serve them something especially tempting!
Merrick Lil' Plates Small Breed Grain Free Mini Medley Pack Wet Dog Food is a lovely little variety pack that will keep your pup's wet food topper fresh from day to day.

You get four cups of each flavor: Tiny Thanksgiving dinner, Itsy Bitsy Beef Stew, and Petite Pot Pie.
Best of all, these tiny cups of food are gluten-free and grain-free so they're perfect if your Maltipoo is on a special diet.
Nutro Ultra Small Breed Adult Wet Food focuses on helping your adult Maltipoo build lean muscle mass and a strong immune system.

Added vitamins and minerals promote coat, vision, brain, skin, and coat health. You get 24 cups of this Chicken, Salmon and Lamb entrée.
If your Maltipoo enjoys these small wet bites, Purina Bella Pampered Meals in Savory Juices may just be the perfect choice for your pup.

This food comes in 10 different flavors from Filet Mignon to Chicken and Liver. Plus, this wet food recipe is designed to provide your pup with increased immune health throughout life.
Best Dog Food For Maltipoo Puppies
If you're unsure about the best puppy food for your Maltipoo, you may want to ask the veterinarian for some trial size packets or purchase the smallest bag you can find.
Blue Buffalo Life Protection Formula is a natural puppy food features supplements for eye and brain health.

It's also free from additives, fillers, and artificial ingredients that serve no nutritional purpose.
This puppy food comes in two sizes: 6.6 or 15 pounds. This nutritious option also contains LifeSource vitamins and mineral bits for complete and balanced nutrition.
Hill's Science Diet has been a veterinarian-trusted dog food brand for decades and the Hill's Science Diet for Small & Toy Breeds starter pack is no different.

Also, with this starter pack, you get so much more than a 4.5-pound bag of some of the best food for Maltipoo puppy dogs.
You'll also get treats, toys, wet food, and poop bags with a bag holder!
The lovely and nourishing Wellness Complete Health Natural Dry Small Breed Dog Food Small Breed food is a complete small breed puppy food.

It comes in two bag sizes: 4 or 12 pounds. This USA-sourced and made all-natural puppy food is free from additives, fillers, and preservatives.
This food also features added supplements for eye and brain health.
Best Food For Maltipoo Senior Dogs
As your dog moves into the golden years, you'll want to be sure you choose the best dog food for your Maltipoo senior dog.
Dog foods formulated for seniors make adjustments in the nutrient balance to accommodate less active seniors with lower protein and calorie needs.
If your senior Maltipoo has a sensitive stomach, check out this article for specific recommendations.
Nutritionally balanced Eukanuba Senior Dry Dog Food can provide all the nutrition your senior dog needs.

This includes special prebiotics and probiotics for digestive health. The food is also enhanced with vitamins and minerals for improved immune health, which is needed later in life.
Wellness Complete Health Natural Dry Small Breed Dog Food is specially formulated for senior dogs of small breeds.

The nutrient-rich recipe is packed with glucosamine and chondroitin for improved mobility and joint health during your dog's senior years. And the smaller-sized kibble is easier to grasp and chew.
Nutro Ultra Small Breed Senior Dry Dog Food features high-quality real meat protein.

In addition, this senior dog food is free from soy, wheat, corn, chicken by-product meal, and other common allergens and fillers.
And packed with 15 superfoods to support mobility and immune system health into the golden years.
Best Choice For Maltipoo Food Allergies
Finding the best dog food for Maltipoo allergies starts with ensuring the food is free from known allergens. For example, certain grains, gluten, and soy.
Eliminating fillers, artificial ingredients, by-products, and preservatives in your dog's food is also a good idea.
Your dog's vet may recommend placing your pup on a limited ingredient diet (LID) for a short period of time.
Or the vet may suggest only feeding your pup food that has been formulated for canine allergies or sensitive stomachs.
Blue Buffalo Basics Limited Ingredient Diet, Grain Free Natural Adult Small Breed Dry Dog Food is a special limited ingredient diet Maltipoo food based around a single protein source.

Antioxidants provide extra support as well as easily digestible pumpkin and pea fiber and plenty of vitamins and minerals.
Castor & Pollux Organix Grain Free Organic Small Breed Recipe Dry Dog Food is a grain-free, organic small breed dog food.

This dry food is based on a single protein source and the recipe is free from additives, preservatives, GMOs, growth hormones, antibiotics, or other triggers of food-based illness.
The nutritious Nulo Adult Grain Free Dog Food for small breed adult dogs is free from grains, a common trigger for food allergies.

Choose from lamb, salmon or turkey for the base protein in a recipe packed with essential fatty acids, vitamins, and minerals.
Best Food for Maltipoo Dogs
We hope reading this focused article. Our aim is to provide you with the confidence and knowledge you need to select the best dog food for your Maltipoo puppy, adult dog, or senior.
Does your Maltipoo have a favorite food? Share your pup's favs in the comments below!
References and Further Reading
Nam J-W et al. 2011. Evaluation of Hydrocephalic Ventricular Alterations in Maltese Dogs Using Low Field MRI. The International Journal of Applied Research in Veterinary Medicine.
Get Pippa's free dog training tips delivered to your inbox