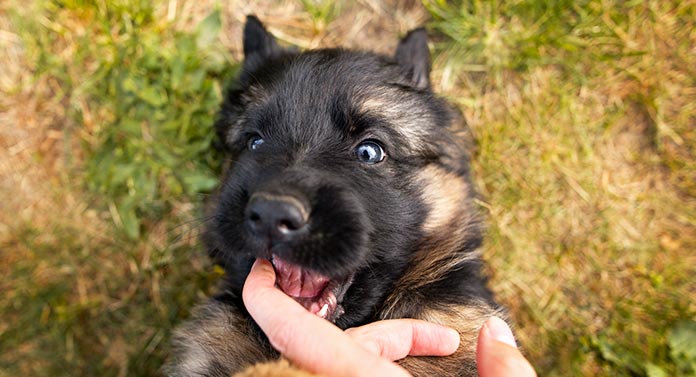 Why do German Shepherd puppies bite so much?
When your puppy is going through that stressful biting period, it can seem like things are never going to calm down. Where has your cute puppy gone?
Luckily, it won't last forever. It's completely normal for GSD puppies to have a biting period, and you aren't alone.
Here are some tips to calm your German Shepherd puppy down, and minimize the painful biting period.
Why do German Shepherd Puppies Bite So Much and Other FAQs
Here are some of the most frequently asked questions we receive about German Shepherd biting.
Hopefully, we will have the answers to all of your questions in this guide. Read on for more help with your puppy's nipping problems.
Why Do German Shepherd Puppies Bite So Much?
There's nothing cuter than a German Shepherd puppy when you first bring them home. They're a fluffy little bundle of curiosity and playfulness.
But, all that cuteness quickly disappears when the biting phase starts.
What's happened to your little angelic puppy from before?
It can lead even the most patient puppy owners to feel despair and dread about how their puppy is acting, and what habits it's learning.
If this is you, don't panic. Puppy biting is normal in all breeds, including the German Shepherd.
And, luckily, we have some great tips and tricks to minimize the painful biting period.
To start off, let's find out some of the reasons why German Shepherd puppies bite so much.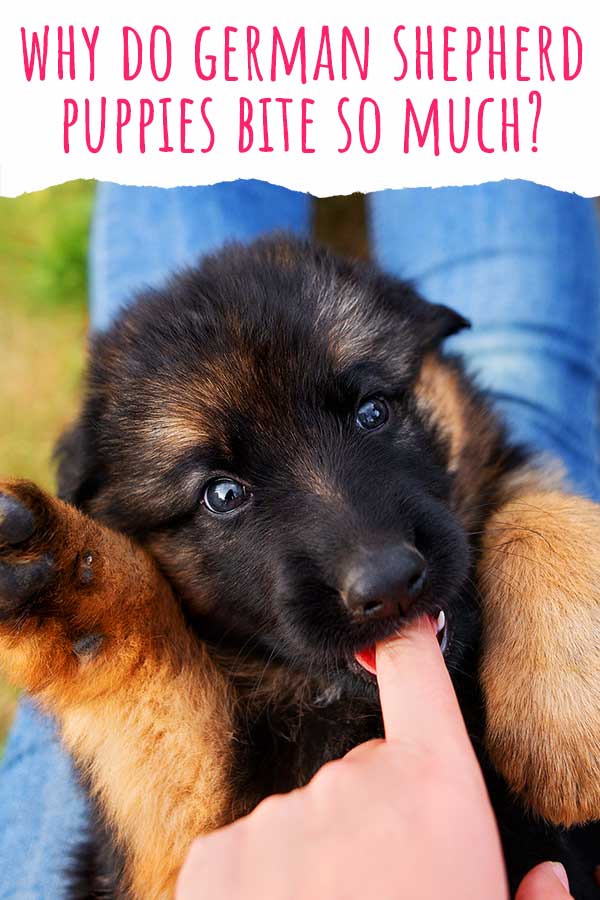 A Number of Reasons
There isn't just one reason that your German Shepherd puppy is biting. In fact, it could have a number of causes.
Here are a few of the most common reasons, in a little more detail.
Teething
One reason why puppies of all breeds may bite is teething. This stage often starts at around 3 or 4 months of age – only a few weeks after your puppy will arrive at their new home.
Luckily, it only takes a few months for your puppy to have their full set of adult teeth.
So, biting from teething is not permanent.
If your puppy is biting or chewing because of teething, you may notice other symptoms like drooling, irritability, and going off their food.
Boredom or Getting Attention
Bored puppies may learn that biting gets some fun responses from you! Just like barking can.
In fact, whenever they bite you, you'll make lots of noise, move around a lot more, and may even start to play a game with them!
If your puppy has learnt that they can get some attention from you when they bite, they may do it to alleviate boredom.
This can explain why puppies concentrate most of their biting on one family member – the person who gives the most fun response.
Natural Play
Biting is a natural part of puppy play – as much as some owners might not want to hear it!
German Shepherd puppies, just like any other breed, will bite whilst they are playing with you or with other dogs.
They don't intend to hurt you – they're just trying to play!
So, it's important to learn how to encourage gentle play with your puppy. If this behavior continues into adulthood, the biting can be more problematic.
Responding to Rough Play
Some people like to play with German Shepherd puppies in quite a rough manner. This can include pushing them, or rolling them over.
Behaviors like this can make puppies very excitable, and encourage biting during play.
As we just mentioned, it's best that everyone who interacts with your puppy plays with them in the correct way to reduce future biting.
Encourage calm play between your family members or friends and your puppy.
Herding Instincts
The German Shepherd breed has a history as a herding dog. The creator of the breed, Captain Max von Stephanitz, bred the German Shepherd in an attempt to create the ultimate all-round herding breed.
This was all the way back in the late 1800s. Although the history of the breed has changed over time, from herding to working dog, their origins remain the same.
Many herding dogs are prone to natural chase instincts. They may chase small children or other animals – particularly those that are making lots of noise.
And, these herding behaviors can include nipping at heels.
Once again, your behavior can minimize biting from this cause. Running away from a puppy that's chasing and nipping at your feet will usually only make them more excitable and eager to bite!
Exploration
Another common explanation for young German Shepherd biting is their natural curiosity. When they come to their new home with you, they'll be keen to explore!
And, they may do this partly with their mouths.
How Long Does the German Shepherd Puppy Biting Phase Last?
Now that you've learnt some of the most common causes of puppy biting, you may be able to easily recognise which ones apply to your puppy.
But, this isn't always that comforting. What you really want to know is, when will it stop?
The length of each German Shepherd puppy's biting phase depends on two things:
The particular cause of biting
How you and other people react to it
For most puppies, the biting phase will only last a few months, if not less. In fact, many owners don't even realise that the biting period has stopped, as it can happen quite gradually.
However, you can minimize the period by making a few easy changes to your behavior when biting occurs. Let's take a closer look.
How Do I Stop My German Shepherd Puppy Biting Me?
The best ways to stop puppy biting and minimize the biting period are training and prevention.
This means training your puppy to be gentle with you and other people, and taking away opportunities for your excited puppy to bite humans.
You may need to go as far as to completely separate your GSD puppy from small children and people who insist on rough play with puppies. We know that this can only encourage biting.
Remove Yourself Calmly
If your puppy starts to bite you, during play or any other time, the best solution is to calmly and quietly remove yourself.
You can use tools like baby gates to keep your German Shepherd in a puppy-safe room. You'll easily be able to step over these and away from your puppy if they start to bite you.
By quietly and calmly removing yourself from the situation with your puppy, you won't be rewarding him in any way for biting.
In fact – your puppy will learn that biting during play or cuddles only results in you leaving, and them ending up on their own!
Not only will this help to show your puppy that biting is not an acceptable part of playtime, but it can also help your own sanity to remove yourself from those sharp teeth occasionally.
Think About Clothing
You should also think about the type of clothing you wear around your puppy.
Loose, hanging clothing can be appealing to your puppy, and provide something easy to grip on with their sharp teeth.
Wear tight fitting clothing to minimize the number of things your puppy can bite at.
Use Distractions
If you, or young children in your household, are keen to pet your puppy without being bitten, you should make the most of distractions like treats or toys.
You can hold a chew for your puppy to keep their attention and mouth distracted whilst someone pets them!
Reward Calm Behavior
Make sure that you reward your puppy when they aren't biting you. Often, puppy owners only think about biting whilst their puppy is actively gnawing on them.
But, you must remember to tell your puppy when they're doing something right.
One method is to reward them with treats when you are petting them and they are not biting you.
Another is to reward them for calm behavior around the house.
This way they learn that acting calmly and letting you touch them without biting will earn them good things!
Should I Squeal When My Puppy Bites?
One popular method to stop puppy biting is to squeal, squeak, growl, or make another loud noise.
Some people claim that this method replicates natural puppy play and tells your GSD when they are being too rough.
For some owners, this may work. But, there's a risk that your puppy will become more excited when they hear your loud responses to their biting.
If this is the case, making a noise when your puppy bites will act as a reward, and encourage your German Shepherd puppy to bite you even more.
This is one reason why puppies biting children is so common. Many children will make lots of noise, especially if a puppy bites them, which can lead to further nipping.
As we said above, it's best to simply remove yourself from the situation when your puppy starts to bite.
Should I Say No When My Puppy Bites?
Some people suggest that you say 'NO' when your puppy bites you. This is similar to the method above, if used alone.
The problem with saying 'NO' to your puppy when they bite you, is that puppies don't speak English! They won't know what you mean!
This is why training has to be done in small stages – first you must teach the puppy what action you want, and then you can give the action a name, or command.
Saying 'NO' to stop biting when you have engaged in no other training can be ineffective, and lead to more frustration by owners when their puppy doesn't understand them, and carries on biting.
Punishment Methods
The best methods to stop your puppy from biting involve positive rewards for the behaviors you want.
Studies on dog training and behavior have shown that punishment based methods are often associated with an increase of problematic behaviors.
Punishing your puppy for biting can lead to distrust and fear from your puppy.
Instead, it's better to use positive methods, and reward your German Shepherd for desirable behaviors.
If you're interested in learning more about how positive reward training works, you can read more about it in this guide.
Do All German Shepherd Puppies Bite?
The causes of puppy biting that we looked at earlier in this guide apply to all GSD puppies. In fact, they apply to all puppies of any breed.
So, you aren't alone in dealing with puppy biting.
Biting and chewing is a normal puppy behavior, and a normal part of play.
As long as you react to this behavior in the right way, it is a period that will pass.
It doesn't mean that your puppy is any less well behaved than any other.
Is My German Shepherd Puppy Aggressive?
The biggest fear for most German Shepherd puppy owners is that their puppy is aggressive when it bites.
German Shepherd puppy biting can be accompanied by ferocious growls or snarls. It can even draw blood.
However, this doesn't mean that your puppy is aggressive. As we've learnt, biting is a normal part of puppy play. So are behaviors like snarling and growling.
And, if your puppy is biting hard enough to injure you, they may not have learnt proper bite inhibition yet. This is the process where your puppy learns to be gentle with his teeth on your skin.
The positive reward methods we discussed earlier in this guide are the best way to teach your puppy bite inhibition. Remove yourself calmly and quietly whenever your puppy bites.
And make sure to reward any calm behavior – including when your puppy lets you pet it without biting.
Speak to a Behaviorist
If you think your puppy is exhibiting aggressive behaviors, such as guarding their resources, you may want to speak to a behaviorist.
They will be able to look at your puppy as an individual case, and analyse their behavior properly.
They will also be best positioned to tell you whether your pup's behavior is normal, or straying into aggression.
Do Adult German Shepherds Bite?
As long as you train and socialize your German Shepherd puppy well, and follow the tips we've given, your puppy will grow out of their biting period and into a well behaved adult.
The German Shepherd breed is known for being aggressive in some circumstances – they make popular guard dogs, and are number one candidates for working dog roles in the police and military.
Studies throughout time have suggested that German Shepherds are "extremely aggressive", or at least more aggressive than the average dog.
However, other studies suggest that people who want aggressive dogs usually shape these breeds to be aggressive by exposing them to certain environments.
On top of this, well socialized puppies of all breeds are less likely to show aggressive tendencies than those who were not well socialized.
So, if your dog has been socialized and trained well as a young puppy, they will grow out of their biting phase and into a confident, friendly adult.
But, this can be a lot of work and pressure when you're already dealing with painful nips and bites. Luckily, there are a few places to turn to for help.
As we mentioned earlier, behaviorists can be good options for some. Others can benefit from training courses.
Puppy Training Courses
Puppy training courses can take place in person, but nowadays it's also common to find online training courses.
These are most often designed to give you the tools to train your puppy from home, learning the methods so you can train your puppy whatever commands you desire.
You can find training courses on our own website here.
In fact, our Puppy Parenting course looks closely at dealing with biting, among other common puppy problems.
If you're choosing a trainer in-person, make sure that their methods align with your own. Choose a trainer that specializes in positive reinforcement methods.
Why Do German Shepherd Puppies Bite So Much?
Are you struggling with a German Shepherd puppy that enjoys biting? Follow the advice in this guide over the next few weeks to see an improvement in their behavior.
And, if you're looking for more help with puppy problems, take a look at our online courses.
Let us know how these methods work for you in the comments. And hang in there! That biting phase doesn't last forever.
Readers Also Liked
References and Resources
Get Pippa's free dog training tips delivered to your inbox