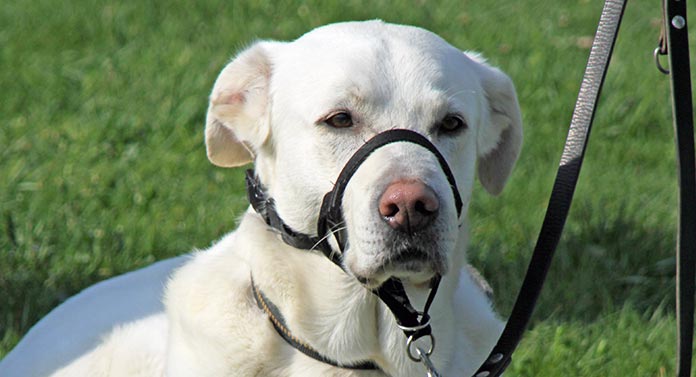 What is a Halti? Halti is a brand that sells a number of head and body harnesses designed to prevent pulling in dogs. Their most popular and common product is a head harness that has almost become synonymous with the brand name.
It attaches around your dog's muzzle and the back of their head. The Halti head harness works as an aversive tool to prevent pulling.
This means the action of pulling is paired with an unpleasant consequence, making dogs less likely to do it.
Teaching your dog to heel is a much better long term solution to pulling, and doesn't have any nasty consequences for your dog.
Frequently Asked Questions About the Halti
If you can think of any other questions about this product, make sure to add them to the comments at the end of this guide.
But, let's kick things off by finding out: what is a Halti?
What is a Halti?
Halti is a brand that sells a huge number of harnesses and leads for dogs.
The first Halti product was the Halti headcollar, created in 1979 by Dr. Roger Mugford. It was designed to help owners who were struggling with dogs who pulled excessively when on walks or on their leash.
This product is still the most well known of the Halti products. And, it is the one most people think of when they say the brand name.
Although the Halti brand offers a number of different harnesses, we will be focussing on their head harness in this guide.
How Does a Halti Work?
The Halti head harness describes itself as giving the owner full control by gently directing and steering your dog from the front.
Head collars and harnesses like the Halti are usually designed to put the most pressure on the back of the dog's neck, away from the front of their neck and their nose.
Collars like this encourage your dog to pull back against the restraint, to avoid the increased pressure that pulling causes to them.
This is known as an aversive. It pairs the action of pulling on the leash with an unpleasant consequence.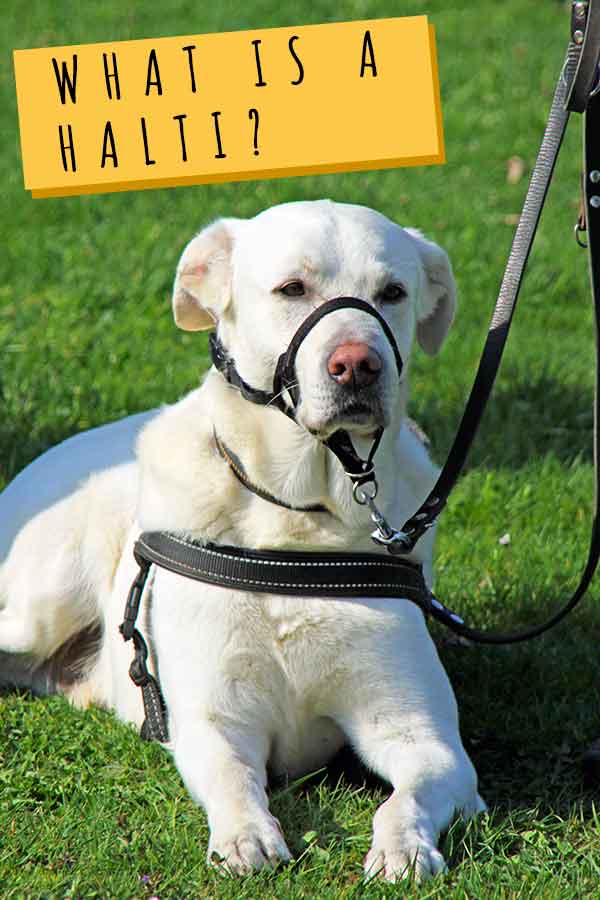 This does mean many dogs are less likely to pull as a result. But, it can be a very uncomfortable process for them.
Some dogs may still pull against the Halti head harness. And, they will pull as soon as a different type of harness is used.
So, ultimately, this product is no replacement for proper heel training.
How is a Halti Different to a Body Harness?
As we mentioned in the section 'what is a Halti', we will be looking at the Halti head collar for the rest of the guide.
The main difference between this and a regular body harness is where it is used on the dog.
The Halti has a loop around the dog's muzzle, which attaches to the neck and leash, and another loop securing the collar around the back of their head.
Instead of this, a body harness will usually just fasten around your dog's chest and shoulders, with a loop on the back to attach a leash to.
Most body harnesses aren't aversive. They are simply designed to distribute pressure over a larger area of your dog's body than a traditional dog collar would.
However, the Halti is specifically designed to associate pulling with a negative consequence for your dog.
Are Haltis Comfortable for Dogs?
Head harnesses like the Halti work by redirecting pressure when your dog pulls, most often to the back of their neck.
Whilst the fit of the collar itself might not be uncomfortable for your dog when standing still, this pressure when walking is most likely very uncomfortable.
Aversive tools like this associate an action with an unpleasant consequence to stop the action from happening.
So, the feeling when your dog pulls has to be uncomfortable enough to prevent the action of pulling in the future.
Not Designed for Constant Use
The Halti is designed to fit 'snugly' on your dog. However, it is only ever designed to be used during walks.
Using head harnesses like this for longer periods has led to distress and severe consequences reported by owners.
This includes loss of fur where the straps sat, and even rashes on the skin in these places.
And, these head collars aren't effective at stopping all dogs from pulling.
If the Halti does not stop your dog from pulling, they may experience high levels of discomfort – even if the product is only used on walks.
How are Haltis Different to Muzzles?
As we've learnt earlier in this guide to 'what is a Halti', this type of head harness has a loop that attaches around your dog's snout.
So, how is this different to a specific dog muzzle?
Dog muzzles are often associated with aggression. But, they can be used on dogs for a number of reasons, from avoiding bites, to preventing your dog eating harmful items on walks.
The Halti brand claims that their head collar is designed to allow your dog to pant and yawn if it needs to.
So, it does work very differently to a muzzle. It won't stop your dog from picking things up on walks, and it won't stop them from opening their mouths when wearing the collar.
If your dog needs to be muzzled on walks, for whatever reason, a Halti is not a suitable alternative.
Will a Halti Stop my Dog from Pulling?
The main reason most people want to learn 'what is a Halti' is because they're suffering with a dog that pulls on the leash.
Some dog owners report that their dog stops pulling when wearing the Halti head harness. However, these dogs won't stop pulling when wearing a normal leash.
This is because the Halti doesn't train your dog to heel. It just gives your dog an unpleasant consequence when he tries to pull.
And, some owners report that their dogs still pull when wearing a Halti.
Remember, these head collars work by pairing the pulling action with an uncomfortable, unpleasant consequence.
So, if it doesn't even work effectively, you may be left feeling disheartened. You could be left with a dog that still pulls, but one that also starts to hate going on walks because of the unpleasant consequences.
How to Stop Pulling
A better method to stop pulling in dogs is to train heel using positive reinforcement methods.
Evidence from studies suggests that positive reinforcement methods are the most effective at training permanent skills.
A Halti is one of many aversive training tools. Evidence suggests that aversive methods like this can actually be detrimental to the physical and mental health of our dogs, as well as less effective.
So, the best long term solution to prevent pulling is to use positive reinforcement training to teach the heel command. Not only is this more likely to work in the long term, but it will also help you build a much stronger bond with your dog.
Are Haltis Cruel?
Haltis associate pulling with an unpleasant consequence. They may be slightly uncomfortable, and your dog may not enjoy walking with them too much.
But, they aren't inherently as cruel as other punishment-based methods people may use to try and stop their dogs from pulling on the leash.
Leaving a Halti on your dog long-term can be cruel, as it is only designed for short periods. Leaving it on long term can cause fur loss and other injuries.
Ultimately, the least cruel way to stop your dog from pulling is to use positive reinforcement training to teach them to heel.
Positive reinforcement and prevention are the least cruel methods.
Read your Dog's Body Language
Many people report that their dogs don't seem as happy when wearing a Halti. Their tails and ears may droop, they hold their heads lower, and don't seem as excited on walks.
Some people don't even get this far, as their dogs desperately paw at their faces and roll around to get the collar off their nose.
Aversive training methods have been shown to jeopardise the mental and physical health of dogs.
So, to avoid this, choose to train your dog using positive reinforcement methods. This will take time and won't solve your pulling problem immediately.
But, until then, you can choose to manage the problem with a body harness and leash.
How do Haltis Compare to Gentle Leaders?
The Gentle Leader is another brand of head collar that is very similar to the Halti. It aims to redirect your dog's head towards you whenever it tries to pull on the leash.
One study has actually looked at the reactions of dogs to different types of head collar.
It found that there was no real difference in acceptance when it came to different styles of head collar.
However in one session, the dogs showed increased reactions towards collars with a "snoot loop".
This loop over the nose is present in both Haltis and Gentle Leaders. So, there is likely to be no real difference in how your dog will react to them.
How do Haltis Compare to Other Types of Aversive Collars?
Other common types of aversive collar include shock collars and prong collars.
When shock collars are used to stop pulling, owners will administer a small shock whenever their dog pulls.
Prong collars, or pinch collars, have prongs or spikes on the inside of the collar. These push into your dog's neck if it pulls.
Both shock collars and pinch collars work in the same way as Haltis – they pair the action of pulling with an unpleasant consequence.
Studies have proven that aversive tools like this can cause physical and mental problems in dogs.
They have also shown that, not only do aversive collars cause fear and pain, but dogs can start to associate the presence of their owner with pain and punishment, rather than the action of pulling.
The best way to stop pulling and maintain a strong bond with your dog is to use positive reinforcement training.
Pros and Cons of Haltis
If you're still considering whether a Halti is right for your dog, take a look at the pros and cons of this tool.
Pros
Some owners report that their dog doesn't pull when wearing a Halti
It isn't necessarily as bad as other punishment methods
Cons
Many dogs display extreme discomfort and negative behavioral changes when wearing a Halti
The Halti doesn't stop all dogs from pulling
If worn for too long, Haltis can cause rubbing and fur loss
Aversive tools like the Halti can cause distrust, pain, and fear in our dogs
Haltis won't stop your dog from pulling when wearing other leashes or harnesses
What is a Halti – Summary
Haltis are not a long term solution if your dog is pulling on the leash. They pair the action of pulling with an unpleasant consequence.
This is an aversive tool that can cause distrust, and will not be as effective as positive training methods.
The most effective solution to a dog pulling on the leash is to train the heel command with positive reinforcement methods.
In the short term, you can use a regular dog harness and leash to keep your dog safe whilst on walks.
References and Resources
Get Pippa's free dog training tips delivered to your inbox