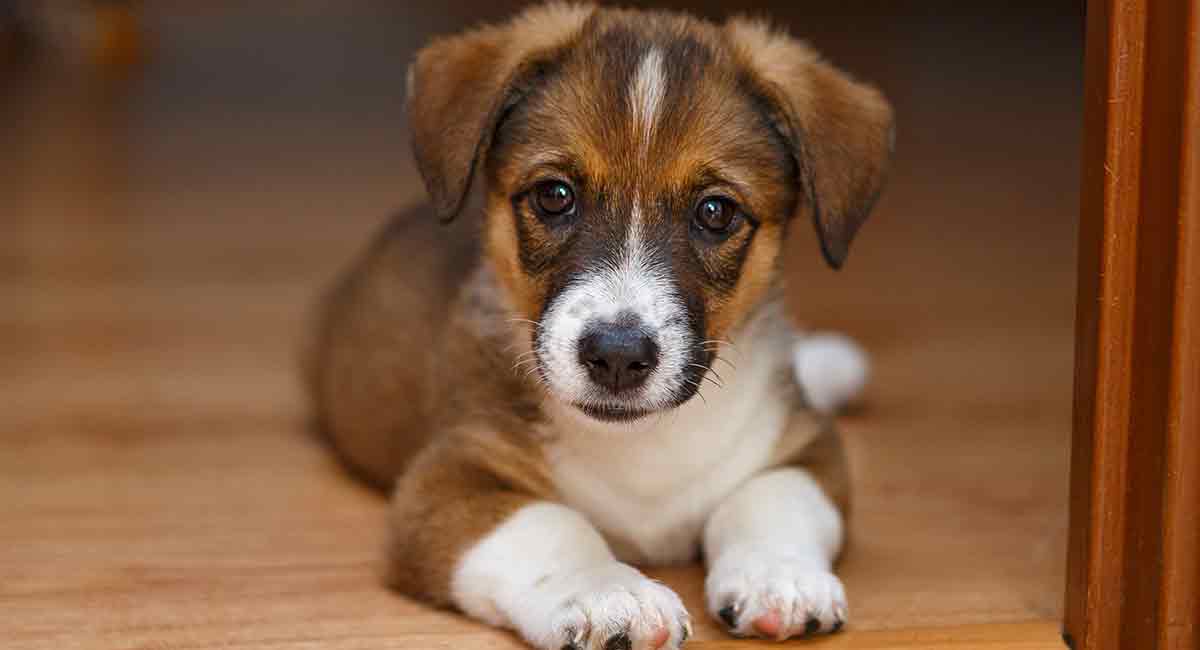 Are you wondering what the side effects of deworming a puppy are?
Is your new litter about to receive treatment for the first time?
Or perhaps you've noticed your young dog has symptoms of worms.
Don't feel that you've been neglectful or that the breeder kept your puppy in unsanitary conditions.
Almost every puppy gets parasites.
The good news is that worms are usually easy to get rid of with the proper treatment.
Although, as with most medications, there can be side effects of deworming a puppy.
We'll look into those shortly.
But before we discuss the side effects of deworming a puppy, let's look at the effects worms can have on a puppy.
What Are Worms Doing to My Puppy?
If left untreated, worms can cause some serious health problems in puppies.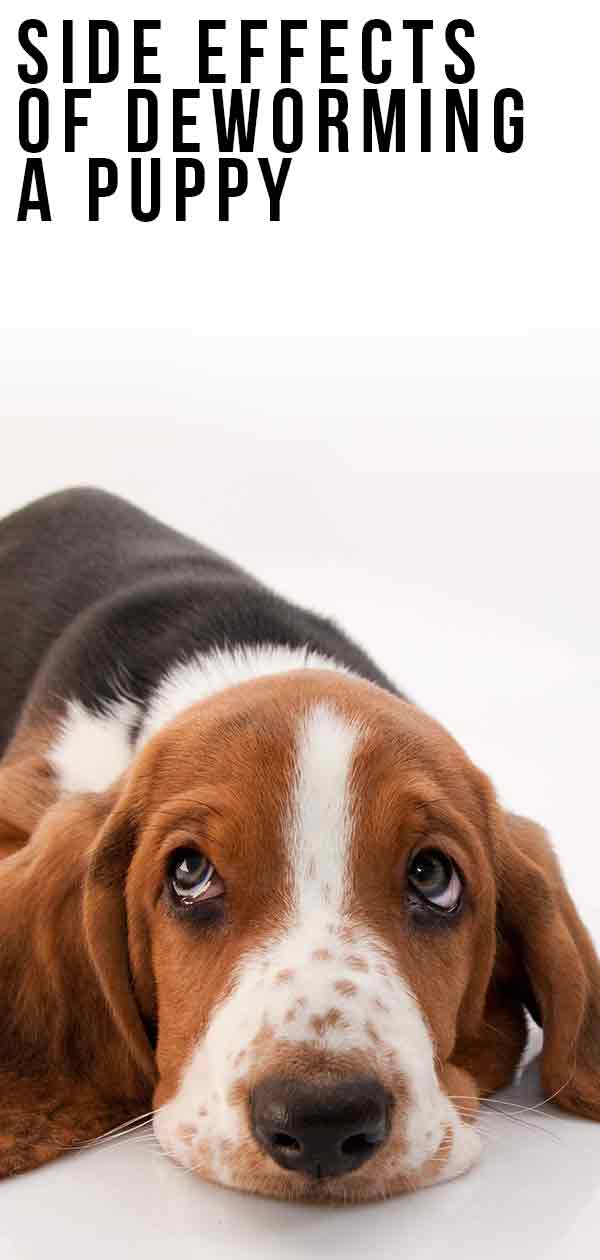 When parasites' eggs hatch in your puppy's gastrointestinal tract, they grow by leaching vitamins and minerals that your puppy needs to grow big and strong.
If left untreated, intestinal issues will not only make your puppy feel sick, they can lead to other infections, anemia, and organ damage.
Worm infestations that are severe can cause an intestinal blockage and result in death.
How Does a Puppy Get Worms?
One of the most common ways puppies get parasites is from their mother.
This can happen while still in the womb or while nursing if the mother is infected.
Puppies can inadvertently ingest parasites' eggs from the ground or water.
They can also get infected from fleas or mosquitos.
Contact with another dog's poop is another common way they contract worms.
When an infected dog defecates, parasite eggs are passed in the stool.
If your puppy eats these eggs, then they'll get worms.
Signs Your Puppy Has Worms
It's important to recognize the signs and symptoms that your puppy is suffering from worms or other parasites.
Roundworms, hookworms, tapeworms, and whipworms are the most common intestinal worms.
The sooner your puppy is treated, the less chance there is of complications.
Signs that your puppy has worms include:
Worms or eggs visible in your puppy's stool or in the fur around their rear end
Increased appetite
Decreased appetite
Weight loss
Bloated stomach
Diarrhea, especially if bloody
Vomiting
Constipation
Weakness
Scratching or dragging his rear end
Roundworms
Roundworms are the most common parasite.
They feed off the intestines, and puppies who are severely affected can die from roundworms.
A distended belly and upset tummy are the main indicators that your puppy is infected.
You may also be able to see the worms in your puppy's stool or vomit.
They're white or light brown in color and look like spaghetti.
Tapeworms
There are different types of tapeworms, but the most common one that affects dogs comes from fleas.
Tapeworms are white, flat, and can be as long as 8 inches.
They're made up of segments which can break apart and look like rice.
You may see them near your puppy's rear end, in their stool, or on their bed.
If ingested, an infected flea will feed on your puppy's intestines.
This brings up the importance of making sure your puppy doesn't have fleas.
It's important to talk to your vet about flea control that is appropriate for your puppy's age.
Unfortunately, even after treatment there is a high incidence of reinfection.
Hookworms
As the name implies, hookworms have a hook-like mouth that attaches to your puppy's intestinal wall.
Although they're only about 3 millimeters long, they can do a lot of damage.
Hookworms can cause severe anemia and even death.
Signs of anemia include weight loss, pale gums, and weakness.
Take your puppy to the vet immediately if you notice blood in their stool.
This is a serious symptom, and delicate puppies can actually bleed to death internally from having hookworms.
Whipworms
Like hookworms, whipworms get their name from their shape.
They're just a quarter inch in length, with a thick end that attaches to the puppy's intestinal wall and tapers to a thin end resembling a whip.
It takes three months for whipworm eggs to mature.
There may not be any symptoms at all in the early stages.
Whipworm will cause irritation and discomfort.
If your puppy has a heavy infestation, he may have diarrhea or bloody stool.
This can lead to dehydration and weight loss.
Whipworms are prevalent everywhere.
Even after your puppy's treatment, the rate of re-infection is high.
Heartworms
Heartworms are perhaps the most insidious of parasites.
Mosquito bites can transmit the infection, and it takes 6 or 7 months for the larvae to mature.
Once this occurs, they start to lay eggs in the puppy's heart, lungs, and blood vessels.
According to the American Heartworm Society, the symptoms include:
Mild persistent cough
Reluctance to exercise
Fatigue after moderate activity
Decreased appetite
Weight loss
Heartworms can be fatal if not properly treated.
Treatment is risky and expensive.
Thankfully, puppies can receive preventative medication, and they'll need to receive heartworm prevention throughout their lives.
Dewormers for heartworm are only available by prescription.
Your vet can test your puppy during his annual checkup to ensure he's free of heartworms.
Side Effects of Deworming a Puppy
Although adverse reactions are usually minimal, diarrhea is probably the most common side effect of deworming a puppy.
An upset stomach can lead to vomiting and a lack of appetite.
Your puppy may also salivate excessively.
Make sure he has plenty of fresh water to drink and keep an eye on him.
If these symptoms become excessive or persist after 24 hours, contact your veterinarian.
Worms will want to get out of your dog's stomach as the medication affects them.
Don't be alarmed if you see worms in your puppy's stool or during defecation.
They could be dead or in the process of dying, which means they'll be moving.
This can be unsettling, but rest assured this is what's supposed to happen.
Dangerous Side Effects of Deworming a Puppy
In rare cases, there are extreme side effects of deworming a puppy to watch out for.
This includes:
Blood in the stool
Excessive diarrhea or vomiting
Breathing problems
Seizures
Extreme lethargy
These behaviors would warrant an immediate visit to the vet.
Pulmonary thromboembolism is a potentially fatal condition which has been known to be caused by heartworm medication.
The worms being killed off by the medication form a dangerous blockage or blood clot.
If your puppy has extreme side effects, it could be because he was heavily infected.
When a large number of worms die off and move through their intestinal tract, it can be very painful.
In severe cases, the intestinal tract can become blocked with dead worms, and surgery would be required.
Can I Get Worms From My Puppy?
Unfortunately, the answer is yes, you can.
Roundworms in particular pose a risk for humans.
Eggs can be found in large quantities in the soil where the infected dog defecates.
They are sticky and can adhere to the hands and under fingernails.
Eggs must be in the ground for approximately one to two weeks before becoming communicable.
However, the risk of transmission increases if your puppy contaminates the same area continually.
Dog's saliva can also contain roundworm eggs.
If your puppy licks your face after licking his rear end, then the eggs can potentially be passed to you through your mouth or eyes.
Hookworms can be contracted through the skin and can cause a skin disease called cutaneous larval migrans.
Although it goes without saying, it's essential to practice good hygiene.
Wash your hands often, especially after picking up your pup's poop or after petting them.
Make sure children wash their hands, especially before eating, and don't let them play near the spots where your puppy may have defecated.
How Does Deworming Medication Work?
There are a number of broad-spectrum dewormers that will kill worms and other parasites.
Some are available over the counter, but it's best to have your veterinarian prescribe the correct medication.
Follow the dosage instructions carefully to avoid the side effects of deworming a puppy.
How Often Should I Have My Puppy Dewormed?
Deworm puppies at 2, 4, 6, 8, and 12 weeks of age.
After 12 weeks, they should be treated every 3 months.
How long it takes to deworm a puppy depends on the type of dewormer used, the age of the puppy, and how it was administered.
How Can I Prevent My Puppy From Getting Worms?
As with any health concern, prevention is the best medicine.
Although worms can be anywhere, there are plenty of ways you can reduce the risk of your puppy becoming infected.
Keep your yard clean and pick up and throw away poop immediately.
Wash your puppy's bedding on a weekly basis.
Keep your puppy free from fleas by using a flea collar or a topical medication.
Be diligent about giving your dog the drug to prevent heartworm every month.
A vet should check adult dogs annually throughout their lives.
References and Resources
Grieve RB, et al., "Epidemiology of Canine Heartworm Infection," The John Hopkins University School of Hygiene and Public Health, 1983
Rawlings, CA, et al., "Pulmonary thromboembolism and hypertension after thiacetarsamide vs melarsomine dihydrochloride treatment of Dirofilaria immitis infection in dogs," US National Library of Medicine National Institutes of Health, 1993
Fleischman, W., "Anemia: Determining the Cause," Vet Folio, 2012
Bowman, DD, et al., "Hookworms of dogs and cats as agents of cutaneous larva migrans," Trends in Parasitology, Volume 26, Issue 4. 2010
Little, SE, et al., "Prevalence of intestinal parasites in pet dogs in the United States," Veterinary Parasitology Volume 166, Issues 1–2, 2009
Get Pippa's free dog training tips delivered to your inbox