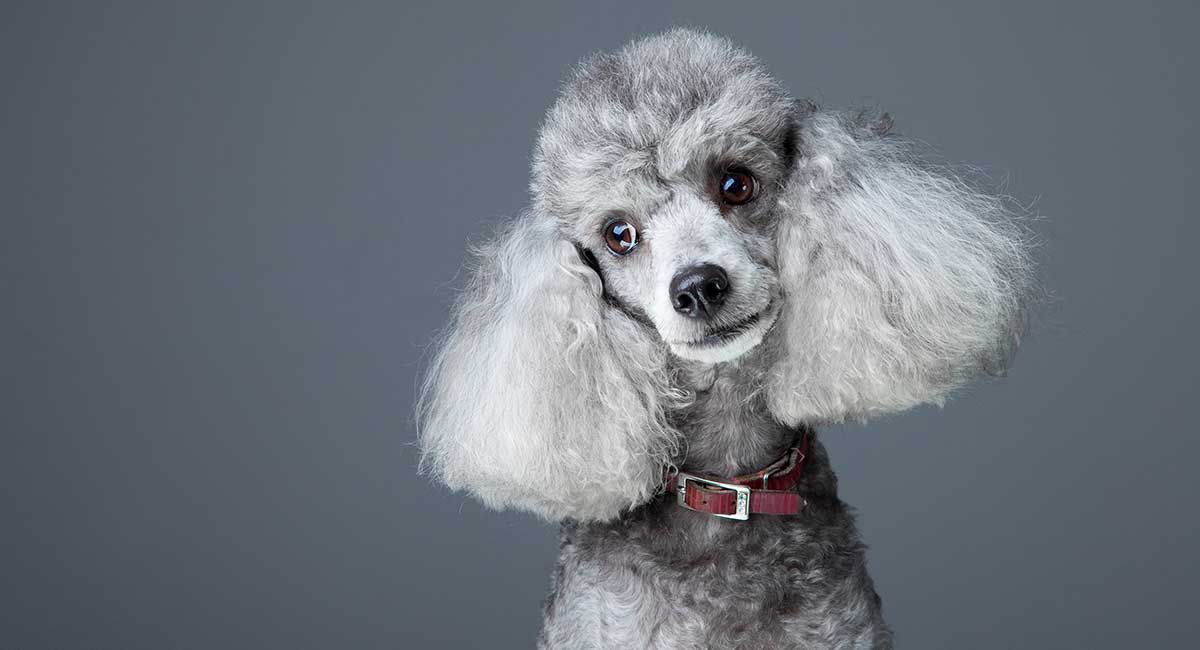 The Poodle has enjoyed a long history as one of the most popular dog breeds in the world. And what's not to love, especially with those long droopy ears Poodle ears.
This intelligent and lively dog is a favorite choice among animal lovers seeking a devoted canine companion.
In this article, we'll take a close look at their ears, including their appearance, health, and day-to-day care, including cleaning and grooming.
Do All Poodles have the Same Types of Ears?
There are three types of Poodle, broken into size—standard, miniature, and toy. All Poodles have similar ears.
Poodle ears are described in all breed standards as long, wide, and drop (aka floppy). Their ears are set below eye level and hang close to head.
Poodles have dense, curly coats and their ears are also well feathered with hair.
Because their ears are both furry and floppy, ear care is an important component of Poodle ownership.
Why We Need to Care for Their Ears
Drop-eared dog breeds can be prone to ear infections, therefore, a good cleaning regime is a must.
All parts of a Poodle's coat require considerable grooming, so trimming their ear hair is just part of the overall grooming routine.
Before we talk about caring for your Poodle's ears, let's discuss whether their ears change from puppyhood to adulthood.
Poodle Puppy Ears
While all puppies are born with ears that increase in size as they grow, some dog breeds have ears that change in appearance from puppyhood to adulthood.
The most common change that owners notice is when they go from upright to floppy.
Most Poodle puppies have drop ears that stay floppy throughout their lives, but occasionally a puppy's leather (the fleshy lobe of the ear) can be erect.
Why does this happen? Poodle experts suspect that a small puppy's leather is so light that it just sometimes pops up.
Some owners report that Poodle ears show more lift after trimming. Others have noted that it can occur during a puppy's teething phase.
You can see an example of a puppy's lifted ear leather in this video.
Poodle Ears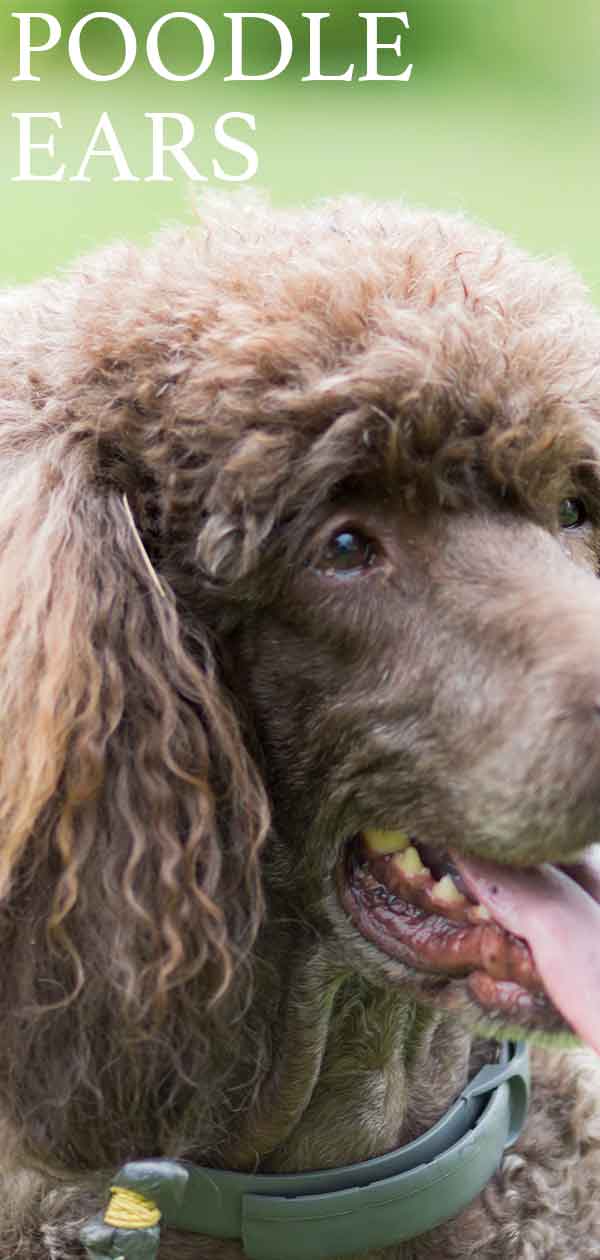 Your Poodle puppy may go through a phase where one or both ears is temporarily upright. Adults almost always have large, furry drop ears that lie close to the head.
A purebred adult Poodle with erect ears is unusual and could be a sign that your dog is a mix.
Some breeders mix toy or miniature Poodles with other small breeds (such as the Papillon or Pomeranian) to create a "teddy bear" look with perky ears that sit high on the head.
But you can expect your purebred adult standard, miniature, or toy Poodle to have long, hairy ears that hang close to their face.
Cleaning Poodle Ears
Because Poodle ears are both floppy and hairy, they may trap dirt and moisture, which can lead to infection.
We'll talk about grooming in a bit, but first, here's how to clean them.
A good ear cleaning will remove dirt, wax, and moisture. Ear cleaning supplies include cotton balls (never cotton swabs), a dry cloth, and canine ear cleaning solution.
Lift the ear flap and apply the ear wash from the bottle or with a soaked cotton ball. Rub the base of your dog's ear for a few seconds. Your dog may shake their head, which is normal.
Wipe away the ear wash and any debris with a dry cotton ball or cloth.
When to Clean Them
Don't make ear cleaning a part of bath time. Carefully plug your dog's ears with cotton during baths, as you don't want to get water or shampoo inside the ear.
How often should you clean your dog's ears? This can depend on how prone your individual dog is to infections.
Experts recommend that for a drop-eared dog like the Poodle, a once or twice weekly ear cleaning should be fine.
Poodle Ear Health
Many dogs suffer from ear health issues, but especially if they have drop ears.
What types of ear problems are most commonly seen in the Poodle? Let's find out.
You may have heard the term otitis externa if you've taken your dog to the vet for ear problems.
Otitis externa is a painful inflammation of the ear canal and can be caused by many things.
The most common culprits include parasites (such as ear mites), allergies, and bacterial or yeast infections.
What Causes Infections
For Poodles, the warm, moist environment created by their floppy and furry ears can mean infection.
Bacterial and yeast infections are commonly treated with antibacterial or antifungal drugs, often combined with steroids to reduce inflammation.
Serious infections can require several weeks of regular treatment before they are completely resolved.
If your pup is prone to ear infections, your vet may recommend that the hair from the inside of the ear be removed.
Let's look at the dos and don'ts of grooming the outside and inside of your Poodle's ears.
Grooming Poodle Ears
Trimming the hair on the outside of your Poodle's ears is a part of your dog's normal grooming routine.
As with haircuts for the fur on the body, there are many kinds of Poodle ear hairstyles—from practical to fancy!
You can trim across the bottom with scissors in either a straight cut or a rounded cut. You can also debulk fluffy ears by skimming an electric trimmer over the ears.
Some classic haircuts call for shaved ears, and you can shave the outside of the ears very close or moderately short.
What About Inside the Ears?
Grooming the hair on the inside of the ears is important for dogs that are prone to infection. Lightly skim the hair on the underside of the ear flap with scissors or a trimmer.
Should you remove the hair from the inside of your dog's ears?
Some owners and groomers recommend plucking hair from the ear canal, but many vets warn against plucking.
A dog with an active ear infection should never have the hairs plucked. Ear powders used during plucking can also be harmful to the inner ear.
Plucking hairs from the sensitive inner ear can be painful and lead to inflammation. Plucking can cause secondary infections in dogs that are already prone to ear infections.
More Poodle Tips?
Looking for more guides to caring for a Poodle? We've got plenty for you to take a look at!
Here are a few of them:
So What Do You Need to Know About Poodle Ears?
Good ear care is essential for Poodles.
Dogs with floppy, heavily furred ears need extra attention to keep them clean, dry, and free from infection.
Get your dog comfortable with a regular ear cleaning routine. Talk to your vet about safe cleaning techniques and products.
Your Poodle's ears will need regular grooming and trimming.
Trimming the outside of the ear will keep the hair free from tangles and trimming the inside can help reduce infection.
Most vets recommend that you avoid plucking the hair from the ear canal. If you use a professional groomer, be sure to discuss safer alternatives to plucking.
Are you a Poodle parent? How do you keep your best friend's ears neat and clean? Share your tips in the comments below!
References and Further Reading
Get Pippa's free dog training tips delivered to your inbox