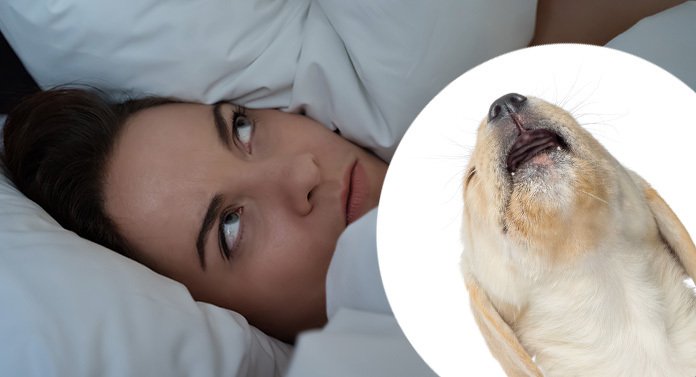 Finding out how to stop my dog from barking in the morning was such a relief. Those early wakeup calls really aren't good for you or your pet!
And we can't wait to help you restore the peaceful early hours too.
How to stop my dog from barking in the morning
There are several reasons why a dog might start barking in the early hours of the morning.
And to resolve this noisy issue, we need to get to the route of what's setting your pup off!
Why is my dog barking in the morning?
You can generally clump barking in the morning into two categories.
The dogs that are barking in what is technically the morning, so 3am – 5am, but really counts as the night.
And the dogs that bark post 5am. The dogs that are just helpfully letting you know it's time to get up…
Because there are different causes with each of these situations, you will want to handle them in different ways.
Let's take a look at those absurdly early risers first.
Barking in the very early hours
You're soundly asleep, when suddenly you are rudely awoken by a bark, whine or howl from downstairs.
Tentatively you look over at the clock. 2am.
There is no way your dog thinks that it's morning.
So what on Earth is her problem?
Well, there are a few very common reasons dogs wake up at these unreasonable hours.
They can include
Needing the bathroom
Loneliness/fear
Household noise
Noise from outside
These are the most common reasons for extremely early wakeups. And if you can remove the cause that relates to your pet, then the barking will stop.
How to stop my dog from barking in the morning when they need the bathroom
If your puppy is under 12 weeks old, then there is no getting around them needing a pee in the middle of the night.
Your choices are, to pre-empt this waking time and take them out into the backyard, then return them to bed.
Or to set up a puppy playpen lined with pads for them to use in the night.
Puppy pads can delay the potty training process a little, but many owners find this solution more palatable than having their sleep disturbed.
Once your dog is a few months old however, they shouldn't need to pee or poop at 3am. So, what gives?
Older dogs peeing in the night
If your dog normally has a big drink before bed, try taking up their water dish a little earlier in the evening.
If they are fed kibble you might like to make their dinner a little earlier too, as they'll probably want a drink after eating.
But if they've been dry in the night for years with the same drinking pattern, then a vet visit might be in order.
Older dogs can have incontinence issues that are worse at night, and some spayed female dogs can suffer this at a young age too.
Any age of dog could have a UTI that makes the pee hard to hold.
How to stop my dog from barking in the morning because they are afraid
New puppies need lots of reassurance after they've moved away from their old life.
For the first few nights we recommend popping the puppy in your bedroom in a box, so that they have company in the night.
This also helps you to wake quickly when they need a pee, before they have time to bark for your attention.
But after the first few nights you will probably want them to settle in their own crate.
Crate training
Shutting a dog straight in and closing the door can leave them afraid.
If you put them to bed scared, they might cry it out and settle down, but when they stir at all in the night they will still be scared and therefore start to cry out again.
To avoid this we recommend crate training at night.
Getting your dog gradually acclimated to being in the crate, and having strong positive associations with it.
If they aren't afraid, they won't be whining or howling out of fear.
But what if there is something outside of your pup's feelings causing their reaction.
Environmental reasons for dogs barking in the morning
In some cases these are the easiest ones to deal with, once you've got to the bottom of it.
Common environmental things that wake up dogs in the early hours and cause them to sound off include:
Heating turning on/off
Air conditioning turning on/off
Wildlife outdoors
Automatic lights
Noises inside the house
If your dog is consistently waking at a specific time, say 3am, then it is likely that there is an environmental reason.
Something is disturbing them.
Take a look at your timers and thermostat. Make sure that this doesn't correlate with your cooling or heating system.
Setting the timer for a later start might mean you need to layer up in the morning, but it's worth it to break the early rising habit.
If the timings are similar but not so exact, then noise from outdoors might be the cause.
Noises in the backyard
Setting up a little webcam pointing into the yard can reveal some fascinating things.
Foxes, hedgehogs, skunks, raccoons.
They all look cute, but can stir a dog up something rotten.
When an animal is upsetting your pet, you can help to reduce the impact by moving your dog into a different room, or adding an extra layer of soundproofing.
Failing that it can be worth trying to lure the wildlife away from your property or create a barricade, but do check local ecological laws first to make sure you aren't breaking any rules!
These little critters can set off security lights too, which can upset your dog.
If they are your lights, consider changing the direction they point so it doesn't glare into the house as much.
Or add blackout blinds to the windows of your dog's sleeping room, to dim them in there.
But what about those dogs that are just waking up because they think now's a good time to rise?
How to stop my dog from barking in the morning just before wakeup time
Some dogs bark preemptively.
They have a good internal body clock, and they know that you normally get up around this time. So why aren't you up now?!
The first time they did it perhaps just five minutes early, and you got up because, well, it was nearly time anyway.
But the times slipped earlier and earlier.
Until you were falling out of bed each day, bleary eyed and grumpy. Stumbling for the coffee.
The early rise technique
If your dog waking up an hour before you want him to? We've got a technique to crack it.
But there is some bad news before we get to the good…. And that's that you are going to have to get out of bed even earlier for a little.
Because the early rise technique works by breaking the habit. And to do that, you need to get your dog up before she barks.
If she barks at dead on 5.30am every morning you'll only need to start at 5.20am. But if she ranges from 5am to 5.30am, you'll need to start at 4.50am.
I know this sounds awful, but the reality is you're being woken around that time anyway.
This way you won't have to keep doing it forever, just the next few days hopefully!
Here's an example routine that you can adapt to fit your dog.
Up and at 'em
Set an alarm for ten minutes before your dog's earlier wake point.
As soon as you hear it get straight up and trot downstairs quickly, before your dog has a chance to wake and greet you vocally.
Get them out of their crate or bed, and pop straight into the back yard with them for their pee.
Don't be over excited. Stay calm, and don't give them breakfast for at least 45 minutes after waking.
The next morning repeat.
The morning after, try for just five minutes before they normally wake.
Then five before that the next.
Each morning push the time five minutes later until you reach your desired morning time.
We've used this technique numerous times in various guises (with babies as well as dogs!) and if you are slow, steady and persistent, it works wonders.
Without your dog ever having to bark or get upset.
How to stop my dog from barking in the morning
The best way to stop your dog from barking in the morning is to work out why they are doing it.
When you've got a handle on the cause, then you can either remove it or use the early rise technique to break that bad habit once and for all.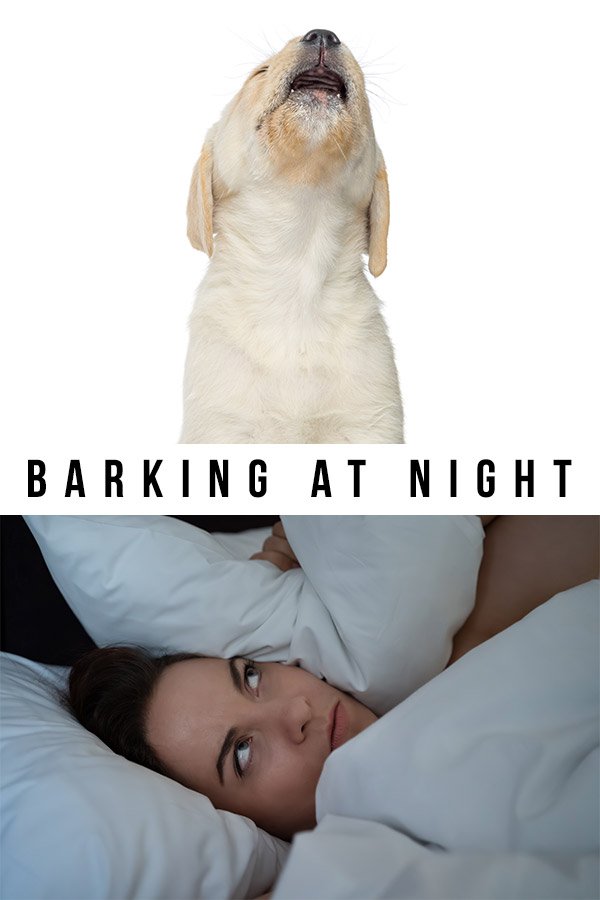 Get Pippa's free dog training tips delivered to your inbox