How can I stop my dog barking in the garden, when they are too far away to directly interact with?
Training your dog when they are right next to you is logical, because you can quickly reward the behaviors you like – helping to reduce those you don't.
But when they aren't by your side, things are different.
And when so many owners struggle to keep their dogs quiet in the backyard, is this even a problem it's possible to solve?
How can I stop my dog barking in the garden?
It's a conundrum, but one that has been successfully tackled by dog owners around the world.
The trick is to work out what is causing them to make so much noise. You can then work to reduce the trigger or deal with the response.
Why is my dog barking in the backyard?
There are a lot of reasons that dogs bark in the garden. Do you know exactly what is making your dog bark, or is it a total mystery?
In my experience it's often one of the four scenarios below:
Barking to be let in
Reacting to people walking past
Barking out of boredom or loneliness
Habit
If you can work out which of these is the route cause of your dog's vocalisations, you are already well on the way to solving the problem.
Ask yourself which of those scenarios fits your situation.
If you've got no neighbors or footfall past the property, it isn't passers by. If you are leaving your dog out for more than a few minutes, then it could be boredom or loneliness.
Where are they standing when they bark? If it's right by the door then it's likely they are simply asking to come back inside.
When you are reasonably confident in the cause of the behavior, we can't start to work to reduce or avoid it.
Barking to be let in
This is a nice straightforward issue. Your dog has been outside, and they want to come and join you again.
To break the barking habit, get into a routine of calling your dog back inside before they have a chance to ask.
Set a timer, or look at your watch, when you let them out for a pee or a play today. See how long it takes them to ask to come back in.
The next time you let them out, open the door and call them to you a couple of minutes before that time is up.
When they get in, give them a really tasty reward like some cooked chicken or sausage.
For the next few days, keep trips to the outdoors short and sweet.
Frequently call your dog back in again, then let them back out so that they don't feel short changed.
Barking because they are bored or lonely
To stop your dog barking out of boredom or loneliness you can use the tactics laid out above. But it will help if you can also take a look at your dog's routine and whether it needs spicing up a bit.
Do you think if you look honestly at your dog's average day that they are getting enough time with you, and entertainment?
It's easy to slip into a situation where your dog is expected to keep themselves occupied almost all of the time.
Getting a bit more involved with an activity like basic training gives your dog the interaction he craves, as well as physically keeping him busy.
Barking At Passersby
This is a tough situation and one that creates itself so easily whenever you have a dog that can physically see people walking past the property.
What happens is they see a person and bark. The person then walks past and vanishes.
The bark worked, they think! I scared them away!
And they are more likely to bark again, because of their previous success.
Of course, in reality we know this person was going to walk past whatever happened. But your dog doesn't.
They think that they were rewarded for their fearsome noise making by ridding your land of an intruder.
So how do we stop this from happening again.
There are two ways that will work, but I must warn you neither of them come easy.
There is the construction solution, and the training solution.
Let's look at the construction option first.
Blocking the view
If you have a small area of your land that people often walk past, the best solution can be to construct a physical barrier.
One that blocks your dog from being able to see the people as they pass.
This can be made from wood, corrugated sheeting or anything else you might be able to get your hands on.
The more time or money you have to put towards creating a barrier, the better.
Ideally you want something that doesn't look terrible, but completely blocks the view of people going past.
The problem with this solution is that often to completely obscure their view you need to cover a fairly large area, and doing this is costly.
Our second solution comes at a different sort of a price. A logistical one.
The training solution – stooges
To implement the training solution you will need to gather together a small army of willing volunteers.
As many as you can muster, but at least five that are available on the same day.
Find a day and time that the route past your house is at its quietest so you are not interrupted.
Because you need to help your dog learn that they can't stop people passing by barking. And to do that the only people passing by should be stooges.
Go into the back yard with your dog if they still bark in your presence. If they don't you'll need to hide indoors.
You want your stooges lined up and ready to walk slowly past the fence.
When your dog starts barking, your stooge needs to stop.
Don't tell them to talk to your dog, or do anything other than stand still until he stops.
Warn them that this might take a while!
When he stops, they can start moving again.
If he starts to bark again when they move, they must stop and count to ten before moving again.
Every time he starts to bark, your stooge is going to stop moving.
We are aiming for him to realise that they will only leave when he is quiet.
This will take time
Each time a stooge finishes walking past, wait for a few minutes and distract your dog with a game or a bit of a fuss to break their focus on what's going on outside the backyard.
When he's distracted and just wandering around the yard at ease, the next stooge needs to make their pass.
Ideally the stooges will not be people the dog knows, and there will be several of them.
For this to have an impact you need as many people to repeat the process, as often as they can for as long as you can arrange it.
Genuine passersby will upset your plans, so try your best to distract your dog with tasty treats or a game of tug if you see someone about to approach that isn't a part of your scheme.
Reward people too!
Your happy helpers will be happier to help you again in future if you make them feel appreciated.
From coffee and cake afterwards to little gifts, whatever you feel able to do to show how much you appreciate them.
After all, walking back and forth being barked at isn't anyone's idea of a good time!
Breaking this cycle isn't for the faint of heart, but it can be done if you have enough time and enough volunteers!
Barking for fun
Not all barking is a negative reaction to something.
Some dogs just enjoy it.
Barking can be self rewarding. This means that the simple act of making the noise can give your dog a boost.
They enjoy hearing the noise they are making, and so they make it more often.
This self enforcing habit quickly becomes very entrenched.
To break the habit, devote a few days to not leaving your dog alone, or giving them the opportunity to go searching for their voice.
The longer that they are distracted from barking, the less it will occur to them to do so.
Get some fun new toys, and work on your training skills. Reward their silence with lots of fun and attention.
How can I stop my dog barking in the garden?
To stop your dog barking in the garden you need to work out what is triggering the behavior.
From there, you can use training, timing, entertainment or barriers to reduce or avoid the noise!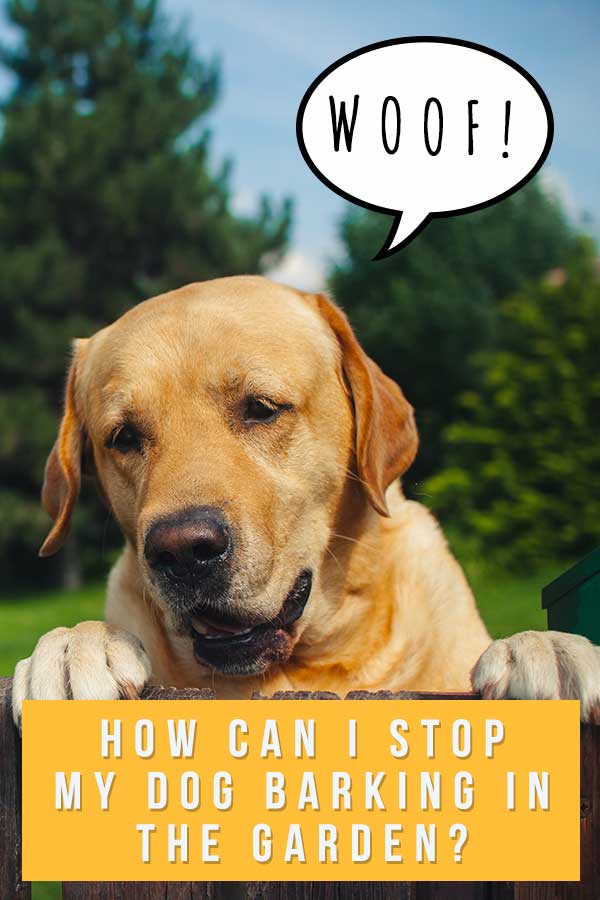 Get Pippa's free dog training tips delivered to your inbox