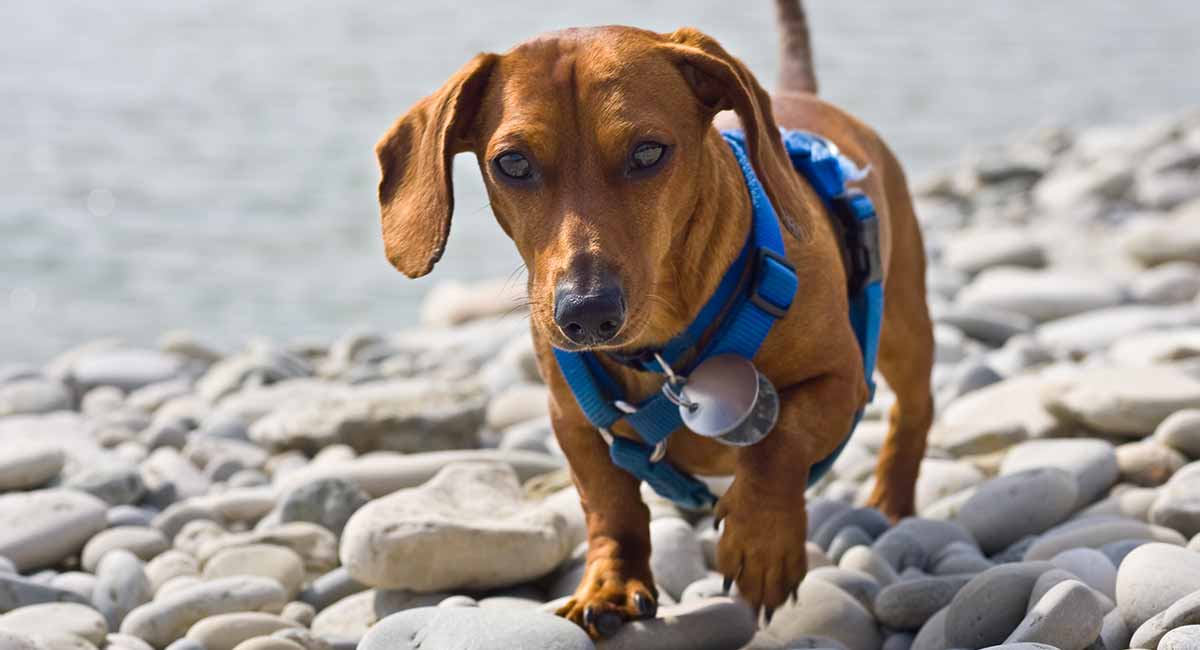 What's the best harness for Dachshunds? It should all be about your dog's safety, comfort, and welfare.
To begin with, the best harness for a Dachshund should be the right size for your dog.
You can more accurately fit your dog to harnesses with several points of adjustment. This means less gaping, less slipping about, and no uncomfortable rubbing.
Additionally, harnesses should also be made of a material that will be comfortable and safe for your pet.
In this comprehensive guide, we'll discuss the many important aspects of using a harness to walk your Dachshund.
First, let's take a look at the five best harnesses for Dachshunds that are available in today's marketplace.
The Five Best Harnesses For Dachshunds
1. RUFFWEAR – Front Range, Everyday No Pull Dog Harness
The Ruffwear Everyday No-Pull dog harness is perfect for Doxies!
The harness comes in XS and XXS sizes so that you can use the harness for miniature Dachshunds as well as regular pups.
This top-quality, no-pull harness is specially designed and engineered to give good control without the risk of an injury to your pet's neck or throat.
The harness has two leash attachment points—one on the back and one at the front. The back V-ring leash attachment is made from robust, durable aluminum and is designed for regular walking with your pet.
The second attachment point on the chest is made from reinforced webbing. The front attachment point reduces pulling behavior without constricting the harness or hurting your Doxie.
Best Features:
Padded belly and chest panels for extra comfort
Good weight distribution prevents the harness from sagging and slipping
Woven straps and rugged, lightweight material provides longevity and security
Fully-adjustable straps
Reflective strips for safer walks in poor light conditions
2. Rabbitgoo No-Pull Dog Harness
The Rabbitgoo No-Pull dog harness is one of the most popular brands of Dachshund harness on the market.
The harness has two strong metal leash attachment points—one on the back, and one on the chest. The back clip is designed for use on regular walks. And the front attachment point is used for more control and to eliminate pulling.
You must note that the front attachment of the Rabbitgoo and the Ruffwear harnesses makes pulling dissatisfying for your dog, by leading their center of gravity around in circles.
This is far kinder and more humane than using a martingale or choke fittings to discourage pulling. We strongly discourage dog owners using any harness that hurts their dog or inflicts physical discomfort.
The side straps are fully adjustable for a perfect custom fit. Also, there's a quick-release buckle for easy-on, easy-off functionality.
Finally, the harness has reflective Hi-Viz strips to keep you and your Doxie safe on night-time walks.
Best Features:
Reasonably priced
Comfortable, robust design
Attachment points on the back and to the front
High-visibility strips for safety in poor light conditions
3. Julius-K9 IDC Powerharness
When you choose a Julius-K9 Powerharness, you have a huge range of nineteen great colors to pick from! You can even find special custom trim designs for the sides of the harness.
The top-quality fabric is strong and is finished with a scratch-resistant outer skin. The inner layer of the harness has a breathable air-skin for comfort.
The harness has one leash attachment point on the top for regular walking. Also, there's a super-strong handle on the top of the harness that you can use for holding your Dachshund as needed.
The belly strap fastens with a heavy-duty plastic buckle, and the chest strap is fully adjustable with a hook and loop fastening.
Reflective detailing on the belly strap provides superior visibility of your pet in poor light conditions.
Best Features:
Best-seller on Amazon
Extremely well-made
Handy top handle for lifting and extra control
Superb fit
Excellent range of color choices
4. Embark Active Dog Harness
The Embark Active Dog Harness is perfectly designed for Dachshunds to use!
The fully-adjustable, easy-on, easy-off design, quality construction, and robust materials make this harness the only one you'll ever need to buy for your pup!
The harness is a no-pull design with leash attachment points on the back and chest. The interior of the harness is softly padded to reduce the risk of chafing.
And there's a reflective Hi-Viz trim to make you and your pet more visible in poor light conditions.
Best Features:
Chest ring doubles as a seat belt attachment for safe car travel
Comes with a 100% money-back guarantee
Comfortable, fully-adjustable design with dual buckles
Easy to fit
5. Puppia Dog Harness
The Puppia dog harness sits at the lower end of the price range. That makes this harness the ideal purchase if you're a first-time buyer who just wants to try out a harness for your Dachshund.
The mesh harness comes in an impressive range of fourteen bright, trendy shades. This is a basic harness with just one attachment point on the back.
The soft, plush material is perfect for older dogs, and the harness is fully adjustable. Also, the polyester fabric is machine washable.
Best Features:
Breathable
Reasonably-priced
Lightweight and soft, making the harness ideal for older dogs
Easy-on / easy-off
Wide range of bright colors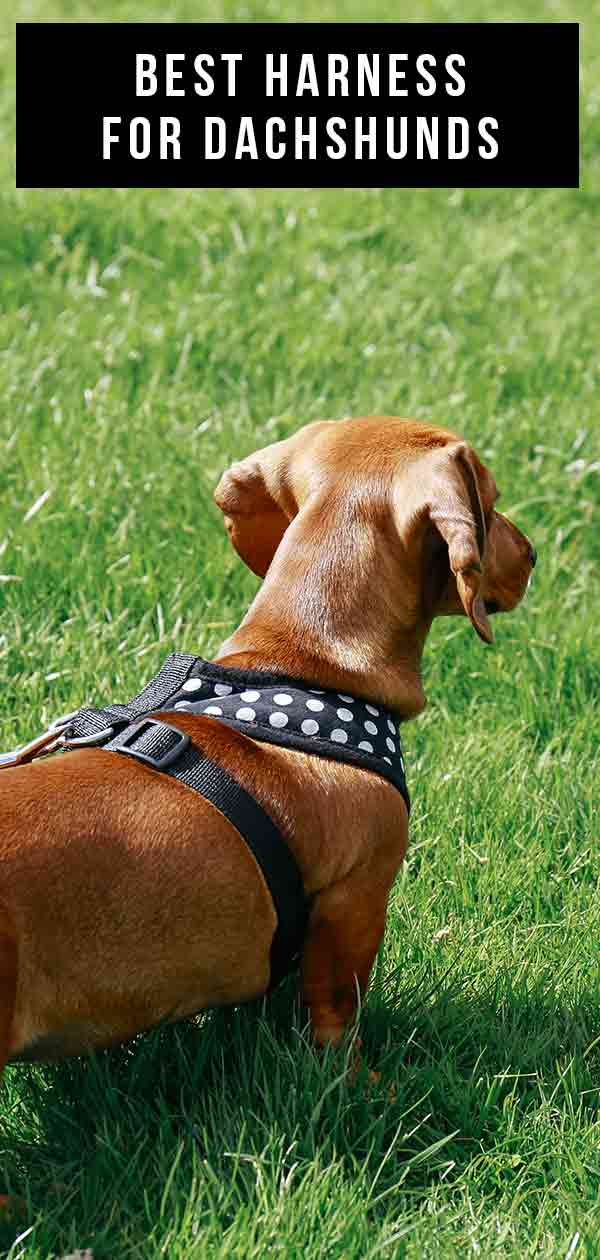 The Importance Of Harnesses For Dachshunds
First, did you know that it's safer for your pet to wear a harness for his walks than the traditional collar and lead combo?
Secondly, a harness makes an excellent training tool for Dachshund puppies who are learning to walk obediently on the leash. Thirdly, a harness gives you much better control over lively Doxies that jump and pull.
And finally, a useful feature of harnesses is that many have a handle on the back. That's perfect for keeping your Dachshund safe in situations where they might dart into danger, like waiting at the side of the road.
Collar And Leash Injuries
If your Dachshund wears a collar and leash, there's a chance they can suffer an injury to their neck, especially if your pup pulls.
When a dog tugs on the leash or jumps forward, the collar places direct pressure on the animal's neck.
So, why is that?
The dog's trachea (windpipe) and esophagus (food pipe) lie beneath the vocal cords. Both these tubes are supported by a series of flexible, cartilage rings.
When a dog strains against a collar, the trachea and esophagus can be crushed.
Crush injuries result in a dog choking or coughing violently. In severe cases, the pressure exerted on the dog's neck can cause the trachea to collapse, requiring surgical correction.
Little dogs, such as Dachshunds, are especially at risk of tracheal collapse because they don't have much muscle around the neck area.
Why Choose A Harness For Your Dachshund?
A harness fits around your Dachshund's chest, shoulders, and back. Those areas of a dog's body are generally more muscular than the neck.
Therefore, when a dog pulls, any applied pressure is distributed evenly across those body areas and is deflected away from their vulnerable neck and throat area.
Dachshunds are prone to back problems, such as Intervertebral Disc Disease (IVDD). It is a painful spinal disease. A well-fitting, good-quality harness may help you and your pup to avoid exacerbating this condition.
Best Step-In Harness for Dachshunds
Step-in harnesses are the easiest to adjust and fit.
Just as it sounds, your pup simply steps into the harness. Fasten the buckle on the back of the harness, clip on the leash, and you're good to go!
Once you've completed the necessary adjustments, that's it. You don't need to repeat the exercise every time you put the harness on your dog.
EcoBark Step in Dog Harness
The EcoBark step-in style dog harness comes in a range of bright colors. And the harness is made from eco-friendly materials, including recycled plastic bottles.
The double-mesh fabric is durable and long-lasting. It is also soft to the touch and extremely breathable.
The custom-stitched cover prevents rubbing. The buckles are reinforced for extra security and safety. And finally, the straps are highly durable and color-dyed to match the harness.
Gooby – Escape-Free Easy-Fit Harness
This Gooby harness is specially designed for small dogs, just like your Dachshund!
The harness is a snug fit. It prevents a wriggly pup from escaping, even if your dog backs away from you during a walk.
The step-in design is easy to put on and take off. And the harness is machine-washable too.
Best Over-The-Head Harness For Dachshunds
Yes, you put an over-the-head harness over your dog's head. Once the harness is on the dog, you'll need to adjust it so that it fits your pup correctly.
Over-the-head harnesses usually have more padding than the step-in style.
Gooby – Comfort X Head-in Harness
Gooby's Comfort X harness comes in a variety of pretty colors. And they are all trimmed with black for a smart, clean look.
The harness is simple to put on and adjust. And the polyester mesh material helps to keep your dog cool on hot days when overheating could be a danger.
The harness is very lightweight and is fully machine-washable too.
DEXDOG EZHarness, Dog Harness
The slip-on, over-the-head design makes the DEXDOG EZHarness a favorite with many Dachshund owners. The harness has a super-comfy design with no rubbing or chafing.
The harness has easily adjustable, mesh padded straps and reflective stitching. It will keep your dog safe when walking at night.
You can choose to buy it in turquoise, green, pink, blue, or black.
Best Wrap-Style Harness For Dachshunds
Wrap-style harnesses are a favorite with Doxie owners.
Vest harnesses fit like a T-shirt or vest. This style of harness looks super-cute and comes in a huge range of colors and styles.
A vest harness has a leash attachment point on the back of the vest. You fasten the harness via a nylon strap or Velcro. Most vest harnesses have a quick-release buckle for safety.
Bark Appeal Mesh Wrap N Go Velcro Harness
The Bark Appeal Mesh Wrap N Go Velcro harness comes in a pleasing range of plaid colors.
These lightweight, stylish harnesses are made from very high-quality, durable mesh material. The buckle-free, wrap-style is perfect for a Dachshund.
The heavy-duty Velcro fastenings ensure that the harness is secure and stays in place once fitted. Chrome, polished D-rings provide safe and secure leash attachment points.
Important Features Of Dachshund's Harness
When choosing the ideal harness for your dog, there are several features you should look at.
Material
What do manufacturers make the harness out of?
Although you can buy leather harnesses that look cute and trendy, you should be more concerned about its material.
For example, soft, fabric vest-style harnesses may look super-cute, but they can stretch and are not usually as durable or strong as cotton or webbing harnesses.
On the other hand, material like leather becomes hardened over time and can be tricky to adjust and time-consuming to clean.
The best material to choose is nylon webbing. Nylon webbing is very strong and long-lasting, and it's generally machine-washable too.
Fastenings
A good quality harness will have robust metal or plastic buckles.
Strong fastenings on a harness are essential for the security and safety of your dog, especially if they pull.
Size And Adjustability
A harness will only be secure and comfortable for the dog if it fits correctly.
Always follow the manufacturer's guidelines when choosing what size harness to order for your Dachshund.
The harness should have straps that are easily adjustable so that you can create a custom fit for your dog.
Reflective Material
Some harnesses have reflective Hi-Viz trim.
It's an important consideration for you if you walk your Doxie early in the morning or after work in the evening when the light is poor.
Reflective material makes you and your dog more visible to traffic and keeps you safer.
Styles And Variants
When it comes to choosing the best harness for Dachshunds, there are two styles available: step-in and over-the-head.
Within those two styles of harness, there are a few variants: padded strap and wrap-style harnesses.
Let's take a look at the best options available.
The Value Of Padded Strap Harness For Dachshunds
Padded strap harnesses for Dachshunds are fully adjustable via webbing straps and buckles situated on the upper back and sides.
It's useful if you have a growing puppy and you don't want to buy multiple harnesses as they grow.
Padding and soft materials on the underside of harnesses prevents chafing, and also provides a little cushioning if your Doxie reaches the end of their lead suddenly.
Best Harness For Dachshunds
Of the two styles, the step-in harness is the easiest to put on and take off, which is important if your Dachshund tends to wriggle.
Of the harnesses we've featured in this guide, our vote goes to the Ruffwear Everyday No-Pull dog harness. You'll have no trouble fitting this harness, and the design means that your dog won't be at risk from a neck injury, even if your pet pulls.
We also particularly like the second harness on our chart, the Rabbitgoo No-Pull dog harness. This top-quality harness is a best-seller thanks to its easy-on, easy-off design and longevity.
You can safely secure your dog in this harness thanks to the robust metal leash attachment points. If your dog is a puller, you can utilize the front leash attachment point, as well as the back clip.
We'd love to know what harness you chose for your Dachshund!
Tell us about your Dachshund harness experience in the comments section below!
And also take a look at our guide to the best Dachshund names!
References And Resources
Get Pippa's free dog training tips delivered to your inbox