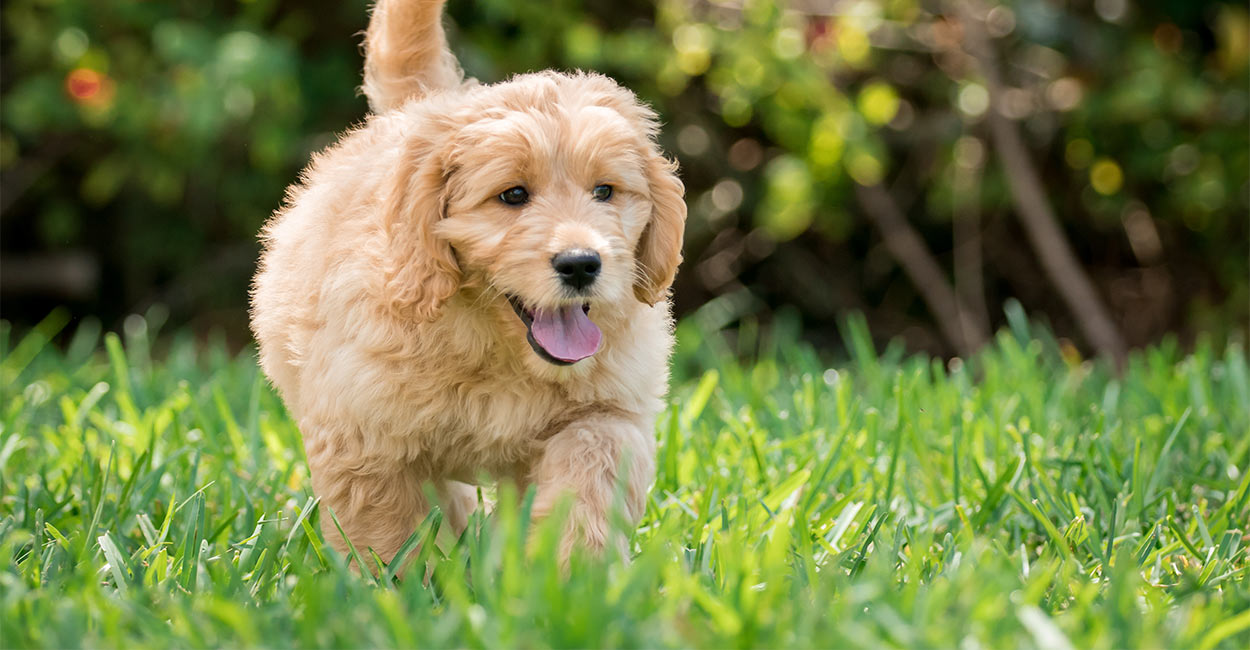 Looking for the best food for Goldendoodle puppies, dogs or seniors?
Then you've come to the right place!
We've been checking out the top products, to help you to choose the right diet for your delightful doodle.
Goldendoodle dogs are a cross breed mix of a Golden Retriever and a Poodle.
Originating from two intelligent and lively working bred dog breeds, your pooch is going to need the best food for Goldendoodle dogs with busy lifestyles.
But how do you pick when there are so many choices?
All of these products were carefully and independently selected by the Dogsnet team. If you decide to make a purchase from one of the links marked by an asterisk, we may earn a small commission on that sale. This is at no extra cost to you.
What is the best dog food for Goldendoodle dogs?
Goldendoodles are likely to lead active lifestyles.
And, like most canines, Goldendoodles should have a diet that includes large amounts of high-quality protein.
Dogs can eat meat, grains and vegetables.
But for most pups, the best food is one that is high in protein and low in fillers.
The first ingredient in Goldendoodle food should not be a grain or a vegetable.
In addition, the best food for Goldendoodle dogs should be tailored to their size, stage of life and activity level.
Finding the best Goldendoodle dog food
How can you tell if a particular dog food supplies complete and balanced nutrition?
The Association of American Feed Control Officials (AAFCO) verifies that dog food meets the above requirements by certifying on the label that a dog food is, "complete and balanced."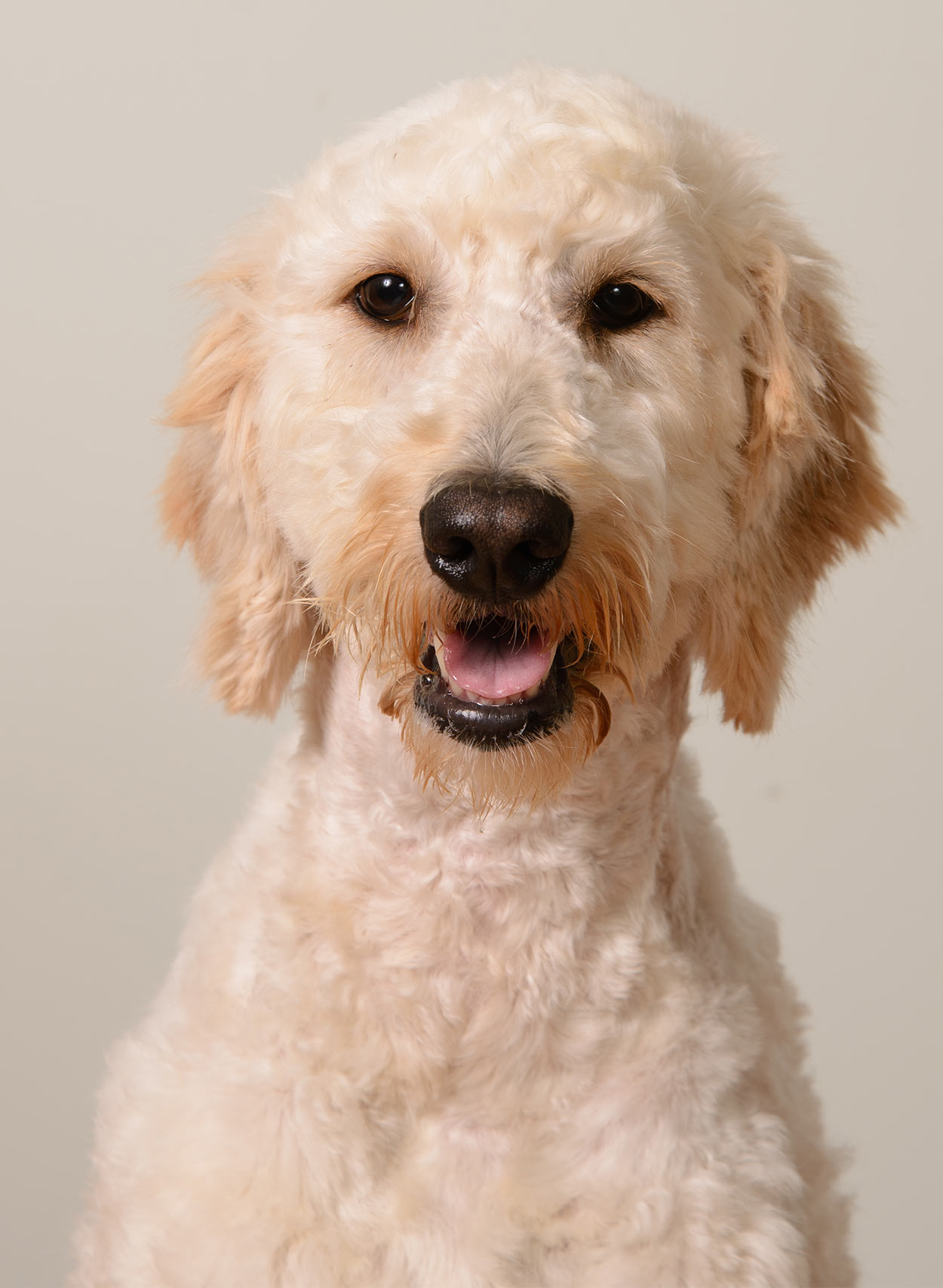 In addition, several manufacturers make specialized dog food that meets the unique needs of certain breeds, sizes, and for certain medical conditions.
Active breeds like the Goldendoodle can be hard on their bones and joints, especially the bigger dogs.
Foods with added supplements that support bone health, such as omega fatty acids, glucosamine and chondroitin, may benefit Goldendoodles especially in light of their parentage.
Both Poodles and Golden Retrievers are prone to hip dysplasia, a painful joint condition in which the hip develops abnormally.
This condition can be exacerbated in large, active dogs such as the Goldendoodle, and we have reviewed several foods that address the needs of dogs with joint issues.
With this in mind, we've reviewed the best dry and wet foods for Goldendoodles including the best puppy food for Goldendoodles and the best senior food for Goldendoodles.
What is the best dry food for Goldendoodle dogs
Our picks for the best food for Goldendoodle dogs who love kibble feature the high-quality proteins that hale and hearty dogs require:
Eukanuba Large Breed Dry Dog Food
This premium Eukanuba adult large breed dog food* has chicken as the first ingredient.
It offers a specialized fiber group to promote nutrient absorption and healthy digestion.
Naturally sourced glucosamine and chondroitin help support healthy joints.
Optimal levels of omega-3 fatty acids promote healthy skin and coat.
Nutro Wholesome Essentials Dry Dog Food
In this Nutro Wholesome dog food*, pasture fed lamb is featured as a high quality protein.
Natural nutrients are included to support healthy joints.
There are no artificial preservatives, wheat or soy.
Wellness Core Natural Grain Free Dry Dog Food
This delicious Wellness Core dog food* is protein focused and naturally grain free.
It uses elevated levels chicken, turkey, glucosamine and chondroitin to meet the specialized needs of large canines.
Made in the USA, with all natural ingredients, the food is backed by the Wellness Guarantee.
Eagle Pack Natural Dry Dog Food
This Eagle Pick all natural recipe* is made in the USA for large dogs.
Premium ingredients include real chicken and pork.
There are no corn, wheat, meat by-products, artificial colors, flavors or preservatives.
What is the best wet food for Goldendoodle dogs
Dogs love the sound and smell that emanate when his favorite canned food is opened. These top rated choices will your dog running when it's time to chow down!
Blue Buffalo Homestyle Wet Dog Food
Healthy, deboned chicken is present in Blue Buffalo dog food* as a rich source of amino acids.
Zero chicken by-product meal, corn, wheat, or soy is included.
There are no artificial preservatives, colors, or flavors.
Nature's Variety Instinct Grain Free Wet Dog Food
Cage free chicken is the number one listed ingredient in this Nature's Variety recipe*.
That include 95% chicken, turkey and chicken liver for the support of strong muscle mass.
Zero grain, wheat, soy, artificial colors or preservatives are included in this uniquely textured loaf sure to please your hungry dog.
Purina Pro Plan Focus Large Breed Wet Dog Food
Purina Pro Plan* is made with real beef and is designed for large breeds.
This recipe includes ingredients to support bone and joint health, as well as a healthy immune system.
The formula is guaranteed to be 100% complete and balanced for large breed adult dogs.
Blue Basics Limited Ingredient Diet Grain Free Food
Goldendoodle food allergies can be a problem for otherwise healthy dogs.
Some vets recommend a limited ingredient food as a way of decreasing potential stomach upsets.
A limited number of ingredients also helps to narrow down the list of problem ingredients.
In what is possibly the best food for Goldendoodle dogs with food allergies*, turkey supplies a high-quality protein and potatoes provide an easily digestible carbohydrate source.
Also present is an ideal blend of omega fatty acids.
Zero wheat, soy, artificial flavor, color or preservatives are present to upset the digestive system.
Choosing the best food for Goldendoodle puppies
The increasingly popular Goldendoodle is a wonderful animal companion, one who deserves a diet matched to her unique physical needs.
This affectionate cross breed went mainstream in the 1990's and has a reputation for being sociable, smart, good family dogs, and activity-loving canines.
Your frisky, fast-growing Goldendoodle puppy can be expected to live up to around 15 years.
They will need a daily walk or playtime in order to maintain their agility, and a food tailored to their unique needs can benefit their mobility and overall well-being.
Research shows that probiotics and antioxidants play an important role in supporting the developing canine immune system, in particular during the first few months of a puppy's life.
What is the best food for Goldendoodle puppies
Puppy food contains specialized ingredients to support developing bodies.
Puppy food is designed to meet younger canine needs such as emerging dental health and immune system function, and adult dog food formulas should not be substituted.
Let's check out some of the best food for Goldendoodle juniors!
Wellness Complete Health Natural Dry Large Breed Puppy Food
This Wellness Complete large breed puppy food* is made with all natural ingredients including deboned chicken.
It features a larger kibble size.
Essential DHA is also included for healthy bone, brain and eye development.
Blue Wilderness Grain Free Puppy Food
This high-protein, grain free Blue Wilderness Puppy Food* is made with deboned chicken.
It also contains wholesome fruits and vegetables.
The premium brand features a precise blend of vitamins, minerals and antioxidants needed for a complete and balanced diet.
No corn, wheat or soy are added in order to help ease the digestive process.
Hill's Science Diet Large Breed Puppy Food
Chicken and oats are featured in this Hill's Science Diet dog food* specially made for large breed puppies up to 1-year-old.
Ideal levels of calcium are meant to support bone growth in large breed pups and natural sources of glucosamine and chondroitin are present for strong muscles and joints.
Antioxidants along with vitamins C and E are included to support a healthy immune system.
What is the best food for Goldendoodle seniors
As dogs age, their digestive fitness and metabolism rate changes as well.
If you have a senior dog with a sensitive stomach, check out this article* for more reccomendations.
These are specially made to meet the changing dietary and nutritional needs of mature canines.
Let's check out some of the best food for Goldendoodle seniors.
Blue Wilderness Grain Free Senior Dog Food
Healthy turkey and chicken make up the protein sources in this dog food* made especially for a senior dogs' needs.
It is 100% grain-free.
There are is wheat, soy, artificial flavor, or color added.
Iams Large Breed Senior Dog Food
This premium dog food* contains plenty of antioxidants to support healthy bones and joints.
As well as Vitamin E and beta carotene to support the mature canine immune system.
Nutro Wholesome Essentials senior dog food
Chicken is the #1 Ingredient in this formulation* that has no added artificial flavors or preservatives.
Essential nutrients, including vitamins and minerals, are present to support a senior dog's healthy skin and coat, while helping to maintain a strong immune system and healthy digestion.
Blue Freedom Senior Grain Free Dog Food
This protein-rich, deboned chicken recipe* that is specially formulated for older dogs.
It is grain free and contains meat with no by-products.
Choosing the best food for your Goldendoodle
A complete and balanced Goldendoodle dog food provides nutrients in the correct ratios for your dog, depending on his age, needs, etc.
Overall the best dog food for your active Goldendoodle crossbreed is one that is packed with protein, contains zero fillers, and is met with a hearty appetite at each and every mealtime!
In addition, foods that contain glucosamine, chondroitin and omega acids help to support Goldendoodle joint health, a potential concern for large and aging breeds.
Likewise, many puppy foods are supplemented with DHA, an important element indicated in healthy cognitive development.
We'd love to hear about your favorite Goldendoodle food in the comments section below!
Affiliate link disclosure: Links in this article marked with an * are affiliate links, and we may receive a small commission if you purchase these products. However, we selected them for inclusion independently, and all of the views expressed in this article are our own.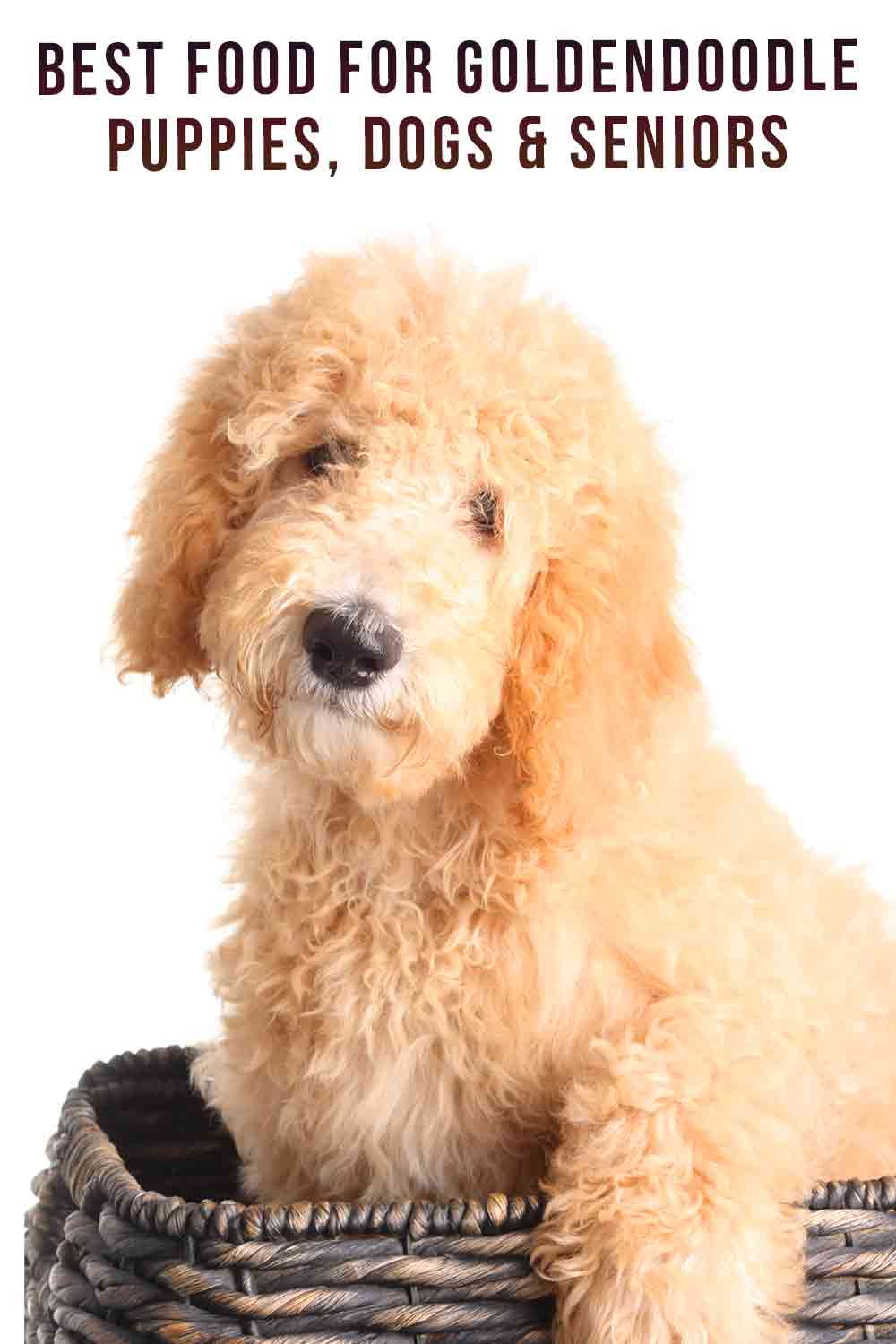 Sources
Benyacoub, J. et al, Supplementation of Food with Enterococcus faecium (SF68) Stimulates Immune Functions in Young Dogs, The Journal of Nutrition, 2003
Burger, I.H., Energy Needs of Companion Animals: Matching Food Intakes to Requirements Throughout the Life Cycle, The Journal of Nutrition, 1994
Filburn, CR, Griffin, D, Canine plasma and erythrocyte response to a docosahexaenoic acid-enriched supplement: characterization and potential benefits, Veterinary Therapeutics : Research in Applied Veterinary 2005
Get Pippa's free dog training tips delivered to your inbox