What makes the best food for small dogs with sensitive stomachs?
If your small breed dog has a tendency to suffer from stomach troubles you'll want to help them to be as comfortable and healthy as possible.
To help you, in this article we look at whether smaller breed dogs are more susceptible to digestive issues than larger dog breeds, and why.
And we provide you with a list of some of the best options of dog food for small dogs with sensitive stomachs.
But before we begin, let's discuss what counts as a small dog.
All of these products were carefully and independently selected by the Dogsnet team. If you decide to make a purchase from one of the links marked by an asterisk, we may earn a small commission on that sale. This is at no extra cost to you.
Just How Small Is a Small Dog?
Before you decide on the best dog food for small breeds with sensitive stomachs, let's make sure you have a small dog breed first!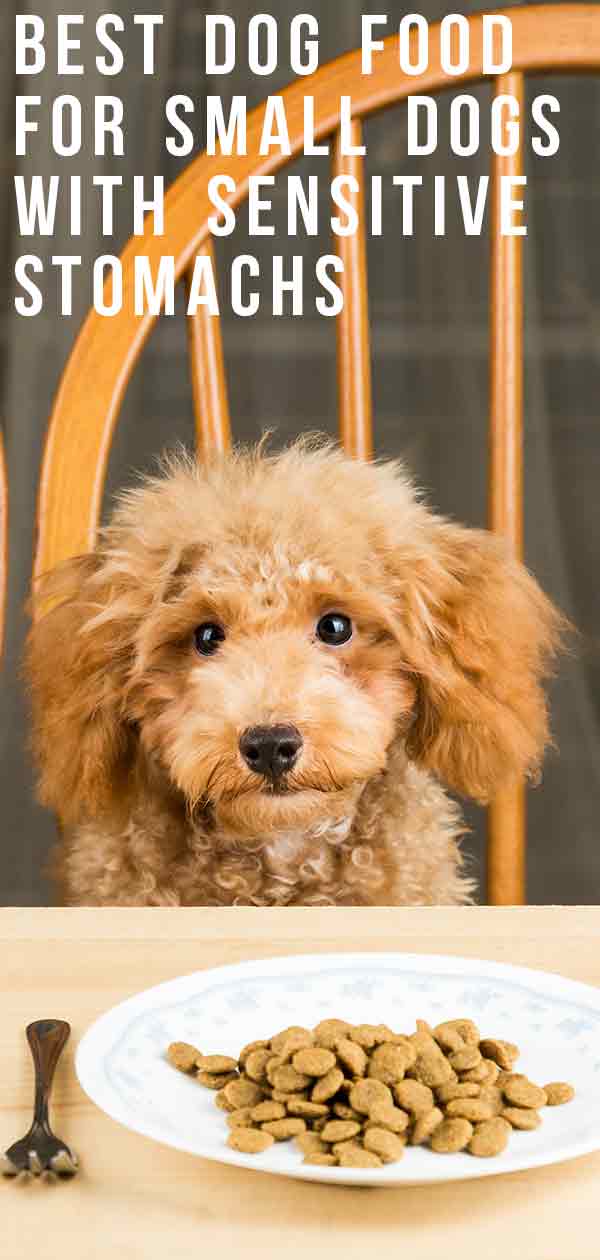 If you have a breed like a Yorkshire Terrier or a Chihuahua, then chances are you already know you have a small dog breed.
But did you know that small dogs are all those  under 25 pounds and shorter than 16 inches in height?
If this describes your pup and your pup has a sensitive stomach, then you have come to the right place.
Now, let's talk about why smaller dogs can be more susceptible to suffering from sensitive stomachs.
Why Do Some Small Dogs Have Sensitive Stomachs?
The truth is sensitive stomachs in dogs can affect dogs of all ages and sizes.
For one reason: this can be attributed to the fact that dogs are a lot like toddlers in a number of ways.
Dogs tend to put everything in their mouths, as this is how they explore the world around them.
Some of the things they put into their mouths tend to get swallowed and can cause issues to a dog's digestive system.
But there are other reasons dogs can suffer from sensitive stomach issues.
Food Allergies and Additives
Many dogs can have food allergies and can be allergic to grains like corn, soy, and wheat that are added to their foods.
Furthermore, small breed dogs, especially small breed puppies, can be more susceptible to stomach upset than larger breed dogs because they need to eat smaller amounts more often in order to keep their blood sugar balanced.
Of course, there may be more than a food sensitivity contributing to your small dog's upset stomach…
We're talking about table scraps.
Table Scraps
We know your pup is cute, but if you consistently give in to his puppy dog eyes and feed him table scraps, you may be contributing to his digestive issues.
Too much access to human foods can be one of the biggest reasons your little pup is suffering from digestive issues.
Unhealthy human foods, along with dog foods loaded with unnecessary grains, sugars, and preservatives, can cause stomach issues in dogs of all sizes and breeds.
And there are some human foods your pup should simply never come into contact with.
But if you have tried limiting or eliminating your dog's consumption of unhealthy human foods, and if you are still reeling from his sensitive stomach issues, we are here to help.
We have compiled a list of the best dog food for small dogs with sensitive stomachs on the market.
Of course, how do you know if your dog has a sensitive stomach?
Let's take a look at the symptoms.
Signs and Symptoms of Sensitive Stomachs in Small Dogs
Symptoms of sensitive stomachs in small dogs may include:
Diarrhea
Nausea or vomiting
Excessive swallowing
Excessive drooling
Loss of appetite
Excessive gas
Soft or loose stool
Constipation
Lethargic behavior after meals
Blood in stool
Do these symptoms match the symptoms of your small dog breed?
If so, it may be time for you to consider a new diet for your little pooch.
But before you do, arrange for them to have a check up with their vet too.
Your vet can rule out other illnesses with similar symptoms, guide you on how to transition to a new diet, and recommend a food best formulated for your pup's needs.
And with that in mind, let's see which of the best dog food for small dogs with sensitive stomachs the might suggest.
What Is the Best Diet for a Small Dog with a Sensitive Stomach?
If you are looking for small breed dog food sensitive stomach recipes, keep in mind that smaller breed dogs need more calorie-rich food than larger dog breeds do.
This is because small breed dogs – dogs under 25 pounds that is – have higher-running metabolisms.
Smaller breed dogs with sensitive stomachs, on the other hand, may need small breed dog foods that are grain free.
This is because many allergies and food sensitivities in dogs are caused by additives like corn, soy, and wheat, as we mentioned above.
Grain Controversy
While there are some experts who claim grains are bad and unnecessary for dogs, others insist that certain grains (like brown rice, for example), are beneficial and add necessary calories to a small dog breed's diet.
Of course, since there is some debate regarding this issue, we suggest that you follow your vet's advice about the best option for your small breed dog with a sensitive stomach.
Provided your vet approves, here are some options for the best dog food for small dogs with sensitive stomachs that we could find.
The Best Dog Food for Small Dogs with Sensitive Stomachs
These top diets have won legions of fans and loyal followers.
Hill's Science Diet Adult Sensitive Stomach and Skin Dog Food
This chicken-based diet* is a great option for small and toy adult breeds who are suffering from sensitive stomachs due to dietary upset.
It's been fortified with prebiotics, vitamins, minerals, antioxidants and omega fatty acids.
Nulo Small Breed Grain Free Dry Dog Food with BC30 Probiotic
This is a high meat/low carb diet* packed into small kibble, especially sized for smaller breed dogs.
It features low-glycaemic ingredients like sweet potato and lentils, to make it easier for your small dog to digest.
Instinct Limited Ingredient Diet Grain Free Recipe
Instinct make limited ingredient meals specifically designed for dogs with delicate digestion.
Their Petite range of dry foods for small dogs* comes in three flavors, plus a special puppy food*.
The Best Dry Foods for Small Dogs with Sensitive Stomachs
Sticking to dry foods for a little longer, these kibbles are highly rated for small dogs with troublesome tummies.
Purina ONE SmartBlend Natural Sensitive Systems Formula Adult Dry Dog Food
This food is made with real salmon and blended with antioxidants* to help maintain a healthy and strong immune system.
It also contains glucosamine for joint health.
Solid Gold Mighty Mini Grain-Free Dry Dog Food for Toy and Small Breeds
Made with all natural ingredients, this food is perfect for small breed dogs* due to its small kibble size and rich balance of proteins and fibers.
It is especially good for little ones with sensitive tummies as it contains chicken, chickpeas, and pumpkin, which all help support healthy digestion.
Iams Proactive Health Sensitive Skin & Stomach Grain Free Dog Food
This chicken or salmon based food* is ideal for dogs with food allergies that can affect both their skin and their bellies.
It contains meat or fish as the number one ingredient, and a medley of fruit and veg.
It is also free of corn, soy, wheat, colors, preservatives, and artificial flavoring.
The Best Wet Foods for Small Dogs with Sensitive Stomachs
Some small breed dogs have trouble eating kibble.
Many small breeds like Yorkshire Terriers and Maltese dogs have dental issues and can be prone to tooth loss.
If it is difficult for your small breed dog to chew and digest kibbles, we suggest trying wet dog foods like the following.
Natural Balance Limited Ingredient Diets Wet Dog Food with Duck & Potato
Limited ingredients and no grains* mean your sensitive dog won't be introduced to unnecessary additives or ingredients that may make his digestive issues worse.
Solid Gold Mighty Mini Toy Breed Grain Free Wet Food
This food promises to make your sensitive-stomached little dog feel much, much better!
Gluten free and grain free, this all-natural wet dog food* is made for small breeds but can also be used for puppies and senior dogs as well.
This wet food for small dogs is full of fiber-rich and antioxidant-rich ingredients that are excellent for little pooches with sensitive bellies.
Purina Pro Plan FOCUS Sensitive Skin & Stomach Wet Dog Food
This salmon and rice recipe* another great source of healthy ingredients like protein and linoleic acids.
omega fatty acids to help the tummy as well as the skin and coat.
Hill's Science Diet Small and Toy Breed Wet Dog Food
Made with chicken and barley, this is an easy-to-digest formula* that promotes healthy digestion and weight management for breeds under 25 pounds.
The Best Specialty Foods for Small Dogs with Sensitive Stomachs
Specialty dog foods are typically foods that are geared towards dogs with certain issues, like food allergies, weight issues, heart health issues, and more.
You can find a number of specialty dog foods at most pet shops and online, however, some of our favorite specialty dog foods for small dogs with sensitive stomachs can be found on Amazon.
We have listed a few below that we think you may love.
Wellness Thick & Chunky Natural Wet Grain Free Canned Dog Food
This brand's specialty unique selling point is a focus on wellness and hydration*, without wheat, flavors or preservatives.
A great source of protein that will keep your little pooch clear of any unnecessary grains that could upset his sensitive tummy.
Organix Small Breed Recipe Dry Dog Food
This is a grain free option is organic and USA-made*.
The small breed recipe features smaller kibble and lots of protein for better digestion, immune support, and muscle strength.
Blue Basics Limited Ingredient Diet Grain Free Wet Dog Food
Blue Basics meals* promise a high proportion of top-quality protein and no allergens.
The Best Homemade Foods for Small Dogs with Sensitive Stomachs
Many owners are turning to raw food diets for their small dog breeds with sensitive stomachs.
Raw food diets could include raw meat, fish, and other proteins as well as raw vegetables and grains.
While this may sound like a good idea, we urge you to discuss this with your veterinarian before taking your small breed dog's diet into your own hands.
Also keep in mind that just because dogs are dogs, they can still be prone to bacterial illnesses from raw meats.
What Do You Feed Your Small Dog With a Sensitive Stomach?
Let us know what eases their digestion the comments box!
Affiliate link disclosure: Links in this article marked with an * are affiliate links, and we may receive a small commission if you purchase these products. However, we selected them for inclusion independently, and all of the views expressed in this article are our own.
References
Code & Marlett, The Interdigestive Myo-Electric Complex of the Stomach and the Small Bowel of Dogs, The Physiological Society.
C. J. Chesney Food Sensitivity in the Dogs: A Quantitative Study, Journal of Small Animal Practice.
Grant Guilford et al, Development of Gastroscopic Food Sensitivity Testing in Dogs.
Gonin-Jmaa, The Hyperfiltration Theory: Progression of Chronic Renal Failure and the Effects of Diet in Dogs, Food and Agriculture Organization of the United Nations.
Gaschen, et al, Adverse Food Reactions in Dogs and Cats, Veterinary Clinics: Small Animal Practice.
Get Pippa's free dog training tips delivered to your inbox