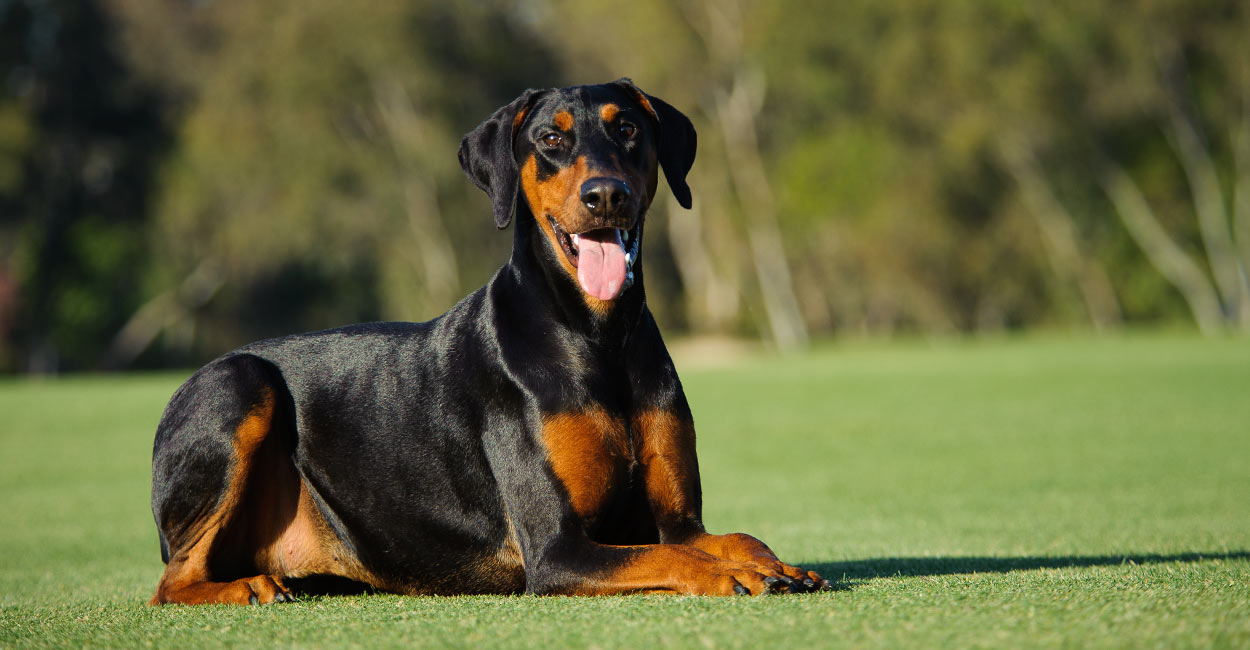 Welcome To Your Complete Guide To Choosing The Best Dog Food For Dobermans.
Looking At Some Great Options For Doberman Puppies To Adults.
Including The Best Wet And Dry Options.
When you choose to share your life with a Doberman, you know you have chosen a very special dog breed.
These dogs are loving and loyal and so smart!
They are also very strong and energetic.
Loving to run and play.
You want to choose the best dog food for Dobermans.
As you know it will help to keep your pup healthy, energetic and feeling great.
If you have a Doberman puppy, choosing the right food is also critical.
There are so many different Doberman dog food diet options available today.
Even after doing your research, you may still find yourself scratching your head, wondering "how much food should I feed my Doberman puppy?"
We are going to tackle the topic of the best food for Dobermans.
So you can learn what you need to know to choose the best dog food for Dobermans.
Products included in this article were carefully and independently selected by the Dogsnet team. If you decide to make a purchase from one of the links marked by an asterisk, we may earn a small commission on that sale. This is at no extra cost to you.
Finding the Best Dog Food For Dobermans
When your Doberman pinscher is fully grown, he may weigh up to 100 pounds and stand 28 inches high at the shoulder. That is a big pup!
Some new dog owners mistakenly think a bigger dog breed needs more food to grow up healthy and strong.
But what your dog really needs is the right food with balanced nutrient levels for a large, active dog breed.
A healthy adult Doberman dog can live up to 10 years or more, but a big part of longevity is feeding the right diet in the right portion sizes.
Since Doberman dogs are also prone to gulping down their food, which can lead to bloat.
So feeding smaller portions more frequently is ideal.
For general purposes, the best dog food for Doberman will always be complete and balanced.
Made with high-quality whole protein sources.
It will be free from by-products, dyes or fillers, and have no artificial colors, flavors or preservatives.
Best Dry Dog Food For Dobermans
Sometimes the best way to pick a dry food your dog is likely to love is to ask what other owners are feeding their dogs!
Asking your veterinarian is also a great way to have peace of mind about the food you choose for your Doberman.
Each of these three brands comes highly recommended by owners and Dobermans alike.
Eukanuba Adult Dry Dog Food
This Doberman food is specially formulated for easy digestion*.
As well as glucosamine and chondroitin to maintain healthy joints.
The kibble is larger, both to make chewing easier and to help keep your dog's teeth clean.
Nutro Ultra Adult Dog Dry Food
This highly rated food* contains three whole protein sources.
There are no artificial ingredients or preservatives and all ingredients are GMO-free.
The package includes a handy Doberman food chart to help regulate servings.
The manufacturer offers a money-back guarantee.
Blue Life Adult Large Breed Dog Food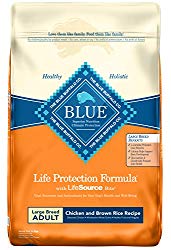 This highly rated and popular large breed dry dog food* has limited ingredients.
It includes meat from whole chickens, veggies, fruits, oatmeal, and rice, and nothing else.
It also contains a full complement of vitamins, minerals, and nutrients, including probiotics for healthy digestion.
The Doberman food amount feeding chart on the package helps regulate portions.
Best Food For Doberman With Dry Skin
If your Dobe has dry skin issues, there is a good chance the food you choose can help to ease skin discomfort.
Often, adopting a limited diet is necessary to isolate what may be causing your dog's dry skin as well.
But it really depends upon the cause.
Work with your vet to find out the cause of the sensitivity.
Each of these three foods has something to offer to help ease dry skin issues.
Wellness Core Natural Grain-Free Dry Dog Food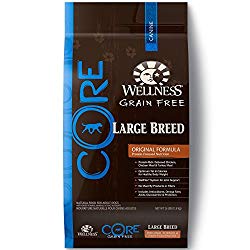 This Doberman dog food is grain free* for sensitive stomachs and skin.
It comes backed by the Wellness Guarantee of quality.
Glucosamine and chondroitin are added for joint health and stability.
Whole chicken and turkey are the protein source and probiotics are added for digestion.
Natural Balance Limited Ingredient Dry Food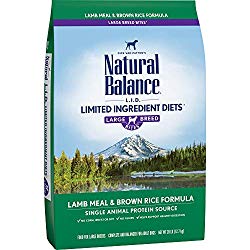 If your Doberman's dry skin is linked to food allergies, Natural Balance Limited is a great option*. It offers a limited ingredients list to rule out common allergens.
The large kibble also helps fast eaters slow down and chew thoroughly for easier digestion.
Best Wet Dog Food For Dobermans
Doberman food habits can vary quite a bit from one dog to the next.
Feeding wet dog food can help with keeping your dog hydrated as well as fed.
Also, wet food is tasty and can add nutrients and be a great choice for a treat!
CANIDAE Life Stages Canned Dog Food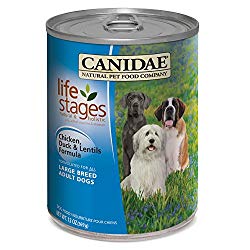 This wet food is specially formulated for large breed adult dogs*.
The food is solid and packed with whole protein and easily digestible rice and lentils.
Instinct Original Grain-Free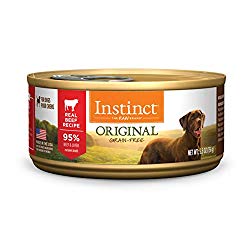 Choose from a variety of proteins to offer your Doberman tasty variety* in his wet food.
Flavors include duck, venison, beef, and rabbit.
This high-quality wet food is grain free and made from 95 percent protein and 5 percent veggies and fruits.
Natural Balance L.I.D. Limited Ingredient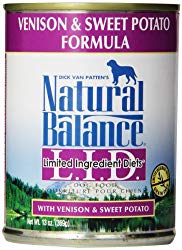 This limited ingredient wet food* is a great choice for Dobes with sensitive stomachs or skin issues. It is grain free and features venison and easy-to-digest sweet potato.
Owners say this food has really helped their dogs overcome allergies.
Doberman Puppy Food
Another important component of Doberman health is making sure Doberman puppies don't grow too big too quickly.
This can place stress on their joints, create a risk of bloat and obesity.
It can also increase the risk of other health issues and shorten their lifespan.
Doberman puppies are particularly prone to developing orthopedic diseases.
If the food you choose is too calorically dense or unbalanced, it can increase the risk.
Feeding the right large breed puppy food in small, controlled portions.
This will help manage your Doberman puppy's growth and reduce the risk of health problems.
Best Food For Doberman Puppy
Finding the best food for Doberman pinscher puppies starts with choosing a large breed puppy food.
One that will keep your Dobe puppy's growth steady to support healthy bone and joint development.
These three Doberman dog food recommendations all have great reviews from large breed dog owners and are worth considering!
IAMS Proactive Health Puppy Dry Dog Food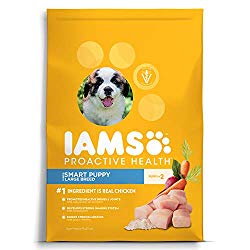 This large breed puppy food* comes recommended by veterinarians.
It adheres to the complete nutrition guidelines of the Association of American Feed Control Officials (AAFCO).
It has a large kibble that is recommended for large breed puppies like Dobes.
The main ingredients include chicken, whole grains, and beet pulp (fiber).
Hill's Science Diet Large Breed Puppies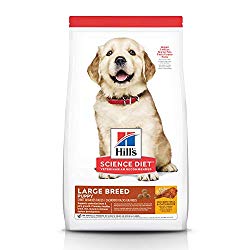 This is a carefully balanced veterinarian-recommended large breed puppy food*. It is designed to keep bone growth healthy and steady.
Including natural glucosamine and chondroitin for joint support.
As well as vitamins, minerals and DHA fatty acids for overall nutrition.
Purina Pro Plan Focus Puppy Large Breed Dry Dog Food
This is a highly recommended and popular large breed puppy food*. It has real whole chicken as the number one ingredient.
The ingredients include DHA fish oil and vitamins, minerals and antioxidants to strengthen your pup's immune system.
The handy Doberman puppy food chart makes it easy to figure out portion sizes.
What Is the Best Food For Dobermans?
We hope you have found this overview of some of the best dog food for Dobermans helpful in selecting the perfect food for your pup to enjoy!
Make sure you also take a look at the best Doberman name ideas!
Affiliate link disclosure: Links in this article marked with an * are affiliate links, and we may receive a small commission if you purchase these products. However, we selected them for inclusion independently, and all of the views expressed in this article are our own.
Resources
Get Pippa's free dog training tips delivered to your inbox