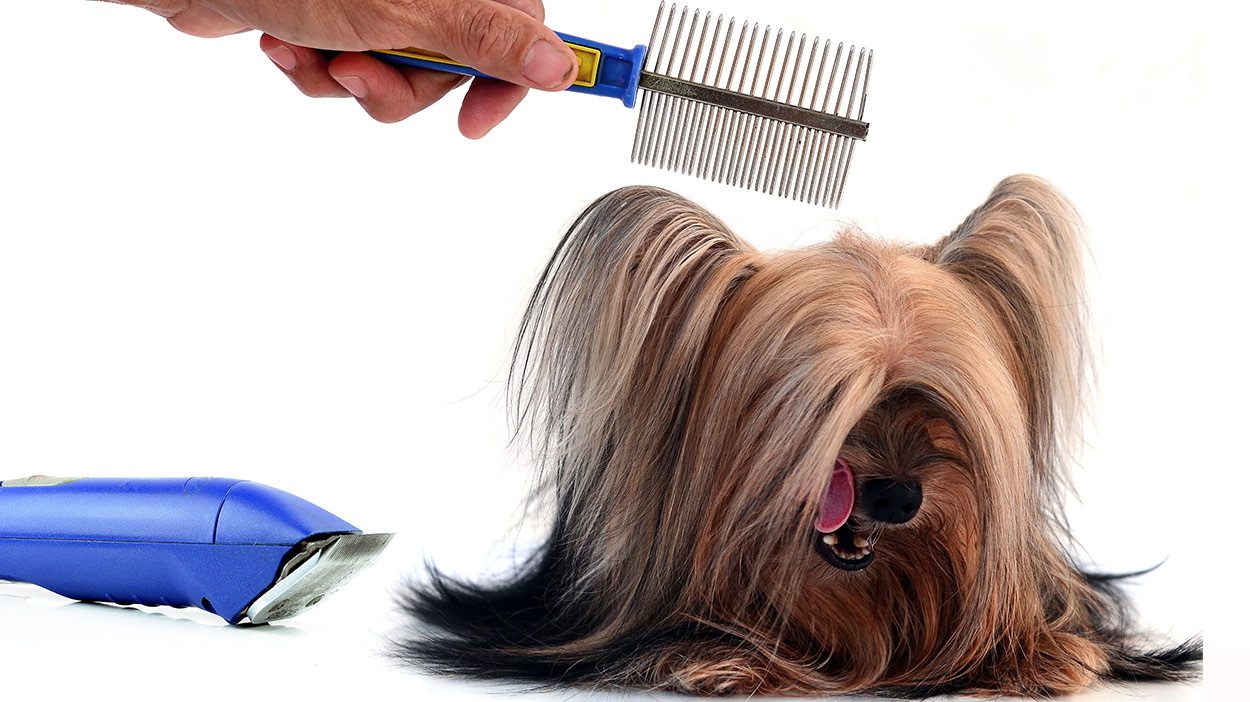 It's not surprising best brushes for Yorkies are such an important topic.
Petite, popular, and pedigree, Yorkshire Terriers are blessed with both beauty and moxie!
Even the heftiest Yorkie won't hit the 10 lbs mark, yet these glamorous dogs retain a bit of the rag-tag attitude that earned them their reputation as fierce pest exterminators.
Today the breed is better known as a fierce lap dog and for being toted around by top-tier celebs.
The Yorkie's glossy, cascading locks give it a singularly regal appearance, but all this glamour doesn't come easy!
Yorkie hair is as beautiful as it is hard work, which is why we've reviewed the best brushes for Yorkie fur.
If you're wondering how to groom a Yorkie, look no further! Not only will we examine the best Yorkie grooming tools, we'll address the best Yorkie grooming styles for your little beauty.
Of course, today's modern fascination with Yorkie grooming supplies is in stark contrast to the way Yorkies were perceived back in the early days of their impressive history.
Yorkie Grooming
Back in the 1800's Yorkie owners weren't overly concerned about how their dogs looked.
They were more concerned with whether their Yorkshire terror-ier was doing their job as rat exterminator in English mills and factories!
During this era, worries over Yorkshire Terrier grooming definitely took a back seat to job performance.
But everything began to change around the latter half of the century as Yorkies became increasingly popular as participants in the dog show circuit.
Of course, this shift of attention from working dog to dog model came with rules and regulations!
As Yorkies were being exhibited and admired for their fine locks and good looks, demand for Yorkie brushes, combs, and accouterments rose dramatically.
Even brushing a Yorkie's teeth with a Yorkie toothbrush (the breed is prone to dental disease) wasn't out of the question.
Ah, how life had changed in a just few short years for these lucky little fellows!
Best Type of Grooming Brushes for Yorkies
The Yorkshire Terrier came to American shores in 1872 and it took a little over a decade before the American Kennel Club registered the very first Yorkshire Terrier.
Modern Yorkies definitely need a good Yorkie brush to keep their lengthy, silky locks, in varying shades of tan, gray, white, golden, brown, blue, and black, looking their best.
So what is the best type of brushes for Yorkies?
The best dog brush for long-haired breeds, such as Yorkies, is one that keeps their long flowing hair free of tangles and knots.
Of course, some owners choose to keep their fur babies more closely clipped.
In that case, we also have some suggestions for the best dog brush for Yorkies with short hair.
How about the best brush for Yorkie puppy fur? We've got reviews of the best brush for Yorkie puppy coats as well.
So let's get started!
Best Brushes for Yorkie Hair
The Yorkie has one layer of silky hair, not unlike human hair. Although uncommon, the occasional Yorkie may sport a double coat.
Cotton and woolly textures are most common.
But how do you know which type of coat your Yorkie has?
Cotton coats feature fine strands of hair that mat and tangle easily and are more likely to feature lighter shades.
Daily brushing is needed to maintain this delicate fur and a conditioner may be useful in keeping the coat shiny and manageable.
In contrast, a woolly coat is typically much fuller and darker.
You may want to be diligent in brushing this type of hair at least once, sometimes twice, a day to keep tangles at bay. In fact, it's often best to keep a coat like this cut short.
Professional Grooming Tips for Yorkies
Before we review brushes and combs you can buy to keep your Yorkie looking like a rock star, we recommend taking a look these videos.
They show professional grooming of an assortment of Yorkshire Terriers. Watch as they explain the process.
With their advice, you'll be a confident at-home groomer in no time!
Here a matted Yorkie coat is rejuvenated using a slicker brush and lots of love!
Watch as professional groomer Rudy uses a variety of brushes (with convenient captions explaining each one) on his furry customer. As a side note, Rudy's brush-side manner is absolutely adorable!
If you'd like to see a more thorough grooming process, check out this cute Yorkie mix experiencing his first brush and comb, then given "the works."
Combs for Yorkies
Now that you've seen some examples of how to brush Yorkie hair, you're ready to start the brushing process with a wide tooth metal comb.
If you encounter a tangle, first try to work it loose by gently twirling the hair between your fingers. Never pull a mat outward from the skin as this can be painful and/or damage sensitive skin.
A wide tooth metal comb such works best on a Yorkie's body fur by removing tangles, loose hair, and dirt.
Hundreds of satisfied pet parents have used the Andis Pet Steel Grooming Comb and highly recommend this lightweight comb.
It comes in two convenient sizes—7 ½ and 10 inches. In addition, it stimulates skin and hair follicles to keep them healthy and can be used to give extra fluff to your pup's fur.
Brushes for Yorkies
Remember to always be gentle when brushing your Yorkie, never tug or pull at their hair, and brush the hair outwards in the direction it's growing.
It never hurts to have a treat or three ready to reward your dog afterward, and having a calm, soothing voice will go a long way toward relaxing an anxious dog.
Slicker, rake, and pin brushes are excellent choices for dealing with long-haired breeds like the Yorkie.
Always avoid brushes that are meant for thick coated dogs as these will pull on the hair and thus on the skin, and possibly damage the refined strands.
A slicker brush is designed for pups with long and/or silky coats and features fine wire bristles evenly spaced on a paddle-like or flat brush.
This bristle arrangement makes it easy to untangle fur and remove hair that has been shed. The slicker brush will also aid in bringing up natural oil from the skin to the fur.
Evenly distributing this oil from root to tip will provide your Yorkie's hair with a shiny sheen and help keep it protected from the elements.
A pin brush looks similar to the wood handled brushes we often use on our own hair and are similar to slicker brushes.
They are great for fluffing the hair or smoothing out the fur after the slicker has removed any tangles or mats.
With its sharpened blades, a rake is a perfect choice for keeping long-haired breeds looking their best, and it's a fantastic option for working with woolly Yorkie coats.
Rake Brushes for Yorkies
This RUBOLD Dematting Tool for Dogs has alternate rows of 17 and 9 precision sharp teeth that can effectively cut through mats and tangles.
In addition, dead hair is easily and quickly pulled out via the extra wide tool surface.
Start by using the sharper side (fewer teeth) to slice through pesky knots. The larger side is best for thinning out the coat and removing dead hair.
To help eliminate hand fatigue, the tool is made with an ergonomic, non-slip, and durable handle.
The sharp teeth on the lower density side of the GoPets Dematting Comb with 2 Sided Professional Grooming Rake will help rid your Yorkie of tangles and knots.
Once you've returned the coat to a mat-free state, use the high-density side to remove dead hair and hair that has been shed.
The rake features rounded ends for sensitive skin and an ergonomic, non-slip, silicone-gel filled handle to reduce hand fatigue.
Slicker Brushes for Yorkies
Slicker brushes are perfect for removing loose hair, dirt, and debris from a Yorkie's coat, and they can effectively break down simple mats.
Slicker Brushes for Yorkies
The PETPAWJOY Dog Brush is a multi-use slicker brush perfect for use on both long and short Yorkie hair.
It works through tangles and eliminates hair that has been shed. The bristles reach down through wooly hair and the coated ball ends are gentle enough for use on puppies.
The Pet Portal Pro Quality Self Cleaning Slicker Brush for Dogs is ideal for both long-haired or short-haired dogs and puppies.
The large surface makes quick work of removing shed hair and can gently work through simple tangles.
Once you're finished grooming, a push of a button releases the mass of brushed doggy hair from the brush.
Soft, flexible bristles provide a gentle massage and the product comes with a complimentary grooming e-book.
In addition, the brush comes with a 5-year satisfaction guarantee.
Pin Brushes for Yorkies
Pin brushes are similar to slicker brushes with protruding bristles that are effective in removing shed hair, and sometimes have ball-tipped ends to better protect sensitive skin.
Pet parents often swear by one or another type, depending on their dog's coat condition.
A pin brush can be used on all hair types but works wonders on rough, coarse, or woolly hair.
If your Yorkie has a not-so-common double coat, a pin brush will be able to work its way down through both layers with minimal effort.
This Safari Pin Brush for Dogs comes in small, medium, and large. The smallest is best for daily use on petite Yorkies and will quickly remove loose hair and dirt.
The bristles have soft coverings and the easy-to-grip plastic handle helps lessen hand fatigue.
The small pin brush by Hertzko will work equally well on fine and wooly Yorkie hair types.
It features safety pins with rounded ends to gently massage the skin and comes with a 100% satisfaction guarantee!
If you keep your Yorkie's hair short, using a small bristle brush like the Li'l Pals Bristle Brush will keep it looking neat and clean.
The brush is specifically recommended for small breeds, such as the Yorkshire Terrier.
The compact but sturdy little brush is made with high-quality bristles to gently lift out dirt and loose hair while also distributing natural skin oil throughout the coat.
The soft bristles on the ergonomically designed JW Pet Company GripSoft Bristle Brush Dog Brush make it perfect for use around your Yorkie's delicate face.
Brushes for Yorkshire Terrier Puppies
The best way to get your pooch adjusted to being brushed on a regular basis is to start early and often.
It's best to keep brushing sessions brief in the beginning, especially important for puppies with short-attention spans.
Moreover, profusely praising your pup for their obedience and cooperation will go a long way toward relaxing them!
Soft puppy fur will eventually give way to a mature adult coat but in the meantime here are a couple of Yorkshire puppy brush options.
Specifically made for puppies and small breeds, the Li'l Pals Double Side Comb is made of stainless steel comb yet gentle enough for everyday use.
It will gently remove loose hair and debris and comes with a quality guarantee.
These silicone DELOMO Pet Grooming Gloves allow for a soft and gentle brushing experience that mimics the touch of your own hand.
The soft rubber won't scratch sensitive puppy skin, and dirt and shed hair are easily removed via the rubber nubs.
A left- and right-hand glove are included and the product comes with a 100% satisfaction guarantee.
What are the Best Brushes for Yorkies?
We hope that you enjoyed these reviews of the best brushes for Yorkies.
Dog breeds with long hair, like the Yorkshire Terrier, have specific needs when it comes to brushing.
The glorious mane on your Yorkshire needs to be given a lot of attention, and daily brushing with the proper tools is a good place to start.
Pin, rake, and slicker brushes work especially well on long-haired breeds and should be in your arsenal of grooming products.
Some dogs may be apprehensive about being brushed. Fortunately, some of the best brushes for the Yorkshire Terrier breed are actually designed to make your dog feel good.
A high quality slicker brush with soft, rounded endpoints can provide your pup with a gentle massage that may help warm them up to the overall grooming process.
In addition, preceding your brushwork with a wide tooth metal comb will help eliminate the more obvious tangles, smoothing the way for a more pleasant brushing experience.
Remember that brushing has a dual purpose: removing fur and distributing natural skin oils, which condition and protect the hair shaft.
So, which brush is the best for use on your Yorkshire Terrier? Don't be dismayed if your pooch takes a dislike to a particular brush or two in the beginning.
You may need to experiment and try a variety of brushes before finding one that feels best for your little Yorkie— it's all a part of the overall grooming process!
Do you have a favorite brush for your Yorkshire Terrier? Let us know what has worked well for you in the comments section below!
References and Further Reading
Get Pippa's free dog training tips delivered to your inbox