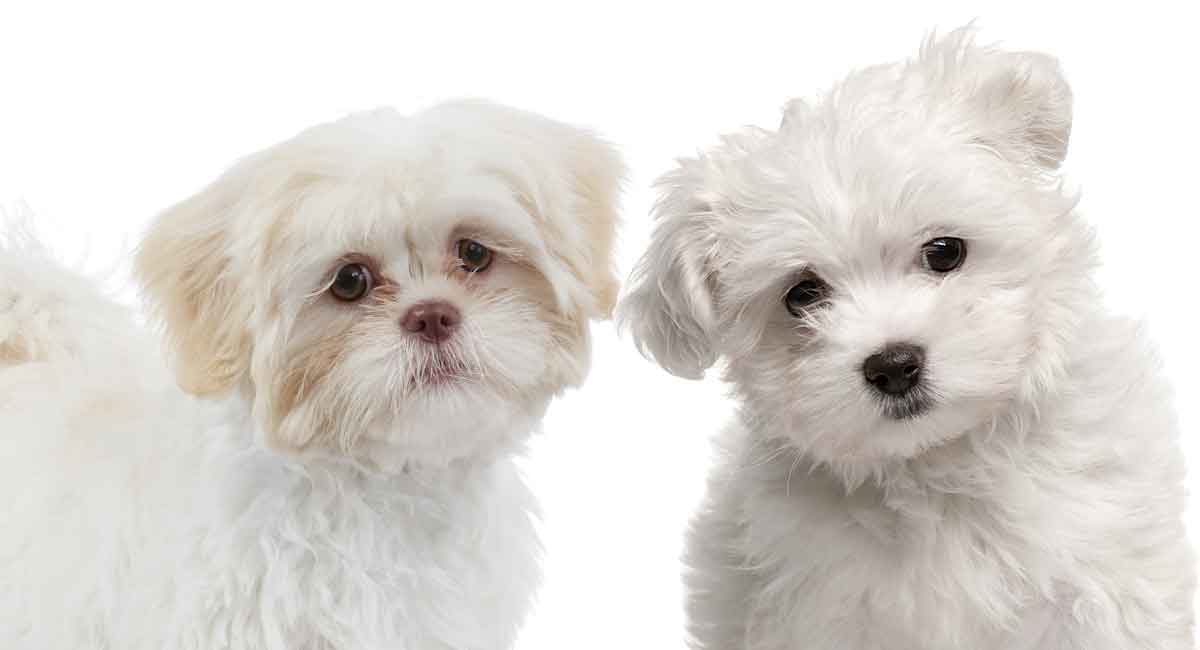 Maltese vs Shih Tzu—choosing between these two adorable dogs is a tough decision for anyone to make.
Both are toy breeds and at a first glance, appear quite similar with their long, silky coats, short legs, and sweet faces.
The Maltese and Shih Tzu are two of the world's oldest breeds and have been around for thousands of years.
Bred as lap dogs, they were the pampered pets of emperors and royalty.
While these two dogs have many comparable qualities, there are some differences you should be aware of before you make the final decision.
Also be sure to consider the potential health concerns each breed is susceptible to before choosing your new companion.
This article evaluates the differences between the Maltese vs Shih Tzu breeds so you can make an informed comparison.
Maltese vs Shih Tzu
Bear in mind, that these are both lovely, friendly dogs, who adore human companionship. There is no right or wrong choice, only what is right for you based on your personal taste and lifestyle.
Although the Shih Tzu is the more popular of the two breeds, coming in at 20th place compared the Maltese at 33rd, there are far more important factors to consider.
Whichever breed you decide on, buying your puppy from a responsible breeder who has conducted essential health screening is essential.
The difference between Maltese and Shih Tzu dogs
On closer inspection, you'll notice that the Maltese are actually quite a bit smaller. Their body is compact and square-shaped, whereas the Shih Tzu's physique is longer and heavier.
The Shih Tzu's coat is double-layered, whereas the Maltese have a single-layered coat.
The Maltese have larger eyes than the Shih Tzu's deep-set ones.
The Shih Tzu is known to bark less than many other toy breeds.
The Maltese dog is considered to have an above-average tendency to bark. This makes them excellent watchdogs, but their high-pitched yaps might not appeal to everyone.
Maltese vs Shih Tzu Size
The larger Shih Tzu ranges from 9 to 10.5 inches in height and weighs 9 to 16 lbs.
The diminutive Maltese measures only 7 to 9 inches and weighs under 7 lbs.
Either of these breeds is small enough to be well-suited to apartment living.
Although neither requires much exercise, they do need regular walks and also enjoy running around a fenced yard.
Neither of these dogs is recommended for families with young children.
In fact, many breeders are reluctant to sell toy breeds to homes with children of preschool age. Unintended roughness can be extremely harmful to tiny, fragile puppies.
Maltese vs Shih Tzu Grooming Requirements
Both of these gorgeous dogs possess long, luxurious hair that requires a significant commitment to care that includes daily brushing and regular visits to the groomer.
On the bright side, neither breed sheds very much.
The hair length of these breeds also means it needs to be kept from their eyes to avoid limiting their vision and causing eye irritation.
The Shih Tzu comes in many colors, whereas the Maltese dog is the quintessential little white dog—it's the only color they come in.
Frequent bathing is required to keep their coat looking snowy rather than discolored.
Maltese vs Shih Tzu Temperament
These breeds are both playful, affectionate, thrive on attention, and are happiest just chilling with you on the sofa.
Despite his tiny size, the Maltese is daring and known to be aggressive with other dogs no matter how big they are. They can get along with other pets if socialized from an early age.
Shih Tzus have a more docile personality and generally get along better with other dogs and cats.
Maltese Health Problems
Maltese have a life expectancy of 12 to 15 years.
While this is a generally healthy breed, they have been known to develop white shaker dog syndrome.
The condition is associated with inflammatory brain disease and causes mild to severe tremors that can make it difficult for the affected dog to stand or walk.
Symptoms normally appear when dogs are less than two years old.
Tracheal collapse occurs when the windpipe becomes injured and impairs the dog's ability to breathe.
Using a harness rather than attaching a leash to a collar when taking them for a walk will reduce the chance of tugging on this delicate dog's little trachea.
Heart irregularities like patent ductus arteriosus (PDA), and encephalitis have been known to affect this breed. Responsible breeders will screen for these serious conditions.
Luxating patellas or slipped kneecaps are a concern for many small dog breeds and the Maltese and Shih Tzu are no exception.
Shih Tzu Health Problems
The Shih Tzu has a life expectancy of 10 to 18 years.
The short nose and flat face that makes this breed so distinctive can, unfortunately, present respiratory health issues.
Signs of breathing obstruction include snoring, snorting, and noisy breathing. Symptoms are prone to getting worse as the dog ages.
In severe cases, some dogs with brachycephalic issues may require surgery in order to breathe more easily.
Shih Tzus are also at an increased risk for intervertebral disc disease due to the disproportion of their short legs and long bodies.
This can cause extreme back pain and rear limb paralysis in the breed.
The Shih Tzu is also prone to eye problems including, cataracts, progressive retinal atrophy, and retinal detachment.
One study found that most common eye problems originate as abnormalities in the shape of the eyelids.
Responsible breeders should screen for genetic eye problems.
Maltese or Shih Tzu?
Maltese vs Shih Tzu—the choice is yours.
Hopefully what you've read has helped you consider the pros and cons of each breed.
It may come down to something as simple as size.
Or if your heart is set on a tiny white dog, the Maltese may suit you better.
But if you already have another dog, the Shih Tzu may be the more suitable option.
Human companionship is vital for both the Maltese and the Shih Tzu. They were bred to be lap dogs who spend lots of time with their owners.
Keep that in mind before making a commitment to either of these breeds.
We'd love to hear which one of these lovable lap dogs you've decided to bring home. Let us know in the comments below.
References and Further Reading
Trappler M et al. 2011. Canine Brachycephalic Airway Syndrome: Surgical Management. Compendium: Continuing Education for Veterinarians.
Priester WA. 1976. Canine intervertebral disc disease – Occurrence by age, breed, and sex among 8,117 cases. Theriogenology.
Itoh Y et al. 2010. Investigation of fellow eye of unilateral retinal detachment in Shih‐Tzu. American College of Veterinary Ophthalmologists.
Christmas RE. 1992. Common ocular problems of Shin Tzu dogs. The Canadian Veterinary Journal.
Bagley RS. 1991. Tremor syndromes in dogs: Diagnosis and treatment. Journal of Small Animal Practice.
Tappin SW. 2016. Canine tracheal collapse. Journal of Small Animal Practice.
Get Pippa's free dog training tips delivered to your inbox