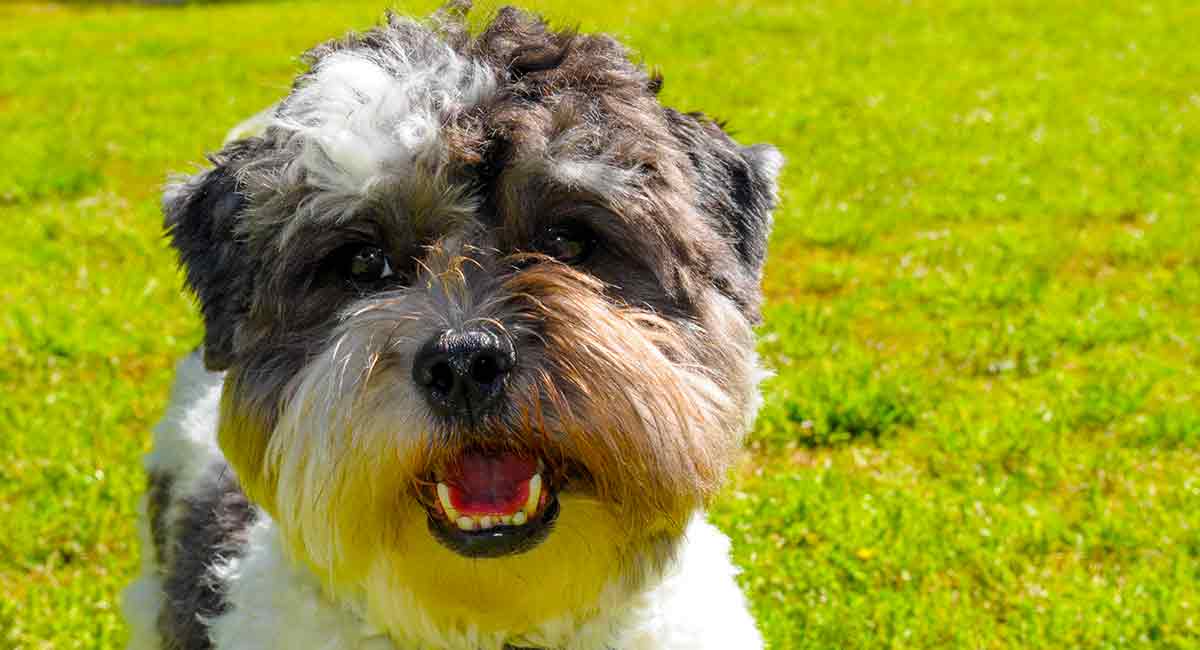 Small and teddy bear-like, the adorable Maltese Poodle mix is affectionately known as the Maltipoo.
These designer dogs combine traits from both of their parents. But the outcome is not always easy to predict.
Is the Maltipoo right for you and your family?
Let's find out more about the pros and cons of the Maltipoo.
Where Does the Maltipoo Come From?
A first generation Maltipoo is a cross between the Maltese dog and the Poodle.
Its Poodle parent is usually a Miniature or Toy, not the Standard Poodle.
But some breeders have started to combine Maltipoos themselves. Either with other Maltipoos, or to the parent breeds: Poodle or Maltese.
Yet these fluffy pups are still in their historical infancy.
To see where they really come from, we need to look at their parents.
Maltese and Poodle histories
Maltese dogs originate from the island of Malta.
It is an ancient breed: there are references to the Maltese dogs as far back as Aristotle!
Poodles have been around for centuries in Europe.
These pretty dogs were most likely first from Germany in the 16th century.
In the following centuries, they were found throughout France and Spain as well.
Enter, the Maltipoo!
The Maltese and Poodle are purebred dogs.
Breeders create mixes for their potentially hypoallergenic coats, their temperament, and their overall adorableness. But this is not without controversy.
Purebreds are carefully selected for certain traits.
Some people believe that crossing purebred dogs can result in unknown health complications.
This is because purebred dogs are held to high standards of health, which cannot be traced as easily in a mixed dog.
However, crossing two breeds can introduce genetic diversity and help lower the specific health risks both breeds face.
It wasn't until fairly recently that breeders began to combine the Maltese and Poodle.
Trying to make a better family pet and companion than the parents.
But did they succeed?
Fun Facts About the Maltipoo!
Adorable and a perfect size for carrying around, this breed is favored by many celebrities.
For example, Ellen DeGeneres, Jessica Simpson, Ashley Tisdale, Rihanna, and Miley Cyrus have or had a Maltipoo.
But these dogs are of course not just accessories, despite their tiny stature.
Maltipoo Appearance
Crossing a Maltese with a Miniature or Toy Poodle will result in a small dog.
The Maltese is usually between 6-8 pounds and 8-10 inches.
Toy Poodles are 4-6 pounds and around 10 inches, whereas miniature Poodles are 10-15 pounds and 10-15 inches.
You can't predict a mixed breed dog's exact adult size as a puppy, but it should be between the sizes of its two parents.
You can expect your adult Maltipoo to weigh between 4-10 pounds and have a height of 8-15 inches.
The Maltese is a white dog, but Poodles have coats in different colors. So the Maltipoo can be white, brown, cream, or something in between.
Maltese dogs have straight hair and Poodles have curly hair, so expect your cross to be somewhere in the middle.
Their coats, like those of other Poodle mixes like the Cavapoo, Cockapoo, or Chipoo, will usually be wavy or curly.
Both parents are low-shedding dogs, so the Maltipoo may also shed less fur and dander than other dogs.
However, there is no such thing as a 100% hypoallergenic dog. It will still have dander.
Maltipoo Temperament
Poodles are known for being smart and loyal, but may be distrusting of strangers.
Maltese are affectionate, playful dogs with a charming personality. Despite their small size, they are strong-willed and hardy.
A mixed breed puppy can grow up to be like either of its parents.
It's important to find a reputable breeder who can give you information about its parents and selects dogs for good temperament.
These mixes can be charming and intelligent. However, they are often known to bark more than other breeds, and can have separation anxiety.
No matter what, make sure to properly socialize your puppy from day one.
Training Your Maltipoo
Socializing puppies of any breed is vitally important to having a happy, healthy adult dog.
Since Maltipoos may be more anxious, work on minimizing separation anxiety. Check out our tips for helping your dog be alone.
Some Poodles are wary of strangers, so be sure to introduce your Maltipoo to other people early on and get her used to them.
Make sure to potty train and crate train your puppy. It's always easier to build lifelong habits when a pet is still young.
Also check out our complete guides to puppy and dog training here. These are links full of tips, tricks, and advice to achieving a happy and obedient dog.
Don't forget about exercise. Exercise is important for keeping your Maltipoo healthy and in good shape.
Maltese dogs are energetic and should be given a daily walk or playtime. Poodles are also very active dogs who enjoy swimming and retrieving.
Give your pup a daily walk and playtime with a tossed toy they can retrieve.
Maltipoo Health
Poodles are known for health issues, including:
Miniature and Toy Poodles in particular are known for orthopedic problems like luxating patellas.
What About The Other Parent?
Maltese can have health problems such as:
Finding a healthy puppy
Mixing breeds diversifies the genetic pool and might lower the risk for these inherited health problems.
However, the risks from both parents still exist.
A good breeder will health test parents and puppies.
The Maltese parent should be heart checked, and confirmed by a vet is having never suffered from dental problems They should have no family history of tracheal collapse, shaker dog syndrome or gastrointestinal problems.
The Poodle parent should have good hip scores, a recent clear eye test and be PRA and vWD clear.
Very small dogs, like the teacup variety of the Maltipoo, can also encounter problems due to their size.
Teacup Maltipoos are usually the result of breeding Teacup Maltese with Toy or Teacup Poodles. They can face problems such as fragile bones or improper bone growth.
How long do Maltipoos Live?
Miniature Poodles usually live to 14 years and Toy Poodles to 13 years..
The Maltese's lifespan is around 12 years.
You can expect your hybrid to live around the lifespans of its parent breeds, so 12 to 14 years.
Smaller and mixed breed dogs tend to have longer lifespans than larger dogs.
Caring for your Maltipoo
This is a low-shedding dog, but still needs regular grooming attention to keep its coat in good shape.
Maltese dogs need a daily brushing and regular bathing, as do Poodles. Expect to give your Maltipoo a daily brushing and grooming.
Also be sure to keep your pup's nails clipped and ears cleaned out.
Give your Maltipoo a high-quality diet to help keep her happy and healthy.
Do Maltipoos Make Good Family Dogs?
These dogs are active, energetic, and affectionate dogs. They do best in a household where they can get regular attention and love.
The Maltipoo is a good family dog for families that usually have someone at home.
Maltese and Poodles are both active breeds that love to be busy. Their cross is great for an active household that can give it lots of playtime.
Be sure to adopt from a reputable breeder who can tell you about your puppy's temperament and what to expect.
Otherwise, rescue an adult Maltipoo that everyone in the family can meet beforehand.
Rescuing a Maltipoo
Rescuing a Maltipoo can have several advantages. It can feel good to provide a home to a dog that really needs one.
Also, the costs of rescuing are generally lower than adopting from a breeder.
However, there are some drawbacks. For instance, you may not really know if your pup is a true first generation cross. It may have been mixed with other breeds.
You also might have limited information about your new dog, such as its parents or health history.
Rescue Maltipoos might also be harder to come by.
Therefore, some dog owners choose to find a reliable breeder.
Finding a Maltipoo Puppy
If you choose to adopt from a breeder, make sure he or she has a good reputation.
Reliable breeders answer any and all questions you might have. They will let you meet the puppy and the parents.
Not sure where to start? Check out our puppy search guide.
Avoid buying a puppy from a pet store, where dogs might have come from puppy mills.
These are places that breed dogs for profit without paying attention to health or temperament.
Mixed breeds are becoming increasingly popular.
This is because they aim to combine the "best of both worlds" from its parent breeds in terms of looks and temperament, and may have fewer health issues than a purebred.
Raising A Maltipoo Puppy
Once you've brought home your new puppy, be sure to start training right away.
Raising a dog properly is instrumental in making sure it has a long and happy life.
You can find our guides to raising and training puppies here.
Pros and Cons of Getting A Maltipoo
Having trouble deciding whether this puppy is the right fit for you?
Let's break down the pros and cons of the Maltese Poodle mix.
Cons:
It is harder to predict the outcome of a mixed breed.
Since this is a fairly recent cross, there is not as much history about its health.
Very small dogs like the "teacup" Maltipoo are especially fragile.
They may bark more than other breeds and might suffer from separation anxiety.
Pros:
Mixed breeds can help lower the risk of health issues faced by parent breeds.
They are energetic, playful, and affectionate.
Their coats, the result of crossing a Maltese and Poodle, are low-shedding and low-dander, and may be more suitable for someone with allergies.
Maltipoos are small and adorable!
Similar Maltipoos and Breeds
If you cannot find a Maltipoo but are interested in similar dogs, you might like to consider another small Poodle mix.
For example, the Yorkipoo , Cockapoo, and Westiepoo are all designer dogs with a Poodle parent.
They may have a similar same coat style, size, and temperament to the Maltipoo.
The Cavachon has different parent breeds, but is another fun option if you like small teddy bear breeds.
Maltipoo Rescues
If you decide to rescue a Maltipoo, check out Poo-Mix Rescue, which posts available Poodle mixes across the United States.
Carolina Poodle Rescue is a rescue for Poodles, Poodle mixes, and other dogs. Southern Comfort Maltese Rescue focuses on Maltese dogs and other toy dogs.
Know of a Maltipoo rescue? Post it in the comments below!
Is A Maltipoo Right For Me?
If you have the time and energy to devote to it, this dog will be a loyal and loving companion.
Do not adopt a dog from a puppy mill or a breeder that does not health test its stock.
If either parent of the Maltipoo has serious health problems, this is not a good choice to bring home.
Pups that are rescued in good health or come from responsible breeders will be a best friend to dog owners who prefer small, smart, affectionate dogs.
References and Resources
Burns, K. "Unlocking the genetic secrets of your dog." Journal of American Veterinary Medical Association, 2017.
Farrellet al. "The Challenges of Pedigree Dog Health: Approaches to Combating Inherited Disease." Canine Genetics and Epidemiology, 2015.
Suh et al.. "Familial Mitral Valve Prolapse in a Maltese Dog Family." Journal of Biomedical Research, 2015.
Pedersen et al. "The Effect of Genetic Bottlenecks and Inbreeding on the Incidence of Two Major Autoimmune Diseases in Standard Poodles, Sebaceous Adenitis and Addison's Disease." Canine Genetics and Epidemiology, 2015.
American Kennel Club
Oliviera et al. Retrospective Review of Congenital Heart Disease in 976 Dogs. JVIM. 2011.
Martin and Kirby. Canine Hip Dysplasia: Breed Effects. The Canadian Veterinary Journal.
Gellatt et al. Prevalence of primary breed‐related cataracts in the dog in North America. Veterinary Ophthalmology. 2005.
Downs et al. Genetic screening for PRA‐associated mutations in multiple dog breeds shows that PRA is heterogeneous within and between breeds. Veterinary Ophthalmology. 2013.
Lowrie et al. Classification of involuntary movements in dogs: Tremors and twitches. The Veterinary Journal. 2016.
Eom et al. Ultrasonographic evaluation of tracheal collapse in dogs. The Korea Society of Veterinary Science. 2008.
Serfass et al. Retrospective study of 942 small-sized dogs: Prevalence of left apical systolic heart murmur and left-sided heart failure, critical effects of breed and sex. Journal of Veterinary Cardiology. 2006.
Whyte et al. Canine stage 1 periodontal disease: A latent pathology. The Veterinary Journal. 2014.
Arndt et al. Serum Serotonin Concentrations in Dogs with Degenerative Mitral Valve Disease. JVIM. 2009.
Stalis et al. Necrotizing Meningoencephalitis of Maltese Dogs. Veterinary Pathology. 1995.
Lohi et al. Expanded Repeat in Canine Epilepsy. Science. 2005.
Get Pippa's free dog training tips delivered to your inbox