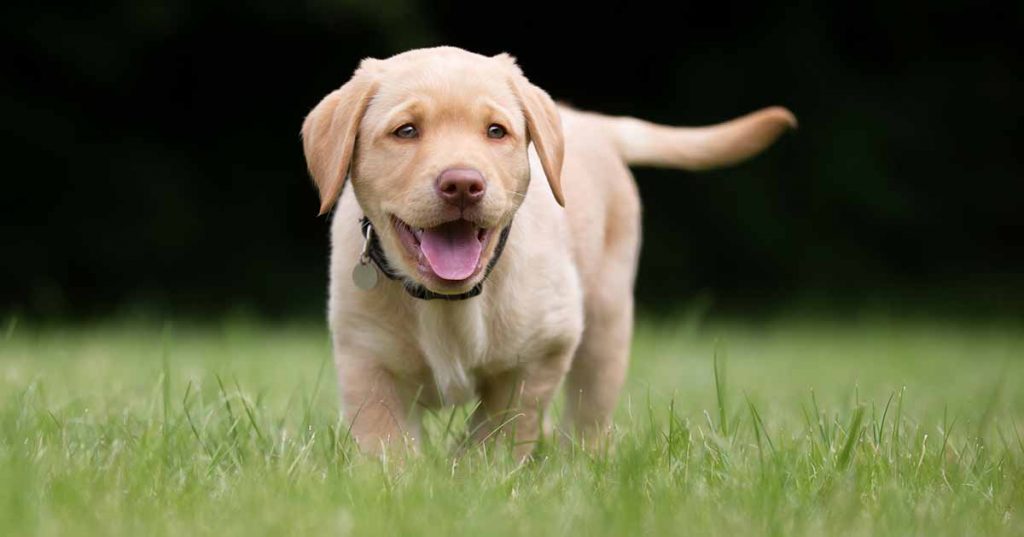 People often ask: How do I teach my puppy their name?
But there's another question we need to answer first. In fact the big question is, not how, but what!
What do you want the puppy to do when you say their name?
What's up?
Here's what usually happens.
People say their puppy's name and give them a treat or their dinner. So 'Nipper' now knows that their name means 'Food's up!'
Nipper is fine with this. It seems like a great way to communicate.
Unfortunately the puppy parent thinks Nipper has a different meaning.
Come here
Because for the last week or more the puppy has come running when they have heard their name.
So the puppy owner thinks that Nipper means "Come here!"
Oh dear, as you can see, this is the beginnings of a communication gap between this baby dog, and their grown up owner.
Puppy's that don't listen!
One day soon, the puppy owner wants the puppy to come to them.
Right now!
They say the puppy's name – "Nipper!"
But the puppy is busy. And not very hungry.
They hear the 'food's up' signal.
But that's okay, they don't need food right now, and would rather carry on chewing up the edge of your favorite rug.
So that's exactly what they do.
Naughty puppy
All of a sudden
The good puppy is a naughty puppy.
And being ignored stings. So the once happy puppy parent is now a cross puppy parent.
You know that the puppy knows their name. Of course they do!
Because they've been obeying it for days, weeks even.
Or have they?
The communication gap
Of course this isn't a naughty puppy.
It's just a big misunderstanding. A communication gap between you.
You think Nipper means one thing. Your puppy thinks Nipper means another.
And because you are the grown up here, your job is to fix the problem.
The solution – teaching your puppy their name
So the point of all that was to make it clear that you have a decision to make before we show you how to teach your puppy their name.
You need to decide what you want the puppy to do when they hear their name called.
You have to decide what you want your puppy's name to mean to them.
What does your puppy's name mean?
I strongly recommend that unless you live alone, you do not use a puppy's name as a recall cue or signal.
Or for that matter any other cue that you really care about. Using a puppy's name for important cues is a risky strategy.
That's because other people will misuse your cue. They'll damage it, by committing two key sins of training a puppy.
Puppy Training Sins
Saying your puppy's name then failing to reinforce the puppy for coming to them
Allowing your puppy to reinforce themselves* after ignoring their name
*Self-reinforcing simply means your puppy helping themselves to a reward (chasing the cat for example) after hearing (and ignoring) your cue.
I'm not listening!
And so most puppies, especially in families with small children, who tend to use the puppy's name frequently and without meaning, soon learn to completely ignore their names.
Unless of course, they are really hungry, or don't have much else to do.
Not only do they stop listening to their names, they often start tuning out pretty much anything else you say. And before long you have a large and growing problem on your hands.
But there is a solution and we'll get to that in a moment!
Pup Pup Puppy
This is what we call our puppies, for the first few months of their lives. Yes, that's right. "Pup Pup Puppy"
It simply means "there's some fun here for you! Don't miss out!"
And we stop using it once we have trained them to respond to their names, and other cues in a structured way.
Using a name as a selector
As I have multiple dogs, each adult dog's name is a selector. A word that tells them it's their turn, and is sometimes followed by another cue such as 'come here'
So for example, if put a treat on the ground and say one dog's name, that dog knows that the treat is for them. And the other dogs know they must wait their turn.
And if I open a door and say another dog's name, they know that it's their turn to go through it.
And if I have several dogs waiting for a retrieve, they know that they can only set off and fetch when they hear their name. The other dogs must wait.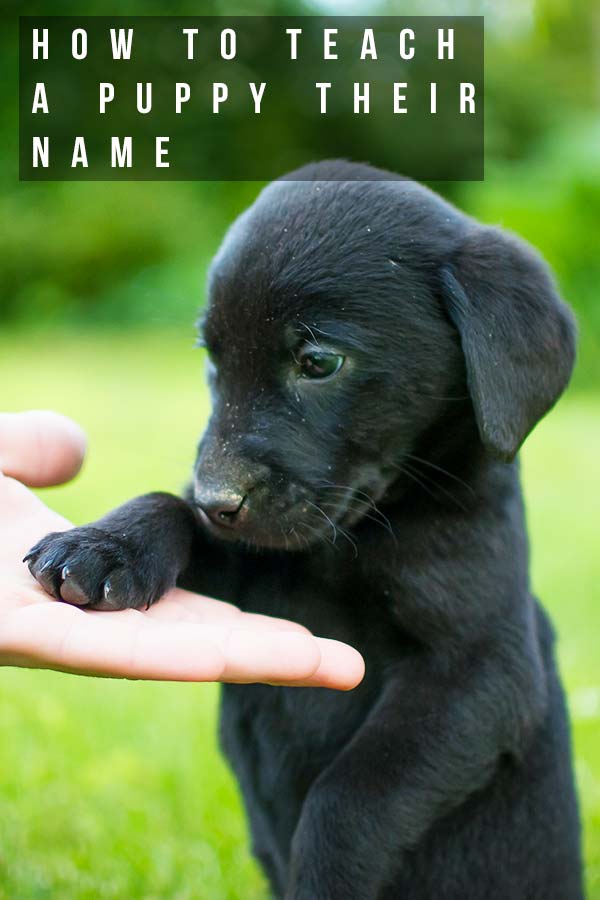 Teaching your puppy their name
If you have multiple dogs you can teach a new puppy their name by giving each dog a treat in turn, saying their name as you do so.
The puppy soon learns to associate their turn with their name.
If you have only one dog, and only adults or older children in the house, then a nice way to teach a dog their name is to use it as a 'watch me' or 'look at me' cue.
Again, if you have small children you may be better off picking a different cue (such as "look" or "watch me"), because the dog's name is likely to be used in so many other ways.
A 'watch me' cue
Teaching your puppy their name means 'look at me' is fairly simple. And won't take much of your time.
Have your hungry puppy in a room with no distractions, and have plenty of puppy food in a treat bag or pot. Train for about 2 or 3 minutes, then do something else for a while.
You can train 3 or 4 times a day for great results. Leave an hour or two between sessions. You can train steps 1 and 2 in the first session.
STEP 1
Fill your hand with food and drop a tiny piece on the floor. Walk a few steps and repeat. Do this several times. It's a great way of feeding your puppy part of one of his meals. Then provided your puppy is eagerly picking up and eating each treat in turn, go on to Step 2.
STEP 2
Fill your hand with food again and drop a tiny piece on the floor. Walk a few steps and repeat once more. Then walk a few steps and do nothing.
Just stand there.
The puppy will look up at you to see why the treats have stopped falling. If he looks at your hands wait him out.
You are waiting for him to look at your face. The second he glances up at your face say YES! and drop the next treat on the floor.
After each treat has been eaten, wait for your puppy to look at your face for the next treat.
Repeat this session later in the day. And again the next day. Until your puppy is looking at your face immediately after eating each treat.
STEP 3
Now we'll add your cue. Fill your hand with food. This time you will say your puppy's name as you place the food on the floor at you. Mark each eye contact with YES! And repeat.
Practice for two or three sessions so that your puppy is used to hearing their name just before they make eye contact.
STEP 4
Now hold your hand containing a piece of food out to one side. Keep your arm straight and your hand with the food well out of the dog's reach.
While the dog is looking at your hand say his name, be ready to mark eye contact instantly and reinforce with food.
Be patient and wait, it may take a few seconds before the dog looks at you.
Repeat to the other side. Practice for a couple of sessions, or until your dog gives up looking at your hand at all. Now it's time to practice with different distractions.
STEP 5
The next step is to refocus your puppy's attention away from slightly more challenging distractions. Don't go mad!
Don't try to get your puppy to look at you when he is playing with next door's Labrador. Or running around the garden with the kids.
Start small and build up. Put his dinner bowl on the table and ask him to look at you before you place it on the floor.
Put your hand on the back door handle and ask him to look at you before you open the door for him.
Hold a toy out of reach and ask for eye contact before you release it for him. Take it slowly and build each step on solid foundations.
If at any point you think you're puppy hasn't understood the game, go back a step before moving on.
Watch the Video
If you'd like to receive more of my training tips by email – go ahead and drop your email into the box below.
Attention is important
Teaching your puppy to look away from something that he wants and to refocus on you when he hears his name is a huge part of building a working relationship with your dog
Focus and attention lies at the heart of a great bond between a dog and his family. And it's an important part of our entry level dog training courses.
If you'd like to learn more about raising and training a puppy do check out our new Puppy Parenting Course launching in May 2020.
It's a complete guide to raising a puppy and is packed with puppy games, training steps, potty training tips, videos and so much more.
If you need more information just drop us an email [email protected] We'd love to hear from you!
'How To Teach Your Puppy Their Name' was written by Pippa Mattinson, best selling author of Total Recall and The Happy Puppy Handbook, and the founder of the Dogsnet Training Program
Get Pippa's free dog training tips delivered to your inbox