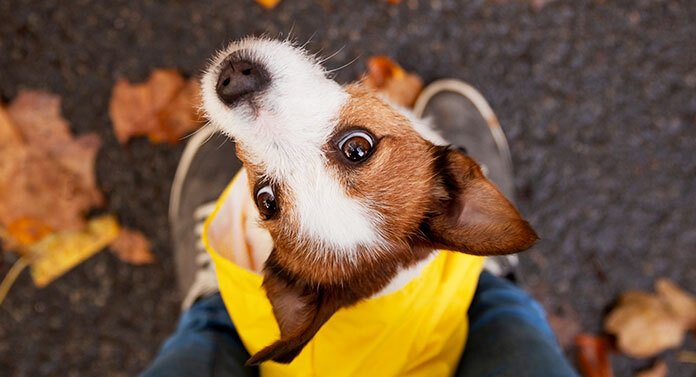 Why do puppies sit on your feet so often? Is it a comfort thing, or are they trying to keep tabs on you?
Some puppies may sit on your feet for emotional purposes, such as to get a feeling or security or comfort.
But other puppies may have a more practical goal, such as warmth, to keep track of you, or even to chew on your clothes.
It can be very cute, but when you're busy, having a puppy sat on your feet can be frustrating!
Why Do Puppies Sit on your Feet?
There are several reasons that puppies enjoy sitting on people's feet:
Comfort
Warmth
Reassurance
Security
To chew on your clothes
To keep track of you
None of these reasons are really problematic. But, you might be wondering if there are any ways to help fulfil their needs without them sitting on your feet!
Let's take a closer look at these reasons why puppies sit on your feet.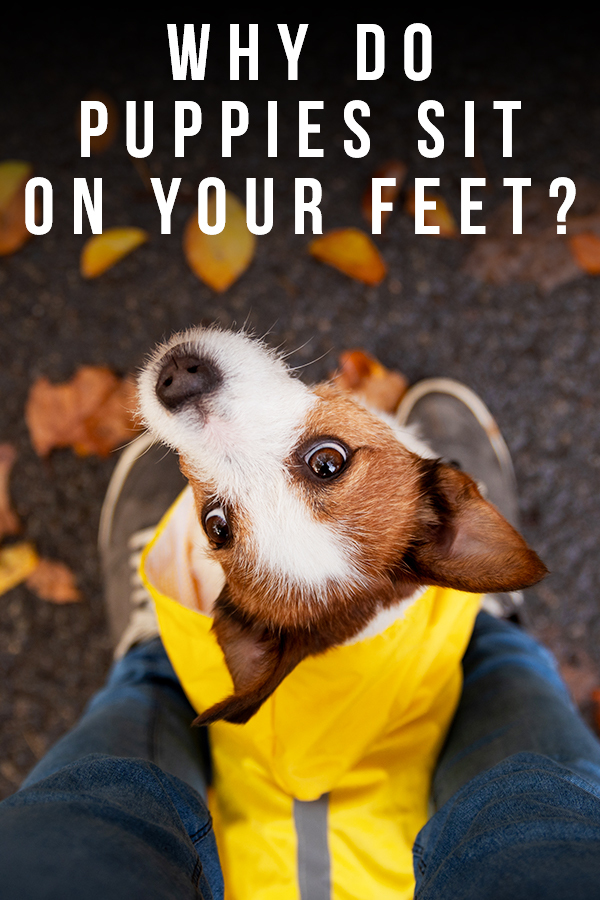 Your Feet are Comfortable!
This one might be hard to get your head around at first. After all, your feet don't look that comfortable, right?
All puppy owners will know that their dogs love sleeping in some weird positions… and places!
So, it makes total sense that our feet might be just as comfortable as these other places.
Sometimes, we can buy our puppies the fanciest, softest beds in the world, and they'd still rather sleep somewhere like our feet!
Warmth
Another common reason why puppies sit on your feet is because they are cold, and trying to share some warmth with you.
It's the same reason why you might see puppies curling up on your laptop charger, or next to a heater in your home.
When puppies are very young and living with their mother, she supplies warmth to them and their siblings.
We've all seen adorable pictures of puppies piled up next to their mothers in a big wriggling pile!
So, it's natural that puppies will gravitate towards you and other family members to share warmth if they're a little cold.
If you're worried that your puppy is cold, you may want to invest in plenty of bedding, such as blankets. Just be aware that many puppies will chew and tear blankets.
If your puppy chews on his blankets, you'll need to supervise him to make sure he doesn't swallow any small pieces. You may need to remove blankets when your puppy isn't sleeping on them!
Reassurance and Security
When puppies first come home with you, they can feel a little anxious and stressed. They've left their mother and siblings behind, as well as the only home they ever knew before yours!
So, they may sit on your feet to get a sense of reassurance and security.
When you first bring your puppy home, it's a good idea to let them stay with you, so they don't get scared. They'll slowly gain the confidence to explore their new home!
This doesn't just mean that only younger puppies will sit on your feet for reassurance. Older puppies can do it too, particularly if they feel anxious or scared by anything.
It's important to socialize your puppy well from a young age to try and reduce fear-based responses to new things.
Does My Puppy Have Separation Anxiety?
It's true that hyper-attachment to an owner is often associated with separation anxiety in dogs.
But, this doesn't mean that your dog automatically has separation anxiety if they are sitting on your feet. Even if they appear to be doing it to get some reassurance from you.
If your dog has separation anxiety, they'll likely show other symptoms such as following you to the extreme or becoming very anxious if you leave the room without them.
In most dogs, sitting on your feet is a harmless behavior, and not a symptom of a deeper problem.
To Chew Your Clothes
If I had a nickel for every time I've lovingly glanced down at a puppy asleep on my foot, only to notice they weren't… and they were chewing me….
Although comfort, warmth and security often appear to be the reason puppies' cling to you, sometimes they are just sneaking in a good chew of something they wouldn't get away with chewing otherwise!
You can reduce the chances of this happening by tucking in laces and any loose clothing.
Pop your trousers into your socks to retain your hemline – just remember to pull them out again before you go to the store!
Keeping Track of You
A final common reason that your puppy likes to sit on your feet is because they want to keep track of you.
This can be related to the security and reassurance reason. Your puppy may feel unsettled when they lose you in the house.
But, if they sit on your feet, they know you won't be able to leave without them knowing!
When your puppy is young, it's a good idea to show them that being alone isn't a bad thing. This will help your puppy learn that they don't need to keep track of you 24/7.
Our puppy training courses have some great techniques to help your puppy learn to be alone.
This is the best way to avoid separation anxiety in an older dog. And to minimise stress when you have to leave your dog in the house.
Is it a Problem if My Dog Sits On My Feet?
In most cases, you don't need to worry if your dog is sitting on your feet. It can be a little frustrating if they're chewing at your shoes and clothes, or if they're sitting on your feet every time you stop.
But, there are some easy solutions to these issues.
Make sure your puppy is warm enough, and feels comfortable on their own in the house to minimise the amount that they sit on your feet.
As long as your puppy is healthy and happy, it shouldn't be a problem if they occasionally want to sit on your feet!
Does Your Puppy Sit On Your Feet?
Or are they sitting on your feet right now? We would love to hear more about your puppies in the comments!
Which reason do you think applies to your little dog?
References and Resources
Get Pippa's free dog training tips delivered to your inbox