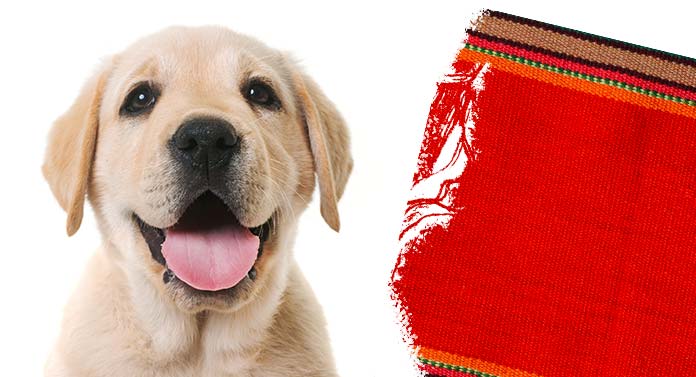 Why do puppies scratch the carpet?
Puppies may scratch the carpet for several reasons, including:
as a natural part of behavior development
as a means of exploring their environment
to get attention
or because they're afraid.
Sometimes it isn't obvious which one applies, but luckily there are lots of ways to nip this destructive habit in the bud, even if you aren't sure where it's come from.
In this article, we'll talk you through them all.
Why Do Puppies Scratch The Carpet?
Puppies look like butter wouldn't melt in their mouths.
But they're capable of many unwanted behaviors.
From peeing indoors, to nipping fingers, and the topic of today: scratching carpets.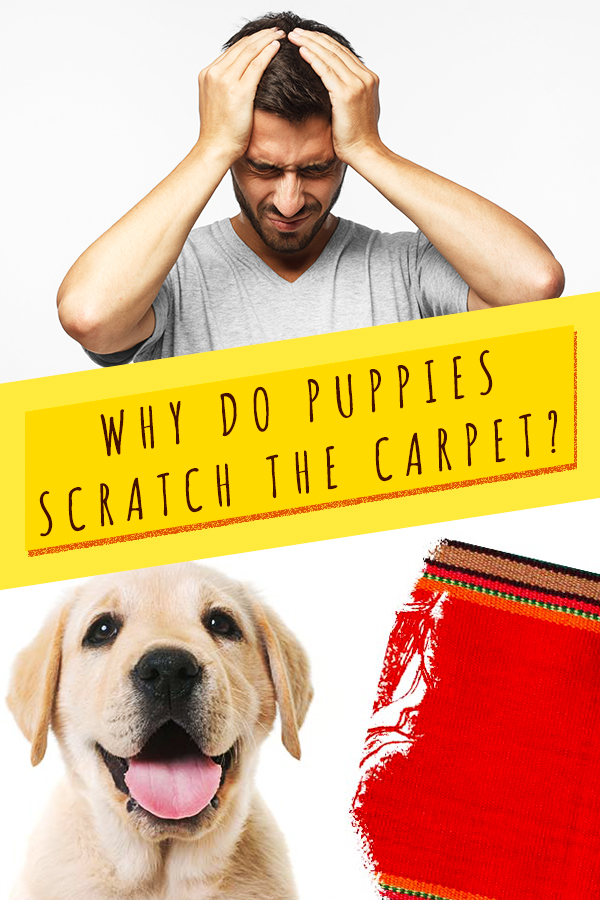 It can feel, through the fog of broken nights, like a campaign of destruction being wrought against your home.
But when your puppy scratches your carpet, it's never done just to offend you, or spite you.
Here are the reasons why your puppy might take claws to carpet:
1. Exploration
Behaviors like digging and scratching are a normal part of puppy development.
They help your puppy to develop their motor skills, and learn about the world around them.
Scratching the carpet reveals things about it's texture, and it's depth.
It also lifts up all sorts of tiny particles and makes them airborne again – odors from family members and previous pets, carpet shampoo, spilled food, and dirt trodden in on people's shoes for example.
Once these things are stirred up, they make a fascinating banquet of smells for your puppy to take in, then mentally process and organize.
This can be true even if your carpet looks immaculately clean to you – remember that your puppy's nose operates at a level we can't even dream of!
2. To Dig It Up
Did you spill bolognese on that bit of the carpet one time?
Could rodent pests be living in the cavities of your apartment block?
Your puppy might scratch the carpet to try to dig closer to the source of something they can smell in, or through, it.
And some dogs, for example most of the terrier breeds, have a strong urge to dig hardwired into their psyche.
For these dogs, scratching and digging towards something interesting isn't even something they give much thought to – their instincts just say "do it", and go straight to their muscles!
3. Boredom
Puppies have SO MUCH energy and enthusiasm for playing, learning, and exploring.
Without appropriate outlets for that energy, they'll find their own amusements.
They may even begin to cycle through apparently pointless behaviors, just to have something to do.
Even if they know it will get them in trouble. Which also leads us to…
4. To Get Attention
Nobody likes to see their favorite rug get scratched up.
Even the most plain and functional of carpets once had to be saved up and paid for, and it's frustrating to see them get damaged.
Which is why some people's natural reaction is to call out to their puppy, or scoop them up to stop them scratching.
Unfortunately this teaches puppies that scratching gets your attention.
It's important to bear in mind that wanting your attention isn't a bad thing.
Dogs are social animals, and we humans have specifically bred them over thousands of years to want to interact with us.
Puppies especially understand that their survival depends upon us not forgetting to look after them.
So no matter how your puppy expresses it, it's important not to mistake wanting attention for being an unwanted behavior.
5. Puppies Scratching The Carpet Because You've Accidentally Reinforced It
This has happened to the best of us – we've inadvertently set up a behavior chain which rewards an unwanted behavior.
A behavior chain is when puppies or dogs learn that a sequence of behaviors starts with one thing, and ends with a treat.
Say for example your puppy starts scratching the carpet, so you say "stop it!"
The sudden sound of your voice makes them stop and turn your way, so you give them a treat for stopping scratching.
"Hurrah!" you feel – you're teaching them the meaning of the cue "stop it".
Or are you?
Well yes, sort of. But "stopping it" depended upon starting it in the first place. So to release that next treat, they've got to…
That's right – scratch the carpet again!
6. Anxiety
Another reason your puppy might scratch the carpet is because they are anxious or frightened.
Scratching at doors, gates and other exits is a widely recognized sign of being uncomfortable in their surroundings – literally of trying to escape through the nearest exit.
They might do it because something unpleasant is happening in the room (perhaps the sound of a household appliance they're not familiar with).
They might also do it as an anxious reaction to being left alone.
If this happens it doesn't mean they're destined to have separation anxiety when they're grown up – there's still plenty of time to teach them how to be alone.
7. Fluffing It Up To Sleep
Finally, if your puppy is turning circles on your carpet and making scratching motions on it, they might be preparing to use it as a place to sleep.
This is especially likely to be true of rugs and carpets with a deep fluffy pile, or which sit next to a radiator or in a warm patch of sunlight.
They might also do it to the carpet at your feet, because they want to sleep close to you.
A good way of confirming this kind of scratching is to ask yourself when your puppy last had a nap, and how much they've done since they woke up!
How To Stop Your Puppy Scratching The Carpet
So, there are quite a few reasons why your puppy might be scratching the carpet.
Frustratingly though, it's not always obvious which one applies, especially if this is your first time raising a puppy.
In fact people, generally, aren't much cop at recognizing dogs' and puppies' early signals of their emotional state.
Although we do tend to get better at it with practice!
Here are some ways to stop your puppy scratching the carpet.
One might leap straight out to you as a good fit for your puppy.
Or you might need to apply a bit of trial and error.
Keep off carpeted floors
This one might sound a bit obvious, and not all that helpful in the long term.
But, lots of puppy behavior problems aren't a long term problem!
If they can't get into a habit of scratching your carpets as a puppy, the idea is much less likely to occur to them as an adult.
So in the meantime, just preventing scratching carpets now will set them up to avoid bad habits for life.
To achieve this, it pays to create a safe puppy zone, which is free from carpeted floors (which are a notorious location for toileting accidents anyway, and the hardest surface to clean up).
And also supervise their first forays onto carpeted floors closely, so you can distract them from scratching.
Don't worry – this won't be forever, just until they're older and more reliable.
Engage them with other toys
Your growing, learning puppy loves things which stimulate his senses.
Invest in a stash of toys in different shapes and materials – balls, tug toys, rubber toys, rope toys, and squeaky toys for example.
Try to use them in rotation – keep a handful out to play with and the rest in a cupboard, then switch them around every few days.
Encourage him to play with his toys so that when he's got energy to burn, those are what he thinks of first!
Give them a good place to dig
Digging is a great form of exercise and enrichment for lots of dogs, which gives an outlet to their natural impulses.
If you have space in your yard, creating an appropriate place to dig is a wonderful thing to do.
Use a preformed kids' sandpit, or build a digging pit out of timber if you're feeling ambitious.
Fill it with sand, bark, topsoil, or a mix of these, and bury some tasty treats or special toys to get your dog started.
Train them
This doesn't just mean "train them to stop digging"!
Most dogs are pretty smart, and mental exercise is just as important to their wellbeing as physical exercise.
If you set aside moments in your day to play training games of all kinds with your puppy, it will meet their need for mental stimulation.
And thus make them less likely to seek it out by scratching your carpets!
The importance of socialization
We tend to think about socialization as being all about going out, and meeting other people and dogs.
But socialization is also about teaching our puppies to feel confident inside the home – for example with the sound of the television, radio, washing machine and the vacuum cleaner.
And with the sight and sound of furniture being dragged around, or their family climbing on chairs and ladders. Even with different types of toys.
Research has shown that puppies who have been thoroughly socialized aren't just more confident outside the home.
They're more confident inside the home and more secure in being left alone too – without performing destructive behaviors like scratching the carpet.
Why Does Your Puppy Scratch The Carpet?
Hopefully this article has given you some insight into why your puppy is scratching the carpet.
You might even have an idea of how to prevent it now.
Why not consider our Puppy Parenting course too?
Designed for people bringing home a new puppy for the first time, it's got lots more detailed information on many of the things we've touched upon here.
Like teaching a puppy to be happy alone, setting up safe puppy zones, robust socialization, and puppy-suitable training games.
We even have a private students forum where we can help you navigate specific problems and support you all the way through to having a grown up dog.
References & Further Reading
Cannas et al. Puppy behavior when left home alone: Changes during the first few months after adoption. Journal of Veterinary Behavior. 2010.
Godbout et al. Puppy behavior at the veterinary clinic: A pilot study. Journal of Veterinary Behavior. 2009.
Kerswell. Self-Reported Comprehension Ratings of Dog Behavior by Puppy Owners. Anthrozoos. 2015.
Seksel. Preventing Behavior Problems in Puppies and Kittens. Veterinary Clinics of North America: Small Animal Practice. 2008.
Vaterlaws & Hartmann. Improving puppy behavior using a new standardized socialization program. Applied Animal Behavior Science. 2017.
Get Pippa's free dog training tips delivered to your inbox