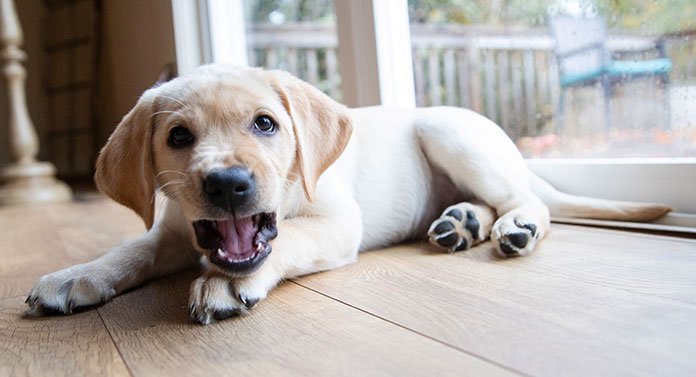 Why do puppies growl, and is it something to worry about?!
It is incredible how fierce even the tiniest puppy can sound when they growl.
The sound is visceral. It hits you right in the cave-person depths of your soul.
But that doesn't mean it is something to worry about.
Why do puppies growl?
It's very common for puppies to growl, and this sound is a totally normal part of play 99% of the time.
However, that doesn't mean we should necessarily encourage it.
Let's look at the reasons puppies growl, and when and whether we should be trying to prevent them from doing so.
The main reasons for growling can be divided down into:
Play
Over excitement
Fear
Puppies growling during play
The first time a new owner hears their puppy play, it can be quite a shock.
We regularly have concerned new owners contact us, afraid that they have brought home an aggressive puppy.
Usually these fierce noises were heard during play, or when the owner tried to take a toy or something else they were playing with from them.
And the growls can really sound like something you wouldn't want to hear in a dark forest.
Yet, behind the malevolent mutterings your adorable puppy is making, is something totally innocent. Play.
Tug is the main culprit
Puppies almost all love to play tug. And any puppy can be taught to love it.
This game matches perfectly with their natural canine instincts.
But, you can also end up playing it accidentally.
If your puppy is playing with something, and you try to take it off them, they will naturally try to keep hold of it.
The jostling that ensues might feel like an irritation to you, especially if the thing you are removing is your brand new scarf.
But your puppy, you're just amping up the fun.
Pulling the toy is all part of the game, and their growl is all in good fun.
But it can sound scary to the uninitiated.
Over excitement and growling
Puppies are great fun. They will play ferociously, and want to spend all their time in your company.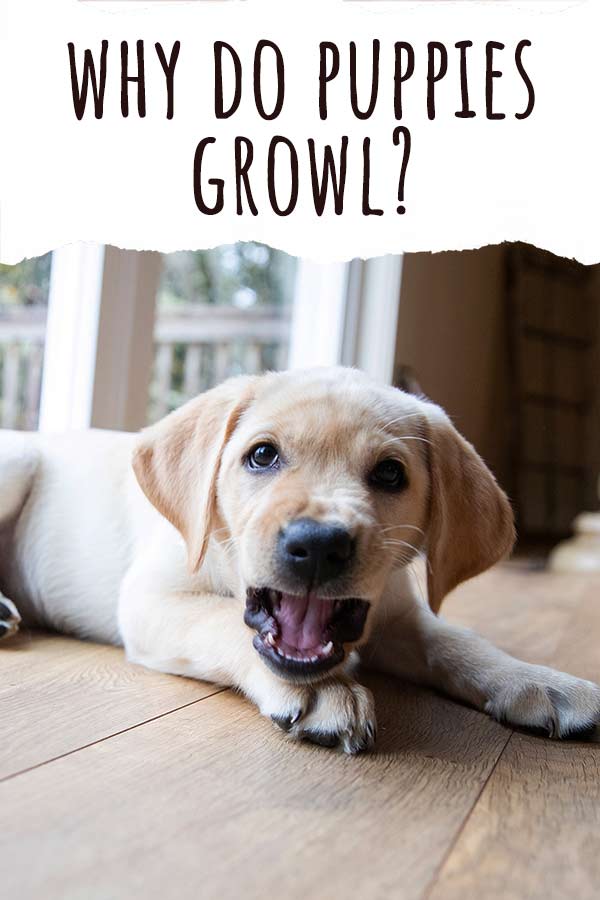 But sometimes this keenness for companionship and fun backfires on new owners.
Because puppies need lots of rest, even if they don't realise it themselves.
And they benefit from calm and quiet more than you might expect.
The downside of playtime
Nothing is quite like play fighting with a spiky, yet innocent, little creature.
They are all teeth and claws, and yet, at least in the early days, can't do a lot of damage.
The problem is that even if they aren't hurting you, they are inevitably getting themselves rather overwhelmed.
Although normal play can cause your puppy to growl with excitement, being over stimulated does this too.
So unless you are playing a short game of tug using a toy, growling during play is a good sign that it's time to stop.
Pop the puppy in a play pen or their crate if they have become really worked up, and let them chill out for a while.
When puppies growl through fear or aggression
It is incredibly rare to bring home a truly aggressive puppy.
But some puppies are very scared when you bring them through the door.
In an ideal world you've picked up a puppy from a good breeder, who has socialised them well and picked their parents for their lovely personalities.
Yet some puppies come through rescue centers, or from less than perfect breeding situations.
Fearful puppies
Puppies have what is known as a socialization window.
A period of time during which they are very open to new experiences, and able to use them to become more comfortable with the world around them.
This lasts until they are around 14 weeks old.
If your puppy is under 14 weeks and afraid of people, now is the time to act.
Give them a couple of days to settle into your home and then:
Invite lots of visitors over
Take them to lots of new places
Get as many people as possible to offer them treats
Stay calm, and if the puppy hides and growls don't pursue her.
Sit nearby and begin by throwing treats in her direction. Let her choose to come to you.
Repeat this with everyone she meets that is willing.
Make those treats high value (cooked chicken, sausage etc).
Help her to understand that the world is full of lovely people, and yummy treats too!
If your new puppy is hiding, looking at you out the corner of their eye or growling, then it's a good idea to also speak to a canine behaviorist.
Only use one that uses positive reinforcement and not punishment.
Never punish a dog for growling
It is incredibly important that we never punish a dog for growling.
Their growl is a warning, and it makes us worry that they might take things further and bite.
But that early growl is actually a really good thing.
It tells us that the puppy is not comfortable with the situation, and allows us to change tactics.
A dog that appears happy, who is hiding their fear, is a very dangerous dog indeed.
Because we have taken away their way to warn us that they are being pushed to the limit.
We want dogs to have that growl, so that we don't ever have to force them to take it up a gear.
Why do puppies growl?
In almost every case, puppy growling is as a result of play and over excitement.
They might sound fierce, but in fact they are just having fun. Ramping up the game to another level.
However, occasionally, if the puppy was raised in isolation or neglected, they could be afraid.
In these rare cases, a positive behaviorist is the best person to help them adjust happily to life with their new family.
Get Pippa's free dog training tips delivered to your inbox