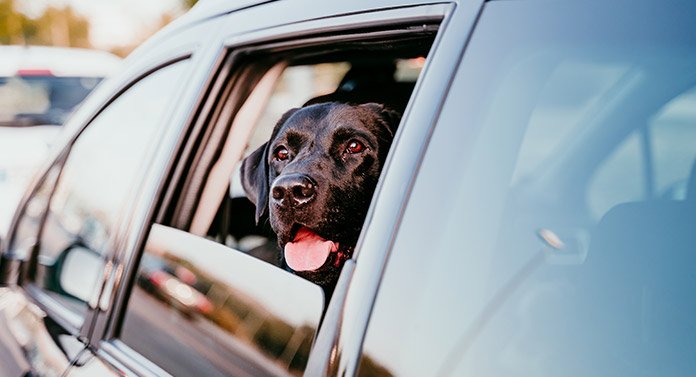 Why do dogs pant in the car? And is there any way to stop our dogs panting in the car?
Dogs pant to regulate their temperatures. But, panting can also be a sign of anxiety, nausea, and can have a medical cause in worst cases.
You can help your dog by socializing them to the car from a young age. Take them on lots of short journeys, and keep the temperature cool inside your vehicle.
What is Panting?
Most people can recognize when a dog is panting. But, if you're new to dog-ownership, you may not be familiar with it!
Panting is when dogs breathe heavily with their mouths open, often with their tongue lolling out!
Some dogs may breathe in and out through their mouths alone, but others may breathe in through their nose and out through their mouths.
Why Do Dogs Pant?
You may notice certain patterns in your dog's panting. For instance, many dogs pant after vigorous exercise, just like we breathe more heavily after a long run. Your dog may also pant when they are too hot, as a way to cool down.
However, it might surprise you to learn that panting can also be linked to your dog's emotions.
One study into 30 dogs in different environments found that significantly more dogs pant in a hospital environment than a home environment.
This could suggest that dogs are more likely to pant when they are feeling stressed or anxious, than when they are somewhere familiar, feeling safe and relaxed.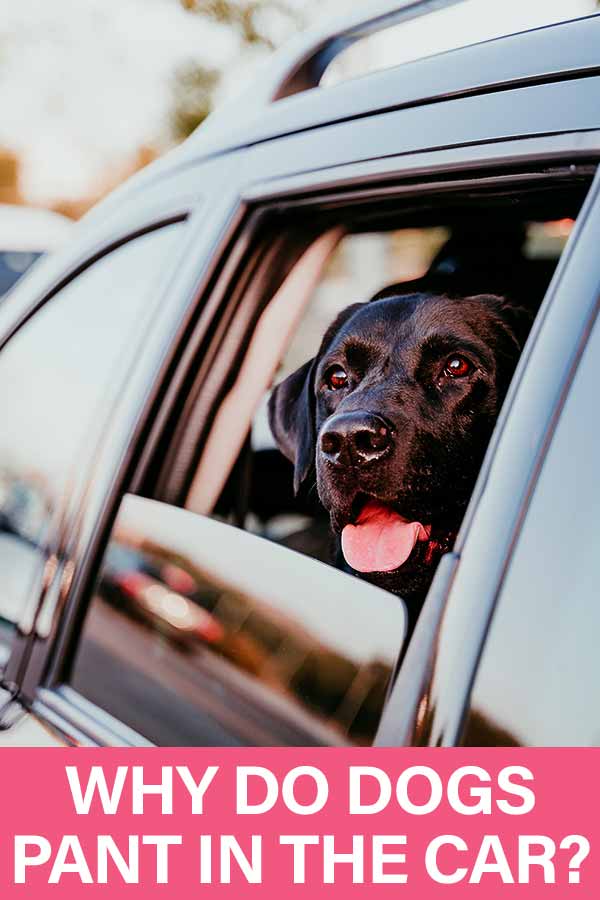 Why Do Dogs Pant in the Car?
Now we know why dogs pant in general. So how does this link to dogs in the car? Why do dogs pant in the car?
In reality, the answer is going to be different for every dog in every situation. Here are some of the most common reasons why your dog may be panting in the car:
They're too hot
They feel anxious
Car sickness
Overstimulation or overexcitement
Medical reasons
Let's take a closer look at these potential causes.
They're Too Hot
Cars can get very hot, especially when they're sitting in the sun, or if you have no aircon to cool things down!
So, if your dog is panting in your car, it could be a simple case that your dog is too hot.
Make sure that the inside of your car is a cool and comfortable temperature when you're travelling with your dog.
And make sure your pup is properly hydrated before setting off, since panting to cool down uses up fluids, and dehydration causes dogs to overheat more quickly.
They're Anxious
As we know from the study mentioned earlier, dogs may be more likely to pant when they are in an environment that makes them feel anxious.
It's quite common for dogs to feel a bit stressed out when travelling in a car, especially if this is not something that they have been socialized to from a young age.
If you think this may be the cause of your dog's panting behavior, watch out for other signs of anxiety. This includes:
Pacing/restlessness
Shivering/trembling
Frequently licking lips
Frequent yawning
Whining or barking
And more.
And, if anxiety is making your dog too distressed to travel, it's a good idea to talk to your veterinarian about potential solutions to help your pup.
Car Sickness
Many dogs aren't used to the sensation of travelling in a car. And, like humans, our dogs can experience car sickness and nausea when travelling.
If your dog is feeling car sick, they may pant and drool a lot. They may also be physically sick during long journeys.
Overstimulation and Overexcitement
Dogs are clever animals. A lot of them will work out that going in the car means going somewhere exciting, like the dog park. And this can cause feelings of overexcitement.
On top of that, the car can be a very new, overwhelming place with new smells, sounds, and a lot of things to look at through the window.
This can mean that some dogs will feel overexcited and overstimulated when travelling in the car. And, this can lead to panting and restlessness.
Medical Reasons
A final potential cause to note is medical reasons. Some dogs may pant because of a hidden medical cause.
If your dog is panting excessively, both in and out of the car, particularly when they haven't been exercising, or when it is paired with other strange behaviors, you should speak to your vet.
Take your dog in for a check up, and try to make a note of when your dog is panting to show your vet.
When is Panting Excessive?
So when should you start to worry about dog panting? It's normal for dogs to pant in some situations. Like just after exercise, or if it is a hot, sunny day.
But, when your dog starts panting almost all the time, or at times when it is cool and they have been resting, it could be a cause for concern.
If your dog has been resting all day, but starts panting even before they get in the car and before they know they are going to be getting in the car, it may be a good idea to schedule a trip to the vet.
After all, it's better to be safe than sorry when it comes to our dog's health.
Bear in Mind
It's important to note that some dog breeds will naturally pant more than others. Brachycephalic dogs have flat faces, such as Pugs and French Bulldogs.
These dogs can overheat more easily than dogs with a longer, healthier nose.
So, flat faced dog breeds may pant more than other breeds, like the Labrador or German Shepherd breeds.
How to Stop Your Dog Panting in the Car
The trick to stopping your dog from panting in the car will depend on why they are panting in the car in the first place. So, you will first need to identify the cause.
You can reduce the likelihood of your dog panting in the car by keeping the car cool, and making sure your dog is hydrated before any journeys.
If you travel with your dog in a crate, it can help to put a blanket over the crate to minimise the amount your dog can see through the windows. This will help dogs that suffer from overstimulation.
But, it can also help to encourage your dog to sleep, especially during long journeys.
A final method is to ensure your dog is used to the car from a young age, to help them feel less anxious when they are travelling with you.
How to Socialize Your Dog to Car Journeys
Puppies should be socialized to as many new experiences as possible before 12 weeks of age to ensure they are confident and happy adult dogs.
This includes car journeys!
So, when you first bring your puppy home, it's a great idea to gradually introduce them to the car. Make sure the car is a great place to be for your puppy.
You can do this by feeding your puppy some of their meals in their car crate (whilst parked up, not driving!). Or, give your puppy treats whilst putting them in the car crate and shutting the door, then reopen it straight away and repeat a few times throughout the day.
Once your puppy is eager and happy getting in the car, you can go for a very short drive. You can then slowly increase the length of these trips.
Socialization can feel like a slow process. Especially since you need to increase the length and 'scariness' of the new experience very slowly. But, in the long run, it will be worth it.
And, it will often help your dog feel much less anxious in the car, which in turn can prevent them from panting! You can learn more about puppy socialization in our online Puppy Parenting course.
Why Do Dogs Pant in the Car?
If your dog is panting in the car, it could be because of any number of reasons. Perhaps they are feeling a little anxious, or maybe they are just too hot.
Working out why it's happening is the first step to helping your dog and solving the issue for them.
Does your dog pant when they're in the car?
Readers Also Liked
References and Resources
Get Pippa's free dog training tips delivered to your inbox