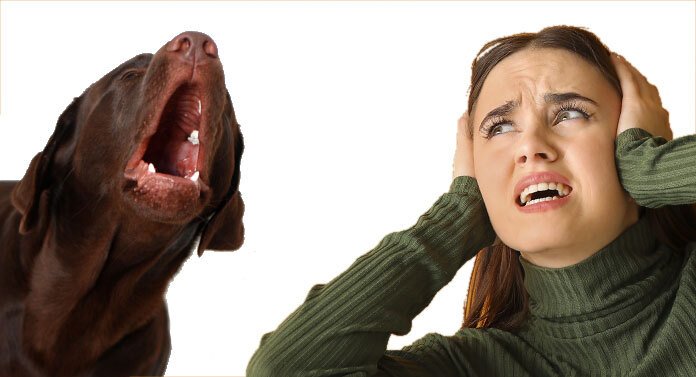 Lots of parents of noisy dogs and puppies want to know "why do dogs bark?"
Dogs bark to communicate all kinds of information. Sometimes they do it instinctively, and sometimes they do it because they have learned that barking can be rewarding.
Managing barking behavior so that it doesn't become a nuisance starts with working out why your dog is barking in the first place.
Why Do Dogs Bark?
Until quite recently, academics believed that barking in adult dogs was a non-functional by-product of domestication.
Wolves, dogs' closest wild ancestors, bark most frequently while they are young, and bark relatively infrequently as adults.
They are also the most playful, affectionate, and inclined to stay close to their primary caregiver while they are young.
It is thought that when early humans first started domesticating dogs from wolves, they made breeding decisions in favor of individuals who kept these puppy-like qualities throughout adulthood.
And it was assumed that the habit of continuing to bark frequently "hitched a ride" with those other youthful attributes. But that ultimately, it served no purpose.
A New Perspective On Barking
In the last couple of decades, our understanding of why dogs bark has completely changed.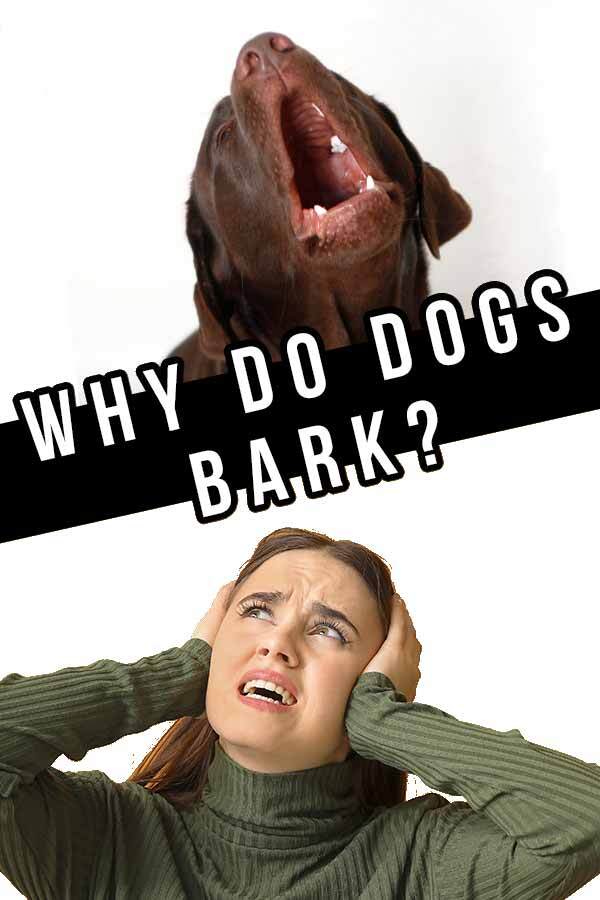 Now we know that dogs bark to communicate all kinds of information, including:
greetings
invitations to play
defence and aggression
desire for contact and attention
pain
and loneliness.
What's more, barking is a dog's most versatile means of vocal communication.
Dogs can achieve greater tonality and variety of sound from barking than through other sounds like crying or howling.
Reasons Why Dogs Bark
Using barks to communicate isn't new to domestic dogs, although domestic dogs bark more frequently than wild dog species.
Wild canids, including wolves, coyotes and foxes all use barking as an alarm call within their social group, and to defend their territory from intruders.
And since every individual's bark is unique to them, barking also works as an identifier across long distances.
Just like in these wild examples, some of the reasons pet dogs bark are instinctive and don't need to be taught, or learned.
But lots of pet dogs also bark because they have learned that doing so creates some sort of advantage or reward for them.
We'll look at some of the most common reasons why dogs bark now.
Why Do Dogs Bark At Other Dogs?
Let's start with a type of barking we've already touched upon: why do dogs bark at each other?
Depending on the pitch, duration, context, and body language they use, dogs can send all kinds of information to another dog by barking.
Here are some examples:
Saying hello
Dogs sometimes use barking as a form of greeting.
It's not their preferred approach – ideally they like to follow a very particular ritual of approaching each other sideways on, starting with a cheek sniff, and moving on to a full body sniff.
But when two dogs are on the leash and can't reach each other to perform this sequence, one or both may start barking a greeting instead.
To say "please play with me"
High pitched barks, accompanied by lots of jumping around and play bows communicate playfulness.
Some dogs only bark to get the game going, and some bark the whole time they are playing.
The difference is just a matter of individual personality and playing style.
To warn off threats
Low pitched barks are signals of defensiveness or aggression.
They say "I'm not comfortable with you being so close, go away".
Look for matching body language – ears pinned back, teeth bared, and hackles up.
When dogs bark defensively or aggressively, we sometimes call it 'reactive barking.
Reactive behaviors can be managed by gradually changing how the dog feels about the stimulus.
Understanding each other's barks
Dogs aren't just good at sending information to one another using barks, they can even understand messages which weren't intended for them.
For example, when dogs hear other neighborhood dogs bark, they can decipher why those dogs are barking, and use that information to decide whether or how to react.
They react the most to the sound of a familiar dog barking at an intruder.
And they react the least to the sound of an unfamiliar dog barking because they are lonely.
Why Do Dogs Bark At People?
The next most common thing people usually want to know is why do dogs bark at people?
Yet again, this depends upon things like who they're barking at, and the context of the bark.
Why is your dog barking at you?
Dogs bark at their owners for both instinctive and learned reasons.
Puppies, like lots of infant animals, instinctively bark to get the attention of their primary caregiver.
In the wild, keeping the attention of the adult who looks after you improves your chances of survival!
As they grow up, lots of dogs learn that barking at us can produce all sorts of rewarding results, including attention, being released out into the yard, or even a treat for stopping again on cue.
Recent evidence even suggests that dogs take turns in conversations with us, if we talk back to them!
Learned barking is reinforced because we accidentally reward it, and can be untaught by removing that reward, or making staying quiet more rewarding.
Why Do Dogs Bark At The Mailman?
What about barking at the mailman, and other strangers?
This depends upon the context of the encounter, and the personality of the dog.
Dog breeds with a history of working as watchdogs are more likely to bark at strangers – this trait is thought to be partly genetic, and localized in specific breeds due to selection pressure by breeders.
But barking at strangers can also have a learned component.
In a lot of cases, dogs initially bark at the mailman because they're alarmed by an unfamiliar person approaching their home.
Since inevitably the mailman leaves again straightaway, the dog gets the mistaken impression that barking makes them leave.
So they bark at them again next time, and so on.
Understanding human-directed barks
Luckily, we're not bad at interpreting dogs' barks, even if we're not very familiar with dogs in general.
Humans can recognize when dogs are barking because they feel playful, or they're isolated, or they've sensed a disturbance.
But there are limits on how well we understand barking too – for example, we tend to mistake large dogs for being aggressive because their barks are deeper.
Fortunately, we can shape barking behavior towards people by teaching a quiet cue, or changing their emotional response to strangers.
Why Do Dogs Bark At Night?
One of the most frustrating times for dogs to bark is at night.
Dogs who only occasionally bark in the night have usually heard something which has alarmed them – wild animals outside are a common culprit. They are barking to warn off potential intruders, and sound the alarm to you.
Sometimes when dogs consistently bark at the same time every night, it's because they are hearing the same disturbance every time. A great example of this is a neighbor leaving for shift work.
Dogs who bark throughout the night may be frightened or uncomfortable with their sleeping arrangements, under exercised, or starting to experience cognitive decline and confusion.
Why Do Dogs Bark In Their Sleep?
My dog barks in his sleep when he's dreaming of playing chasing games. It's not a full bark – it sounds more like a wheezy chuckle, and it makes me laugh every time.
Just like us, dogs dream about events and activities from their waking hours.
Usually, the pons – a small structure in the brainstem – works as a signal blocker, so that dogs don't actually do the things they're dreaming about doing.
But every now and then the odd message gets through, and a sleeping dog acts out a bit of their dream.
If your dog barks in his sleep, it's likely that he's just dreaming about the same things which make him bark when he's awake.
Why Do Dogs Bark At The Door?
A fundamental rule of communication is that it creates some sort of advantage for the sender.
Or in other words, if your dog is barking at the door, it's because he believes it is going to benefit him somehow.
The classic and most easy to observe example of this is obviously someone opening the door.
Lots of puppy parents even wish for the day that their dog will give them a sign that they need to go out and pee, rather than soiling indoors.
So they're delighted when their pup whines or barks to be let out for the first time, and rush to reinforce that behavior.
Unfortunately though, dogs like going out in the yard for all kinds of reasons, and not just to pee or poop.
So be careful of opening the door for a barking dog, unless you're happy for them to bark whenever they want to go out, for whatever reason.
Why Do Dogs Bark When They're Alone?
Perhaps one of the most confusing times for dogs to bark is when there's no one there to hear them.
Young dogs are more likely than old dogs to bark when their owner goes out of sight. They also bark sooner,
Barking is often regarded as a sign of separation anxiety, but this study from 2017 found that barking isn't an accurate predictor of separation anxiety (however whining is).
In a lot of cases, what has happened is that owners have accidentally reinforced barking, by reappearing whilst their dog was barking.
One this cycle has begun it can escalate quickly, because if barking doesn't seem to work again at first, a lot of dogs will try barking harder and for longer before they give up.
And that's difficult for people to ignore – especially if they have neighbors!
In our Puppy Parenting course, we teach puppies how to feel safe and confident by themselves, and wait quietly for our return.
Why Do Dogs Bark At Nothing?
Finally, we've reached the enigma of dogs who appear to be barking at nothing.
If it's not immediately obvious why your dog is barking, here are some possibilities to consider:
Cognitive dysfunction
Canine cognitive dysfunction, which is similar to dementia in people, is most common in older dogs. About 28% of 12 year old dogs and 68% of 16 year old dogs are estimated to be affected.
Symptoms can include the onset of barking at strange times – especially during the night, because sleep cycles are altered.
Whilst cognitive dysfunction is a degenerative condition, your dog's vet can help you manage it as comfortably as possible, for as long as possible.
They've seen a ghost
Well, not literally!
But dogs do perceive a lot of things which we don't.
It could be they're barking at a sound which is outside of our hearing range, for example.
They're just letting you know where they are
Dogs bark to let their social group know where they are.
It's an especially established trait in breeds with a history of working in groups, like Beagles.
If your dog barks at nothing whilst exercising off leash, perhaps they're just checking in with you.
Why Do Dogs Bark – Summary
For almost the entire history of domestication we have underestimated the full significance of barking in dogs.
The reasons why dogs bark is now a rapidly growing area of research, and it's shedding all kinds of insights on how our pets use vocal communication.
Whatever reason your dog is barking, if it becomes a problem, there is usually a way to gently correct it.
If you can't immediately work out why your dog is barking using this guide, a behaviorist can help.
References And Further Reading
Hedges. Practical Canine Behavior For Veterinary Nurses And Technicians. CABI. 2014.
McGreevy. Ethology of Barking – Why Do Dogs Bark? Urban Animal Management Conference Proceedings. 2004.
Nilsson. Vocalisation and turn-taking in interspecies communication between dogs and humans. Linkoping University. 2020.
Pongracz et al. Barking in family dogs: An ethological approach. The Veterinary Journal. 2010.
Pongracz. More than noise?—Field investigations of intraspecific acoustic communication in dogs. Applied Animal Behaviour Science. 2014.
Pongraz. Should I whine or should I bark? Qualitative and quantitative differences between the vocalizations of dogs with and without separation-related symptoms. Applied Animal Behavior Science. 2017.
Petak. Patterns of carnivores' communication and potential significance for domestic dogs. Periodicum Biologorum. 2010.
Scaglia et al. Video analysis of adult dogs when left home alone. Journal of Veterinary Behavior. 2013.
Taylor et al. Why Do Large Dogs Sound More Aggressive to Human Listeners: Acoustic Bases of Motivational Misattributions. International Journal of Behavioral Biology. 2010.
Get Pippa's free dog training tips delivered to your inbox