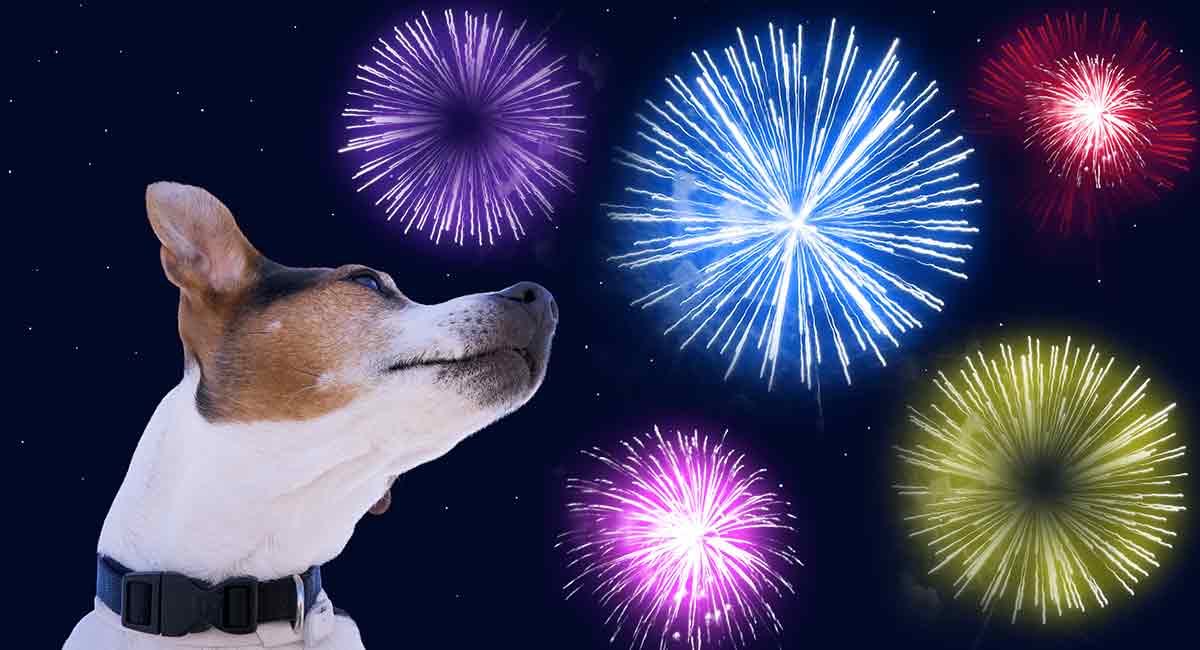 Why are dogs afraid of fireworks?
If your dog starts to shake and whine when fireworks soar in the night sky, you may have found yourself wondering this.
To understand just why are dogs afraid of fireworks, remember that dogs have very sensitive hearing.
In fact, your dog can hear sounds up to four times farther away than a human's hearing.
The sounds of thunder, gunshots and fireworks all commonly spark fear even in the most aggressive dogs.
Not only are these sounds extremely loud, but they're also sudden and unpredictable.
So it's especially hard for your dog to get used to the noise, even if she's been exposed to it before.
In fact, repeated exposure to scary noises like fireworks or thunder may actually increase your dog's fear.
Not all canine hearing is the same, though.
Understanding the Sensitivity of a Dog's Hearing
When it comes to learning why are dogs afraid of fireworks, studies have suggested there may be a genetic component.
Your dog's breed may play a role in whether or not they develop this particular fear.
A 2015 study found that some dog breeds were more prone to noise sensitivity than others.
Out of the 17 breeds in the study, the ones that were the least noise sensitive were Great Danes, Boxers and Chinese Cresteds.
But when it comes down to it, no matter what breed your dog is, the physiological response is the same.
How Fireworks Affect a Dog's Nervous System
When your dog hears a frightening noise, her sympathetic nervous system is activated.
This means that her blood pressure and heart rate go up. She'll begin to show signs of stress and fear.
Those signs include pacing, whining, panting, shaking—or even trying to escape from the noise, which of course can be extremely dangerous.
An ASPCA survey found that nearly 19 percent of lost pets in the United States go missing specifically because they're frightened by fireworks.
Holidays involving fireworks displays, like Bonfire Night and Fourth of July, can easily terrify pets into fleeing their homes and yards.
Even if your 4th of July puppy was born this day, she'll be none too thrilled with the excruciating amount of noise.
It doesn't matter how patriotic you and your loved ones are feeling.
Dogs on Fourth of July can be noticeably stressed out, especially if you already have an anxious dog or a dog afraid of fireworks.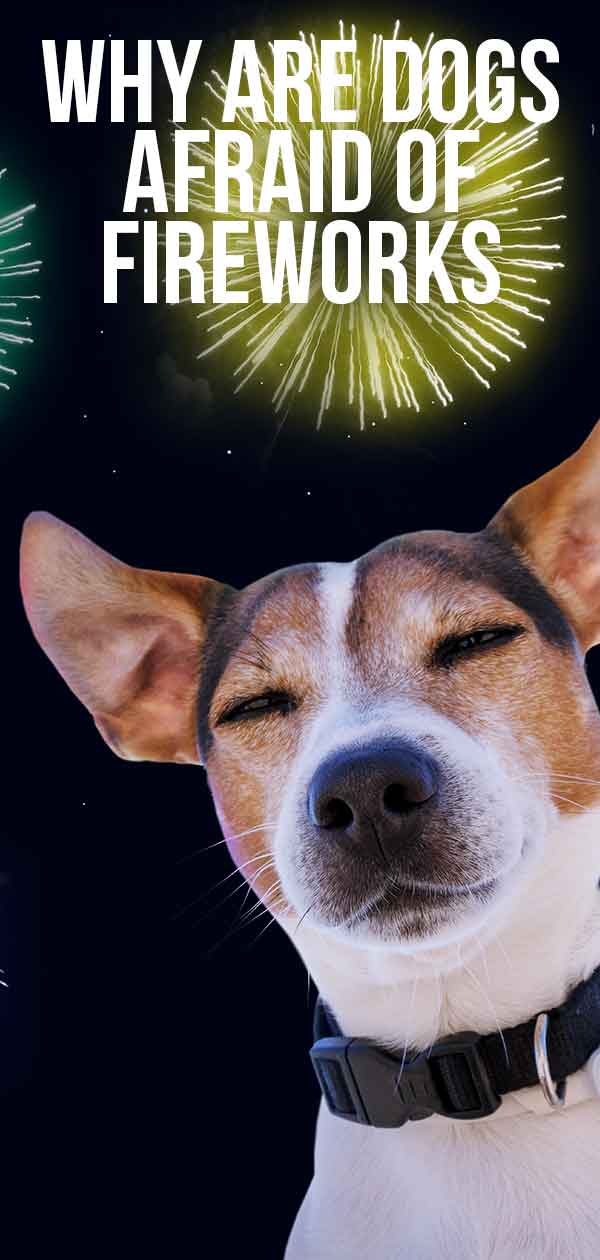 4th of July and Dogs: How to Keep Your Dog Safe from Fireworks
It's normal for dogs to be at least a little bit afraid of fireworks.
But when that fear response becomes severe or prolonged, life can get pretty challenging for the both of you.
The question "why are dogs afraid of fireworks?" may turn into "can I even own a dog if I don't want to give up fireworks?"
Don't give up hope about having a happy Fourth of July just yet.
There are plenty of methods you can try to help your dog feel safe and sound.
How to Calm Your Dog on Bonfire Night
Say it's Fourth of July or Bonfire Night, and you've just gotten a new puppy.
How do you comfort your pets on bonfire night?
How do you make sure she not only has a safe night, but also prevent her from developing a fear of fireworks in the future?
Give classical conditioning a try.
Classical conditioning training means that you pair the scary noise with fun and exciting treats or toys.
The end result is that your puppy learns that those big booms in the sky, however scary they might sound, also herald the approach of delicious snacks.
Facing Fears with Pheromones
Dog-appeasing pheromone (DAP) products can have a significant calming effect on some dogs who are afraid of fireworks.
They come in a few different forms, like collars, sprays and even diffusers. Simply plug them in an outlet in your home.
Synthetic DAP products mimic the pheromones produced by a lactating female dog.
This essentially communicates to the nursing puppies that they are safe and they belong.
The hope is that this calming effect helps reduce anxiety in fearful dogs.
Although they don't work for every dog, DAP products are also used to help relieve anxiety in shelter dogs with promising results.
They're especially effective when combined with other calming methods.
Creating a Safe Space
If your dog isn't crate trained already, it's worth considering, especially if holidays like Bonfire Night and Fourth of July make her anxious.
Some dog owners feel uncomfortable with crating their dogs, perceiving it as a punishment.
But when used properly, a crate is nothing more or less than a safe and cozy place for your dog to relax and wind down.
A crate can be a great hideaway for your buddy when he feels upset or overwhelmed.
It might just be the perfect refuge for a dog who's afraid of fireworks.
Our guide can help you get started if you haven't crate-trained a dog before.
If you don't have access to a crate, you can instead try confining your dog to a smaller, quieter room in the house during the fireworks.
Keep in mind this probably won't fix the problem entirely for especially fearful dogs.
But setting up a cozy area with your dog's bed and favorite toys can help her be a little bit calmer.
You can also try turning on some gentle, soothing music or a white noise machine, to provide even further distraction from the scary sounds outside.
Provide Relief with a Pressure Wrap
Pressure wraps like the Thundershirt work by hugging the dog's body and applying constant, moderate pressure.
They've been shown to reduce symptoms of anxiety in some dogs.
They're also helpful for reducing fear responses when used with other calming methods.
But not every dog responds well to pressure wraps.
Because a pressure wrap can also work to keep your dog still, pay close attention to your dog's body language.
This way you can be sure it's really calming her down and not simply restraining her movement.
Try Behavioral Modification Training
Any behavioral modification training should be done with the guidance of an experienced behaviorist.
But don't experience results overnight.
That being said, this can be an effective way to help your dog deal with his fears in the long-term.
Desensitization and counter-conditioning programs are shown to help dogs with serious fears of fireworks.
If you're willing to put in consistent time and effort to help your dog with his fear, a dog behaviorist can help lead you through that process.
The ASPCA provides a guide with tips about how to find a good behaviorist.
Soothe Anxiety With Medication
Last but certainly not least, ask your vet about trying out an anti-anxiety medication for your dog.
Just like with people, short-term anxiety medications can be extremely effective for dogs who have situational anxiety.
There are plenty of medications out there.
But you should talk to your veterinarian about your dog's specific needs in order to find something that works for her.
Why Are Dogs Afraid of Fireworks? Summary
It's common for dogs to be afraid of fireworks, but there are ways to manage those fears.
Hopefully now you have a good understanding of why your dog finds fireworks so scary and what you can do to help her feel better.
When in doubt, talking to your vet or an experienced behaviorist is always a good plan to help you get on the right track.
If you've found this article interesting, you might also want to check out: Can dogs see color on TV?
References and Further Reading:
Blackwell, E.J., et al., 2013, "Fear Responses to Noises in Domestic Dogs: Prevalence, Risk Factors and Co-Occurrence with Other Fear Related Behaviour," Applied Animal Behaviour Science
Curtis, T., 2013, "On Your Best Behavior: Noise & Storm Phobias in Dogs," Today's Veterinary Practice
King, C., et al., 2014, "The Effect of a Pressure Wrap (Thundershirt®) on Heart Rate and Behavior in Canines Diagnosed with Anxiety Disorder," Journal of Veterinary Behavior
Levine, E.D., 2007, "A Prospective Study of Two Self-Help Cd Based Desensitization and Counter-Conditioning Programmes with the Use of Dog Appeasing Pheromone for the Treatment of Firework Fears in Dogs (Canis Familiaris)," Applied Animal Behaviour Science
Miller, P., 2004, "'Dog Appeasing Pheromone' to Calm Anxious Canine," Whole Dog Journal
Sheppard, G. and Mills, D.S., 2003, "Evaluation of Dog-Appeasing Pheromone as a Potential Treatment for Dogs Fearful of Fireworks," Veterinary Record
Shull-Selcer, E.A. and Stagg, W., 1991, "Advances in the Understanding and Treatment of Noise Phobias," Veterinary Clinics of North America: Small Animal Practice
Storengen, L.M. and Lingass, F., 2015, "Noise Sensitivity in 17 Dog Breeds: Prevalence, Breed Risk and Correlation with Fear in Other Situations," Applied Animal Behaviour Science
Tod, E., et al., 2005, "Efficacy of Dog Appeasing Pheromone in Reducing Stress and Fear Related Behaviour in Shelter Dogs," Applied Animal Behaviour Science
"What if Your Pet Goes Missing During 4th of July Fireworks? There's an App for That," American Society for the Prevention of Cruelty to Animals
Get Pippa's free dog training tips delivered to your inbox