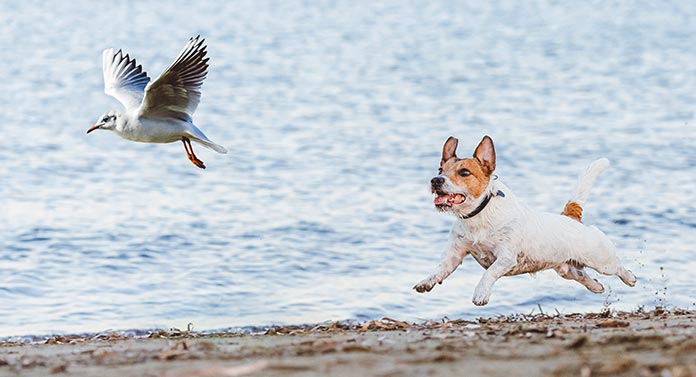 What is a high prey drive in dogs?
High prey drive dogs are highly motivated to chase or stalk toys and other animals, and play competitive games like tug.
Lots of incredibly popular dog breeds have high prey drives, and it's considered essential for some working roles.
But it can sometimes interfere with training.
High Prey Drive In Dogs?
The term high prey drive is commonly used to describe dogs who are very motivated to carry out predatory behaviors, and find them very fun and rewarding to do.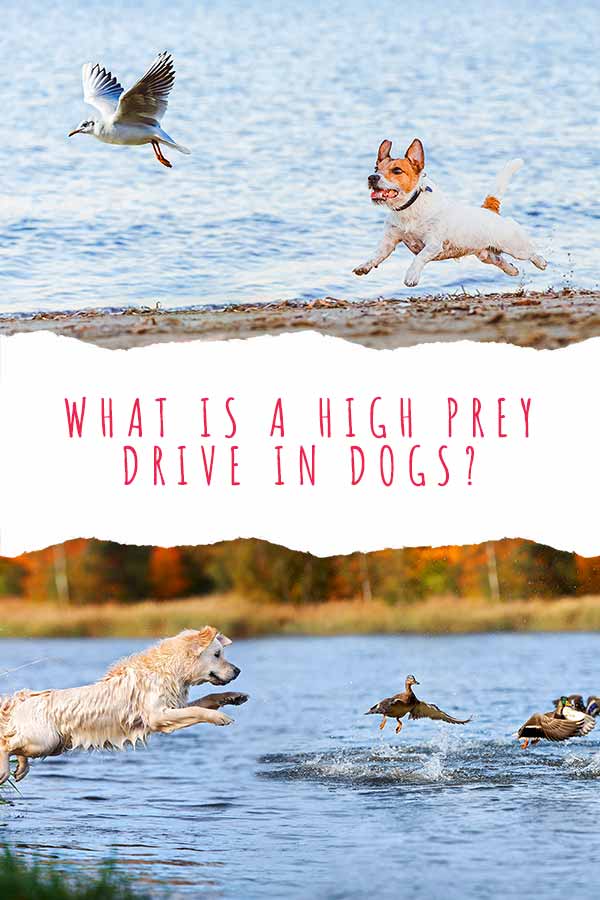 Most of all, we tend to think of the dogs who lunge after pigeons and squirrels on a walk. But several other behaviors can be motivated by prey drive as well.
For example:
Chasing
Chasing other animals, such as cats in the yard, or deer, squirrels, rabbits and birds on a walk.
Also chasing inanimate objects, such as balls, frisbees, fallen leaves, and toys on the end of a flirt pole or string.
Stalking
Pursuing a prey animal (or a toy) in "stealth mode" and quietly closing in on them.
Competitive games
Such as tug of war at home, and also competitive dog sports such as dock diving and fly ball.
Myths And Facts About High Prey Drive In Dogs
Let's find out more about what it means when dogs have a high prey drive by skewering some myths and enjoying some facts.
MYTH: Dogs with a high prey drive are dangerous
"Prey drive" can sound, well, scary. Predatory, in fact.
Some people even worry that "high prey drive" means "violent, with a killer instinct".
But prey drive is completely distinct from aggression in dogs.
FACT: 10 of the USA's favorite 15 dog breeds have high prey drives
That's right!
All these breeds are more than averagely likely to engage in predatory chasing behaviors:
German Shepherds
Beagles
Rottweilers
German Shorthaired Pointers
Pembroke Welsh Corgis
Dachshunds
Yorkshire Terriers
Australian Shepherds
Boxers
and Siberian Huskies.
And they're among the AKC's most popular dogs breeds in 2019.
MYTH: High prey drive in dogs is undesirable
High prey drive is quite often listed as a disadvantage in a dog breed.
What good can come of a dog which poses a risk to smaller pets and wildlife?
FACT: We need dogs with high prey drive
High hunt drive and prey drive are actually vital qualities of successful search and rescue dogs.
Dogs with a high prey drive are more motivated to search for long periods without losing interest or needing help from their handler.
And a high prey drive can happily co-exist with lots of wonderful traits – just look at the 10 breed in the last fact.
MYTH: If you're worried about high prey drive, get a small dog
People often make the mistake of looking at small, cute dogs, and assuming they can't have a high prey drive.
In fact, several small breeds were originally developed to control small vermin, and have notable high prey drives.
Including Dachshunds, Boston Terriers, and Yorkshire Terriers.
FACT: High prey drive isn't confined to just one group of dogs
A 2014 study of breed-linked behavior in dogs noted that high prey drive isn't confined to a specific breed group, but common among a wide variety of dogs which historically all had jobs in hunting or vermin control.
In fact the three dogs with the highest scores for prey drive were the German Shorthaired Pointer, Miniature Schnauzer, and Siberian Husky – and it's hard to imagine three more physically diverse dogs than that!
High Prey Drive Dogs As Pets
So we've seen that huge numbers of people must be enjoying happy and rewarding lives with their high prey drive dogs.
If you're thinking of homing a highly prey driven breed for the first time, you might be wondering if there's a trick to it.
Lots of popular pet and companion breeds today were originally bred to work and fulfil a purpose.
So adapting the way we look after our dogs in order to satisfy their ancestral instincts is nothing new or difficult.
High prey drive is known to be hereditary among German Shepherds, and it probably is in many other high prey drive dogs too.
So if you're looking at a breed with a history of hunting, running, or vermin control, you might want to consider how you'll give them an outlet for their prey drive.
Here are some tried and true ways to give them an outlet for their instincts:
Play games with them, such as fetch and tug.
Exercise in secure locations, where they can chase squirrels to their heart's content without accidentally running in front of traffic and getting hurt.
Find local dog sports groups, such as dock diving, lure coursing and flyball.
Training Your High Prey Drive Dog
High prey drive in dogs has been linked to lower scores for cooperation in large scale studies.
Training is most effective when learning their handler's cues and following them is the most rewarding thing a dog can do.
For dogs who love to chase, chasing things can become just as rewarding, or even more rewarding, than following their handlers cues.
To overcome this, incorporate outlets for their natural instincts into your plans for the day, so that your dog associates you with the brilliant reward of getting to do what they love most.
And avoid letting them make the decision to chase something – for example by using a long line on walks.
Socialisation
Another important part of training your high prey drive dog is socialising them carefully as a puppy to anything they mustn't regard as prey in future.
For example cats, rabbits, or other small pets already living with you.
10 breeds with high prey drive
Finally, here are ten wonderful breeds with high prey drives, to illustrate just how diverse these dogs are:
1. German Shorthaired Pointer
German Shorthaired Pointers started out as a hunting and retrieving breed.
Owners report that enthusiastic GSPs will still try to catch small animals such as rats, squirrels and rabbits.
This energetic breed needs lots of exercise and mental stimulation, which is why they are best suited to owners who can spend several hours a day outdoors with them, and training them.
In return, they form very affectionate and devoted bonds with their family.
2. Siberian Husky
The Siberian Husky is literally born to run!
As well as pulling sleds over vast terrains, the original Siberian Huskies were also used for hunting.
Which is why in this study of dog breed behavior, GSPs and Huskies were tied for the accolade of "highest predatory chasing score".
Siberian Huskies need oodles of exercise and a secure yard to play in – they are notorious escape artists!
Their deep, fluffy coat is surprisingly low maintenance, but it does shed profusely!
3. Miniature Schnauzer
Miniature Schnauzers are a popular, small, non-shedding breed.
They used to be popular with German farmers as a tenacious and efficient ratting dog, which is why they still possess a high prey drive today.
They are popular for being fun-loving and affectionate with their families, but somewhat disinclined to run off with unfamiliar people or dogs.
Their wariness of strangers makes them effective little watchdogs, if rather noisy.
Their non-shedding coat is easy on your vacuum cleaner but harder on your wallet – they need clipping every 4-6 weeks.
4. Dobermann Pinscher
The fierce-looking image of a Dobermann Pinscher with cropped ears and a docked tail makes it very easy to imagine they have a high prey drive.
They were originally developed as a fearless working guard dog – in fact they are named for the German tax collector Karl Friedrich Louis Dobermann, who founded the breed.
It's true that they do have a strong prey drive, but they also had to be able to control their impulses and act only on command.
Today Dobies are just as likely to live the charmed life of a household pet – they're playful, easy to train, and still have unusual self control.
But happily, they are much less likely to have cropped ears or a docked tail.
5. English Springer Spaniel
They say you can't tire out an English Springer Spaniel, you can only make them fitter.
These high energy hunting dogs were traditionally used to flush game out of the undergrowth so their handler could shoot them, and lots of working Springers today still do.
So it's no surprise they still love to go running off after small animals and birds.
But they also have sweet, attentive personalities which make them great companions at home as well as in the field.
And the key to actually tiring them out? Lots of training and mental exercise, as well as running about!
6. German Shepherd
The noble German Shepherd is one of the dog world's most versatile breeds.
Although they belong to the herding group, they have excelled in all kinds of work.
Including search and rescue jobs, which we know dogs need an enhanced prey drive to succeed in.
GSDs are also one of the few breeds prey drive has been closely studied in, and the reason we know so much about it.
Since they are also devoted and loyal companions, GSDs are second only to Labradors in terms of numbers of new puppies registered with the AKC each year.
7. Dachshund
The Doxie is such a comical looking dog, it's hard to think of them as having any kind of hunting or chasing instinct whatsoever!
But did you know that the English translation of Dachshund is badger dog? That's because these dynamic little dogs were originally bred to flush badgers out of their setts.
Doxies can have smooth, long or wirehair coats in a huge range of pretty colors and patterns.
But breeding for longer and longer backs has resulted in large numbers of dogs with intervertebral disc disease – a painful spinal condition.
8. Boston Terrier
The dapper looking Boston Terrier is another breed that hardly conjures "ruthless predator" to mind.
But studies have shown that they are more likely than average to display predatory chasing behaviors.
Unfortunately, breeding for flatter and flatter faces means that many Bostons suffer from respiratory problems which mean they struggle to exercise.
For this reason, unfortunately we can't recommend them as pets.
9. Beagle
The affable Beagle's link to prey chasing is easy to spot.
Beagles were famously bred to work together in packs, chasing prey on hunts.
They have a very refined sense of smell, and lots of Beagle owners report that their little hounds will take off for miles in pursuit of an interesting odor.
In fact, their love of the chase can easily interfere with establish a good recall response, if they get to indulge it too often.
But nonetheless there are plenty of devoted owners happy to share their lives with a Beagle!
10. Greyhound
In contrast to Beagles, which follow their prey by scent, Greyhounds follow their prey by sight.
Known as "the poor man's racehorse", these long and lanky dogs were bred for their high prey drive and used for dog racing.
Around the home they are gentle and renowned for their love of sleep!
But like the Beagle their single-minded focus can interfere with recall training and get them into trouble on walks.
They are usually not recommended for sharing a home with cats either, lest they get the wrong idea.
What Is A High Prey Drive In Dogs?
A high prey drive means a dog who is particularly motivated to chase or stalk animals and toys, or take part in games like tug.
Lots of our most popular dog breeds have a high prey drive, which goes to show it's far from incompatible with being a great pet.
If your dog has a high prey drive, we'd love to hear more about them in the comments box!
References and Further Reading
Jones et al. Search and Rescue Dogs: An Overview For Veterinarians. Journal of the American Veterinary Medical Association. 2004.
Serpell & Duffy. Dog Breeds and Their Behavior. Domestic Dog Cognition and Behavior. 2014.
Van der Waaij. Genetic analysis of results of a Swedish behavior test on German Shepherd Dogs and Labrador Retrievers. Journal of Animal Science. 2008.
Wilsson. The use of a behaviour test for selection of dogs for service and breeding. II. Heritability for tested parameters and effect of selection based on service dog characteristics. Applied Animal Behaviour Science. 1996.
Get Pippa's free dog training tips delivered to your inbox