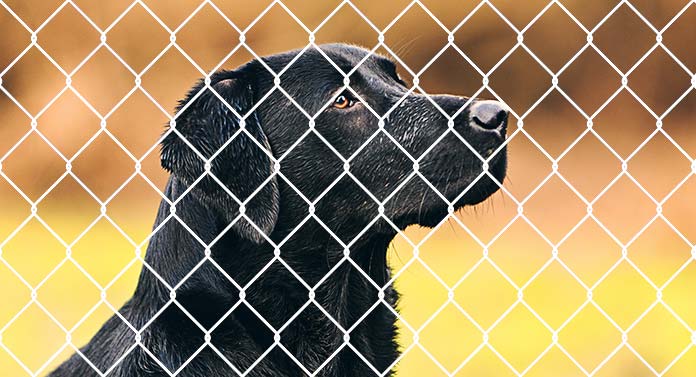 You might have seen one on a neighbor's house, or been recommended one by a friend, and now it's left you wondering – what is a dog run used for?
An outdoor dog run can have several functions, from being a safe place to pee, to an al fresco napping spot, or even a secure exercise and training area.
A DIY dog run should be planned and constructed carefully to make sure they achieve everything they're supposed to in a safe way.
Products included in this article were carefully and independently selected by the Dogsnet team. If you decide to make a purchase from one of the links marked by an asterisk, we may earn a small commission on that sale. This is at no extra cost to you.
What Is A Dog Run Used For?
You might think you need a dog run for one thing. Then discover once it's built that it has lots of other benefits too.
But if you plan all the ways you'll use a run in advance, you're less likely to discover that you've missed an opportunity further down the line.
In this article we're going to answer questions like:
Let's get started with the basics. What's a dog run anyway?
What Is A Dog Run?
The chances are, that having made it as far as this article, you already have some idea of what a dog run is.
A dog run is a secure area of your yard, which is safe to enclose your dog in.
Dog runs can be built from a wide range of materials. They vary widely in sophistication too.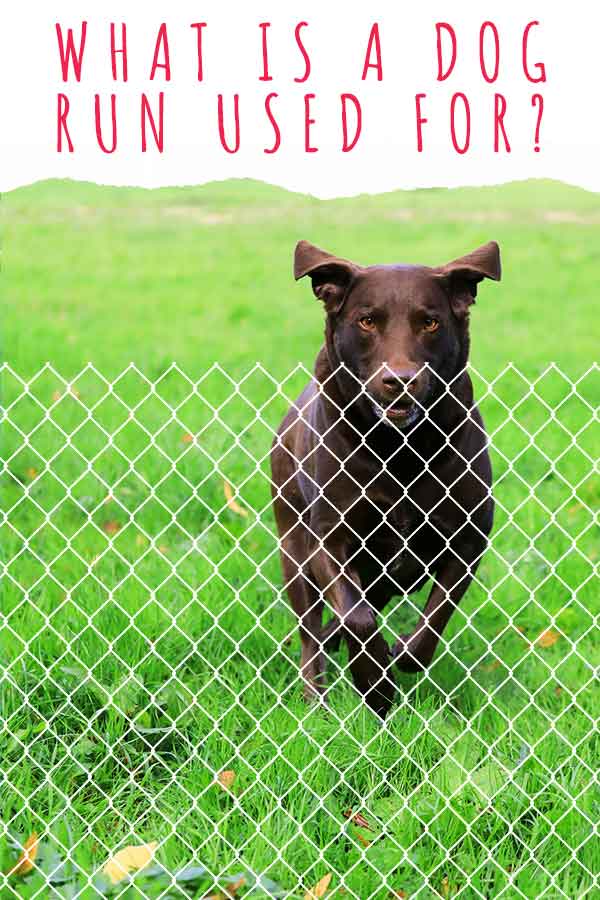 Some runs are quite modest in size and construction, and they're only used to hold dogs for short periods.
Others act as an extension of the dog's indoor living space. These runs tend to be permanent, bespoke structures – although that doesn't have to mean complex or expensive!
What Is A Dog Run Used For?
Whatever plans you already have in mind for a backyard dog run, we bet there might be some additional uses you hadn't even thought of yet.
Take a look at this list and see.
1. A safe place to use the toilet
Some pet parents have a dog run annexed right off their back door, as a safe place for their dog to use the toilet when nature calls.
This kind of dog run usually has another gate at the far side, so people can walk through it to leave the house.
Covered dog runs adjacent to the house are ideal for toy dogs with a profound dislike of going out in the cold and wet.
But most importantly, a run for using the toilet will keep your dog safe if your yard isn't fenced.
Some of our most popular dog breeds, including the German Shorthaired Pointer, German Shepherd Dog, and Miniature Schnauzer, have very high chase instincts.
And if your yard doesn't have a secure boundary, even a mundane potter outside for a pee can turn into a stressful pursuit if they clock a rabbit or squirrel in the distance.
2. An extension of their indoor space
Another great use for an outdoor dog run is to create an extension of their indoor living space.
This kind of run is often a "yard within a yard", surrounded by secure fencing, and accessible by a dog flap from the house.
Dogs of all sizes enjoy having freedom to move between different environments, and most dogs find the sights, sounds and smells of the outdoors mentally stimulating.
If you'd like to try giving your dog raw treats, then a designated outdoor space might also be more appealing than having them push meaty bones around your kitchen floor.
3. Somewhere to play
A run is also an excellent place to provide toys and activities you don't want inside the house.
For example a sandbox to dig in or a paddling pool on warm days!
You could also "bait" your dog's run before they're allowed into it. Do this with edible treats to discover, or dummies to find and bring back to you.
(Top tip – try balling up old socks and hiding them rather than attempting to conceal the full sized white dummies sold for gundog training!)
Which leads us on to…
4. Somewhere to train
We want most of the skills we teach our dogs to work outside the house. From simple actions like "sit" and "come", complex tasks like scent work and retrieval.
And that means proofing our dogs' training against the distractions of the outside world.
A classic error in training is trying out a new cue outdoors for the first time, only for the dog to whizz off and do something else, because they've seen a thing, heard a sound, or smelled a smell. Unfortunately, this instantly weakens the correct response to your cue.
An enclosed dog run is a great halfway point for taking skills you've practised indoors and proofing them outdoors.
Even if they don't respond to your cue in the right way, at least they will be limited as to how much reward they can get by responding in the wrong way.
5. An exercise zone
If you have a small dog who doesn't need to walk for miles at a time, then playing fetch inside a run can make a meaningful contribution to their daily exercise requirement.
Likewise, if you have a flat faced dog breed, who can't safely exercise outdoors in warm weather, then a shaded dog run means you can reliably provide some outdoor space to stretch their legs all year round.
NOTE: Leaving a dog unattended in a run for prolonged periods is not a substitute for exercising them properly, and giving them lots of human contact.
Dogs are a social species, and their mental wellbeing depends upon contact with their human family.
6. Chill out zone
Sharing their yard with kids and full sized people is usually fun for dogs, but it can be a source of conflict too.
In busy backyards a dog run can serve as a place where your dog can escape from children's attention when they're tired of it.
And also a place you can encourage them to relax while you entertain guests or cook on a barbecue.
Similar to having a crate indoors in fact.
Benefits Of A Backyard Dog Run
So, dog runs can be useful in all kinds of ways. But they're not just convenient, for us, their owners.
Here are some of the ways an outdoor dog run may benefit your dog:
Having a place in the yard which is "theirs" helps manage the anxiety and uncertainty of not knowing what to do with themselves when you're using the yard together. Rather than get in trouble for being underfoot, and not understanding what it is they've done wrong, they have a place which is full of fun, and rewarding to be in.
Dog runs provide a place for dogs to be themselves. When we bring dogs into our homes we tend to forget that they have strong innate natural behaviors that need to be catered to. And we expect them to conform to human ideas of what behavior should be like instead. A run can be an outlet for instinctive behaviors like sniffing, problem solving, scavenging, chewing, digging, and marking.
How To Build A Dog Run
If I've convinced you now that a dog run would be both useful for you and beneficial for them, let's take a look now at some of the practical aspects of setting one up.
You can find simple, modestly sized dog runs for sale online, like this one*.
Owing to the constraints of shipping, premanufactured dog runs tend to be fairly small.
But they still work as a spot for your dog to chill out in outdoors, or for a small dog to use as a toilet spot.
For dogs who aren't terribly interested in digging or jumping, you might also want to consider using a heavy duty dog playpen, like this one*, which is modular and can be made as large as you like.
Bear in mind that most playpens are designed for indoor use, and will eventually perish outdoors though.
DIY Dog Run
If you're reasonably handy, or you can afford to employ a carpenter or joiner for a day or two to help out, then a DIY dog run is a great way to install something spacious, escape proof, and even sympathetically designed to fit in with your property.
Here are some things to consider whilst planning your DIY dog run:
Cleaning and sanitation
If the run is going to be your dog's main toilet spot, how will you keep it clean?
Turf naturally soaks away urine, but patches of the grass on top will likely die back under the onslaught of pee, leaving bare earth behind.
Bark chippings are impossible to clean at all.
Concrete can be hosed down, but it gets hot in summer and it's pretty unattractive.
A mix of different surfaces, if possible, is best.
Shade and shelter
If you and your dog will be out in the run a lot, how will you stay cool in summer and dry in rain?
An awning, or building your run under the shelter of a tree is a great way to create a covered dog run that still looks attractive.
Preventing escape
For dogs that love to dig, or who can jump, consider paving the perimeter of the run, and make sure the fences are high enough
Rest area
Is your run going to have a kennel which your dog can retreat to for a nap? It needs to be dry and free of drafts inside. Bear in mind if you'd like your dog to sleep outside, they need a proper building for it.
Make it fun
Fill your run with things that provide mental and physical stimulation for your dog. For example:
Plants. Studies have shown that dogs spend more time exploring planted areas than bare ground, so don't dig up the shrubs where your run is going – build around them!
Toys. Like balls, chew toys, and squeaky toys, which your dog will enjoy even when you're not there.
A sandpit or dirtbox. Digging is a great source of mental and physical release for dogs. Prime the box with a few hidden treasures to get them started.
A paddling pool. Paddling pools are a great way to cool down in hot weather.
Yourself. No amount of toys and enrichment can compare to time in your company!
What Do You Use Your Dog Run For?
Do you already use your dog run for something which isn't on our list?
Let us know in the comments box down below!
References & Further Reading
Heath & Wilson. Canine and Feline Enrichment in the Home and Kennel. Veterinary Clinics: Small Animal Practice. 2014.
Serpell & Duffy. Dog Breeds and Their Behavior. Domestic Dog Cognition and Behavior. 2014.
Weiss et al. Animal Behavior for Shelter Veterinarians and Staff. John Wiley & Sons. 2015.

Get Pippa's free dog training tips delivered to your inbox