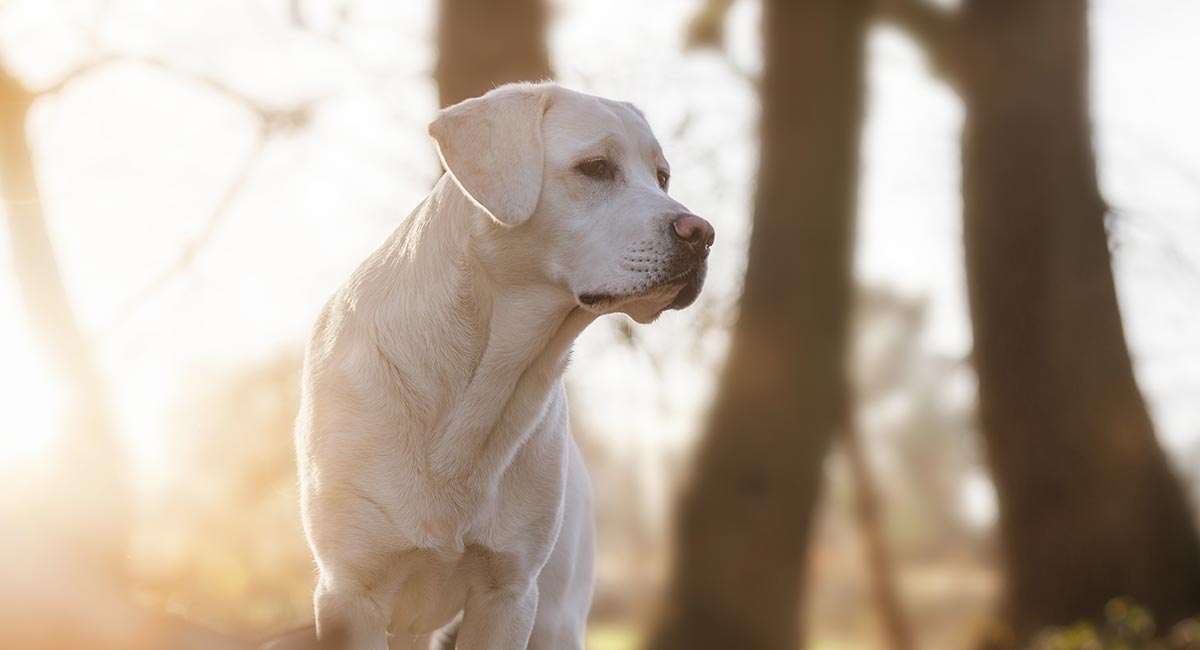 Strong dog names can honor a pet's physical brawn, but also their strength of character or even the emotional courage they give us just by being there.
That's why these are our top fifty of the best strong dog names for pups of any shape and size:
Valkyrie
Duron
Amon
Nika
Ursa
Bane
Bruto
Hulk
Butch
Angel
Rock
Adira
Athena
Holt
Zelda
Morgana
Karen
Valda
Raven
Karla
Bouler
Lionheart
Archer
Aries
Buck
Colonel
Major
Marshall
Warden
Keeper
Roman
Jet
Knox
Spirit
Dynamo
Axel
Fury
Chrissa
Storm
Cruncher
Earl
Treasa
Harvey
Forba
Boudicca
Onya
Joan
Arya
Lupo
Strong Dog Names
The relationship between a dog and a human can be one of the most beautiful things in the world. The unconditional love our dogs give us is one of a kind.
For many of us, our bond with our dogs makes them just like family, and we take naming our family members pretty seriously.
However, finding the right name for a new pup isn't always easy. That's why we have many articles on our website dedicated to name ideas.
In this article, we will focus specifically on strong dog names. We hope we will be able to help you find the perfect name for your new puppy.
Whether you have a big strong breed, like a Great Dane, or you just know your puppy has a strong personality!
Choosing Strong Dog Names
Sometimes, picking a name for your pet can feel overwhelming. This is especially true if you have to take into consideration other people's opinions on the matter.
Luckily, we have some tips to help you go about choosing a great name for your new dog.
Firstly, try to pick a name that doesn't have too many syllables. Though there isn't any scientific research to suggest dogs have trouble with multisyllabic names, it's usually easier on us to choose something with only one or two syllables.
Long names can end up being a mouthful, and we often shorten them anyway.
You should also avoid using names that sound similar to those of your other pets. When you have multiple dogs, names can become a lot more important.
For instance, names are often used to let pets know things like in what order they should go out the door (this is very useful if you have senior dogs that may get trampled by younger dogs).
If your dogs' names sound too similar, then you'll probably get more than one dog heeding a certain command.
Lastly, you should avoid names that sound similar to cues or could be used as cues, such as a name like Pretty. This word is often used in the trick "sit pretty."
While we hope these tips are helpful to you, remember that there aren't any rules when it comes to naming your dog. If you are in love with a name that doesn't follow our tips, go ahead and use it anyway!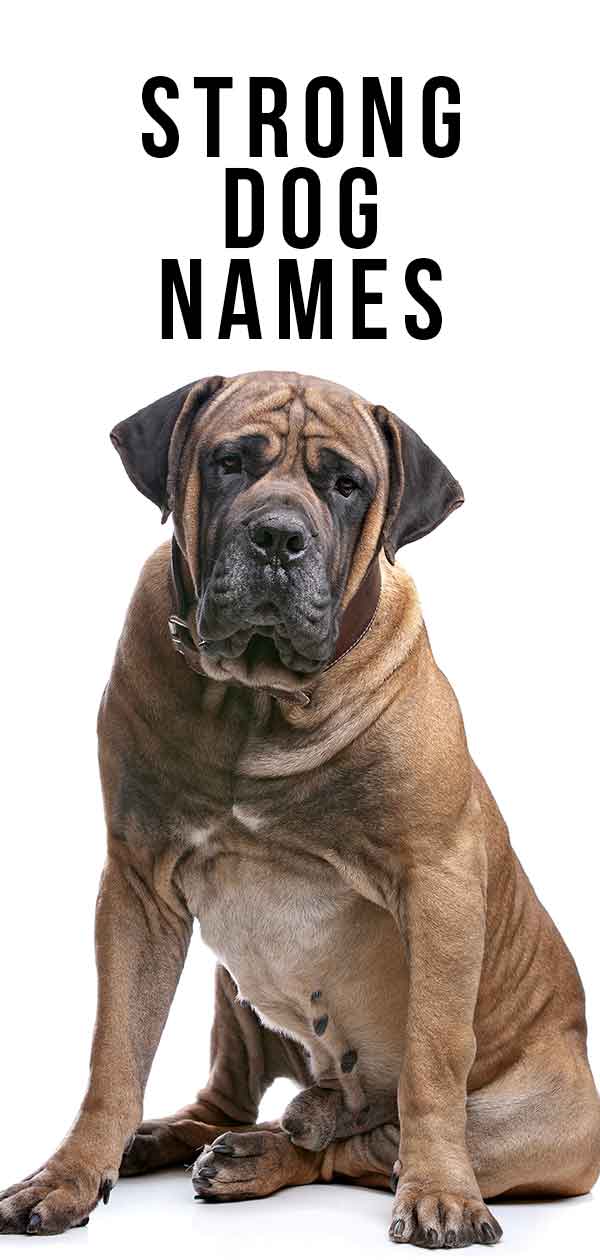 Best Strong Dog Names
The names in this list are some more of our favorite strong names. Many of these names actually mean "strength," whereas others bring it to mind (like Bear).
Alex
Amber
Angus
Arthur
Audrey
Bear
Briana
Cedric
Ethan
Fender
Heath
Isa
Valentina
Female Strong Dog Names
If you're adopting a female puppy and are looking for a strong name, look no further! Many of the names in this list have meanings synonymous to the word "strength."
If you like one of these names but your dog is male, go for it anyway!
Amaya
Andra
Andrea
Banshee
Berdine
Bree
Bria
Bridget
Brielle
Calynn
Carol
Elda
Gitta
Kelly
Kelsey
Kendra
Lenna
Luana
Matilda
Maude
Millicent
Morgan
Nadine
Nina
Tisha
Trixie
Trudy
Ursula
Valerie
Velda
None of these names striking your fancy? Good thing we have even more female dog names for you to choose from!
Male Strong Dog Names
This list includes male dog names that either sound strong, or have meanings that are synonymous to strength. Though these names are considered masculine, you're free to use them for female dogs, too.
Aiden
Amell
Andrew
Arnold
Blake
Brian
Cayden
Connor
Dane
Derrick
Edward
Everett
Garrett
Griffin
Jax
Leo
Lex
Liam
Neil
Owen
Captain
General
Ranger
Rowan
Sergeant
Thanos
Wyatt
Zane
None of these names the right fit? Check out our article for 200 more name ideas for your male puppy.
Cool Strong Dog Names
Since you already know your dog is a tough cookie, why not go for a cool sounding name instead? Here are some of our favorites.
Asher
Avril
Breeda
Bryant
Bryna
Chaos
Cobra
Damia
Denna
Duke
Dustin
Fiend
Ilma
Jayce
Jerric
Kari
Master
Odin
Phantom
Poison
Roxy
Ryder
Spite
Thor
Tiger
Venom
Wrath
Xander
Want more cool dog names? Check out our article for 250 more ideas.
Cute Strong Dog Names
Even the strongest of dogs tend to be downright adorable. These are some of our favorite cute sounding names that still have strong meanings.
Albert
Arnie
Bo
Carla
Carlos
Connie
Cookie (as in Tough Cookie)
Hally
Ken
Megan
Melvin
Muncher
Nibbles
Oscar
Ozzie
Ricco
Ricky
Teela
If these names aren't cute enough for you, visit our other article for 200 more ideas.
Funny Strong Dog Names
If your sense of humor is your best quality, you might enjoy some of these names.
Bonnie Barker
Brunhilda
Byte
Chewbarka
Chomper
Cookie Monster
Dogzilla
Dozer
Droolius Caesar
Groucho
Indiana Bones
Jaws
King Kong
King/Queen/Prince/Princess of Barkness
Sergeant Barkowitz
Unique Strong Dog Names
While names like Bear or General typically come to mind when we think of strong dog names, you might have been surprised to see in earlier sections just how many common names there are that actually have meanings synonymous to strength.
While those names are also great options, they aren't very unique. This list provides some uncommon names that also have meanings relating to strength.
Abir
Abira
Aila
Alima
Astra
Edric
Ekon
Etana
Farris
Hagan
Jedrek
Kitana
Kemina
Neron
Nyda
Sheba
Soren
Treasa
Valdus
Viserion
Zale
Still haven't found the right name? If you want unique, we have 300 more ideas for you.
Tough Strong Dog Names
Strength and toughness have very similar meanings, and both are good qualities to have. If you're hoping for a strong, tough pup, try one of these names.
Ajax
Alden
Ammo
Arya
Asta
Barrett
Beast
Brienne
Bruiser
Bullet
Cersei
Diablo
Drogo
Drogon
Ebba
Egon
Gerda
Hades
Kenzo
Magnar
Marine
Mauser
Nemesis
Rhonda
Ripper
Rousey
Shredder
Want more tough dog names? Check out our other article for more ideas.
Fun Facts About Strong Dogs
As a dog owner, you probably know that your dog is stronger than she looks! Here are some fun facts about doggie strength.
According to a study published in a journal called Behavioral Processes, a dog's head size can reveal how strong or fast it is. Dogs with narrower heads tended to be faster but weaker, whereas dogs with broader heads were stronger but slower.
When discussing what dog breeds are the strongest, many people talk about bite force. However, these measurements tend to be inexact due to there being very limited and inadequate methods available to test such a thing. Basically, we don't know for sure how strong a certain breed's bite actually is!
Until she passed away in 2017, a dog named Wendy the Whippet was considered the "strongest dog in the world." This is because she had lacked the gene for myostatin, which limits muscle growth. As a result, she had massive muscles all over her body.
Did you know any of those fun facts?
Congratulations on your new puppy! We hope he or she will grow up healthy and strong. Have you decided on a name? Let us know in the comments!
References and Resources
Get Pippa's free dog training tips delivered to your inbox