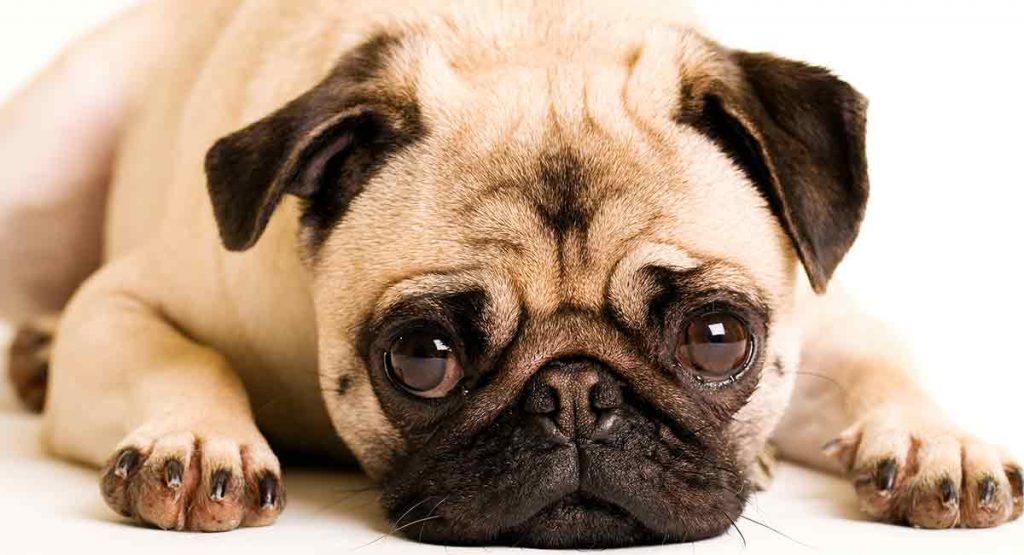 The best Pug names are fun and show off your love for your puppy. You can also use them if you bring home a rescue dog.
And we recommend this is the path to Pugdom that you take if your heart is set on the breed.
Because Pugs unfortunately have a lot of health problems due to their flattened facial shape. This can severely affect their quality of life.
If you are set on a puppy, look for someone breeding Retro Pugs. They are trying to reintroduce a healthy muzzle to the breed.
Our Favorite Pug Names
Here are the top 50 Pug names for 2020:
| | |
| --- | --- |
| Gary | Roy |
| Nipper | Petal |
| Alice | Jazz |
| Simba | Vance |
| Simon | Finn |
| Spice | Prince |
| Queen | Jack |
| Poppy | Dime |
| Abby | Zeus |
| Flower | Rolo |
| Charlie | Gizmo |
| Gus | Colin |
| Buddy | Dexter |
| Bean | Peanut |
| Ella | Pepper |
| Ruby | Max |
| Bear | Leo |
| Boo | Duke |
| Bubba | Rocky |
| Winnie | Tank |
| Yoda | Walt |
| Teddy | Elvis |
| Cookie | Pearl |
| Peaches | Buggs |
| Ozzy | Emma |
Best Pug Names
We've split our name ideas into different sections to make your choices a little easier. Just click on the links below to jump straight to that type of name.
But first, before we get to the names, let's look at the Pug breed a little more closely.
Are Pugs Good Family Pets?
Pugs are friendly, energetic dogs that need less space and exercise than many other breeds, which is what makes them so popular.
However, Pugs require a deceptive amount of care.
These small dogs have been selectively bred for generations to achieve the flat face they have now. They used to have a much longer snout.
Their flat face is known as brachycephaly, and it causes modern Pugs a lot of health problems that you should be aware of before bringing a puppy home.
We'll look at a couple of those now. But, for more detail, take a look at our complete guide to brachycephalic dogs.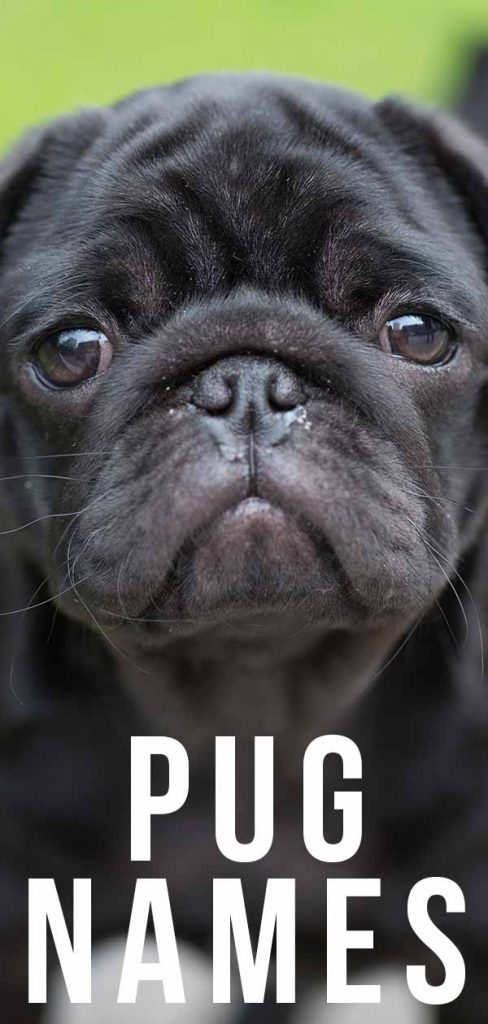 Brachycephalic Ocular Syndrome
This is the collective term for the various eye problems Pugs suffer from. Brachycephalic breeds have shallow eye sockets that cause their eyes to protrude out of their faces.
It can leave your dog's eyes vulnerable to ulcers, scratches, dryness, infection, and more. In extreme cases, your dog's eyes can actually pop out of their sockets.
There is no treatment for this problem. But it means you will have to dedicate time to caring for your Pug by wiping and monitoring his eyes every day.
Overheating
Pugs cannot cool themselves down as efficiently as other dogs, because their muzzle is so short.
This means they struggle to exercise without getting too hot, and they can struggle in hot weather.
You need to make sure your Pug isn't overexerting himself when exercising, and take extra precautions on hot days. It is very likely that your dog could suffer from heatstroke if you don't.
Dental Problems
Even though Pugs have smaller, shorter jaws, they still have the same number of teeth as any other breed. Their teeth just get crammed into a much smaller space.
This makes dental decay more likely. So, you will need to brush your Pug's teeth every day to try and prevent this.
Breathing Problems
Pugs suffer from a number of breathing problems that you can read more about here. But to summarise briefly, their face shape interferes with breathing in three ways.
It reduces nostril size, forces the soft palate to block their airway, and reduces the size of their airway.
All of this makes it much harder for the dog to breathe, and results in the noisy snorting and snoring that Pugs make. It can even lead to fainting, especially in hot weather or when exercising.
Should I Get A Pug?
Pugs have a lot of serious health problems, so it may be kinder to buy a healthier puppy with a more normal face shape.
If your heart is set on a Pug, you should take a look at the healthier Retro Pug. Or consider adopting an older Pug who needs a loving home.
Even though many rescue dogs are a bit older, they are often just as happy and loving as puppies. And you can rename them with one of the great names on our list!
Female Pug Names
Girl Pug names can be fun and pretty. They're a great way to show off the feminine side of your new little dog. Here are some ideas:
Tilly
Zoe
Beth
Alex
Serena
Nala
Becky
Kelly
Chloe
Kim
Lisa
Molly
Ness
Nina
Josie
Dee
Wendy
Sue
Annie
Emily
Rhea
Jess
Tina
Opal
Katie
Maisy
Tanya
Delilah
Jen
Yaz
Izzy
Sharon
Carol
Susan
Jane
Mandy
Rue
Maeve
Louise
Darcey
Hayley
Eileen
Layla
Maddie
Hattie
Jill
Georgia
Gigi
Amy
Boy Pug Names
Those were 50 female Pug name ideas, but we can't leave the boys out! Let's take a look at the top choices:
Henry
Dan
David
Jake
Otis
Steve
Bobby
Ollie
Pete
Lionel
Ken
Ian
Neil
Dez
Frank
Terry
Ethan
Chris
Joel
Callum
Ash
Wayne
Zane
Bertie
Vinny
Sam
Archie
Louis
Jones
Ed
Jamie
Ryan
Tom
Liam
Noel
Percy
Ned
Andy
Kyle
Julien
Nick
Sal
Harvey
Basil
Toby
Damen
Jim
Dwight
Oscar
Good Pug Names
There are plenty of great name ideas out there. And inspiration can be found all around us! Take a look at these:
Buzz
Flea
Mops
Peanut
Hamlet
Pumpkin
Tinkerbell
Nugget
Hazel
Rambo
Rocky
Hercules
Apollo
Rocket
Java
Jester
Pops
King
Kobe
Spark
Boots
Bowser
Flipper
Brody
Libby
Storm
Sugar
Pea
Snapper
Jazz
Curly
Pouncer
Mouse
Penny
Casa
Knight
Magnum
Thelma
Maggie
Titus
Chuck
Trooper
Mushu
Muffin
Duffy
Booster
Yoshi
Napoleon
Nibbler
Fawn Pug Names
One of the most popular colors for this breed is fawn! So, here are some ideas to emphasise this beautiful fur tone.
Caramel
Sunshine
Tulip
Butter
Cashew
Almond
Bee
Blondie
Goldie
Daffodil
Dandelion
Sunny
Flame
Sandy
Corn
Peach
Nacho
Pooh
Lemon
Fudge
Lightning
Cheddar
Honey
Mango
Amber
Lion
Pearl
Citrus
Macaroni
Taxi
Custard
Canary
Banana
Macaron
Vanilla
Cream
Amaretto
Bagel
Champagne
Cheerio
Noodle
Pudding
Tofu
Waffles
Whisky
Cracker
Ivory
Tawny
Bronzer
Black Pug Names
The other most common Pug color is black! But, there are loads of equally great ideas for pups with darker fur.
Cadbury
Hershey
Midnight
Shadow
Coffee
Cocoa
Root
Noir
Olive
Raisin
Currant
Prune
Charcoal
Raven
Pitch
Jet
Ink
Coal
Sooty
Obsidian
Onyx
Cherry
Graphite
Cola
Diesel
Pepsi
Wine
Berry
Currant
Beetle
Fuel
Petrol
Panther
Starling
Ant
Mickey
Phantom
Ember
Nero
Guiness
Dahlia
Morticia
Carbon
Storm
Licorice
Ace
Cinder
Crow
Puffin
Retro Pug Names
Retro Pugs are a new cross breed created by breeders who are trying to reintroduce a healthy snout to the modern Pug. So let's look at some old fashioned names that would be perfect for these dogs!
Josephine
Abraham
Albert
Amos
Chester
Calvin
Dorothy
Edgar
Ernest
Florence
Clarence
August
Howard
Homer
Elijah
Clara
Ida
Jasper
Beatrice
Cora
Josiah
Edith
Frederick
Cecil
Lydia
Phineas
Nathaniel
Letitia
Sophia
Thaddeus
Virgil
Ralph
Isaac
Evangeline
Walter
Josephine
Albert
Norman
Addison
Winifred
Maude
Levi
Bonnie
Rosemary
Blythe
Celia
Julien
Eugene
Irene
Funny Pug Names
Humor is a great way to think of name ideas! They'll make your choice totally unique. Here are our favorites.
Pugsy Bear
Pugger
Puggs Bunny
Pugsicle
Humpug
Jitterpug
Ladypug
Nosey
Doug
Goliath
Mammoth
Pugzilla
Pugsley
Love Pug
Berkley
Santa Paws
Spark Pug
Chewbarka
Mary Puggins
Sarah Jessica Barker
Harry Pugger
Sherlock Bones
Jimmy Chew
Frodo
Snoop Dogg
Dumbledog
Queen of Barkness
Miss Piggy
Subwoofer
Indiana Bones
Meatloaf
Pug Tart
Kitty
Mittens
Notorious D.O.G.
Woofgang
Pug Norris
Cleopugtra
King Kong
Meatloaf
Love Pug
Porkchop
Woofie Goldberg
Boba Fetch
Spud
Goliath
Pinky
Joan of Bark
Churchill
Small Pug Names
Pugs are a relatively small breed. So perhaps you want to give yours a name that shows off their tiny size, or an ironic large name!
Pipsqueak
Tiny
Atom
Minnie
Giant
Goliath
Hulk
Ant
Bambi
Elf
Nano
Scamp
Twiglet
Dobby
Maximus
Bug
Imp
Midge
Pixie
Shortie
Stubs
Bambino
Cherub
Marbles
Pico
Barbie
Rex
Doll
Whale
Saturn
Bee
Puppy
Banjo
Baby
Diamond
Lamb
Crumb
Seed
Fig
Key
Rice
Grain
Clover
Bib
Almond
Dime
Penny
Cent
Orca
The Best Pug Names
It's important to research all the health needs of Pugs before you commit to this breed, as unfortunately they can suffer from lots of conformational problems.
If your heart is set on a Pug, you should consider rescue dogs, or even the new Retro Pug.
What name did you choose for your Pug breed? We would love to hear if you have any great choices that we have missed!
Want to Read More?
People who enjoyed this article on Pug names also enjoyed the following great guides:
References and Resources
Get Pippa's free dog training tips delivered to your inbox