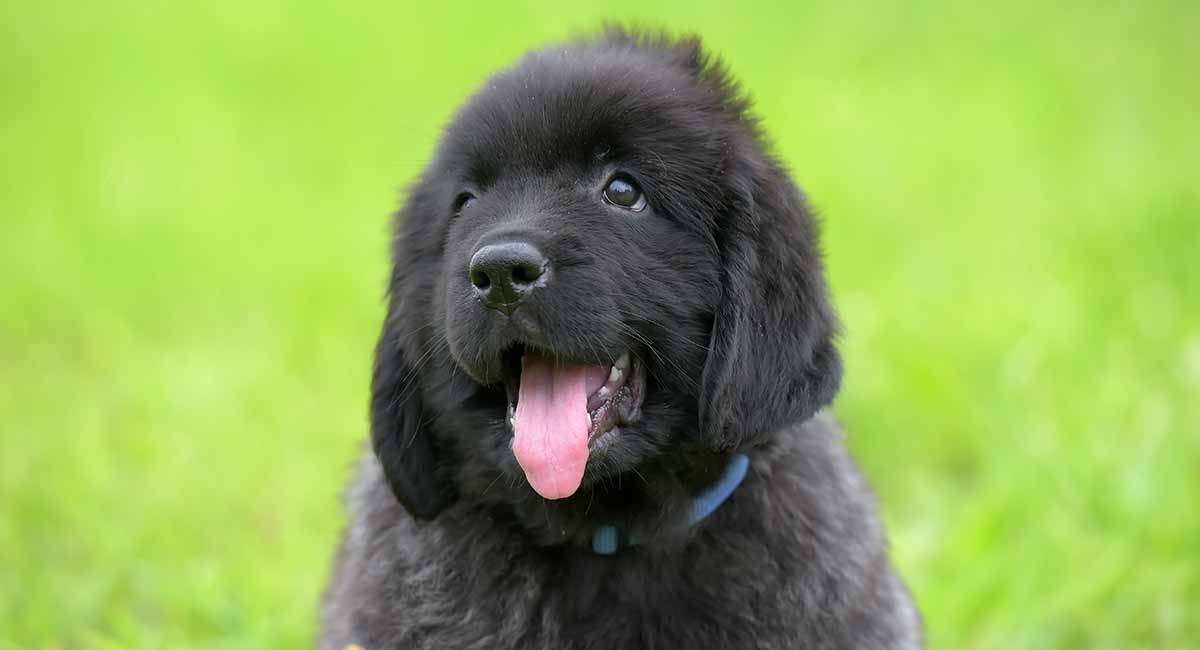 Today we're looking at the best Newfoundland dog names for your dog!
The Newfoundland dog is quite a sizable pup!
These dogs – mere armfuls as puppies – can easily top 150 pounds as they grow up!
Yet size is no obstacle to dog owners who adore this breed above all others.
And Newfoundlands, with their wonderful floppy ears and long shaggy coats, are sometimes nicknamed "nanny dogs" for their well-known babysitting talents.
Newfs or Newfies, as these dogs are sometimes called, are truly a dog breed apart.
You probably arrived here because you are seeking a name as unique as your new Newfie puppy or rescue dog, and we've got loads of fun and creative naming ideas for you here!
Naming Your Newfoundland Puppy or Rescue Dog
As you might already have guessed, the Newfoundland dog is a breed originally bred and developed in Newfoundland in Canada.
Stories of the bravery, selflessness, loyalty, and love demonstrated by this noble breed can be found scattered all along the 8,000-mile route followed by none other than Lewis & Clark, the early North American explorers.
Their Newfie, Seaman, helped put dinner on the table (literally – Newfies are great hunting dogs) and guarded the camp.
And the celebrated English poet, Lord Byron, may have penned as many of his famous literary works about his beloved Newf, Boatswain, as he did about his human love interests!
Despite their size, Newfoundland dogs are excellent swimmers.
They can hold their breath for a long time – definitely long enough to rescue sailors who fall overboard.
While the dog is not named, historical records indicate a Newfoundland saved none other than Napoleon Bonaparte when turbulent seas knocked him right out of his ship!
And a brave Newfie named Hairyman saved 180 immigrants from Ireland, who would have otherwise perished when their vessel was wrecked in 1832.
More recently in Minnesota, a Newfoundland named Murphy somehow sensed that his 95-year-old neighbor had fallen down inside his home.
Murphy ran to the door and barked until someone came to help!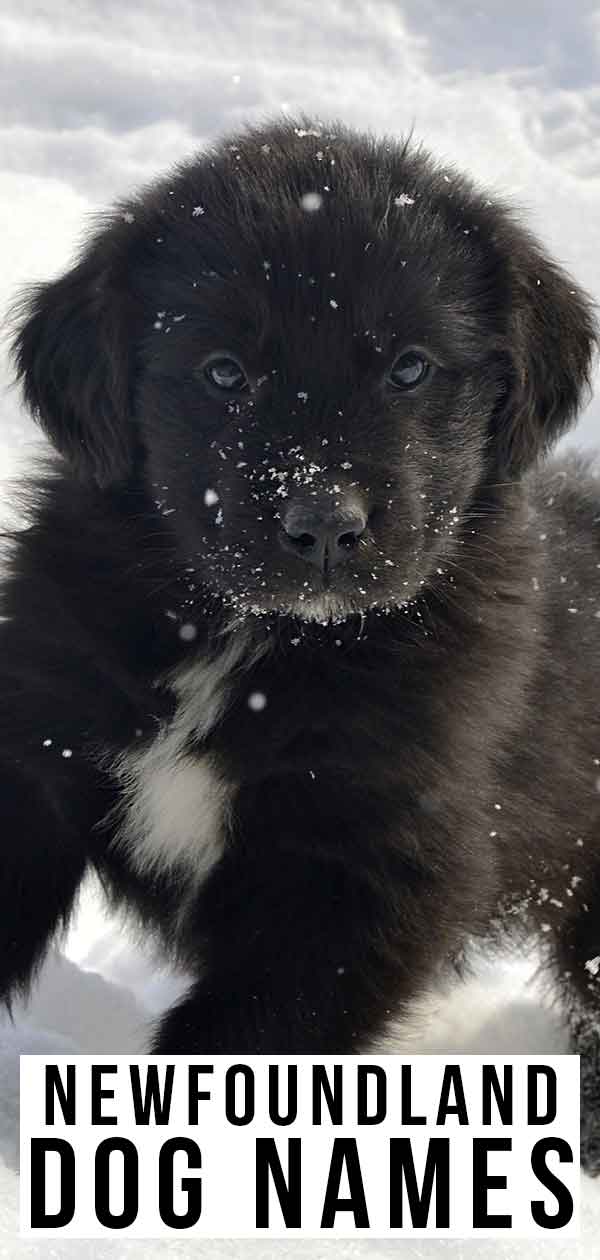 Best Newfoundland Dog Names
Murphy. Hairyman. Seaman. Boatswain. These are just a few of the most historically popular and famous Newfoundland names and the stories behind them.
Naming tips:
When naming your Newfie, you will be using the name you pick many times each day in lots of different situations. So you want to pick something suitably short, simple to say, and not too terribly embarrassing if you need to yell it out in public!
Now read on for lots more great Newfoundland naming ideas!
Female Newfoundland Dog Names
Female Newfoundland dogs don't generally grow as big as their male counterparts, although once a pup has hit the 100-pound mark, big is big!
Both males and females are equally trainable, trusting, loving, and people-oriented.
These female Newfoundland dog names showcase some of the best qualities of the Newfie!
Gypsy Rose Lee
Hilda
Eleanor
Anne
Bernice
Margaret
Berthe
Gretta
Ethel
Zoe
Emily
Duchess
Norma
Wendy
Mabel
Miss Andie (2018 Best in Show winner!)
Chrissie
Phoebe
Florence
Mathilde
Fiona
Rhona
Judy
Sallie
Gillian
Layla
Corrie
Nora
Minna
Josephine
For even more female dog names, head on over to this article.
Male Newfoundland Dog Names
The male Newfoundland in full long coat can look enormously imposing!
Who could ever suspect these giant pooches turn into marshmallows around "their" people – and especially children?
These fun male Newfoundland names pull double duty to showcase the tough and tender sides of these wonderful companion canines.
Earl Gray
Roosevelt
Barney
Lord Byron
Brumus
Roan
Carlo
Edwin
Louie
Leo
George
Baron
Morris
Prince
Gordon
Burton
Josh (a real-life Newfie Westminster winner!)
Bentley (of Instagram fame)
Milton
Buzz
Peter
Morrie
Wagner
Russ
Stallone
Tiberius
Yukon
Sambo
Luther
To check out more awesome male dog names, you'll want to bookmark this article.
Cool Newfoundland Dog Names
A Newfoundland's very size means these dogs can afford to play it cool before jumping into action on their people's behalf.
These super cool Newfoundland dog names give a nod to the cool character underneath all that shaggy fur!
Justice
Rob
Freedom
Veda
Tucker
Fanny
Gunther
Luna
Rory
Pedro
Tilda
Darcy
Bond
Sierra
Rumble
Samson
Ridge
Satchmo
Thunder
Nova
Hero
Phillips
Pony
Noble
Marina
Barrie
Worris
Bruno
Tundra
Everest
Craving more cool dog names?
This article has what you're looking for.
Cute Newfoundland Dog Names
Is there anything cuter than a truly tiny newborn Newfie puppy?
We can't think of anything!
These cute Newfoundland dog names will always remind you of your giant pup's puppyhood!
Wonder
Bonny
Teddy
Boo
Scooby
Ethie
Copper
Bumper
Pudge
Faithful
Pluto
Friendly
Princess
Coral
Tigger
Rollo
Curly
Daisy
Snowflake
Madge
Willie
Duke
Blue
Armie
Dixie
Genie
Lillie Bell
Stella
Obi
Ivy
Find even more cute dog names on this list.
Funny Newfoundland Dog Names
Newfies love kids – they love them so much one of this dog's nicknames is "the nanny dog!"
Caring for kids is serious business, but there is also so much lightness, joy, and laughter, as these funny Newfoundland dog names highlight!
Nanny McPhee
Mary Poppins
Maria
Abbess
Nana
Bubbles
Wizard
Magic
Bob
Apollo
Mother Teresa (from "Must Love Dogs")
Bonkers
Waldo
Dora
Tippy
Reverb
Savory
Sweet
Fluffy
Boom
Ball
Drooler
Bruce
Chase
Santa
Kobe
Scruffy
Whiz
Pal
(Hi Ho) Silver
Unique Newfoundland Dog Names
There is no other dog breed quite like the unique Newfoundland dog.
One of these unique Newfoundland dog names might be the perfect pick for your new pup!
Plato
Bashaw
Gander
Luath
Sable
Swansea
Jack (another real-life Newfie rescue dog)
Crusoe
Rigel
Sonar
Thoreau
Melville
Hewitt
Donovan
Humber
Augustus
Locket
Berkeley
Sebastian
Degory
Maine
Keene
Lorianne
Donita
Heath
Stasha
Philo
Shadrach
Olga
Murdo
Cephas
Find more naming inspiration with this list of unique dog names.
Tough Newfoundland Dog Names
When the situation calls for it, your Newfoundland will be right in the thick of it: rescuing, fighting, hunting, guarding, doing the heavy lifting to help and protect you and your family!
These tough Newfoundland dog names pay homage to the courage this dog breed is known for!
Fearless
Dispatch
Viking
Storm
Dauntless
Sir Arthur
Chieftain
Buster
Maximilian
Napoleon
Chomper
Brutus
Captain
General
Master
Commander
Bouncer
Kodiak
Brunhilde
Giant
Lion
Blackbeard
Ulysses
Kali
Robber
Durga
Tiger
Chief
Braveheart
Custer
For more tough pup names, check out the name ideas on this list.
Fun Facts About Newfoundland Dogs
Did you know this dog may have been in existence all the way back to the time of the ancient Vikings?
In fact, the Newfoundland dog and the Labrador Retriever, the most popular pet dog breed in the United States for the past 26 years straight, both hail from Newfoundland.
While the origin of each breed is still somewhat shrouded in mystery, canine historians believe both dog breeds at some point were crossed with the Pyrenees sheepdog.
According to the official American Kennel Club (AKC) breed standard, the Newfoundland dog's coat can be black, brown, gray, or white and black with white markings.
Other non-standard yet fairly common coat colors can include beige, black and tan, white and brown, or white and gray.
But while the Newfie is definitely a looker, it is this dog's personality that has solidified the breed's enduring popularity worldwide.
Even the official AKC breed standard makes special mention of this dog's sweet-tempered personality, emphasizing this as the number one defining characteristic of the Newfoundland breed as a whole.
Congratulations on your choice to share your life with a sweet, smart, loving, and loyal Newfoundland dog!
We would love to hear what name you finally select for your precious Newfoundland pooch!
References
Weis-Corbley, G., "Another Newfoundland Hero Dog Senses Trouble and Saves the Day," Good News Network, 2010.
Saunders, P., "That Dog on the Postage Stamp: Courage, Docility, and Faithfulness are Characteristics of the Newfoundland," Newfoundland Club of America, 2013.
Dandurant, K., "Newfie Days returns to Eliot," Sea Coast Online, 2017.
Frazier, L., "A state dog for Oregon? Newfoundland suggested for the job," Oregon Live, 2016.
Whitfield, A., "History of Newfoundland Dogs," High Country Newfoundlands Kennel, 2018.
Hogstad, E., "Why We Owe 'The Flying Dutchman' To A Dog," Interlude, 2016.
Get Pippa's free dog training tips delivered to your inbox