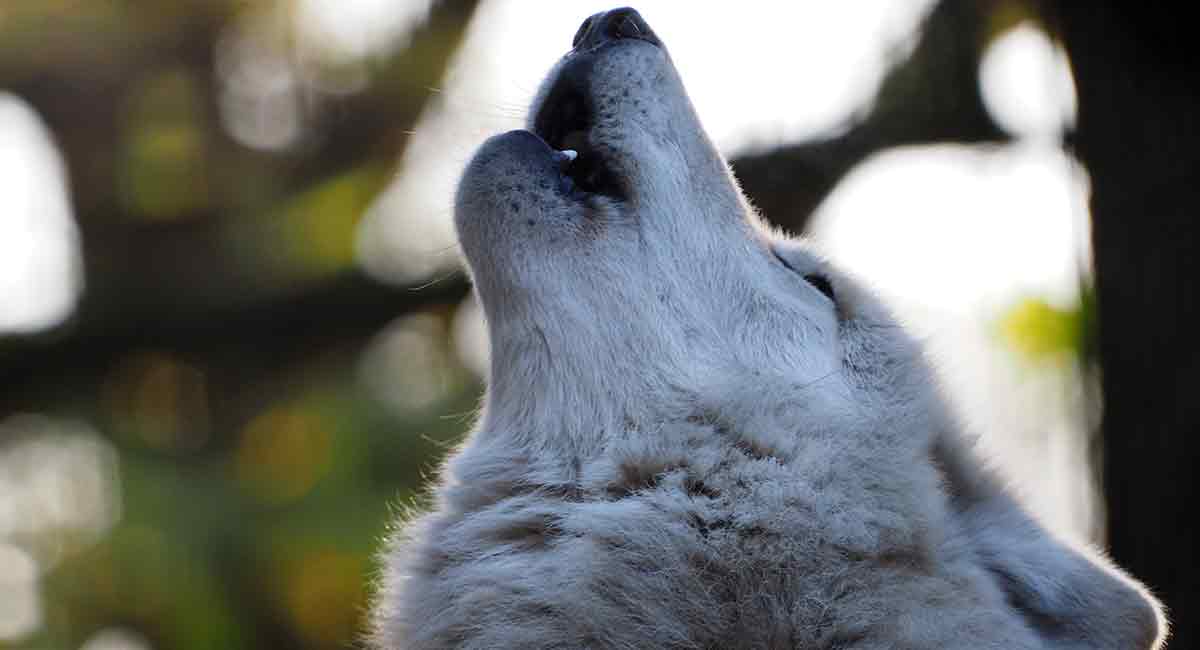 What are some great male wolf names?
If you're drawn to dog names which nod to their wild ancestors, you might be asking this very question.
Also, some breeds of dog can look live wolves, so a male wolf name would be perfect for one of these too.
This article looks at how you can choose a brilliant, unique name for your male wolf (even if it has been thousands of years since he fended for himself!)
Naming Your Male Wolf Puppy or Rescue Dog
Did you know that there are moderns breeds of dog quite closely related to the wild wolf?
The Czechoslovakian Wolfdog was created by breeding domestic dogs with Carpathian wolves in the 1950s.
And the wolf hybrid or wolf-dog is an even more unusual crossbreed.
The breed is just what it sounds like: a cross between a dog and a wild wolf.
But how can that be?
Family Canidae
Well, dogs and wolves are both members of the Canis family.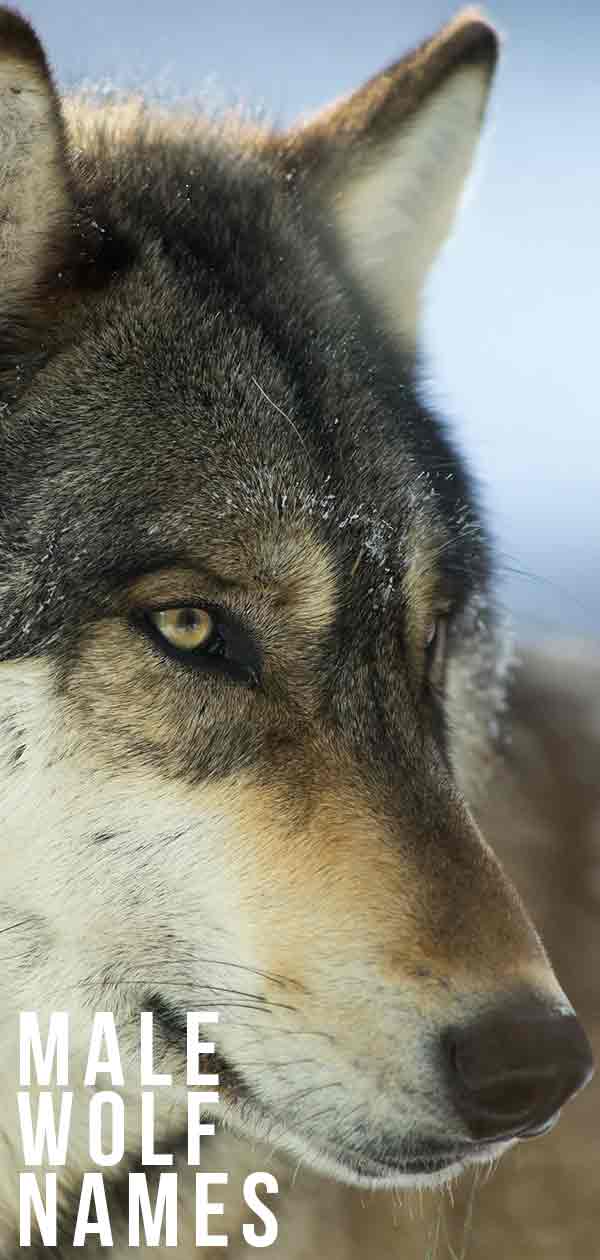 That means they can interbreed to create hybrids.
These are large, powerful dogs that will inherit their looks and temperaments from both parents.
Therefore, it's difficult to predict exactly what kind of dog your cute, fluffy puppy will grow into.
When taking on a wolf-dog, you must remember that they are half wild animal, NOT a dog like any other you've had before.
So when it comes to choosing a name for your male wolf it's tricky to pick one that suits his personality and looks because you don't know how he'll turn out as an adult.
Tips for Choosing Male Wolf Names
Steer away from long names.
Long names with lots of syllables and different sounds are hard for a pup to learn, and that can make it difficult to teach him verbal commands.
That said, a long name can easily be shortened to a nickname.
Also, you must also avoid choosing a name that sounds too much like the name of another pet, a family member, or a training command.
Chaos will surely reign in your household if your dog's name sounds the same as that of one of your kids or your partner!
Best Male Wolf Names
Your male wolf's ancestry can provide you with lots of inspiration for names.
Here are some great names that will tell curious onlookers exactly where your dog hails from as soon as you reveal his name!
Alpine
Arctic
Aspen
Aurora (after the Northern Lights)
Borealis (also after the Northern Lights)
Luna
Lupin
Moon
Nomad
Nova
Polar
Sierra
Timber
Tundra
Were (wolf!)
White Fang (shortened to just Fang)
Wild One
Cool Male Wolf Names
A male wolf-dog has to be one of the coolest breeds on the planet!
And a cool pooch deserves a really cool name.
Here are some totally cool male wolf names for you to consider.
Adolpho
Adulf
Aldwulf
Alpha
Bardolf
Bardolphe
Beja
Blue
Bran
Brassa
Calef
Fell
Frey
Gabu
Gio
Giro
Kar
Khaz
Kiba
Kipcha
Larka
Lycanthrope
Marta
Mathias
Moro
Murdock
Palla
Ranne
Skop
Sula
Toboe
Uruno
Zaku
Zeek
Zenki
Cute Male Wolf Names
Although a fully grown male wolf could probably never be described as cute, a wolf puppy certainly is!
Here are a few cute male wolf names to consider:
Aardwolf (home-loving wolf)
Ace
Amaruq (gray wolf)
Sammy
Amwolf (majestic and powerful like an eagle)
Apollo
Bailey
Bandit
Baxter
Bear
Beau
Bentley
Blue
Bo
Boomer
Brody
Bruno
Buddy
Buster
Charlie
Cody
Cooper
Dexter
Diesel
Duke
Finn
George
Gizmo
Gus
Hank
Harley
Henry
Hunter
Jack
Jackson
Jake
Jasper
Jax
Joey
Leo
Loki
Louie
Lucky
Marley
Max
Milo
Moose
Murphy
Oliver
Ollie
Oscar
Otis
Rex
Riley
Rocco
Rocky
Romeo
Roscoe
Rusty
Sam
Scout
Shadow
Simba
Tank
Teddy
Toby
Tucker
Tyson
Winston
Ziggy
Funny Male Wolf Names
If you have a good sense of humor, you could choose a funny male wolf name.
Funny names can be taken from many sources of inspiration.
For example, you may find a particular film character especially amusing, or you may have seen a comedian who had you in fits of laughter.
Just remember that someone who's famously funny today could be forgotten in a week's time.
And your poor male wolf will have his name for the rest of his life!
Here are just a few funny male wolf names you might think would be good for your pup.
Trump
Ghostbuster
Jones (Bridget Jones's Diary)
Snuffles
Babycakes
Cutie Pie
Mr. Fluffy
Softie
Kitty
Unique Male Wolf Names
Nobody wants their dog to have the same name as half a dozen other pups at the park.
And your pup is sure to be unique among the Labrador Retrievers, teacup Yorkies, Cocker Spaniel mixes, and other dogs in the park!
By choosing a unique male wolf name for your dog, you know you won't ever come across another pup with the same moniker as yours!
Here are a few ideas for unique male wolf names:
Aegenwulf (sea wolf)
Arnoux (eagle wolf)
Bama
Binx
Chaz
Dawson
Desmond
Ice
Marlo
Mateo
Nicky
Picasso
Pogo
Rizzo
Rogue
Romo
Saint
Sprocket
Tahoe
Tom
Turk
Wookie
Tough Male Wolf Names
There's no doubt that a male wolf is a tough-looking dog!
And a tough dog needs a tough-dog name to suit his appearance, if not his big softy personality!
When you're choosing a tough dog name for your male wolf, be very careful not to choose the name of an evil character from history.
You could get into big trouble in the dog park if you're heard yelling a name that other people may find offensive!
Here are some inoffensive tough dog names that might look good on your male wolf:
Atlas
Bandit
Boone
Caesar
Cassius
Courage
Dash
Fang
Hendrix
Huck
Jagger
Khan
King
Kodiak
Legend
Maverick
Neo
Ozzie
Ranger
Ronin
Ryder
Wilder
Yukon
Zeus
Fun Facts About Male Wolves
Here are some fun facts about the male wolf that you might not know.
The average wolf will eat 20 to 30 pounds of meat in one meal. That might seem greedy, but unlike pampered pets, wild wolves don't know when their next meal will arrive. And a wolf can survive for up to 14 days without a meal and suffer no ill effects!
There are a total of five subspecies of gray wolves that are found in North America. And they're not all gray! Coat colors can range from black, to cinnamon, brown, and even pure white, as well as gray.
A wolf pack typically has four to seven individuals that are led by "alphas." Alphas are the mother and father of most of the other pack members. They're responsible for hunting and finding dens for their pups.
Wolves usually mate for life.
Wolf pups are blind and deaf at birth. They are totally dependent on their parents until they mature at around ten months old.
A wolf territory can range from 50 miles to 1,000 square miles.
It's a myth that a wolf-dog will make a fierce guard dog. Wolves are naturally very shy, and hybrids therefore make poor protection dogs. Any aggression in wolves is usually induced by fear, making hybrids unpredictable and difficult to control.
A wolf in captivity can live for up to 14 years. A wolf hybrid has the same lifespan as a large domestic dog.
It's not true that Malamutes and Siberian Huskies are part wolf. These are both recognized breeds of fully-domesticated dogs.
In some U.S. states, wolf hybrids are classed as wild animals. Owners are required to have the same kind of permit and caging as you need for a pure wolf. In other states, wolf hybrids are classed as dogs, requiring only standard licenses and vaccinations.
So, be sure to check the requirements in your state before you get your male wolf- dog home!
What male wolf names did you like best?
If you found the perfect name for your new canine companion name in this article, we'd love to hear about it!
Tell us your wolf's story in the comments section below.
References and Further Reading
International Wolf Center – "Wolf-dog Hybrids"
Prendergast, Dorothy. The Wolf Hybrid. Gallup, NM: Rudelhaus Enterprise, 1989.
Get Pippa's free dog training tips delivered to your inbox