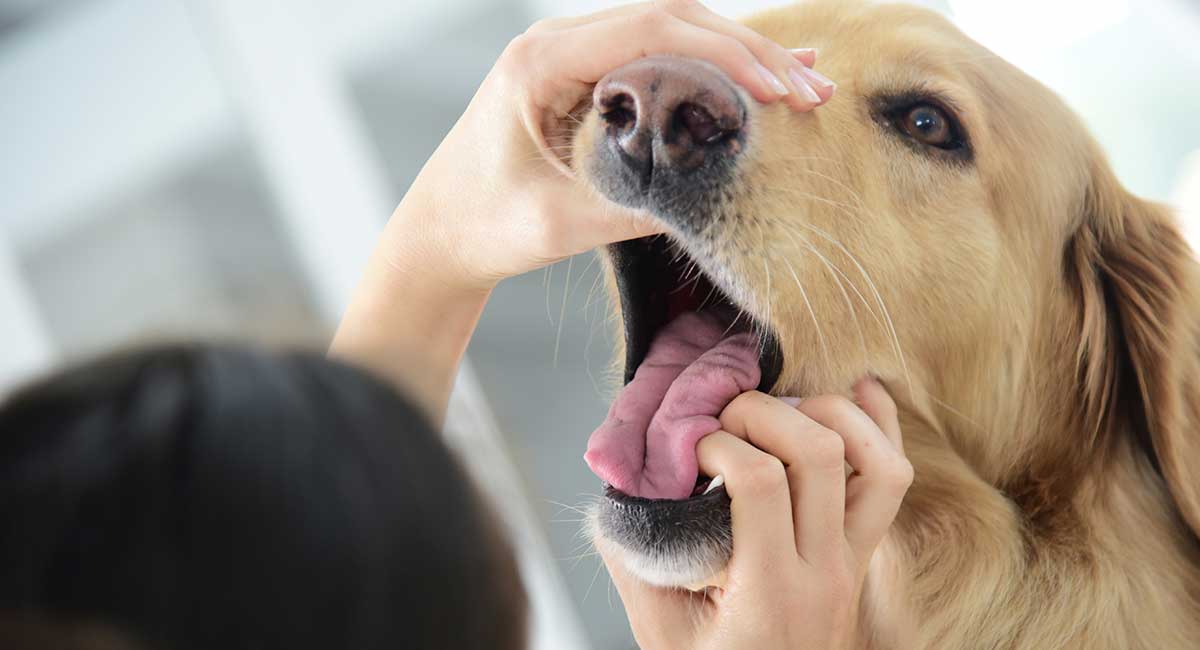 Like people, dogs get two sets of teeth in their lifetime.
Adult dogs have 42 teeth, which consist of 20 upper and 22 lower teeth. This is considerably more than the 32 teeth the average adult human has.
How Many Teeth do Dogs Have?
As descendants of wolves, dogs are carnivores and their 42 teeth were designed for meat-eating.
They have four different types of teeth and each serves a different purpose.
Incisors
Incisors are the small teeth at the front of the dog's mouth. Your dog has 12 incisors; six on the top and six on the bottom.
The shape of these teeth makes it easy for them to scrape meat from bones.
Dogs also use these teeth for grooming themselves and removing fleas and ticks.
Canine
The aptly named canine teeth are those long pointy ones located behind the incisors. There are a total of four; two on the top and two on the bottom.
Canines are used for tearing meat apart and also to hold on to something like a chew toy.
If you've ever tried to pull something out of your dog's mouth, it's these teeth that make it so hard to win a tug-of-war.
Premolars
Premolars are the sharp-edged teeth that are located behind the canines.
There are eight premolars on both the top and bottom and they're used for chewing.
This is why you'll see a dog using the side of their mouth to gnaw on a bone.
The carnassial is the largest tooth in the dog's mouth. In fact, they're so big they have three roots.
The two fourth premolars on the upper jaw are the carnassial teeth.
Their shape and surface are designed to shear against each other in a slicing motion. They're also used to hold and crush hard objects like bone.
Molars
There are a total of 10 molars; four on the top and six on the bottom.
Located at the back of the dog's mouth behind the premolars, these flat teeth are strong for grinding and chewing hard foods like dry kibble.
Do All Dogs have 42 Teeth?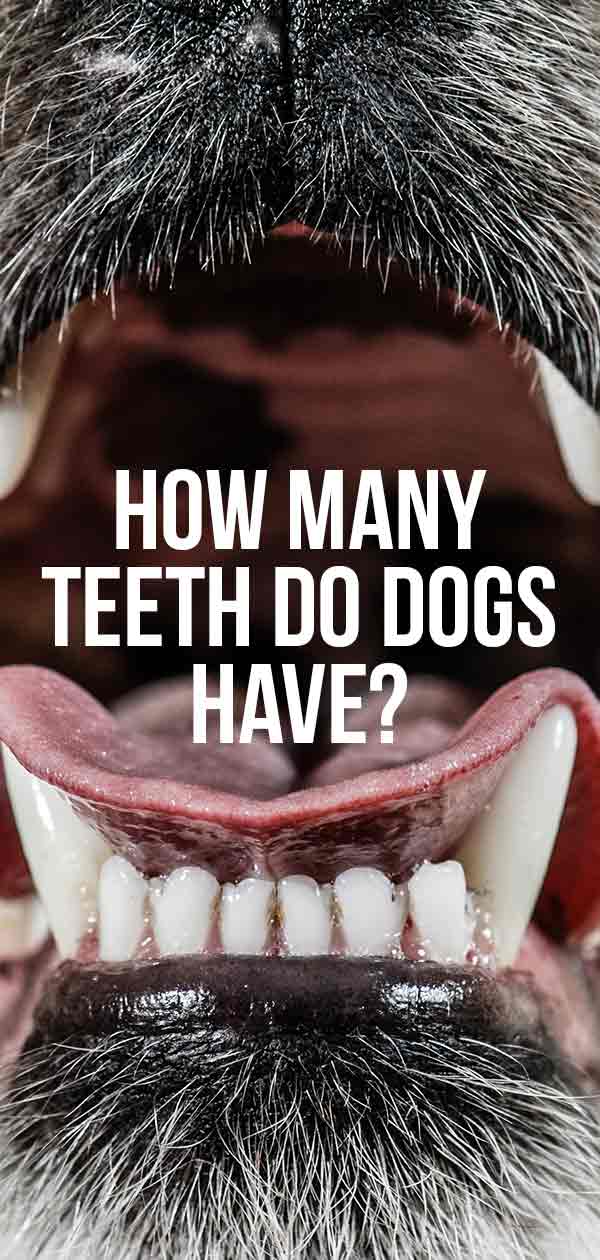 From the tiny Chihuahua to the massive Pyrenean Mastiff, dogs all have 42 teeth.
However, it's possible that some individual dogs may have a different number of teeth.
How Many Teeth Do Puppies Have?
Like children, puppies start out toothless and then get temporary teeth that they'll eventually lose to make way for permanent teeth.
Puppies get a total of 28 deciduous or milk teeth; 14 in both the upper and lower jaw.
These smaller teeth begin to appear when the puppy is about two or three weeks old and are usually grown in by the time they're six to ten weeks of age.
Typically the incisors emerge first, followed by the canines, and the premolars, but this can vary from breed to breed and puppy to puppy. There are no molars amongst their milk teeth.
Puppy Teeth and Food 
At this point, they don't need them to grind and crush hard food.
When you get nipped by a puppy, you're sure to notice how needle sharp these little teeth are.
This is to make it easier for them to chew because they don't yet have much jaw strength yet. Puppy's teeth are very different from those they'll have as an adult.
It's important that not only the food you give them but treats and bones as well, are specifically formulated for them.
When Do Puppies Teeth Fall Out?
Puppies don't have their milk teeth for very long. By the time they're 12 to 16 weeks old, they'll start the teething stage.
This is when their milk teeth begin to fall out and new permanent teeth begin to emerge.
It's also when you'll want to keep your favorite shoes out of reach because they'll want to chew anything and everything in sight.
Once they're approximately four months old, most of the deciduous teeth will be gone and the adult teeth will have started to erupt.
By the time they're six months old, they'll typically have a full set of permanent teeth.
Teeth that don't fall out on their own will need to be extracted by a vet. This article will give you more information about puppy teeth and teething.
Dog Dental Problems
Although cavities are rare in dog teeth, they can suffer from some serious dental issues.
In fact, an estimated 70% of dogs have some degree of gingival or periodontal disease.
Teeth Crowding
Teeth crowding is a common problem in small and miniature breeds, since the smaller the dog is, the larger the teeth are in proportion to the mouth.
Flat-faced brachycephalic breeds such as the French Bulldog, Pug, and Pekingese are at high risk for crowded and rotated teeth. Even mixed breeds, like the Pug-Corgi cross.
This is because they have a lot less space in their mouth to fit 42 teeth.
The upper jaw, in particular, is prone to overcrowding, which means food can easily become trapped between the teeth and lead to periodontal disease.
Periodontal Disease in Dogs
Tartar or plaque on the tooth surfaces is the primary cause of gum and periodontal disease.
It's the most common dental condition found in dogs and can lead to tooth loss.
In addition to being painful, this study shows a link between periodontal disease and changes in internal organs.
Symptoms of periodontal disease include:
Red or bleeding gums
Plaque
Bad breath
Swollen gums
Thick saliva
Discolored teeth
Trouble eating.
If your dog has any of these signs of gum disease, you should consult with your veterinarian.
Dogs are also at risk for cracked or broken teeth, oral tumors, and abscesses.
Keeping Your Dog's Teeth Healthy
The best way to ensure your dog has good oral health is to provide him with regular dental care.
This is a combination of tooth brushing, quality chew treats to remove plaque and tartar, and annual dental exams by a professional.
Brushing Your Dog's Teeth
This 2016 survey found that only 8% of dog owners brushed their dog's teeth daily and 43% never brushed their dog's teeth at all.
The earlier you get your dog accustomed to a tooth brushing routine, the more likely he or she will be able to tolerate it without a fuss.
It's important to use a toothpaste that's specifically formulated for dogs. Remember that your dog won't know that he's not supposed to swallow it.
The toothpaste we use can contain ingredients like xylitol, a sweetener that's known to cause liver disease and bleeding disorders in dogs.
Since brushing can initially be strange and uncomfortable for them, get them used to the taste of canine toothpaste over the course of several days.
Teeth Brushing and Toothbrushes
Dog toothbrushes are also designed with a dog's mouth in mind.
Some will fit right over your finger, allowing you to have control over the brush inside their mouth. Others are angled to make it easier to reach their teeth while reducing strain on your hand.
If you've tried to brush your dog's teeth without success, you can have them cleaned professionally.
Diet and Dental Health
Many people feed their dog dry kibble because they've heard that it's good for their dog's dental health.
While crunchy dry food can remove some surface plaque, it's ineffective at getting rid of it at or above the gum line, which is where decay and gum disease typically form.
It's important to read the dog food ingredients since some dry foods contain a high refined carbohydrate content which can actually increase plaque and tartar levels.
Interestingly, this study found that increasing the size of the kibble by 50% reduced dental tartar by 42%.
Adding a good quality chew treat, such as rawhide, has also been shown to reduce the risk of inflammation and periodontal bone loss in dogs.
While a good quality dry food may reduce tartar and plaque, it's no substitute for regular tooth brushing and professional dental cleanings to prevent periodontal disease.
How Many Teeth Do Dogs Have? – Summary
Adult dogs have 42 teeth. That's about one-third more than the 32 that we have.
Like people, when they lose a tooth it doesn't grow back. This is why regular dental care is so important for your dog.
Just like us, dogs need their teeth to last them throughout their lifetime.
Do you brush your dog's teeth? Tell us about your experiences in the comments.
References and Resources
'Dental diet for reducing tartar,' Google Patents
Stella, JF, et al., 'A cross-sectional study to estimate prevalence of periodontal disease in a population of dogs (Canis familiaris) in commercial breeding facilities in Indiana and Illinois', PLOS One, 2018
Gorrel, C., 'Periodontal Disease and Diet in Domestic Pets,' The Journal of Nutrition, 1998
Pavlica, Z., et al., 'Periodontal Disease Burden and Pathological Changes in Organs of Dogs,' Journal of Veterinary Dentistry, 2008
Tromp, JAH, et al., 'Experimental gingivitis and frequency of tooth brushing in the beagle dog model,' Journal of Clinical Periodontology, 1986
Dunayer, EK, 'New findings on the effects of xylitol ingestion in dogs', Veterinary Medicine, 2006
Roudebush, P. et al., 'Evidence-Based Veterinary Dentistry: A Systematic Review of Homecare for Prevention of Periodontal Disease in Dogs and Cats,' Journal of Veterinary Dentistry, 2005
Gorrel, C., et al., 'The role of tooth-brushing and diet in the maintenance of periodontal health in dogs,' Journal of Veterinary Dentistry, 1996
Gawor, JP, et al., 'Influence of Diet on Oral Health in Cats and Dogs,' The Journal of Nutrition, 2006
Hennet, P., et al., 'Effect of pellet food size and polyphosphates in preventing calculus accumulation in dogs,' Journal of Veterinary Dentistry, 2007
Harvey, CE, et al., 'Correlation of diet, other chewing activities and periodontal disease in North American client-owned dogs,' Journal of Veterinary Dentistry, 1996
Get Pippa's free dog training tips delivered to your inbox