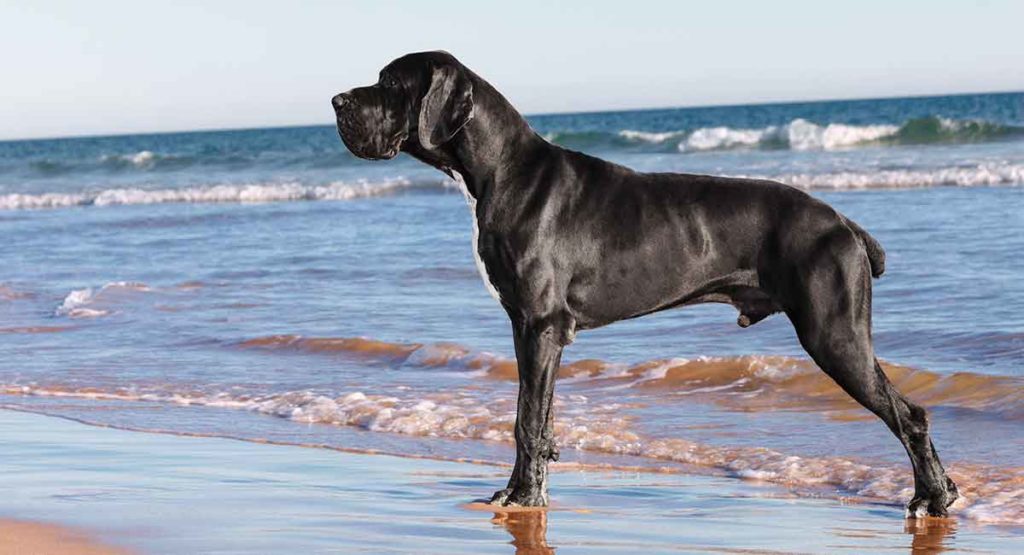 Big dogs deserve big names. We've got some Great Dane names you're going to love. About their big size, or their caring, amazing personalities!
Our Favorite Options
These are our favorite Great Dane names for the massive hound joining your life:
| | |
| --- | --- |
| Tiberius | Grayson |
| Otto | Kirk |
| Minnie | Beatrix |
| Alice | Una |
| Easton | Diana |
| Sage | Hero |
| Graphite | Nero |
| Mayor | Verity |
| Quinn | Paisley |
| Polka | Phaedra |
| Nina | Blythe |
| Bee | Bruce |
| Billie | Roberta |
| Tate | Moose |
| Tom | Bert |
| Augusta | Cole |
| Pearl | Argent |
| Virva | Acer |
| Rose | Oak |
| Moss | Clarke |
| Wellesly | Thomas |
| Drina | Raven |
| Brook | Ada |
| Fox | Tony |
| Geoff | Gordon |
| Tiny | Mountain |
| Colossus | BFG |
| Rock | Emily |
| Jersey | Azule |
| Dawson | Silas |
| Hawk | Jackson |
| Rasputin | Ivan |
| Totem | Bower |
| Powell | Henry |
| Saville | Hampton |
| Bourne | Potter |
| Peck | Charlotte |
| Louis | Rameses |
| Caesar | Atlas |
| Adonis | Andal |
| Bruno | Tyson |
| Rocky | Butkus |
| Adriene | Betty |
| Sunny | Midge |
| Mouse | Horse |
| Stallion | Merv |
| Anneka | Sandi |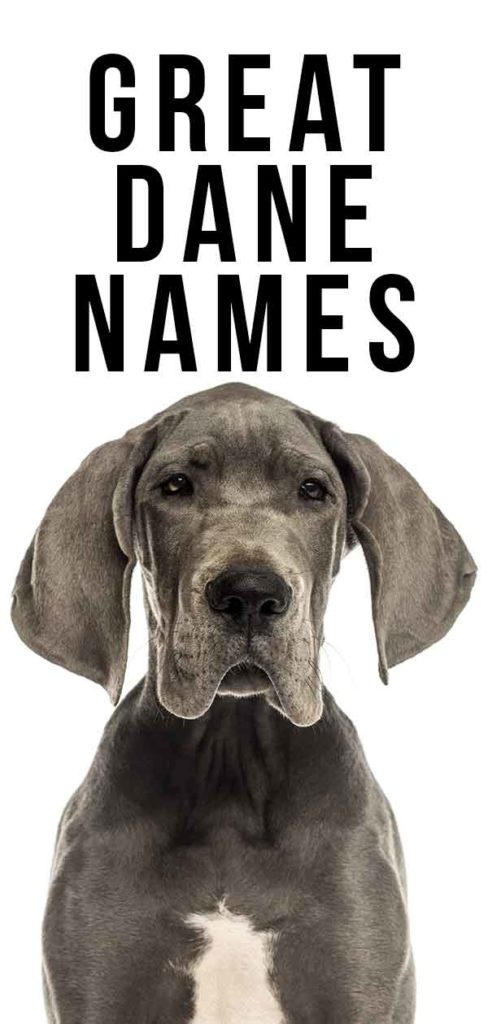 Great Dane Names
Welcome to your Great Dane names hub as you search for the perfect name for your new giant pup!
Great Danes may be most recognizable for their great size, of course. But that is only until you become acquainted with the amazing personalities of these gentle giants.
We think you are going to love the curated lists here, which contain over 100 awesomely unique Dane name ideas for boys and girls, funny pups, cute pups, cool pups, tough pups and more!
Great Dane History
The Great Dane dog breed is not actually from Denmark, but from Germany by way of ancient Egypt.
In fact, only the breed name comes from Denmark. It translates to mean "Grand Danois."
This dog's earliest known ancestors were big, brave boar hounds who helped humans with hunting and guarding.
Archaeologists have discovered ancient Egyptian artwork carved into the walls of monuments that look quite a bit like the dog we know today as the Great Dane.
Some of these carvings date all the way back to 3,000 B.C.!
Lifestyle and Purpose
As the breed became popular as a pet dog, the first Great Danes were owned by royalty and the ultra-rich.
They were pampered and spoiled and often dressed in finery to rival that of their people!
Great Danes can make great family protectors and watch dogs.
Yet they are also known to be quite gentle and loving towards people, especially youngsters.
Many Great Danes also live quite happily alongside other pets, including other dogs.
Choosing Great Dane Names
When choosing your Great Dane names, you may feel a bit of pressure. Everyone starts to ask you, "So what are you going to name your dog?"
But, don't let this get to you. It can take some time to land on the perfect name.
Here are just a few naming tips we think you may find helpful:
If you would like to name your Great Dane after a loved one, it is always nice to check with them first. Just to be sure they feel suitably honoured!
Try to avoid naming your Great Dane something that sounds too much like the commands you want your dog to learn.
Sometimes all the pressure to choose a name can generate "naming block!" To restart the creative process, try noticing all the unique things about your dog. Coat color, favorite things, napping style, and personality are all great sources of inspiration. And you will soon be back on track.
It can be tempting to name your enormous pup after an outsized character – real or fictional – from pop culture. Just be sure the new name is one that can stand the test of time as your pup grows up and cultural trends change.
Now on to what you came for. Lots of lists of awesome Great Dane names!
Best Great Dane Names
These 10 best Great Dane names could be considered time-honored classics because they are so popular!
Hulk
Sadie
Hercules
Ginger
Chloe
Magnum
Tank
Zara
Lucy
Lincoln
Female Great Dane Names
Each of these female Great Dane names is strong and sassy, yet gentle and lovely, just like your lady Dane!
Lilac
Molly
Marie
Abigail (Abby)
Lainie
Ruby
Jewel
Daphne
Lilly
Emma
Penny
Daisy
Gracie
Lexie
Ivanka
Kia
Belle
Lacey
Janie
Dolly
Male Great Dane Names
These male Great Dane names strike just the right balance between poised and playful. Giving you lots of choices to match the best name to your new pup's personality!
Ernesto
Theo
Lewis
Merle
Bradley
Arthur
Edward
Freddy
Luke
Murray
Sterling
Hank
Dale
Sam
Beck
Solomon
Antonio
Igor
Marvin
Cool Great Dane Names
If there is any cooler canine character than the supersized Great Dane, we have yet to meet them!
These cool Great Dane names reference popular fictional characters. As well as real-life heroes and personalities to give you lots of creative choices to consider.
Doc Holliday
Wyatt Earp
John Wayne
Cooper
Finnegan (Finn)
Diego
Taylor
Balthazar
Mercedes
Hugo
Diesel
Axl
Augustus (Gus)
Dano
Nate
Dash
Harley
Sonic
Cute Great Dane Names
Great Dane puppies are just the cutest!
Looking at your little pup, who seems to be all face and feet right now, it may seem difficult to imagine just how fast your cuddly armful is going to turn into a couch-sized canine sidekick!
These cute Great Dane names do their utmost to capture the cuteness in its littlest (and biggest) forms!
Zephyr (Best of Breed at Westminster 2018)
Windy (Zephyr's mom)
Blondie (Zephyr's daughter)
Star
Skylar
Willow
Blue
Wiggles
Penelope
Faye
Elmo
Harlequin
Specs
Kilo
Sparkles
Cookie
Tiara
Butch
Funny Great Dane Names
Did you know that the beloved cartoon dog Scooby Doo is modeled after a Great Dane?
Great Danes are naturals at producing smiles and laughter. Especially when they are trying to squeeze onto the couch with you!
We think you will love these funny Great Dane names based on popular culture and real-life owner stories.
Too Much (Scooby Doo's original working name)
Marmaduke (this cartoon dog was also a Great Dane)
Astro (ditto)
Sir James Van Drool (Instagram Great Dane)
Milly Vanilly
Alaska
Texas (Tex)
Maximus (Max)
Trigger
Dawg
Delilah
Goliath
Jupiter
Goober
Sheriff
Bogey
Tinkerbell
Chowder
Unique Great Dane Names
Do you ever just watch your Great Dane and marvel at how such an extraordinary canine breed came to be?
Your pup is utterly unique. And you are the lucky one who gets to share life with such a wonderful dog!
These unique Great Dane names give you lots to ponder as you continue your search for the perfect name.
Elroy
Berkeley
Groot
Vincent
Friendly
Kane
Big Mav
Nymeria
RubyDoo (ScoobyDoo adapted for a girl Great Dane)
Tanner
Winston
Tina
Bowser
Boss
Big Lu
Lizzie
Big Mac
Luca
Bueller
Tough Great Dane Names
Great Danes know they are enormous, powerful, strong and brave.
Like highly trained prize fighters, a well-trained Great Dane always opts for the gentlest solution until force is the only option left.
Take Juliana, for instance.
In 1941, at the height of World War II, a giant bomb fell out of the sky right into the UK house where she and her family lived. What did Juliana do?
She lifted her leg, of course, peeing all over the bomb and diffusing it in the process!
For this timely service, she was quite rightly awarded a Blue Cross Medal!
But Back to the Names
Here are many more tough Great Dane names to consider for your brave and noble pup!
Juliana
Just Nuisance (this Great Dane enlisted in the Navy!)
Adinda (Just Nuisance's Great Dane "wife")
William Penn (Great Dane owner and founder/governor of Pennsylvania, where the Great Dane is the state dog)
Judy (Great Dane who was famously besties with a goat named Minelli and Lucky, a three-legged Golden Retriever)
Apollo
Major (former Guinness Book world record holder Great Dane)
Zeus (yet another former world record holder)
George (another Guinness Book record holder who also had his own book)
Chin Up (Great Dane from the cartoon strip-inspired movie Blondie in Society, 1941)
Landru (Great Dane from the movie The Burbs starring Tom Hanks)
Brutus (Great Dane in the film The Ugly Dachshund)
Ace
Athena
Sarge
Duke
Vito
Stryker
Humvee
Commander
Fun Facts About Great Danes
When you own a Great Dane, it can feel like you are constantly in the company of a bona fide celebrity.
Your canine sidekick just stands out in a crowd. Especially when he literally stands over 7 feet tall, as current Guinness Book of World Record holder Freddy does!
(Would you believe Freddy's owner says he was the runt of his litter?)
With such long legs, you would think this giant "Apollo of dogs" would be a natural and tireless athlete.
But as many a Great Dane owner can attest, your skyscraper pup will likely appear even bigger when spread out across your couch in this breed's all-time favorite activity…lounging.
What Name Did You Choose?
Congratulations on your precious new Great Dane puppy or rescue dog!
You are embarking on an exciting shared adventure, and we are thrilled you stopped by to share it with us.
We'd love to hear what name you decide on and the story behind it.
Please be sure to bookmark this article and return to comment when you've made your "forever name" choice!
Other Great Articles
If you've enjoyed reading about our Great Dane name ideas, be sure to check out some of our other great articles.
Just click on the links below!
References
Get Pippa's free dog training tips delivered to your inbox