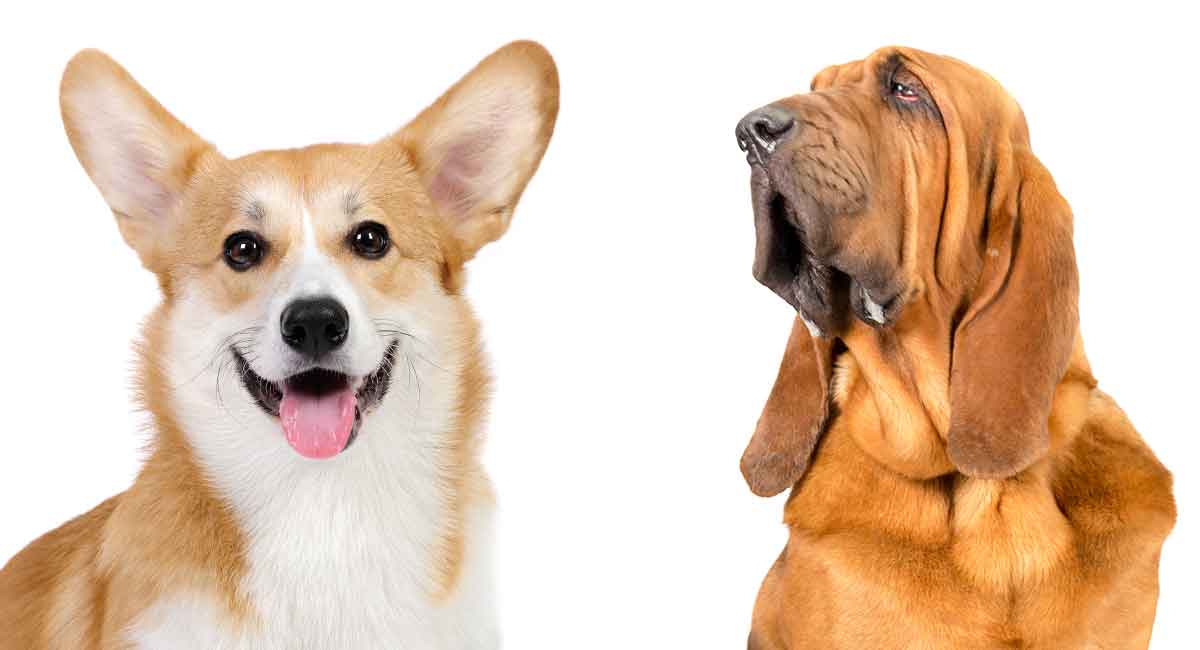 A unique looking crossbreed with an equally unique personality, the Corgi Bloodhound mix has the potential to make a wonderful pet for the right person or family.
Would the Bloodhound Corgi mix make a suitable pet for you?
Let's find out!
What Is a Corgi Bloodhound Mix?
The Corgi Bloodhound mix is what many refer to as a hybrid, designer dog, or crossbreed.
He is the offspring of the purebred Pembroke Welsh Corgi and the purebred Bloodhound.
With a combination of temperamental traits, as well as a number of unique physical traits, the Bloodhound Corgi mix is as interesting a crossbreed as they come.
So if you are trying to decide if this fascinating hybrid would make a good addition to your household, you've come to the right place.
But before we learn more about this remarkable crossbreed, let's discuss the crossbreed controversy.
Designer Dogs and the Crossbreed Controversy
Crossbreeding has been around for centuries.
In fact, crossbreeding is how early breeders went about refining and creating many of the purebreds that we know and love today.
Still, first generation crossbreeds, like the Corgi Bloodhound mix, are the source of some debate amongst experts.
For starters, you may have noticed that a number of breeders sell mixed breeds for the same high price as purebred dogs.
How is this fair?
And what makes a first generation crossbreed any different from a mutt?
Well, this is part of the debate.
You see, those who support crossbreeding insist that there is an important difference between crossbreed dogs and mutts, and it's all in the design.
A mutt, as they will explain, is the accidental mix of two or more unknown breeds.
A crossbreed, on the other hand, is the designed offspring of two purebred parents who were chosen in the hopes of combining certain traits.
To learn more about mutts and crossbreeds, visit us here.
But what about health?
As many dog-lovers are aware, purebred dogs and the issue of genetic disease is a rising concern.
Responsible breeding practices can help reduce certain illnesses in purebred dogs.
But the unfortunate truth is that overbreeding purebred dogs in a progressively shrinking gene pool for generations has resulted in a number of genetic issues being passed down from litter to litter.
Many supporters of crossbreeding say the practice could be a solution to the issue of declining health in purebred dogs.
They point out that it widens the gene pool and thus reduces the chances of these genetic issues being passed down.
However, some disagree and insist that crossbreeds are just as susceptible to genetic health issues as purebred dogs are.
For more on this and additional information on common objections to crossbreeding, click here.
Now, let's dive in and learn all about the Corgi Bloodhound mix, beginning with his origin!
Origin of the Corgi Bloodhound Mix
Where does the Corgi Bloodhound mix come from?
Well, considering he is a first-generation crossbreed, the Corgi Bloodhound mix's origin is still a bit of a mystery.
But that doesn't mean we can't explore the origins of his parent breeds!
Let's start with the Corgi.
Origin of the Pembroke Welsh Corgi
The Pembroke Welsh Corgi is one of two Corgi types.
He and his counterpart, the Cardigan Welsh Corgi, were considered one breed up until the 1800s, when they were finally separated into different classes.
Corgis have been around for thousands of years, and despite being known as one of the most royal modern breeds, thanks to Queen Elizabeth, this breed's regal stance took place much earlier.
In fact, Corgi breeds were well documented during the medieval era, where they were considered a great treasure.
Nobles delighted in showing the Corgi off to visiting guests as a way to promote their abundance and wealth.
Royal but Hardworking
Although the Corgi is somewhat of a king in the dog world, he is by no means a dog without a work ethic, as this breed was originally built for herding livestock.
His short legs, long body, and incredible bravery made him a textbook contender for herding cattle, giving him the perfect vantage point to nip at heels while expertly avoiding rogue kicks.
Today, the Pembroke Welsh Corgi is adored not only by royalty but also by everyday dog lovers around the world.
And in the United States, the Pembroke Welsh Corgi currently sits at number 18 out of 194 on the American Kennel Club's list of America's most popular dog breeds.
Origin of the Bloodhound
Although the Bloodhound is an ancient breed, there is very little known about where he initially came from.
Documentation does place him near the ancient Mediterranean, however, and "Historia Animalium," written in the third-century by scholar Aelian, describes a hound famous for his unbeatable scent abilities.
Due to this, many experts believe that the Bloodhound just may be the oldest existing scent hound in the world, making him the likely predecessor to all other scent hounds we know today.
According to the AKC, the modern-day Bloodhound is believed to have been refined a thousand years ago in Western Europe.
Monks' Blooded Hounds
This was due to the careful breeding practices performed by "high-ranking members of the pre-Reformation church."
A royal dog in his own right, the Bloodhound was utilized during medieval times by princes of the church, who were known to keep packs of these large scent hounds on monastery grounds.
In fact, the term Bloodhound comes from the careful breeding practices taken on by the monks there, who took great pride in perfecting their "blooded hounds," which is actually a term that translates to "aristocratic blood."
Today, the Bloodhound is famous for his employment with authorities, beloved for his work ethic and loyalty when finding the source of certain scents.
Ranking in at number 52 out of 194 on the AKC's list, the Bloodhound is also an adored pet and family companion.
Corgi Bloodhound Mix Personality and Behavior
Since the Corgi Bloodhound mix is a crossbreed, there are some aspects, like appearance and temperament, that are going to be left up to chance.
What we do know is that both the Corgi and the Bloodhound are intelligent breeds with a tendency to be stubborn.
So your Corgi Bloodhound mix is likely going to be smart and stubborn as well.
As with all dogs, we recommend early socialization and obedience training beginning in puppyhood to better ensure your Corgi Bloodhound mix grows up into a well-adjusted adult dog.
So aside from brains and hard-headedness, what other temperamental traits could the Corgi Bloodhound mix inherit from his purebred parents?
We can't tell you exactly what other traits your Corgi Bloodhound hybrid will inherit.
But we can check out the temperamental traits of his purebred parents to get a better idea of your options.
Let's start with the Corgi.
Pembroke Welsh Corgi Temperament
This affectionate, intelligent breed makes for a fun family pet thanks to his quirky personality and love for his people.
A joyful little dog, the Corgi was bred for herding.
So a future owner should keep in mind that herding breeds can be known to herd their families about.
Furthermore, the Corgi is a great big dog in a squat little package.
Remember, this dog was built for droving cattle.
He had to be courageous and feisty to get the job done.
For this reason, Corgis tend to be independent thinkers with somewhat of a bossy streak.
And while they can make wonderful family pets, they do best with more respectful children who are over the age of eight.
Bloodhound Temperament
Another intelligent freethinker is the Bloodhound.
Although training him can be tricky, he is a clever dog with a gentle nature who bonds closely with his family members and enjoys children of all ages.
And despite his fame as the world's greatest scent hound, many consider the Bloodhound to be a bit of a couch potato.
This could not be farther from the truth.
While the Bloodhound does partake in a snooze from time to time, he is a pretty active dog who enjoys play and loves being outside.
Remember, he was bred to track scents and not quit until his job was done.
This is a dog with tons of endurance, and he will need plenty of exercise to stay happy and healthy.
But we will get into exercise and training needs for the Corgi Bloodhound mix further down.
For now, let's talk about appearance.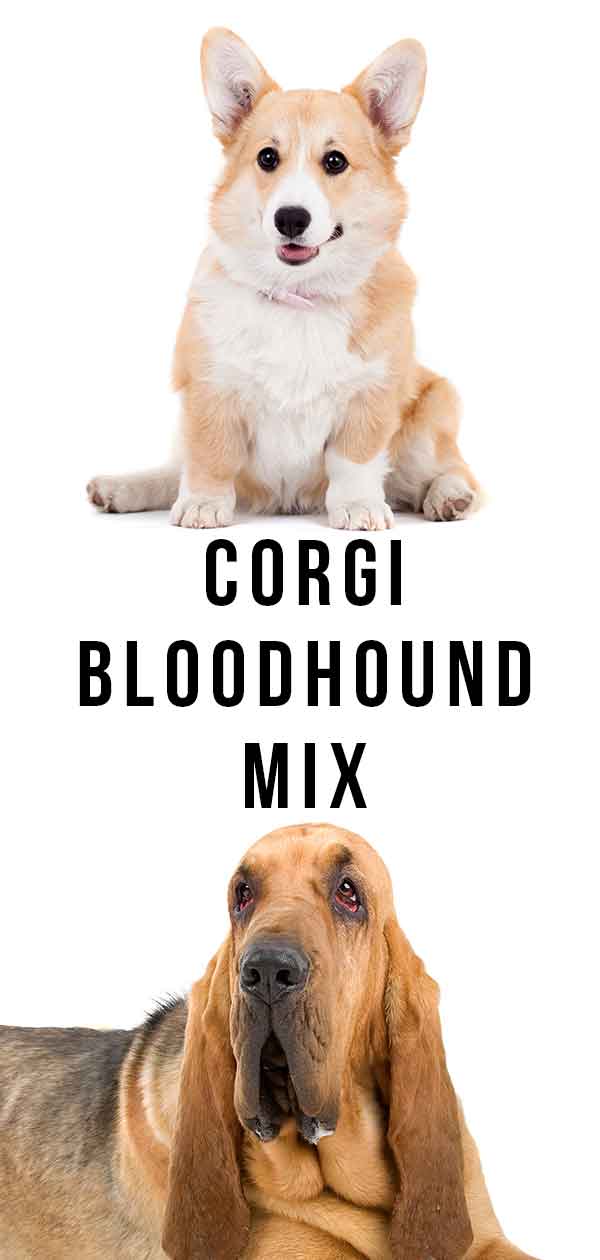 What Does the Corgi Bloodhound Mix Look Like?
The appearance of your Corgi Bloodhound mix is going to depend on a number of things.
There is no way to tell exactly what he is going to look like, due to the fact that he is a crossbreed.
This means that, just like with temperament, the Corgi Bloodhound mix's physical appearance is going to be left up to chance.
Let's take a look at the physical description of the Pembroke Welsh Corgi and the Bloodhound to get a better idea of what their crossbreed offspring might look like.
Defining Characteristics of the Pembroke Welsh Corgi
Weighing between 28 and 30 pounds and standing 10 to 12 inches tall, the Pembroke Welsh Corgi has squat little legs, with a long body, docked tail, and expressive face.
He also has large, erect ears and a thick coat that comes in six color combinations:
fawn
black and gold
blue belton
tan
blue
sable
Now let's check out the Bloodhound!
Defining Characteristics of the Bloodhound
The droopy-eyed, loose-skinned Bloodhound is famous for his long ears, melancholy expression, and muscular body.
He has a long tail, sweet brown eyes, and a short, thick coat that comes in only three colors:
liver and tan
black and gold
tan
Corgi Bloodhound Mix Grooming and Overall Care
Although many traits are left up to chance when it comes to a crossbreed, the grooming maintenance required for your Corgi Bloodhound mix doesn't vary too much.
That is because both the Pembroke Welsh Corgi and the Bloodhound have similar coats, which are thick and short.
Your Corgi Bloodhound mix is going to be a shedder.
He will likely shed most during the two shedding seasons each year.
Weekly brushing with a grooming mitt or bristle brush will do wonders to keep your Corgi Bloodhound mix's coat looking its best and get that loose hair under control.
The Corgi Bloodhound mix will also need his nails trimmed regularly to keep them from breaking or splitting.
You will need to check and clean his ears often to keep waxy buildup and moisture from causing infections.
The Corgi Bloodhound Mix Average Lifespan and Health Issues
Based on the prospective lifespans of the Corgi and the Bloodhound, the average lifespan of your Corgi Bloodhound mix could be anywhere from 10 to 13 years.
The health of your Corgi Bloodhound mix is important.
As a crossbreed, he is susceptible to any of the genetic health issues his parent breeds are prone to.
For this reason, you may want to consider having your Corgi Bloodhound mix undergo early health screening.
Early health screening is the best way to find out what your Corgi Bloodhound mix could be susceptible to.
It could help you to prevent or even prepare for certain health issues in his future.
Of course, it is always best to be informed.
So let's take a look at what the Corgi Bloodhound mix's purebred parents are genetically susceptible to.
Lifespan and Health Issues of the Pembroke Welsh Corgi
With a life expectancy of 12–13 years, the Pembroke Corgi is susceptible to
intervertebral disc disease
lens luxation
degenerative myelopathy
hip dysplasia
urinary stones
von Willebrand's disease
epilepsy
progressive retinal atrophy
obesity
Furthermore, due to the Corgi's small stature, you may not be surprised to learn he has achondroplasia.
This is a type of dwarfism that actually contributes to the Corgi's unique look.
While achondroplasia is one of the traits that make the Corgi so cute, it can also come with some complications, including agility issues and overall discomfort.
Lifespan and Health Issues of the Bloodhound
The Bloodhound has a slightly shorter lifespan than the Pembroke Welsh Corgi, but not by much.
Living anywhere from 10 to 12 years, the Bloodhound is most prone to
hip and elbow dysplasia
entropion
ectropion
abnormalities in the development of hips and elbows
keratoconjunctivitis sicca
How to Train and Exercise Your Corgi Bloodhound Mix
Training your smart yet stubborn Bloodhound Corgi mix could be a bit of a struggle.
It should still be kept positive and fun for the both of you.
Both the Corgi and the Bloodhound are sensitive dogs.
They will not do well under harsh corrections or punishments.
You can expect the Corgi Bloodhound mix to be the same.
The Corgi Bloodhound mix will learn best with a firm but gentle hand and training sessions that are kept interesting and fun.
Always use the positive reward system when training, utilizing treats and lots of praise.
With consistency and patience, your Corgi Bloodhound mix will be learning in no time!
Exercise
When it comes to exercise, both the Corgi and the Bloodhound enjoy being outdoors.
Remember, the Corgi was bred to be a herding dog and the Bloodhound was built for endurance and to follow a scent for hours.
The crossbreed offspring of these two purebreds is going to need daily exercise.
He will also need lots of mental stimulation in order to stay happy and healthy.
He will also do best in homes with fenced-in backyards where he can run and play freely on his own.
What Is the Ideal Home Type for A Corgi Bloodhound Mix?
As we mentioned above, the Corgi Bloodhound mix will do best in homes with securely fenced-in yards where he can play and burn off any excess energy.
He will also thrive in homes with families who live an active lifestyle but also enjoy hanging out now and then.
This is a crossbreed who can go with the flow but may be tricky to train.
He may be a bit bossy at times.
And while he gets along well with other household pets and children, this crossbreed would be best suited for families with kiddos over the age of eight.
Picking A Healthy Corgi Bloodhound Mix Puppy
If you are on a mission to find yourself a Corgi Bloodhound mix puppy, we would love to help!
Here is our advice on how you can go about finding the healthiest Corgi Bloodhound mix puppy possible.
Always do plenty of research and take your time when deciding which resources to go through when buying a new puppy, regardless of the breed or crossbreed.
Responsible breeding practices and going through a reputable source can make all the difference when it comes to a dog's health and temperament.
So are you looking to buy your Corgi Bloodhound from a breeder?
Breeders usually charge around $500 to over $1000 for Corgi Bloodhound puppies.
Reputable breeders will have previously health screened their litters, so you can rest assured you are getting a healthy puppy.
So don't be afraid to ask for the certificates proving their dogs are good to go!
But what if you want to rescue your Corgi Bloodhound from a shelter?
Shelter prices are much lower, usually running you anywhere from $50 to $100 at most.
However, finding a Corgi Bloodhound mix at the exact time you are looking could be hit or miss.
Still, one of the great things about rescuing from a shelter, aside from the rescuing part and the low price, is that shelters will usually cover the initial vet costs.
This helps ensure that your new dog is healthy and is coming to you with no surprises.
Do you have any interesting facts about the Corgi Bloodhound mix that we missed?
Let us know in the comments below!
References
Borbala Turcsan, Adam Miklosi, Eniko Kubinyi, Owner Perceived Differences Between Mixed-Breed and Purebred Dogs
Tiffani J Howell, Tammie King, Pauleen C Bennett, Puppy Parties and Beyond: the role of early age socialization practices on adult dog behavior, Volume 6, pages 143-153
Nathan B Sutter and Elaine A Ostrander, Dog Star Rising: The Canine Genetic System, Nature Reviews Genetics, Volume 5, pages 900-910
Lowell Acumen DVM, DACVD, MBA, MOA, The Genetic Connection; a Guide to Health Problems in Purebred Dogs, Second Edition, 2011
Purebred Vs Mutt-Common Objections to Mixed Breed Dogs
Carol Beuchat Ph.D., The Myth of Hybrid Vigor in Dogs…Is A Myth