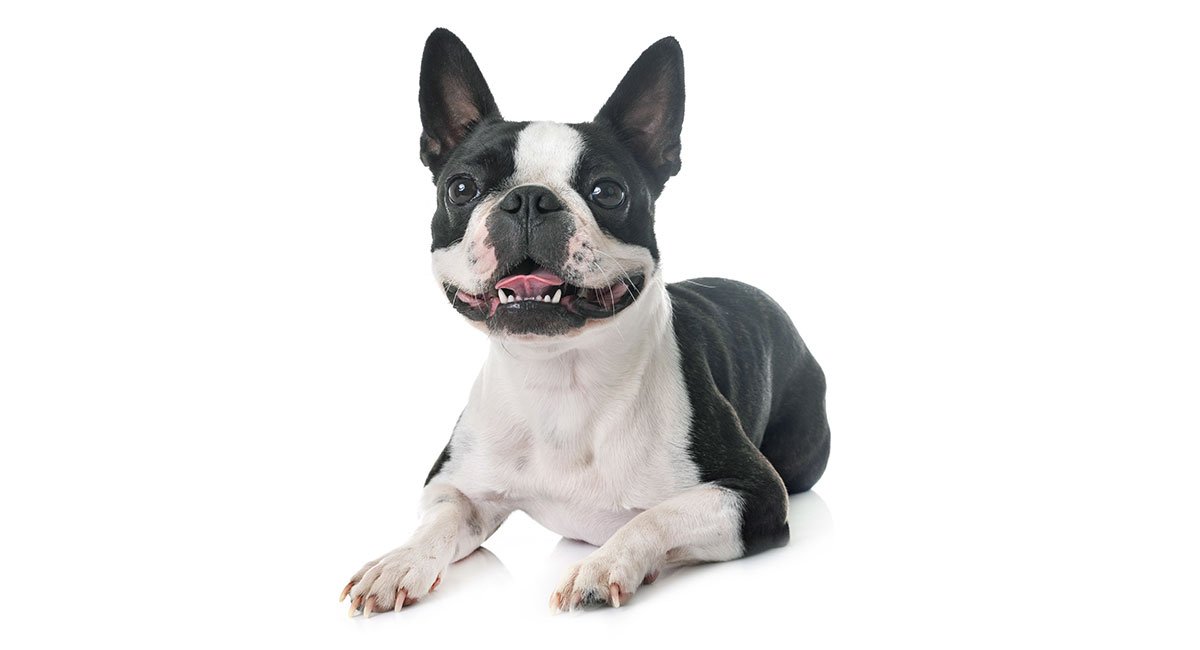 Boston Terrier names need to do justice to a lot of character inside a little dog!
These are 50 of the best Boston Terrier names which we think do just that:
| | |
| --- | --- |
| Angie | Bear |
| Biba | Blake |
| Bobby | Buckley |
| Bunker | Carter |
| Dot | Duke |
| Eugene | Everly |
| Faneuil | Fenway |
| Hadley | Harris |
| Hamish | Harvard |
| Henry | Hubert |
| Kenzie | Lincoln |
| Lola | Lucille |
| Maurice | Maverick |
| Millie | Monty |
| Moose | Norah |
| Paco | Paisley |
| Paris | Pedro |
| Penelope | Pepe |
| Piper | Presley |
| Prince | Raleigh |
| Remington | Riley |
| Roxy | Rudy |
| Sadie | Sage |
| Stella | Tara |
| Warren | Wilson |
The rest of this article is broken up into:
Let's leap into some more name lists!
Male Boston Terrier Names
Boston Terrier names for boy dogs can be ultra masculine or super cute and unisex.
If we had to pick our favorites, we'd pick these:
Abe
Adam
Arlo
Bay
Beau
Biscuit
Boosey
Brody
Bruce
Cash
Caspar
Charleston
Dave
Dexter
Ed
Elmer
Elvis
Eric
Florian
Francis
Frank
Garrett
George
Giles
Gunner
Gus
Henry
Hugo
Jeffrey
Joa
Joel
John
Loden
Louis
Milo
Nigel
Noel
Odin
Otto
Pip
Porter
Preston
Rafe
Rex
Rhett
Rider
Royce
Sebastian
Theo
Victor
Boys' names and unisex names for girls are enjoying a surge in popularity right now.
But if you prefer your girl Boston Terrier names more overtly feminine, our next category is for you!
Female Boston Terrier Names
Male and female Boston Terriers are identical in size and weight, but the girls can be distinguished by 'a more refined confirmation'.
In other words, they look more dainty and elegant!
We think these names are especially well suited to Boston Terriers of the fairer sex.
Apple
April
Audrey
Bea
Bella
Beryl
Bessie
Betty
Bianca
Candy
Carmen
Celeste
Chloe
Christabel
Coco
Coral
Damsel
Dido
Diva
Dixie
Dixie
Duchess
Elle
Emerald
Emmie
Evelyn
Fifi
Greta
Harlow
Jenna
Liv
Lula
Lulu
Madge
Marigold
Marina
Nala
Nancy
Pia
Queenie
Regina
Rosie
Ruby
Sky
Sybil
Tiffany
Tina
Trudy
Tula
Veda
But what about something a bit more unusual?
Unique Names For Boston Terriers
What better tribute to a one of a kind dog, than a one of a kind name?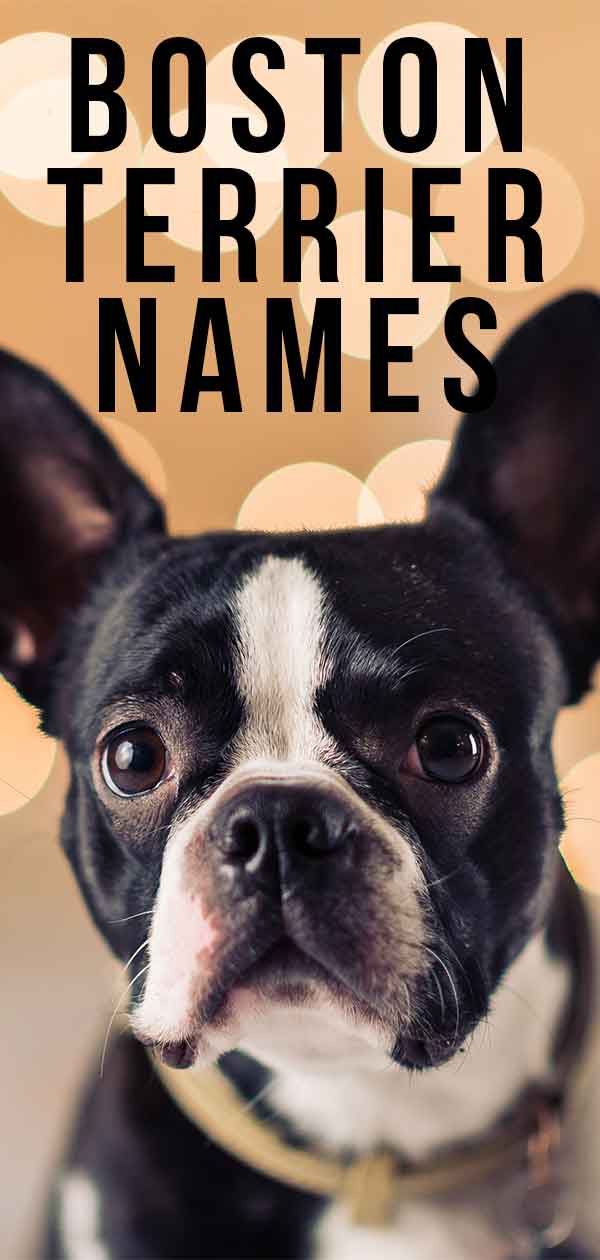 We're certain that no other pup and the dog park will share one of these!
Bones
Bramwell
Brighton
Brixton
Buckley
Callaghan
Camilla
Chance
Chester
Chops
Corrado
Dallas
Decker
Dill
Finch
Hartley
Hector
Howard
Ingrid
Lambeth
Magnolia
Margo
Monroe
Oxford
Phoenix
Piglet
Ramiro
Revere
Riker
Rooster
Ruskin
Scotch
Spider
Stellan
Surdock
Tig
Tinley
Umber
Vardo
Zora
These names all turn heads for being improbable, but our next list of names are all tribute to a Boston's sweet nature
Cute Boston Terrier Names
Every Boston is the cutest in the eyes of their owners.
These names capture the appeal of their puppy looks forever:
Angel
Beetle
Berry
Blush
Booboo
Bubble
Buddy
Candy
Caramel
Chanel
Chewie
Crumpet
Dawn
Dior
Ditsy
Dolly
Dulce
Fudge
Fuzz
Herbert
Honey
Ivy
Legend
Luckly
Maisy
Mango
Milly
Moose
Newt
Noodle
Princess
Promise
Rio
Rizzo
Smudge
Soda
Toffee
Winter
Yogi
Ziggy
Another fun source of naming inspiration for Boston Terriers is their coat.
Let's start with the classic black and white ones!
Names for Black and White Boston Terriers
Boston Terriers are most famous in a black and white coat.
These dashing names take their inspiration from that striking contrast:
Blackberry
Checkers
Chess
Coal
Diablo
Dice
Domino
Eightball
Hobbs
Jeeves
Jet
John
Jolly Roger
Loden
Louis
Magic
Midnight
Milo
Mole
Mono
Nigel
Noel
Obsidian
Odin
Odyssey
Onyx
Otto
Panda
Panther
Patches
Piano
Pingu
Pip
Porter
Preston
Rafe
Raven
Ref
Rex
Sooty
Theo
Velvet
Victor
Vortex
Zebedee
Next, lets look at and more unusual color – teal.
Seal Boston Terrier Names
The next most common Boston Terrier color is seal.
It sounds rather nautical, but it's actually a deep, reddish brown.
Seal Boston Terriers still have white markings which resemble a neat tuxedo jacket.
Ash
Breton
Cinders
Cloud
Corian
Crane
Dove
Fin
Foggy
Goose
Gray
Indigo
Kennet
Lake
Luna
Misty
Mizzle
Nickel
Opal
Pearl
Pebble
Pigeon
Sapphire
Sasha
Shadow
Silver
Storm
Teal
Venetia
Wilder
And finally, onto the brindle-coated pups…
Brindle Boston Terrier Names
The least common Boston Terrier coats are brindle: narrow stripes of black and brown.
We think these names celebrate those stripes to a tee:
Alder
Amber
Autumn
Barley
Cedar
Chilli
Cinnamon
Claudia
Clay
Cliff
Coral
Elektra
Ember
Flame
Ginger
Hobbes
Humber
Jute
Linus
Lou
Marmalade
Millet
Parker
Percy
Rajah
Reed
Ripple
Rusty
Saffron
Sandy
Savannah
Sienna
Tabby
Tiger
Tigger
Toffee
Tony
Tora
Viva
Wicker
Choosing one of these names is just part of preparing to welcome a new Boston Terrier into your home.
Here are some of the other things you need to think about.
Important Information About Boston Terriers
Boston Terriers are charismatic little dogs.
To meet the breed standard, they mustn't grow any bigger than 25lbs.
But the popularity of small dogs suitable for apartments and urban living means that many are barely half that.
Boston Terriers are brachycephalic dogs, which means they have a short, wide skull.
Other brachycephalic breeds include Pugs and French Bulldogs. Like Boston Terriers they have round heads, flat, wrinkled faces, squashed noses and wide eyes.
These features are very popular among people looking for a new dog at the moment.
But they can also be the recipe for heartache and expensive vets bills.
Brachycephaly in Boston Terriers
The problem with very flat faces on dogs is that all the same bits of anatomy still need to fit into them.
But with less room to accommodate it all, the space inside the skull gets very cramped and uncomfortable.
The entrances to the nostrils end up pinched and small, and the soft tissue in the roof of the mouth starts to block the top of the windpipe.
This makes it impossible for dogs to breathe normally, especially during exercise.
The problem is made worse because dogs rely on panting to cool down in hot weather.
Flat faced dogs are very vulnerable to heatstroke on warm days, which can be fatal.
It Doesn't Stop There…
Dogs with flat faces also often have protruding eyes.
They're literally being pushed out of their sockets, by the brain trying to fit in behind them.
Unfortunately this makes them prone to scratches, injuries and infection.
Boston Terriers also have smaller jaws because their faces are flat. This leaves a shortage of space for teeth – around 1 in 8 Bostons experience dental problems.
The Cost Of Brachycephalic Breeds
These problems cause misery and discomfort for the dogs affected by them.
And surgery to widen airways, or remove overcrowded teeth, plus antibiotics for infected eye injuries and more, all adds up to an incredibly expensive dog owning experience for owners.
For these reasons, unfortunately we cannot recommend Boston Terriers as pets.
Do You Have A Boston Terrier?
What is their name?
Have they experienced any health problems due to their flat face?
Let us know in the comments box down below!
More Name Ideas
Get Pippa's free dog training tips delivered to your inbox